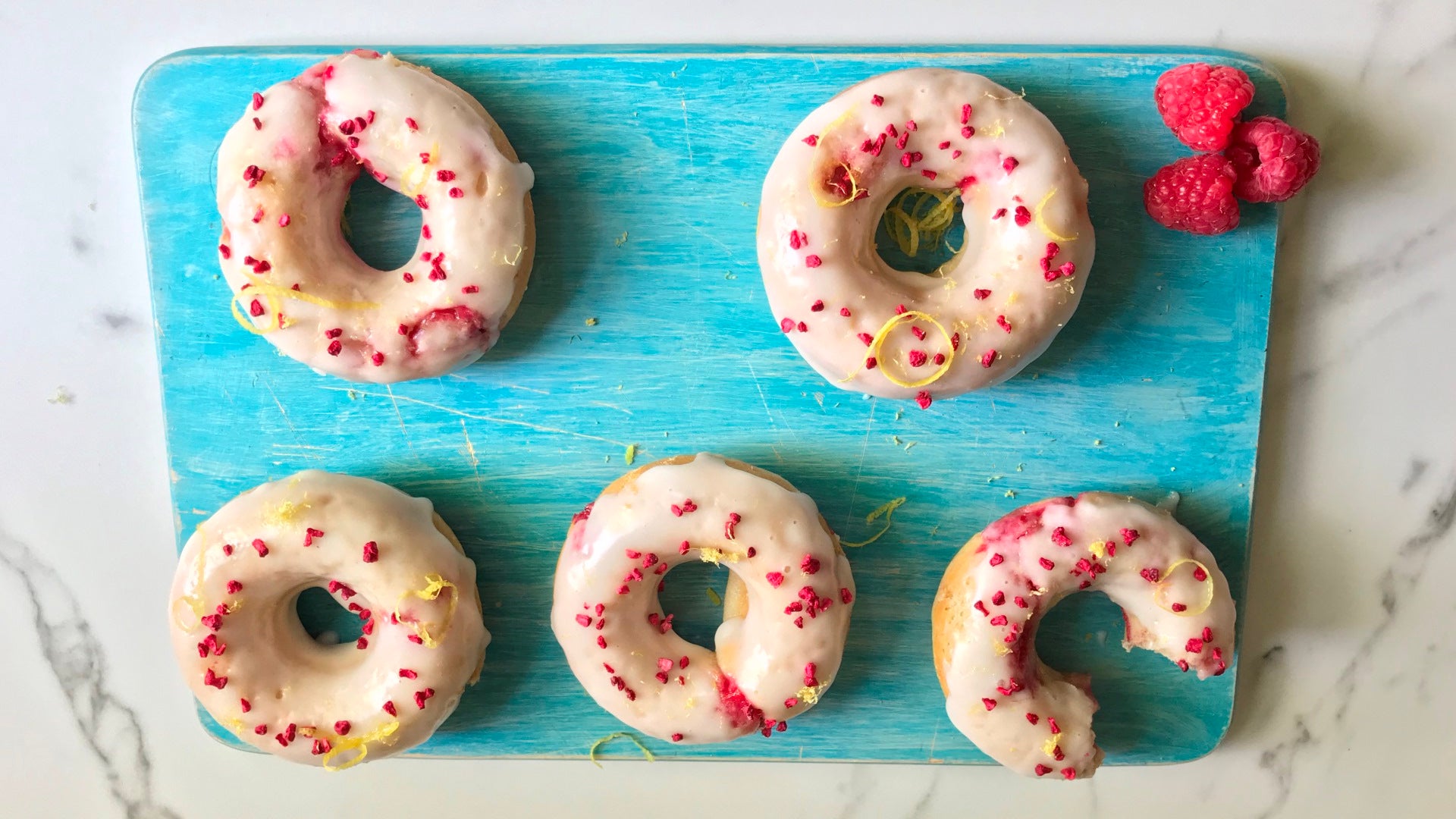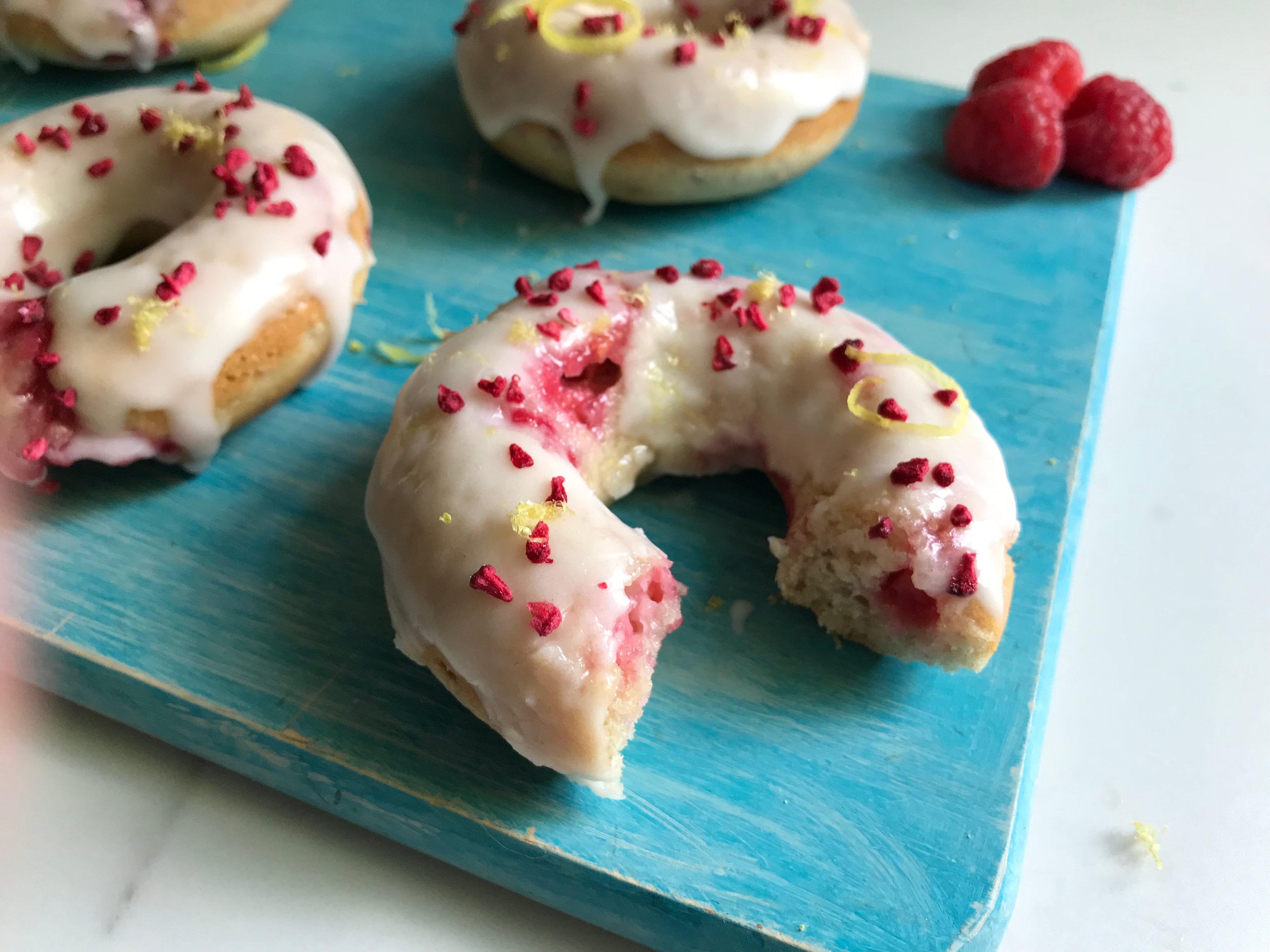 About the bake
Raspberry and Lemon are such a classic summer flavour combination. The freshness and zing really add a pop to these delicious baked doughnuts. They are light and fluffy with a zing of lemon, stuffed full of fresh raspberries and topped with a subtle lemon glaze and freeze dried raspberries! What's not to love?
Method
Step 1:

Preheat the oven to 180°C / 350°F/ Gas Mark 4 and grease the doughnut pan.


Step 2:

Whisk the flour, baking soda, baking powder and salt together in a bowl and then set aside.


Step 3:

In a separate bowl, whisk together the egg, sugar, milk, vanilla, oil, Greek yorhurt, lemon juice and lemon zest until combined.


Step 4:

Pour the wet mixture in to the dry and mix until combined - it should be relatively thick. Add the raspberries by gently folding them in - don't worry if some of them start to slightly fall apart - it adds to the taste and texture.


Step 5:

Spoon your mixture in to a piping bag and gently pipe the mixture in to your doughnut pan.

Tip: Don't worry if a raspberry gets stuck in the nozzle - either squeeze it through or poke it out of the way.


Step 6:

Bake in the oven for 8 to 10 minutes until slightly golden.

Tip: A toothpick or wooden skewer should come out clean


Step 7:

Let the doughnut cool slightly before moving them to the cooling rack to cool completely.


Step 8:

While your doughnuts are cooling - you can make the glaze topping by whisking together the icing sugar and lemon juice.


Step 9:

When the doughnuts are completely cool, dip your doughnuts in the glaze and top with some freeze dried raspberries.

Ingredients
For the Doughnuts

250g

 Allinson's plain white flour

1 tsp

 

Baking powder

1⁄4 tsp

 

Baking soda

1⁄4 tsp

 

Salt

1

 

Large Egg

100g

 Billington's Unrefined Golden Caster Sugar

1 tsp

 Nielsen-Massey Vanilla Extract

60ml

 

Whole milk

60g

 

Greek yohurt

2 tbsp

 

Vegetable oil

1 tbsp

 

Juice of one whole lemon

1

 

Lemon zest

95g

 

Fresh raspberries

For the Topping

125g

 Silver Spoon Icing Sugar

1 tsp

 

Juice of one whole lemon

Sprinkling

 

Freeze dried raspberries
Utensils
Doughnut pan

Mixing bowl

Piping bag and nozzle

Scales

Zester or grater

Whisk or stand mixer

Wire rack or cooling rack
We'd love a slice of advice.
Was it yum? Did the recipe work well? Did you customise the recipe?
Ingredients
For the Doughnuts

250g

 Allinson's plain white flour

1 tsp

 

Baking powder

1⁄4 tsp

 

Baking soda

1⁄4 tsp

 

Salt

1

 

Large Egg

100g

 Billington's Unrefined Golden Caster Sugar

1 tsp

 Nielsen-Massey Vanilla Extract

60ml

 

Whole milk

60g

 

Greek yohurt

2 tbsp

 

Vegetable oil

1 tbsp

 

Juice of one whole lemon

1

 

Lemon zest

95g

 

Fresh raspberries

For the Topping

125g

 Silver Spoon Icing Sugar

1 tsp

 

Juice of one whole lemon

Sprinkling

 

Freeze dried raspberries
Utensils
Doughnut pan

Mixing bowl

Piping bag and nozzle

Scales

Zester or grater

Whisk or stand mixer

Wire rack or cooling rack