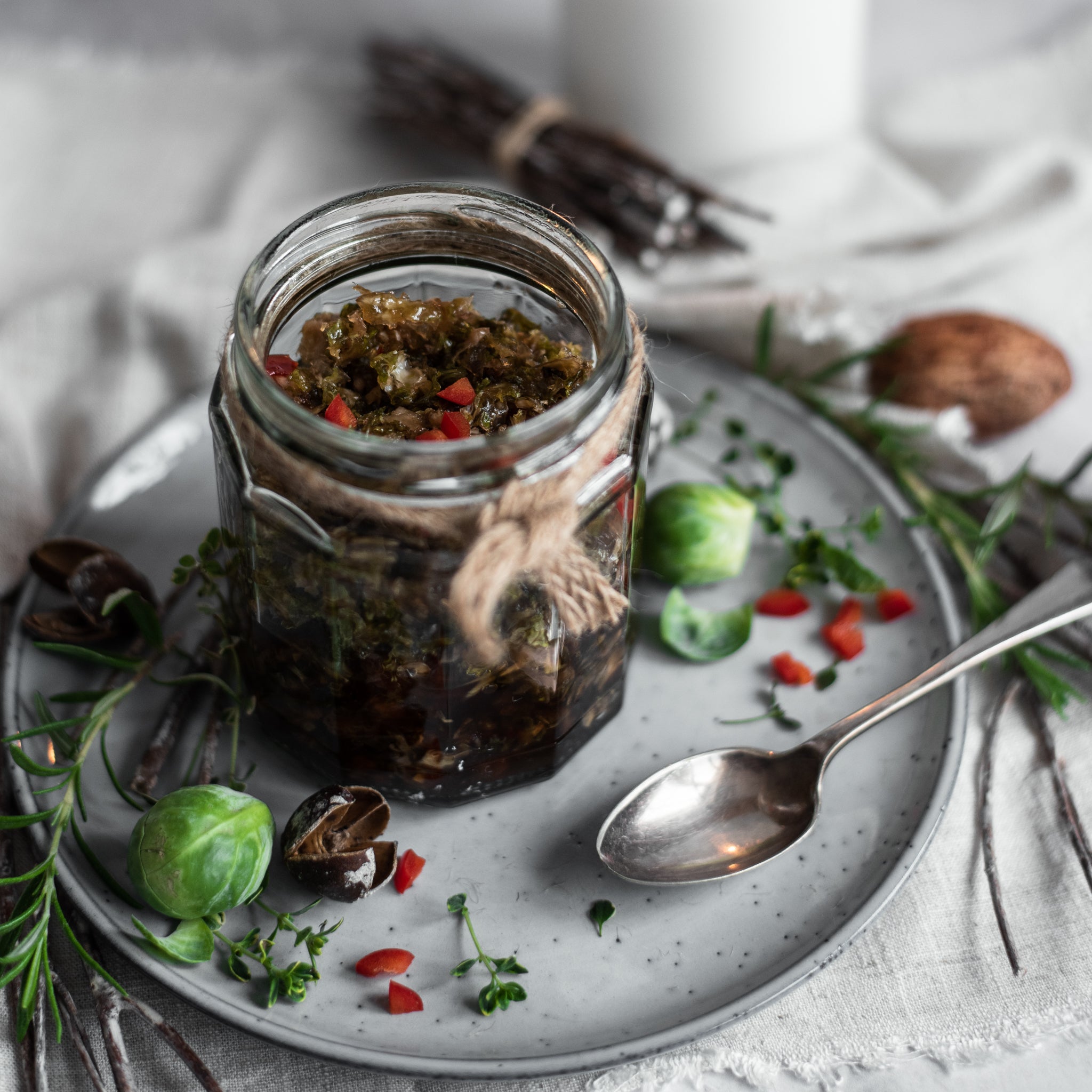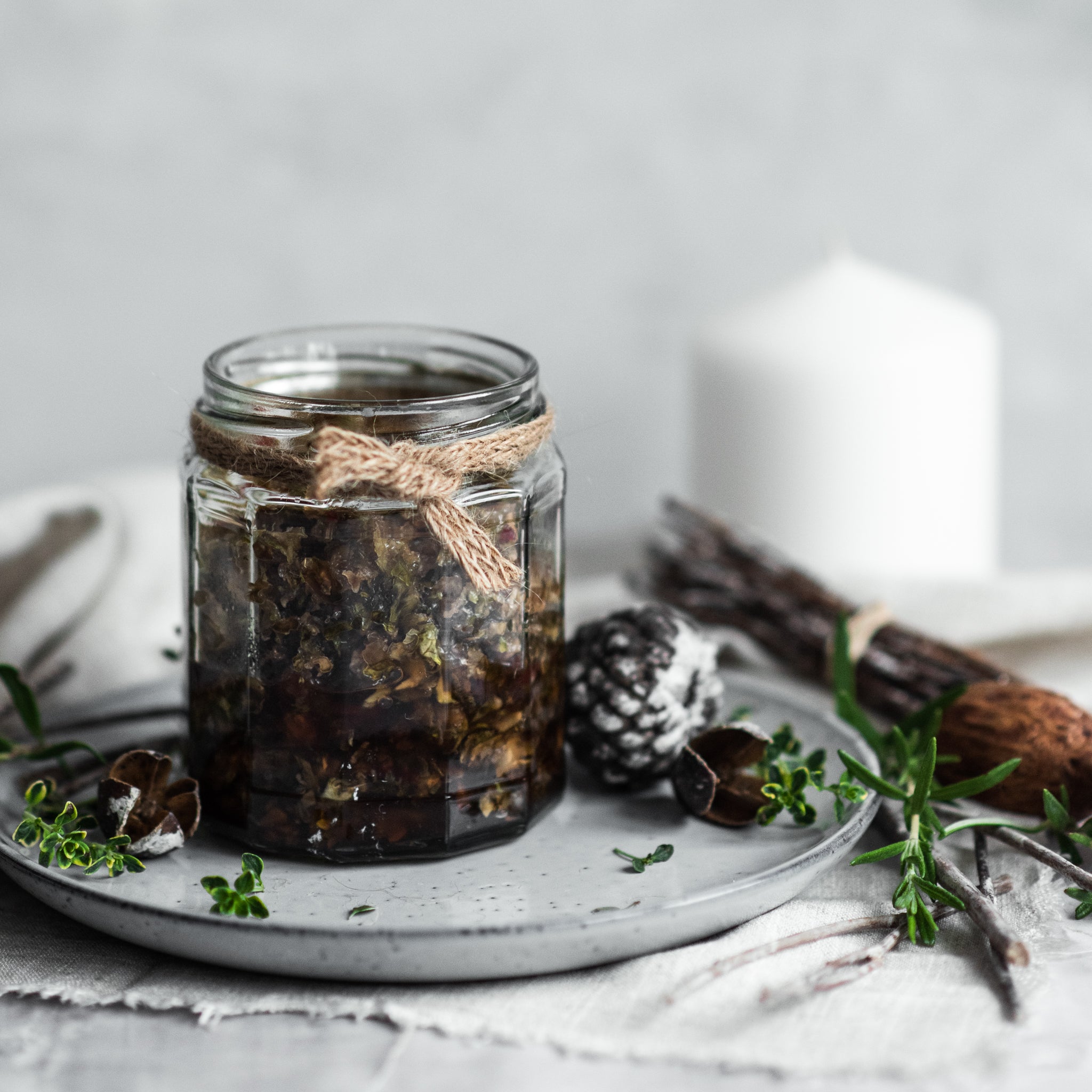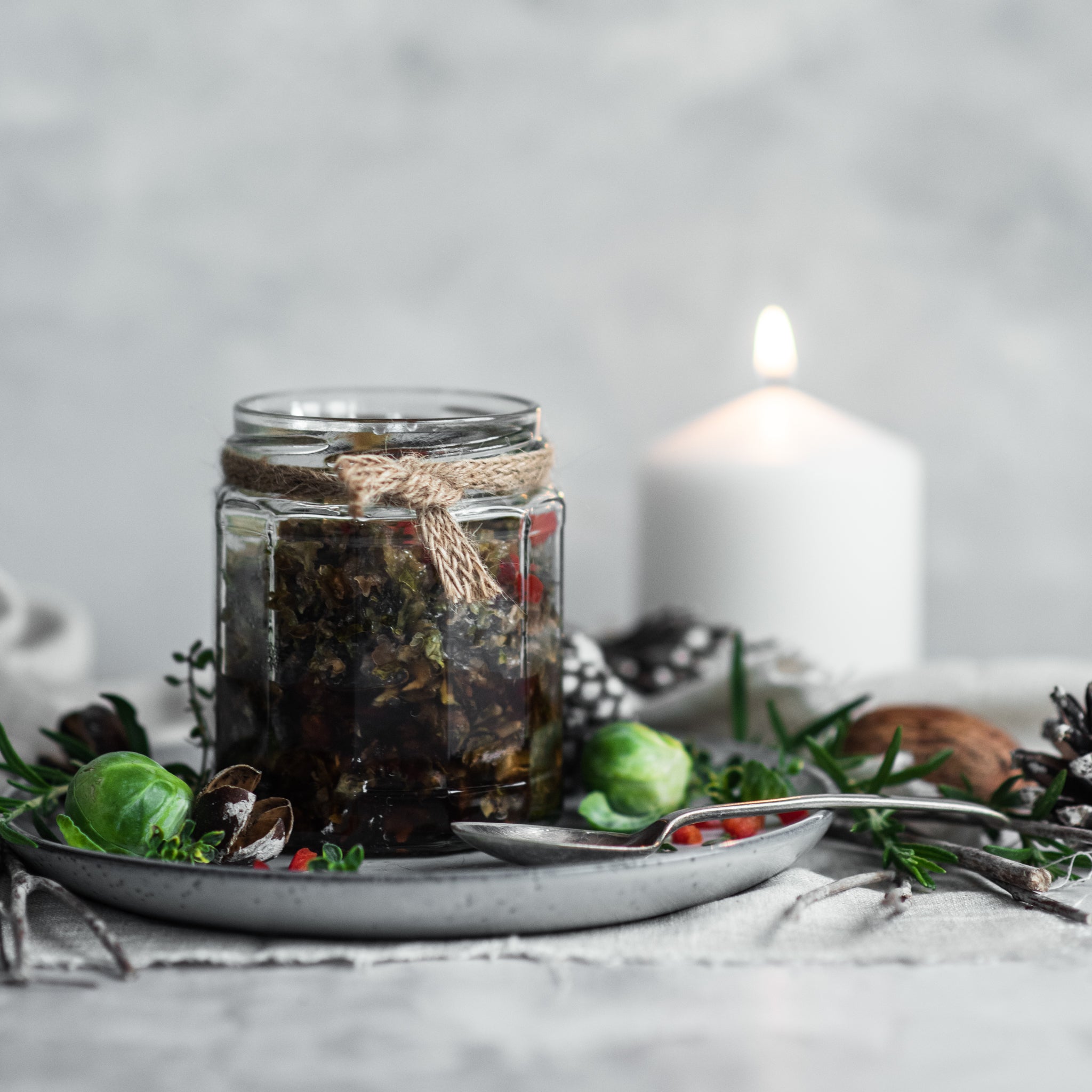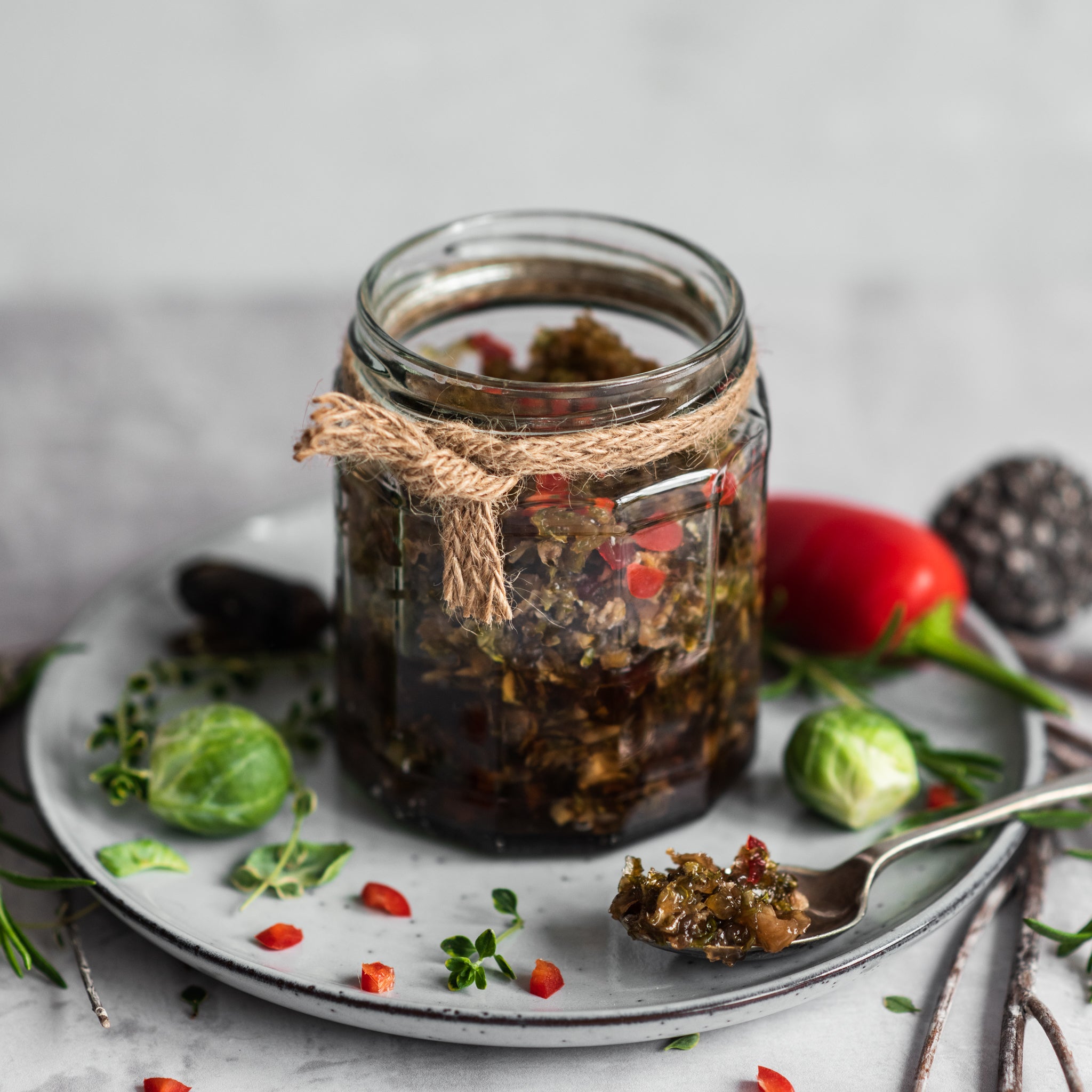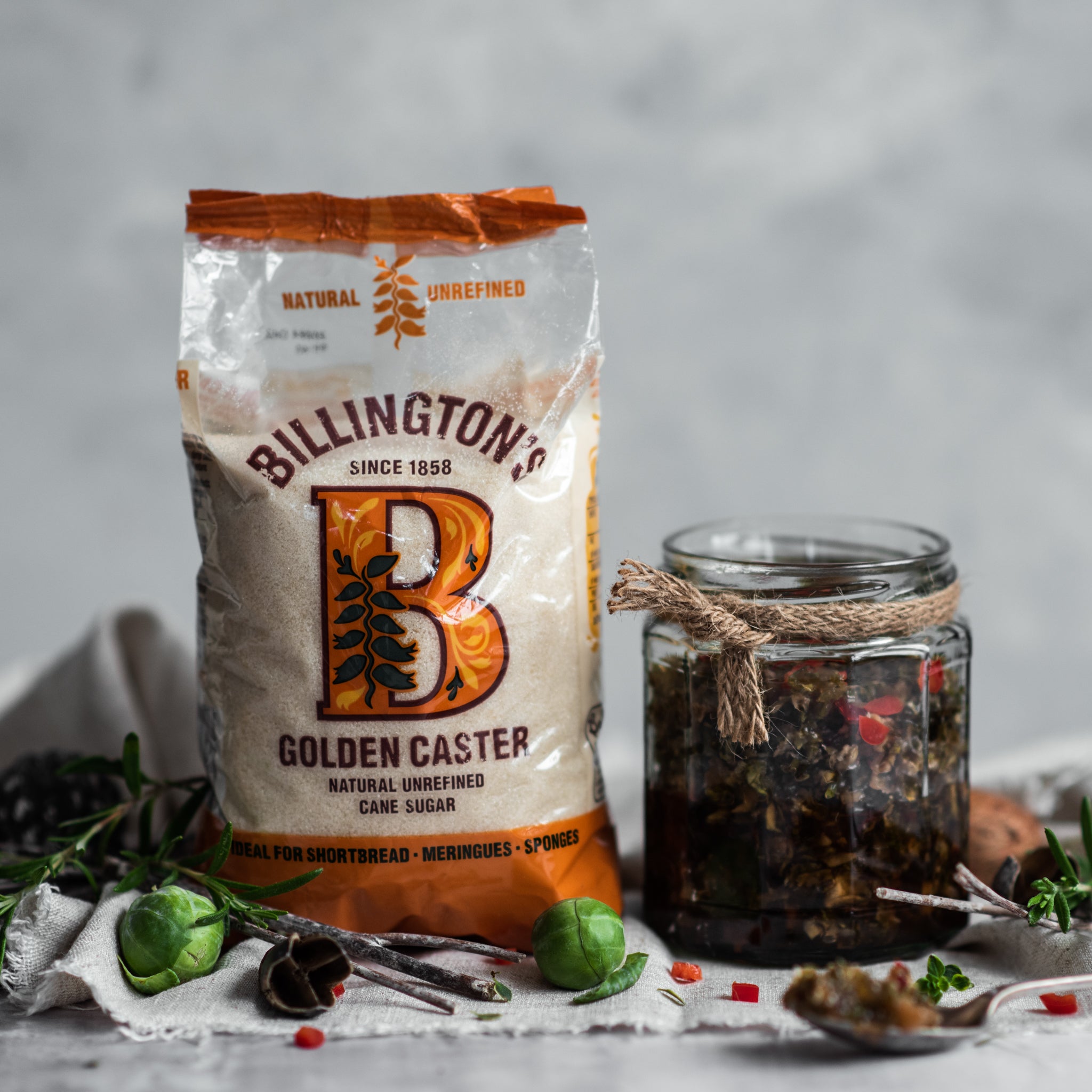 About the bake
Our Brussels Sprout, Chilli and Thyme Jam recipe is one for the Christmas fanatic. We've put together this recipe using the infamous Brussels Sprout, sugar and herby thyme to create the ultimate Christmas preserve.
Method
Step 1:

Preheat the oven to 120°C, gas mark ½. Wash your jars, then place them on a baking tray and heat in the oven for 10 minutes.


Step 2:

In a blender, whizz together the chilli, onion, ginger and garlic. Heat the olive oil in a large frying pan and cook the onion mixture for a few minutes. Now add the Brussels sprouts to the blender and whizz until finely chopped. Add this to the same pan, and cook, stirring for a further few minutes until they soften.


Step 3:

Tip the cooked Brussels sprouts into a large heavy based pan, and add the rest of the ingredients, except for the thyme leaves. Bring to a simmer, then cook at a rolling boil for about 15 minutes, stirring occasionally with a wooden spoon. After about 10 minutes, add the thyme leaves and place a saucer in the fridge to chill. If the mixture is looking a bit dry and begins to stick to the base of the pan add some water in 100ml intervals. (I usually need to add about 300ml water in total).


Step 4:

Turn off the heat, then drop a little jam onto a saucer. Place it in the fridge, wait a couple of minutes and see whether it has begun to set, in which case you can start filling your jars. (preferably using a funnel) If the jam hasn't quite set, put the jam to boil again and check for set after another 5 minutes.

Ingredients
For the Jam

500g

 

Brussel sprouts (trimmed & washed)

1

 

Red onion

3

 

Red chilli (deseeded)

1

 

Fresh root ginger (thumb sized, peeled)

4

 

Garlic clove(s) (peeled)

1 tbsp

 

Olive oil

100ml

 

Red wine vinegar

1

 

Lemon(s) (zest & juice)

400g

 Billington's Unrefined Golden Caster Sugar

50ml

 

Pectin (certo)

10

 

Thyme (sprigs, leaves only)
Utensils
Baking tray

Blender

Frying pan

Large heavy based pan
Recipe Reviews
This recipe doesn't work at all.
Ingredients
For the Jam

500g

 

Brussel sprouts (trimmed & washed)

1

 

Red onion

3

 

Red chilli (deseeded)

1

 

Fresh root ginger (thumb sized, peeled)

4

 

Garlic clove(s) (peeled)

1 tbsp

 

Olive oil

100ml

 

Red wine vinegar

1

 

Lemon(s) (zest & juice)

400g

 Billington's Unrefined Golden Caster Sugar

50ml

 

Pectin (certo)

10

 

Thyme (sprigs, leaves only)
Utensils
Baking tray

Blender

Frying pan

Large heavy based pan