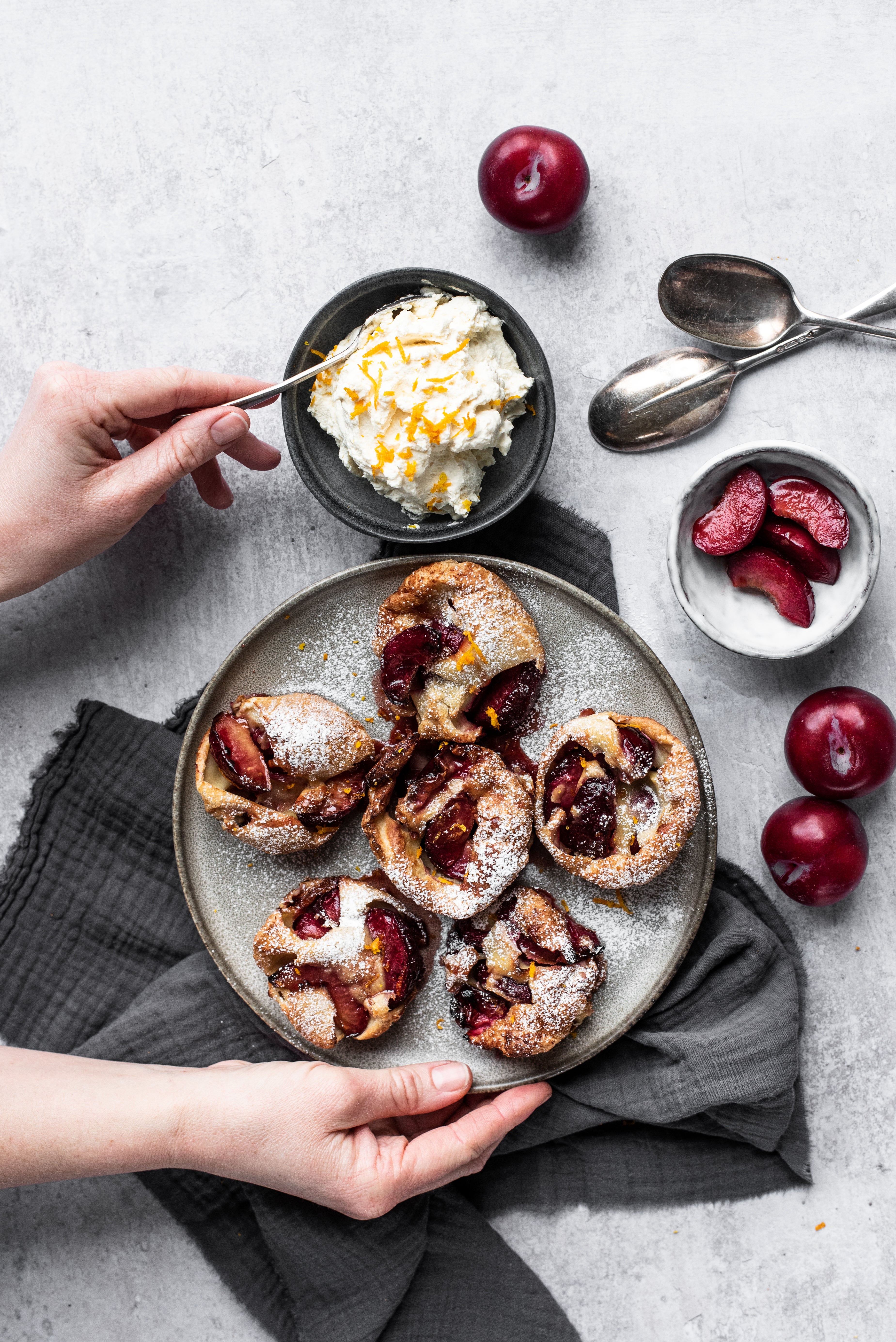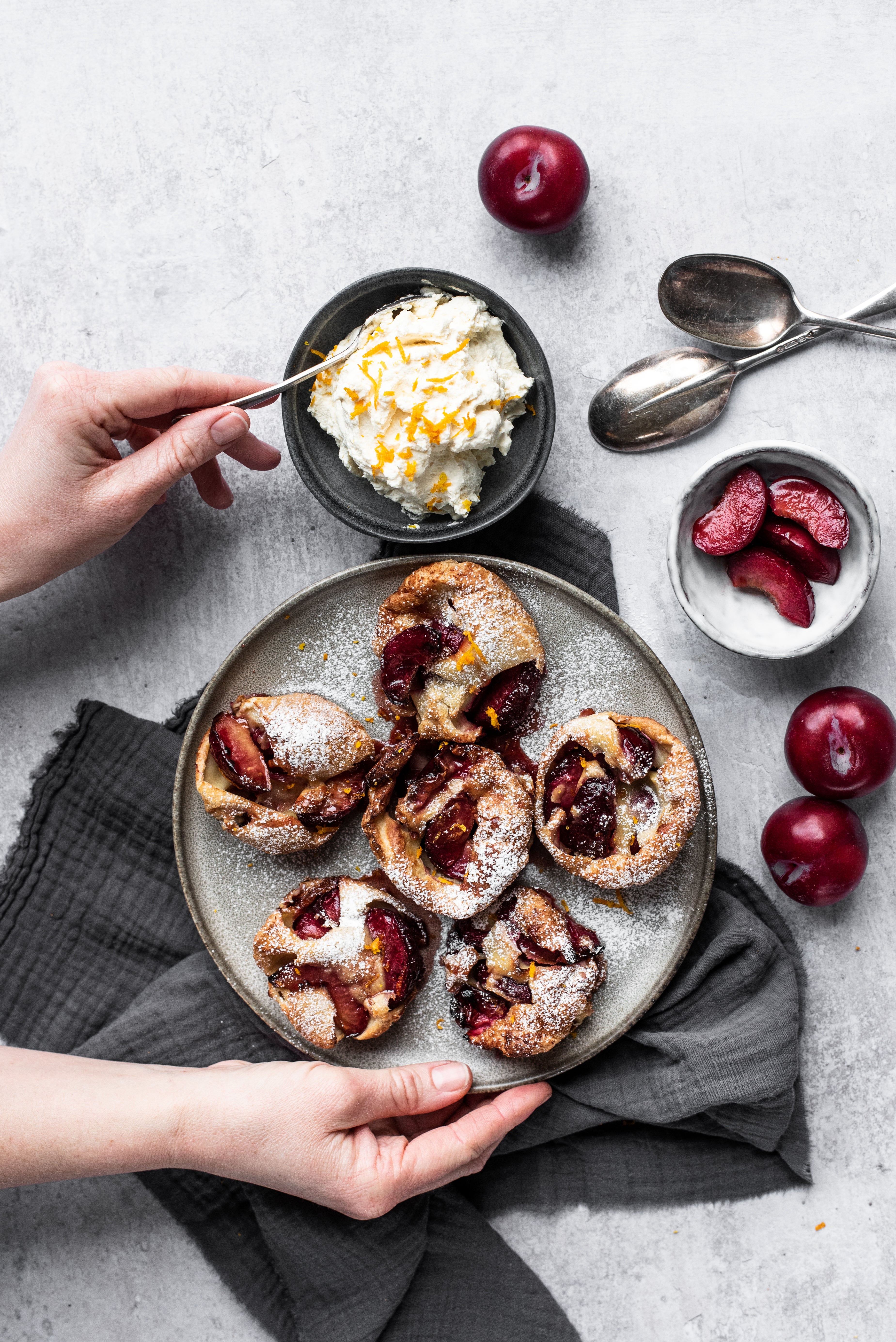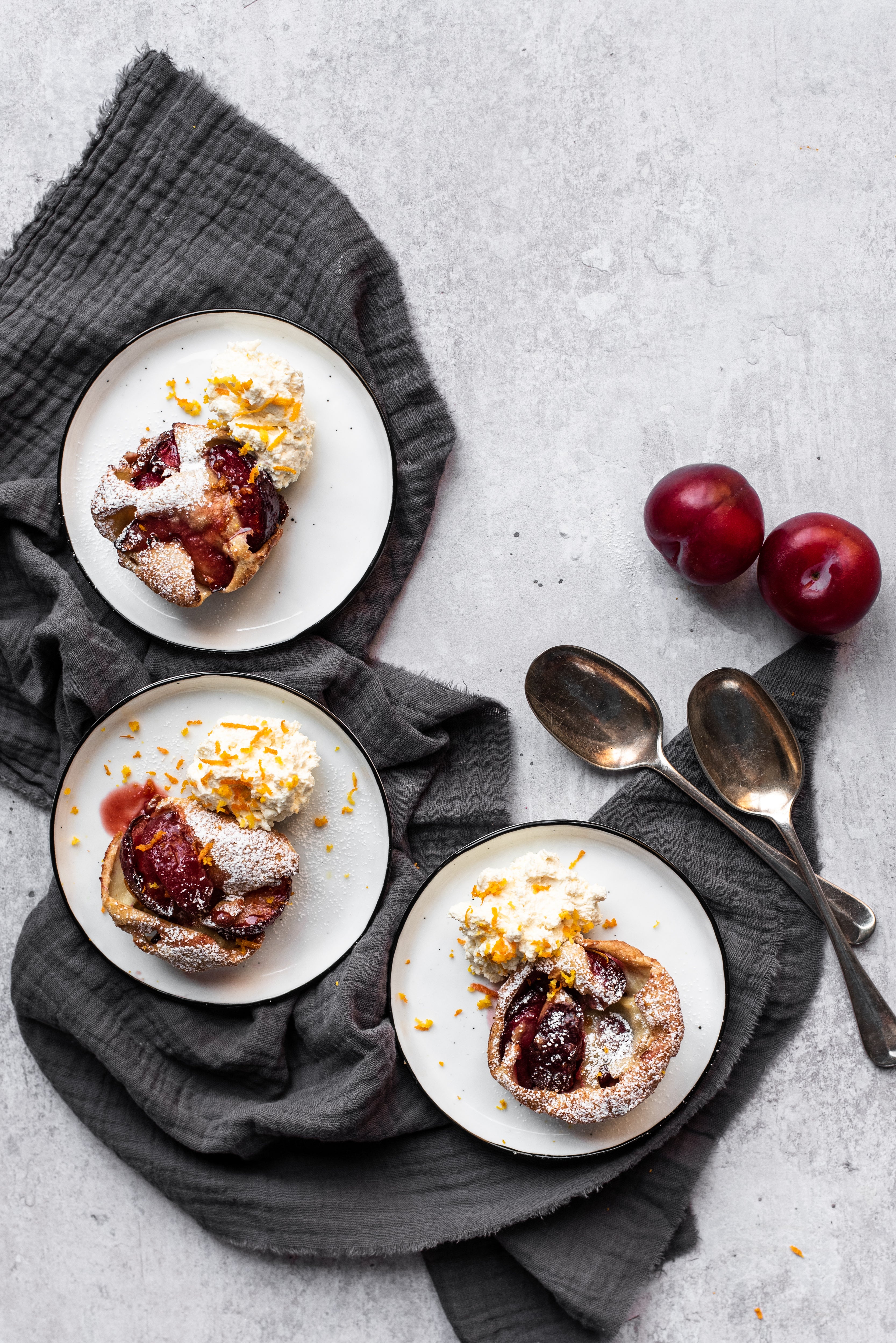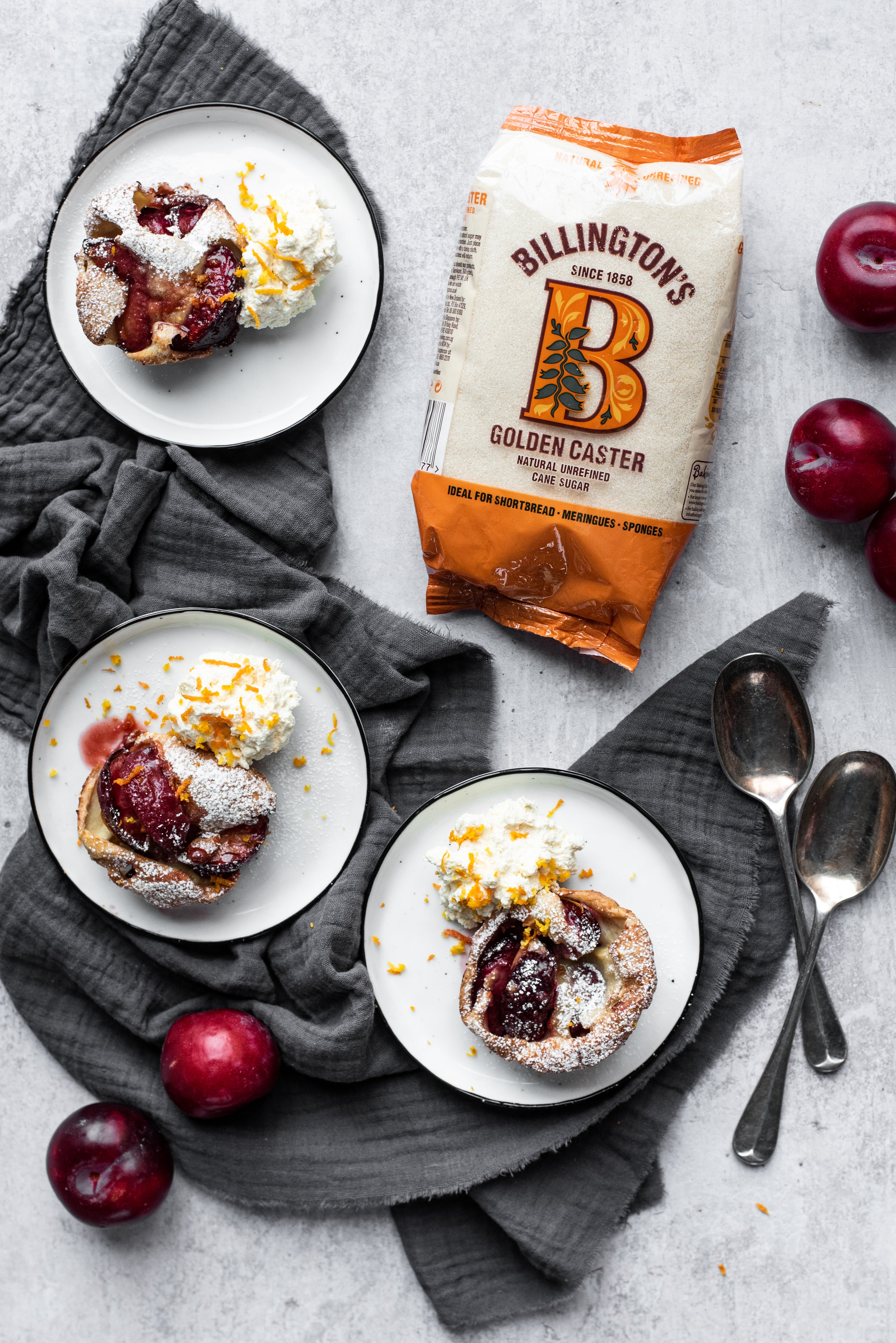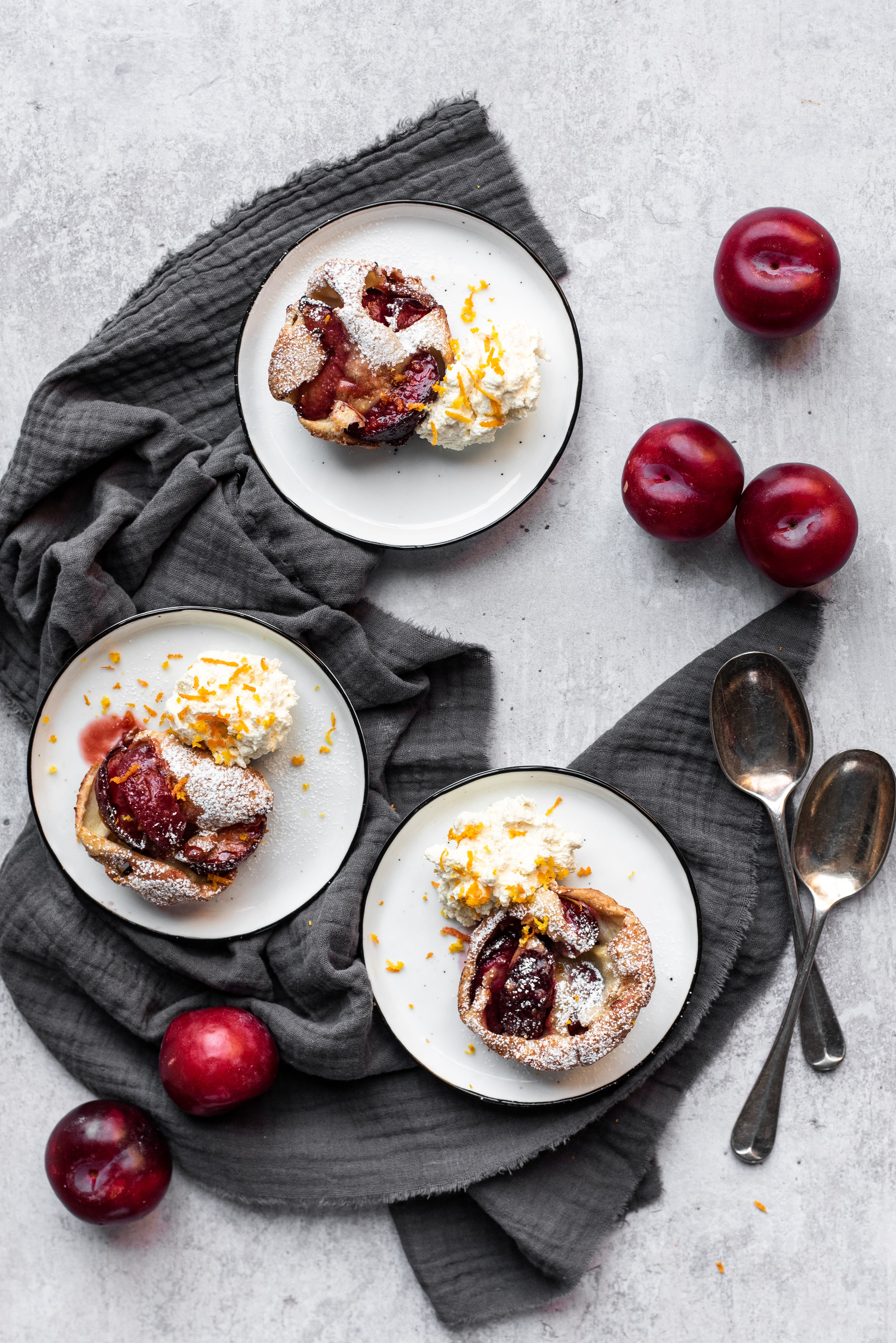 About the bake
These luxurious sweet Yorkshire puddings are deliciously addictive. Filled with juicy plums and served with a zesty orange cream, once you have tried these you will never look at a Yorkshire Pudding the same way again.
Method
Step 1:

Add the flour, salt, and caster sugar to a large jug. Beat together the eggs and the milk.

Step 2:

Make a well in the flour and pour in the egg mixture, gradually whisking in until smooth and thick, and let it sit for 15 minutes.

Step 3:

Preheat the oven to 220°C (200°C fan, Gas Mark 7) Place a large ovenproof tray on the shelf underneath to catch any drips.


Step 4:

Grease a 6 hole muffin tin with butter and then sprinkle a little light muscovado sugar into the bottom of each hole.

Step 5:

Meanwhile melt the 30g butter in a sauté pan, add the plums and fry for 2-3 minutes, turning halfway. Add in the light muscovado sugar and vanilla extract and stir until melted.

Step 6:

Carefully spoon the plums between the greased and sugared muffin holes, keeping any remaining syrup to one side for serving, and place in the oven for 2-3 minutes to get the plums bubbling hot.

Step 7:

Carefully pour the batter in over the plums and place back in the oven to cook for 15 - 17 minutes until the puddings are golden and risen.

Step 8:

Meanwhile whisk to soft peaks the cream with the orange zest, vanilla extract and icing sugar.

Step 9:

Serve immediately dusted with icing sugar, drizzle with any leftover plum syrup and serve with the orange cream.
Ingredients
For the Yorkshire Puddings

75g

 Allinson's Plain White Flour

1/4 tsp

 

Salt

1 tbsp

 Billington's Unrefined Golden Caster Sugar

2

 

Egg(s) (free range) (medium)

100ml

 

Milk (whole)

30g

 

Butter (unsalted) (plus extra for greasing)

5

 

Plums (cut into sixths)

3 tbsp

 Billington's Unrefined Light Muscovado Sugar

2 tsp

 Nielsen-Massey Vanilla Extract

A dusting of

 Silver Spoon Icing Sugar

For the Cream

150ml

 

Double cream

1

 

Orange zest

1 tsp

 Nielsen-Massey Vanilla Extract

1/2 tbsp

 Silver Spoon Icing Sugar
Utensils
Large jug

Whisk

Mixing bowl

Large ovenproof tray

6 hole muffin tin

Sauté pan
We'd love a slice of advice.
Was it yum? Did the recipe work well? Did you customise the recipe?
Ingredients
For the Yorkshire Puddings

75g

 Allinson's Plain White Flour

1/4 tsp

 

Salt

1 tbsp

 Billington's Unrefined Golden Caster Sugar

2

 

Egg(s) (free range) (medium)

100ml

 

Milk (whole)

30g

 

Butter (unsalted) (plus extra for greasing)

5

 

Plums (cut into sixths)

3 tbsp

 Billington's Unrefined Light Muscovado Sugar

2 tsp

 Nielsen-Massey Vanilla Extract

A dusting of

 Silver Spoon Icing Sugar

For the Cream

150ml

 

Double cream

1

 

Orange zest

1 tsp

 Nielsen-Massey Vanilla Extract

1/2 tbsp

 Silver Spoon Icing Sugar
Utensils
Large jug

Whisk

Mixing bowl

Large ovenproof tray

6 hole muffin tin

Sauté pan