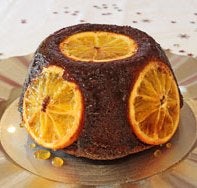 About the bake
This chocolate orange Christmas pudding is a deliciously indulgent gluten free alternative to a traditional Christmas pudding. Why not impress your guests by pouring over some Cointreau and light it just before serving for a real showstopping dessert?
Method
Step 1:

Heat the oven to 190°C (170°, gas mark 5).

Step 2:

Butter a 1.2 litre pudding basin, then cut 3 strips of greaseproof paper about 5 cm wide and lay 1 across the bowl so that it goes over the edges of the bowl. Now repeat with the other 2 strips to form a star shape in the bowl, then butter the paper.

Step 3:

Arrange the orange slices in the bowl, 1 on the base and four around the sides.

Step 4:

Gently melt the chocolate and butter in a saucepan over some gently simmering water, then leave to cool.


Step 5:

Separate the eggs and beat the whites until stiff, then add ½ the sugar and whisk again until stiff. Then add the other ½ of the sugar to the egg yolks and beat until pale in colour.

Step 6:

Stir the chocolate into the egg yolk mixture and add the orange extract, baking powder, cocoa powder, ground almonds and fruit. Then gently fold in the egg whites.

Step 7:

Spoon the mixture into the prepared bowl. Then fold a length of foil and wrap around the top edge of the basin to form a 'cuff', this will protect the pudding as it rises.

Step 8:

Place on a baking tray and bake in the oven for 40-45 minutes or until a skewer comes out of the centre clean.

Step 9:

Once cooked cool slightly, then turn the pudding upside down onto a plate, remove the greaseproof paper and serve.
Ingredients
75g

 

Unsalted butter (plus extra for greasing)

1

 

Orange (sliced)

100g

 

Dark chocolate chips

2

 

Free range large eggs

100g

 Billington's Unrefined Light Muscovado Sugar

1 tbsp

 

Nielsen-massey pure orange extract

1 tsp

 

Baking powder

2 tbsp

 

Cocoa powder

100g

 

Ground Almonds

100g

 

Dried mixed fruit
Utensils
1.2l pudding basin

Greaseproof paper

Saucepan

Egg beater

Spatula

Baking tray

Baking foil
We'd love a slice of advice.
Was it yum? Did the recipe work well? Did you customise the recipe?
Ingredients
75g

 

Unsalted butter (plus extra for greasing)

1

 

Orange (sliced)

100g

 

Dark chocolate chips

2

 

Free range large eggs

100g

 Billington's Unrefined Light Muscovado Sugar

1 tbsp

 

Nielsen-massey pure orange extract

1 tsp

 

Baking powder

2 tbsp

 

Cocoa powder

100g

 

Ground Almonds

100g

 

Dried mixed fruit
Utensils
1.2l pudding basin

Greaseproof paper

Saucepan

Egg beater

Spatula

Baking tray

Baking foil