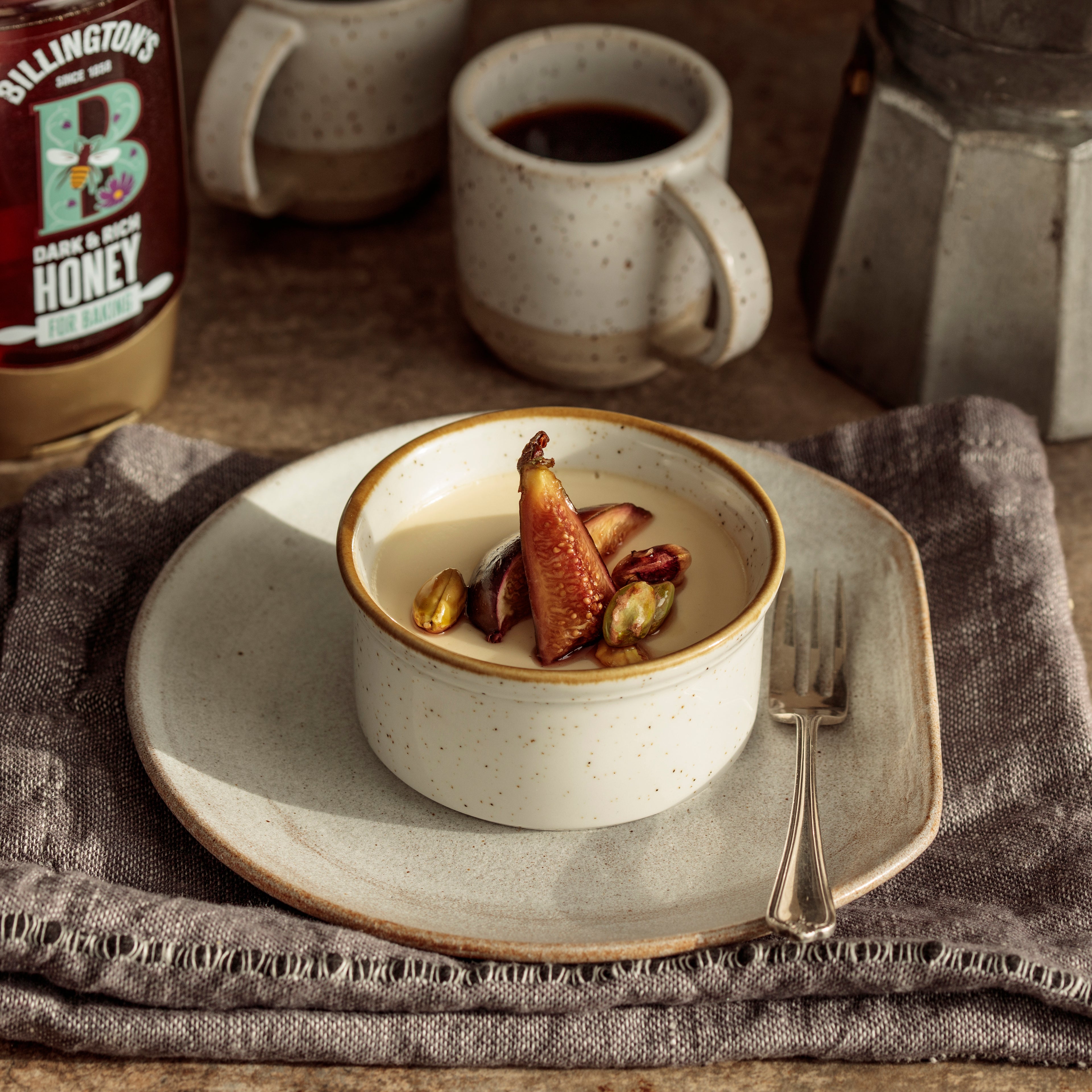 Honey Panna Cotta with Honey Roasted Figs and Pistachios
About the bake
This creamy and luxurious Honey Panna Cotta is an ideal dessert for a special occasion and is delicious topped with Honey Roasted Figs and Pistachios for the finishing touch. This recipe has been sweetened with Billington's Dark Rich Honey for baking.
Method
Step 1:

Combine the cream, milk and honey into a saucepan. Heat gently until the liquid is just about to boil. Remove immediately from the heat and add the softened gelatine leaves and bean paste. Stir well to ensure the gelatine is fully combined and melted. Divide between 4 dariole molds or glasses and put in the fridge to set for a minimum of 4 hours / overnight.


Step 2:

For the figs: Pre-heat the oven to 180°C fan. Place the figs on a baking tray with a lip, to collect any juices. Combine the orange juice and honey before spooning over the figs. Place in the oven for 8-10 minutes until the figs have softened and the juice thickened, baste using the cooking juices halfway through the cook time. Remove and allow to cool / set aside before serving.


Step 3:

For the pistachios: Pre-heat the oven to 180°C. In a bowl combine the pistachios with the honey and mix together until well coated. Place on a lined baking tray in a single layer and bake for 5-7 minutes until the honey glaze looks sticky at the edges and the nuts just getting a hint of colour.


Step 4:

To serve, decant the panna cotta (or leave in glasses), top with the honey roasted figs, chop the pistachios and sprinkle over before drizzling with a final spoon of honey as desired.

Ingredients
For the Panna Cotta

450ml

 

Double cream

100ml

 

Whole milk

90g

 Billington's dark & rich honey (plus extra for drizzling)

2 1/2

 

Gelatine leaf

0.5 tbsp

 Nielsen-Massey Vanilla Bean Paste

For the Roasted Figs

4

 

Ripe figs (cut into quarters)

1 tbsp

 

Orange juice

40g

 Billington's dark & rich honey (plus extra for drizzling)

For the Pistachios

50g

 

Pistachios

30g

 Billington's dark & rich honey (plus extra for drizzling)
Utensils
Saucepan

4 dariole moulds

Baking tray
We'd love to know how it went?
Was it yum? Did the recipe work well? Did you change any ingredients? Add anything?
Ingredients
For the Panna Cotta

450ml

 

Double cream

100ml

 

Whole milk

90g

 Billington's dark & rich honey (plus extra for drizzling)

2 1/2

 

Gelatine leaf

0.5 tbsp

 Nielsen-Massey Vanilla Bean Paste

For the Roasted Figs

4

 

Ripe figs (cut into quarters)

1 tbsp

 

Orange juice

40g

 Billington's dark & rich honey (plus extra for drizzling)

For the Pistachios

50g

 

Pistachios

30g

 Billington's dark & rich honey (plus extra for drizzling)
Utensils
Saucepan

4 dariole moulds

Baking tray