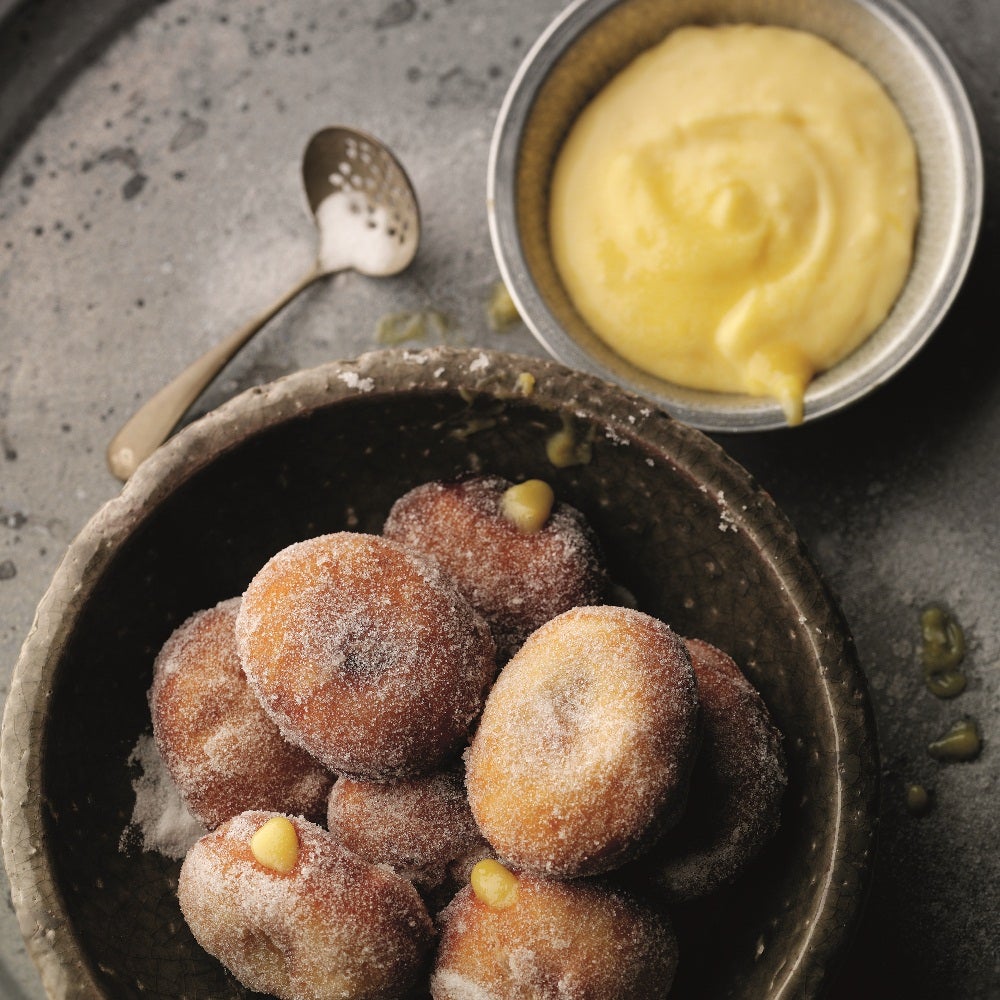 About the bake
These delicious doughnuts have a lovely zing to them thanks to the orange blossom curd centre. Serve them to family and friends and watch as they taste the zesty surprise.
Method
Step 1:

Warm the milk in a pan until just before it reaches boiling point.

Step 2:

Place the yeast, warmed milk, 1 tbsp of the caster sugar and 1 ½ tbsp lukewarm water in a large bowl and set aside in a warm place for about 10 minutes, or until bubbles appear on the surface.

Step 3:

Add the butter, flour, eggs and the remaining sugar to the yeast mixture and mix to a sticky dough. Turn out onto a floured surface and knead for 10 minutes until smooth and it feels springy to the touch.


Step 4:

Place the dough into a lightly oiled bowl, cover with a cloth and set aside in a warm place for 45 minutes or until doubled in size.

Step 5:

Meanwhile, make the orange curd. Put all the ingredients in a bowl, stir together, and set over a pan of simmering water (the bowl must not touch the water). Using a wooden spoon, stir for about 30 minutes, or until the curd is thick enough to coat the back of the spoon. Set aside to cool.

Step 6:

Knead the dough on a lightly floured surface for 5 minutes or until smooth and elastic. Roll out to 1cm thick and use a 6.5cm round cutter to stamp out rounds until all the dough has been used. Place the rounds on a lined baking tray and set aside for 30 minutes or until risen.

Step 7:

Heat the oil in a large pan until it reaches 190°C, or a cube of bread sizzles and turns golden in 30 seconds. Fry the dough balls in batches for 3-4 minutes or until golden brown, turning halfway. Remove with a slotted spoon and drain onto kitchen paper. Toss in sugar and leave to cool.

Step 8:

Spoon the orange curd into a piping bag with a small round nozzle (or snip the end of a disposable bag). Use a wooden skewer to make a hole in the side of each doughnut. Push the piping bag into the hole and fill with about a teaspoon of curd. Serve warm or cold with any leftover orange curd.
Ingredients
For the Doughnuts

125ml

 

Milk (whole)

1 tsp

 

Allinson's dried yeast

2 tbsp

 Unrefined golden caster sugar (plus extra for coating)

1 1/2 tbsp

 

Water

50g

 

Unsalted butter (cut into small pieces)

340g

 Allinson's Strong White Bread Flour

2

 

Large free range eggs (lightly whisked)

300ml

 

Vegetable oil

For the orange blossom curd

50ml

 

Orange juice

1 tsp

 Nielsen-Massey Orange Blossom Water

1pinch

 

Salt

50g

 Billington's Unrefined Golden Caster Sugar

50g

 

Butter (unsalted) (melted)

2

 

Egg yolk(s) (free range)
Utensils
Saucepan

Mixing bowl

Tea towel

Rolling pin

6.5cm round cutter

Large saucepan

Slotted spoon

Kitchen paper

Piping bag

Small round piping nozzle
Recipe Reviews
Wow, these were incredibly tasty.
Ingredients
For the Doughnuts

125ml

 

Milk (whole)

1 tsp

 

Allinson's dried yeast

2 tbsp

 Unrefined golden caster sugar (plus extra for coating)

1 1/2 tbsp

 

Water

50g

 

Unsalted butter (cut into small pieces)

340g

 Allinson's Strong White Bread Flour

2

 

Large free range eggs (lightly whisked)

300ml

 

Vegetable oil

For the orange blossom curd

50ml

 

Orange juice

1 tsp

 Nielsen-Massey Orange Blossom Water

1pinch

 

Salt

50g

 Billington's Unrefined Golden Caster Sugar

50g

 

Butter (unsalted) (melted)

2

 

Egg yolk(s) (free range)
Utensils
Saucepan

Mixing bowl

Tea towel

Rolling pin

6.5cm round cutter

Large saucepan

Slotted spoon

Kitchen paper

Piping bag

Small round piping nozzle