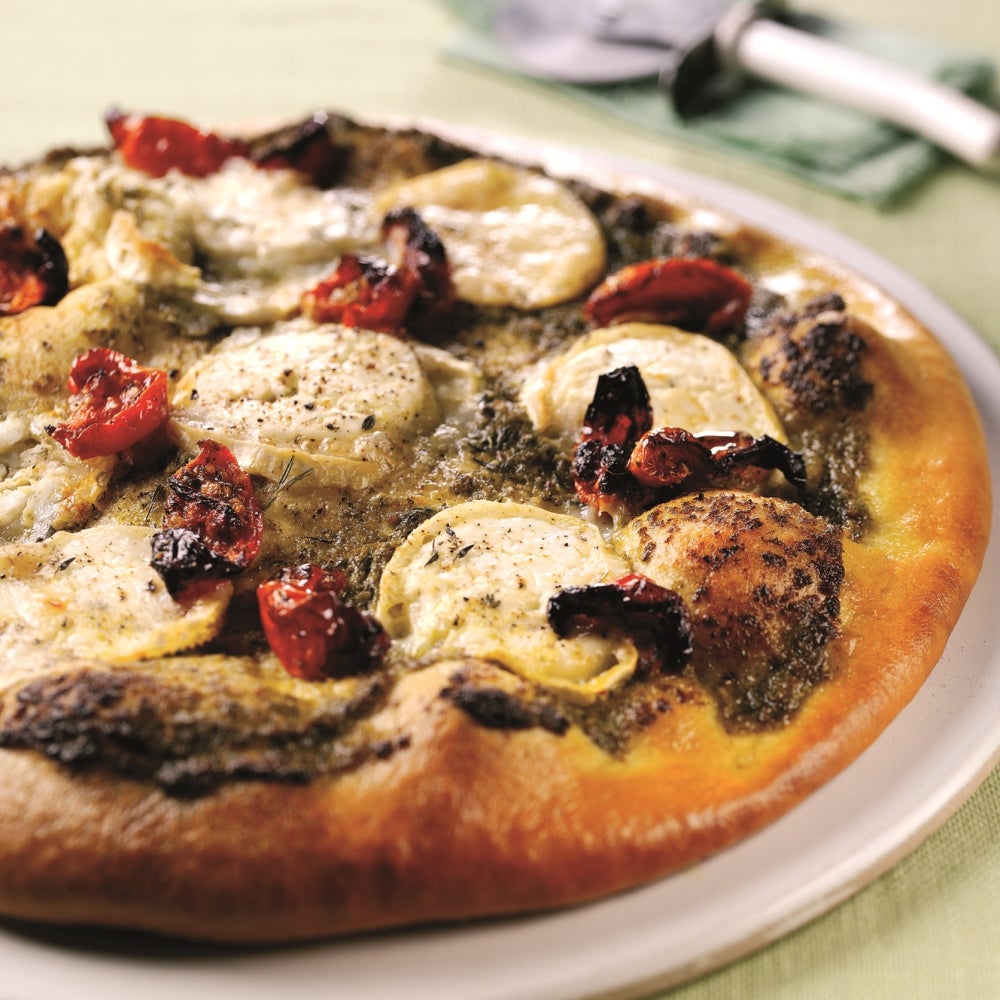 About the bake
Skip the takeaway this weekend and make your own delicious gourmet pizza. Pesto, goat's cheese and sun-blushed tomato may seem like a simple combination but it tastes amazing and the pizza dought is really easy to make to. Get the whole family involved.
Method
Step 1:

Put the flour, salt, golden caster sugar and yeast into a bowl. Pour over the olive oil and warm water.

Step 2:

Mix together with your hands until the mixture combines to make a rough dough ball.

Step 3:

Tip the dough out onto a lightly floured surface and stretch and knead the dough for 10 minutes until smooth and elastic.

Step 4:

Sprinkle half of the cornmeal onto the surface, roll out to a 30cm (12inch round), sprinkling with a little more cornmeal as you go. Lift it onto a greased round baking tray.

Step 5:

Spread the basil pesto onto the pizza dough, leaving 1cm (½ inch) rim. Arrange the goats cheese on top and scatter over the sunblush tomatoes. Drizzle over some of the olive oil from the sunblush tomatoes. Season with salt and freshly ground black pepper.

Step 6:

Cover loosely with cling film and leave in a warm place to rise for 15 minutes.

Step 7:

Preheat the oven to 220°C (200°C fan, gas mark 7) with another pizza tray or flat baking sheet. Uncover and bake the pizza for 15-20 minutes until the topping is pale golden and the base is crisp.

Step 8:

BREADMAKER METHOD: Put the dough ingredients into the bread maker bucket, following the order and method specified on the manual. Fit the bucket into the bread maker and set to the dough programme with the pizza setting, if available, if not then the dough setting. Press start. Shape and bake as above.
Ingredients
For the pizza dough

350g

 

Very strong white bread flour

1 tsp

 

Salt

1 tsp

 Billington's Unrefined Golden Caster Sugar

1 tsp

 

Easy bake yeast

2 tbsp

 

Olive oil

200ml

 

Warm water

5 tbsp

 

Cornmeal

For the topping

6 tbsp

 

Pesto

250g

 

Goats' cheese (sliced)

100g

 

Sunblush tomatoes (in olive oil)
We'd love a slice of advice.
Was it yum? Did the recipe work well? Did you customise the recipe?
Ingredients
For the pizza dough

350g

 

Very strong white bread flour

1 tsp

 

Salt

1 tsp

 Billington's Unrefined Golden Caster Sugar

1 tsp

 

Easy bake yeast

2 tbsp

 

Olive oil

200ml

 

Warm water

5 tbsp

 

Cornmeal

For the topping

6 tbsp

 

Pesto

250g

 

Goats' cheese (sliced)

100g

 

Sunblush tomatoes (in olive oil)