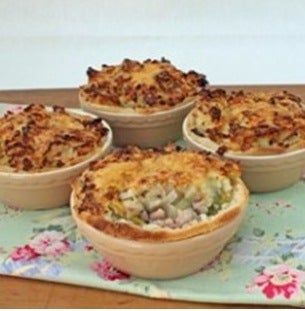 About the bake
These shortcrust Pork & Leek Pies are filled with pork mince and leeks and topped with cheesy mustard mash. Perfect comfort food. Make the mash and pork filling in advance and cool before assembling the pies.
Method
Step 1:

For the pastry, place the flour in a mixing bowl. Cut the butter and lard into cubes and add to the flour with a pinch of salt.

Step 2:

Using your fingertips rub the butter and lard into the flour until it resembles fine breadcrumbs. Alternatively blend it in a food processor.

Step 3:

Add 3-4 tbsp ice cold water , gradually stirring it into the dough with a knife until it just sticks together.

Step 4:

Turn the mixture out on a floured work surface and knead gently into a ball. Cover with cling film and chill in the fridge.

Step 5:

Make the filling; Dry fry the onion, mince and bacon until the meat changes colour. Add the leeks and fry for another minute or two. Sprinkle over the flour and stir.

Step 6:

Pour the apple juice or cider and stock into the mince and add the mustard. Taste and season. Remove from the pan and allow the mince mixture to cool as quickly as possible or overnight.

Step 7:

Stir most of the cheese and mustard in to the mashed potatoes.

Step 8:

When ready to assemble the pies, set the oven to 220°c (fan 200°c, gas mark 7). Quarter the pastry and roll each piece on a floured work surface into a circle large enough to line 4 small individual pie dishes.

Step 9:

Line the dishes and trim the edge. Add the cold pork filling and top with mash. Sprinkle with a little extra cheese and bake for 30 mins until golden brown and bubbling.
Ingredients
For the pastry

200g

 Allinson's Plain White Flour

1pinch

 

Salt

50g

 

Butter (cold)

50g

 

Lard (cold)

3 tbsp

 

Water (ice cold)

For the filling

1

 

Onion(s)

400g

 

Pork mince

4

 

Bacon rasher(s) (diced)

1

 

Leek(s) (medium, washed and sliced)

2 tbsp

 Allinson's Plain White Flour

1 tsp

 

Wholegrain mustard

200ml

 

Apple juice (or cider)

200ml

 

Vegetable stock

For the mash topping

500g

 

Potato(es) (cold, cooked and mashed)

75g

 

Cheddar cheese (grated)
Utensils
Mixing bowl

Food processor (optional)

Knife, clingfilm

Frying pan

4x Pie dishes
We'd love a slice of advice.
Was it yum? Did the recipe work well? Did you customise the recipe?
Ingredients
For the pastry

200g

 Allinson's Plain White Flour

1pinch

 

Salt

50g

 

Butter (cold)

50g

 

Lard (cold)

3 tbsp

 

Water (ice cold)

For the filling

1

 

Onion(s)

400g

 

Pork mince

4

 

Bacon rasher(s) (diced)

1

 

Leek(s) (medium, washed and sliced)

2 tbsp

 Allinson's Plain White Flour

1 tsp

 

Wholegrain mustard

200ml

 

Apple juice (or cider)

200ml

 

Vegetable stock

For the mash topping

500g

 

Potato(es) (cold, cooked and mashed)

75g

 

Cheddar cheese (grated)
Utensils
Mixing bowl

Food processor (optional)

Knife, clingfilm

Frying pan

4x Pie dishes