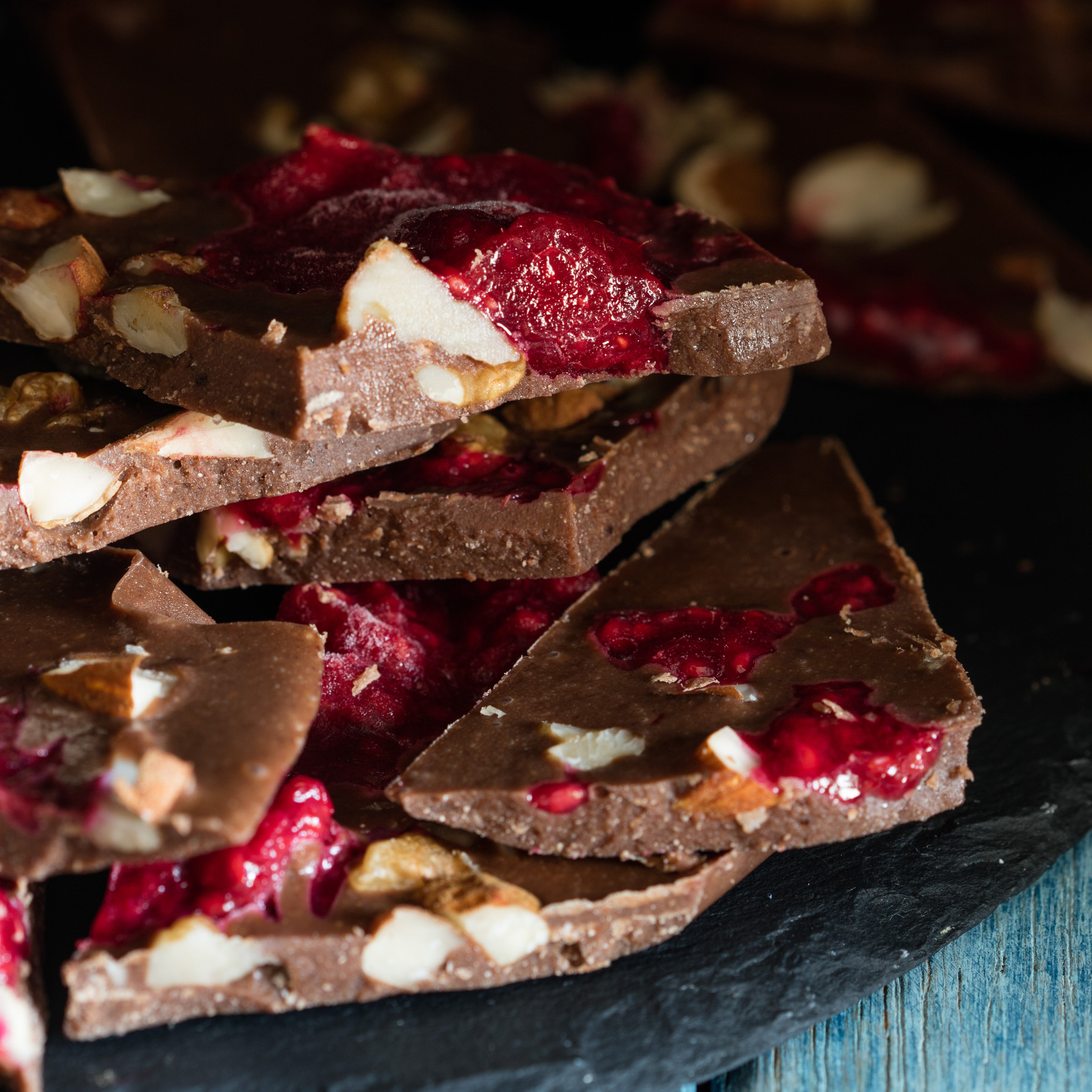 About the bake
Can you believe that this delicious looking treat is reduced calorie? This snack is ideal if you fancy something sweet on the go, the perfect homemade gift for friends and family or a little treat to nibble on whilst relaxing on movie night.
Method
Step 1:

In a bowl mix together the coconut butter, almond butter, Truvia and cocoa powder


Step 2:

Step 3:

Microwave the raspberries for 60 seconds until slightly mushy.


Step 4:

Place some greaseproof paper onto a baking tray and pour the chocolate butter inside. Sprinkle the nuts over and cover with the melted raspberries.


Step 5:

Place in the freezer for 1 hour. Take it out and break it into 10 pieces. Always keep frozen. You can transfer the chocolate to a container.

Ingredients
55g

 

Almond butter

110g

 

Coconut butter

1 tbsp

 

Cocoa powder

1 tsp

 Truvia calorie free sweetener

20g

 

Almonds

20g

 

Walnuts

50g

 

Raspberries (frozen)
Utensils
Large mixing bowl

Microwave

Greaseproof paper

Baking tray
We'd love to know how it went?
Was it yum? Did the recipe work well? Did you change any ingredients? Add anything?
Ingredients
55g

 

Almond butter

110g

 

Coconut butter

1 tbsp

 

Cocoa powder

1 tsp

 Truvia calorie free sweetener

20g

 

Almonds

20g

 

Walnuts

50g

 

Raspberries (frozen)
Utensils
Large mixing bowl

Microwave

Greaseproof paper

Baking tray