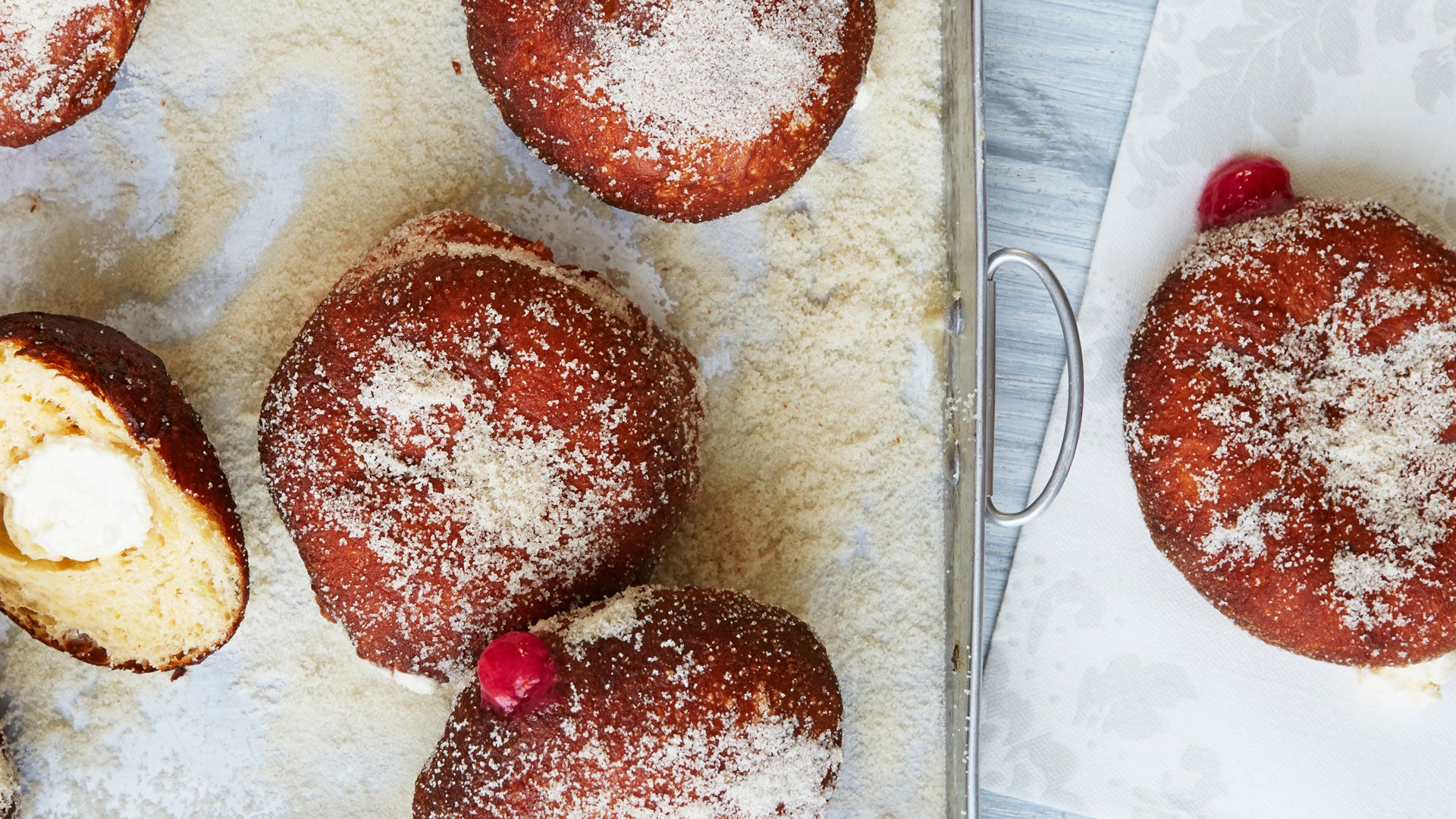 About the bake
Can you eat a whole one of these doughnuts without licking your lips? Candice Brown has put a spin on a timeless classic dessert combining a lovely rhubarb flavour with sweet vanilla cream piped into soft plum balls of deep fried dough. This recipe makes pretty big doughnuts, if you'd prefer something a little smaller just make half the size and double the amount... you'll end up eating two though so you may as well go for big ones.
Method
Step 1:

Put the flour in the large bowl of a free-standing electric mixer fitted with a dough hook. Make a small well in the middle. To one side put the yeast and on the opposite side put the salt, sugar and lemon zest. Pour the lukewarm milk, the very soft butter and egg into the well.


Step 2:

Mix on a low speed for 2 minutes until everything is combined. Turn up the speed slightly and mix/knead for 5 minutes until you have a smooth, soft dough. (You can also make the dough by hand, kneading on a lightly oiled surface for 10 minutes.)


Step 3:

Turn out the dough on to a lightly oiled work surface and shape into a smooth ball. Place in a lightly greased large bowl and cover with a clean tea towel. Leave to rise in a warm place for 1–2 hours until at least doubled in size.


Step 4:

Turn out the risen dough on to a lightly floured surface. Slightly knock out the air, then divide equally into either 6 large balls or 12 mini balls. Gently pinch and pull the outside of each ball into the middle so you get a nice smooth, round shape. Arrange the balls, not touching each other, on a baking sheet lined with greaseproof paper. Place this in a clean plastic bag and leave for 45–60 minutes until doubled in size.


Step 5:

Heat 10–15cm of rapeseed oil in a high-sided medium-sized saucepan or deep-fat fryer until the oil reaches 150°C (302°F). Deep-fry the doughnuts in batches – no more than three at a time – and check the oil temperature between each batch. Carefully place the dough balls into the oil. If they are large, fry for 3 minutes on each side; fry small balls for 2 minutes on each side. When done, the doughnuts will be puffed and golden brown. Lift out with a slotted spoon and place on kitchen paper to drain.


Step 6:

At this point you can roll the warm doughnuts in caster sugar if you like.


Step 7:

Put the rhubarb, white wine, golden caster sugar and orange zest in a small saucepan. Set on a low/medium heat and cook until the rhubarb is softened and the liquid has reduced to a thick syrup. Transfer 1 tablespoon of the syrup to a small bowl. Set the pan of rhubarb aside to cool.


Step 8:

In another bowl, combine the double cream, mascarpone, icing sugar and vanilla and whisk together until the mix is just thickened and will hold its shape. Spoon the cream mixture into a piping bag fitted with a fairly large round nozzle. Fill a second piping bag fitted with a fairly large, round nozzle with the rhubarb mix.


Step 9:

Using a chopstick, poke two holes side by side into the side of each doughnut – give the chopstick a wiggle around so you create space inside the doughnut. Pipe the cream mix into one hole and the rhubarb mix into the other hole (be careful as this mix is a little thinner and may run).


Step 10:

If you haven't rolled the doughnuts in caster sugar, then make a glaze with the reserved rhubarb syrup and the icing sugar. Drizzle this over the top of the filled doughnuts.

Ingredients
For the Dough

270g

 Allinson's Strong White Bread Flour

10g

 Allinson's Easy Bake Yeast Sachet

2 tsp

 

Salt

20g

 Silver Spoon Caster Sugar

1

 

Lemon zest (finely grated)

120ml

 

Whole milk (lukewarm)

40g

 

Butter (unsalted) (softened)

1

 

Egg(s) (free range) (large)

750ml

 

Rapeseed oil (for frying)

For the Filling

200g

 

Fresh rhubarb (chopped into small pieces)

2 tbsp

 

White wine (medium/sweet)

1 tbsp

 Billington's Unrefined Golden Caster Sugar

1

 

Orange zest (grated)

150ml

 

Double cream

150g

 

Mascarpone cheese

1 tbsp

 Silver Spoon Icing sugar

1/2 tsp

 Nielsen-Massey Vanilla Bean Paste

For the finishing touch

100g

 Icing sugar (sifted)
We'd love a slice of advice.
Was it yum? Did the recipe work well? Did you customise the recipe?
Ingredients
For the Dough

270g

 Allinson's Strong White Bread Flour

10g

 Allinson's Easy Bake Yeast Sachet

2 tsp

 

Salt

20g

 Silver Spoon Caster Sugar

1

 

Lemon zest (finely grated)

120ml

 

Whole milk (lukewarm)

40g

 

Butter (unsalted) (softened)

1

 

Egg(s) (free range) (large)

750ml

 

Rapeseed oil (for frying)

For the Filling

200g

 

Fresh rhubarb (chopped into small pieces)

2 tbsp

 

White wine (medium/sweet)

1 tbsp

 Billington's Unrefined Golden Caster Sugar

1

 

Orange zest (grated)

150ml

 

Double cream

150g

 

Mascarpone cheese

1 tbsp

 Silver Spoon Icing sugar

1/2 tsp

 Nielsen-Massey Vanilla Bean Paste

For the finishing touch

100g

 Icing sugar (sifted)