Halloween Party Food
Seasonal
It's October, the clocks have gone back and the nights are drawing in earlier. That can only mean one thing….Halloween is on its way.

Whether you are a fan of guts and gore or tend to lean more towards a 'Casper the friendly ghost' type of celebration, Halloween can be fun for the whole family.

We think these spook-tacular Halloween pops are a great way to get everyone involved this year. Depending on how much time you have, you could opt for either the simple Frankenstein marshmallow pops or push the boat out with the Pumpkin and Ghost cake pops. We had some leftover cupcakes from a recent bake session which worked perfectly to make up our cake pops so gave these a try first.

A brilliant, kid-friendly task would be to get hands on and crumble the cakes up into a large bowl. Next add the buttercream and mix together until it begins to form a big ball, then it's time to roll up those sleeves and get stuck in again rolling your cake pops. A good tip is to use an ice cream scoop to get an even sized ball each time – if you don't have one of these to hand though don't worry, you can always use a teaspoon.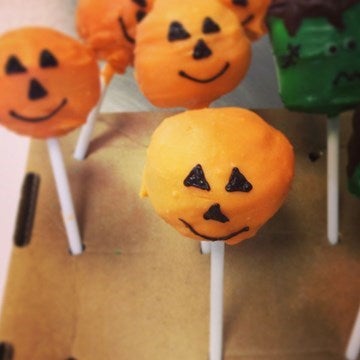 It's important to leave your cake balls to chill in the fridge and firm up. This will make them much easier to stay in shape when you dip them in the chocolate coating.

There are many brands of coloured chocolate that you can use, such as Candy Melts and these can often be found in cake and craft stores. Be careful not to overheat them though as they can become congealed and difficult to work with. A handy tip if this happens is to drizzle a very small amount of oil into the chocolate to loosen it up again.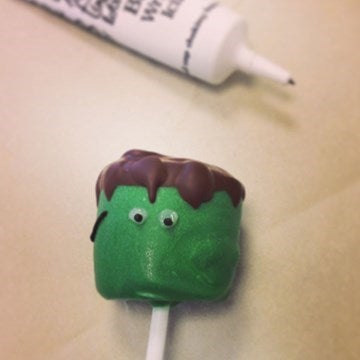 Sometimes the trickiest thing when making cake pops is to find somewhere to dry them. I used an empty, fairly shallow cardboard box and punched small holes in it using my leftover cake pops sticks. Make sure that the holes are at least an inch apart as cake pops like to lean a little when drying and you don't want them to stick together.

Once dry, the fun part can begin…decorating. You can be as creative as you like and if you go wrong, don't worry simply eat the cake pop and no-one will ever know!!

If you don't have any spare cake to make the cake pops you can dip marshmallows and follow the process in exactly the same way. This works perfectly for the freakish Frankenstein pops and tastes just as yummy.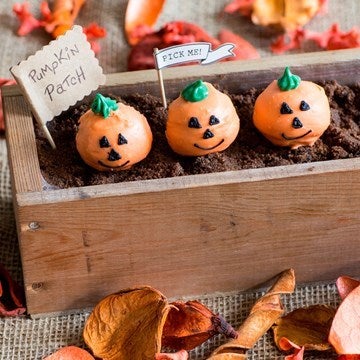 So what are you waiting for? Gather together your little ghosts and ghouls and get creative with our Halloween treats. Try more spooky inspiration.

Happy Halloween!!