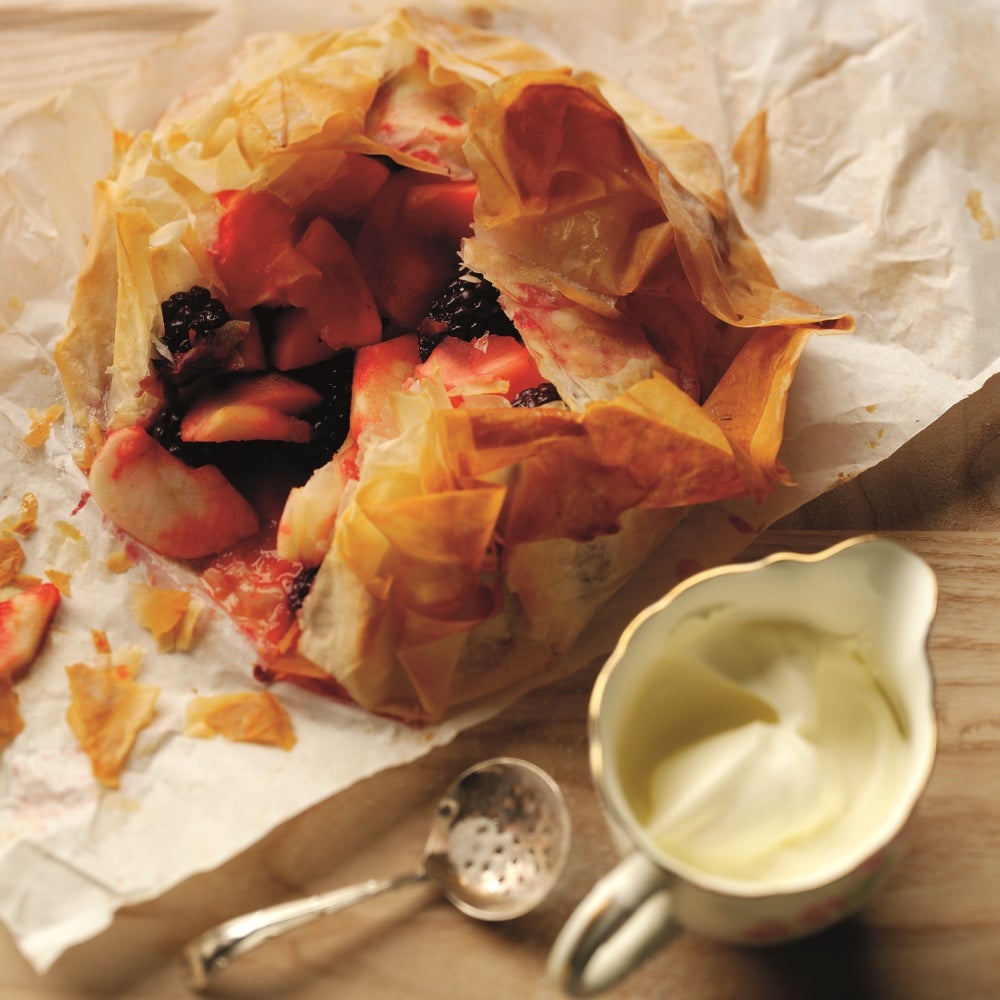 About the bake
Try baking this fantastic fruity pie. The filo pastry is lower in calories than traditional shortcrust and puff pastry and the apple and blackberries make it taste delicious. At 255 calories per serving, why not give it a try?
Method
Step 1:

Preheat the oven to 180°C (fan oven 160°C, gas mark 4). Lightly grease a 23cm pie plate.

Step 2:

Combine the apples, blackberries, sugar, cinnamon, nutmeg and lemon juice in a large bowl and set aside. In a small bowl, mix honey with warm water.

Step 3:

Stack the filo sheets on a clean surface. Working quickly, brush the top sheet with the honey mixture and lay on the pie plate. Push the filo sheet into the plate, leaving the sides overhanging. Brush the next sheet and lay on top of the first sheet.



Step 4:

Brush the third layer and lay it so that the sides overhang the opposite side of the plate, making a cross shape. Do the same with the remaining filo pastry, building the layers into a star shape.

Step 5:

Spoon the apple mixture into the pie plate, forming a large mound.

Step 6:

Gather overhanging sides of filo sheets up to form a pie, but making sure some of the fruit remains exposed in the centre.

Step 7:

Place in the oven and bake for 30-35 minutes. Serve with custard or cream.
Ingredients
For the filling

5

 

Bramley apple(s) (peeled, cored and thinly sliced.)

200g

 

Blackberries

1 tbsp

 Half spoon granulated sugar

1 tsp

 

Cinnamon

0.25 tsp

 

Nutmeg

1 tbsp

 

Juice of one whole lemon

For the pastry

8

 

Filo pastry sheet(s) (squares)

2 tbsp

 

Warm water

1 tbsp

 

Honey
Recipe Reviews
What the recipe failed to mention Filo pastry has to rest at room temperature for 2 hours before using. All ingredients are good and sufficient. You need to work quickly with the filo sheets but the finished article looked good and tasted good.
Ingredients
For the filling

5

 

Bramley apple(s) (peeled, cored and thinly sliced.)

200g

 

Blackberries

1 tbsp

 Half spoon granulated sugar

1 tsp

 

Cinnamon

0.25 tsp

 

Nutmeg

1 tbsp

 

Juice of one whole lemon

For the pastry

8

 

Filo pastry sheet(s) (squares)

2 tbsp

 

Warm water

1 tbsp

 

Honey