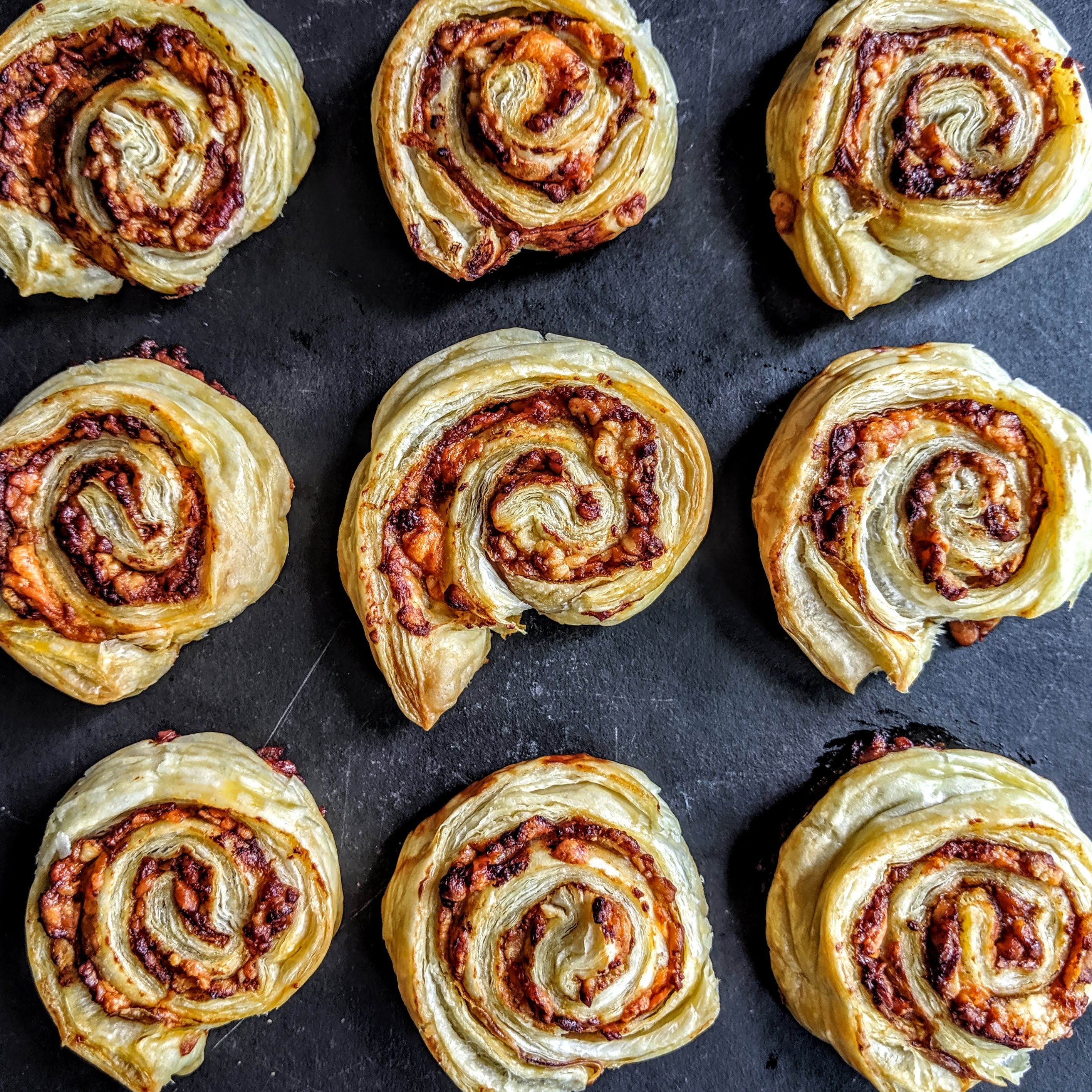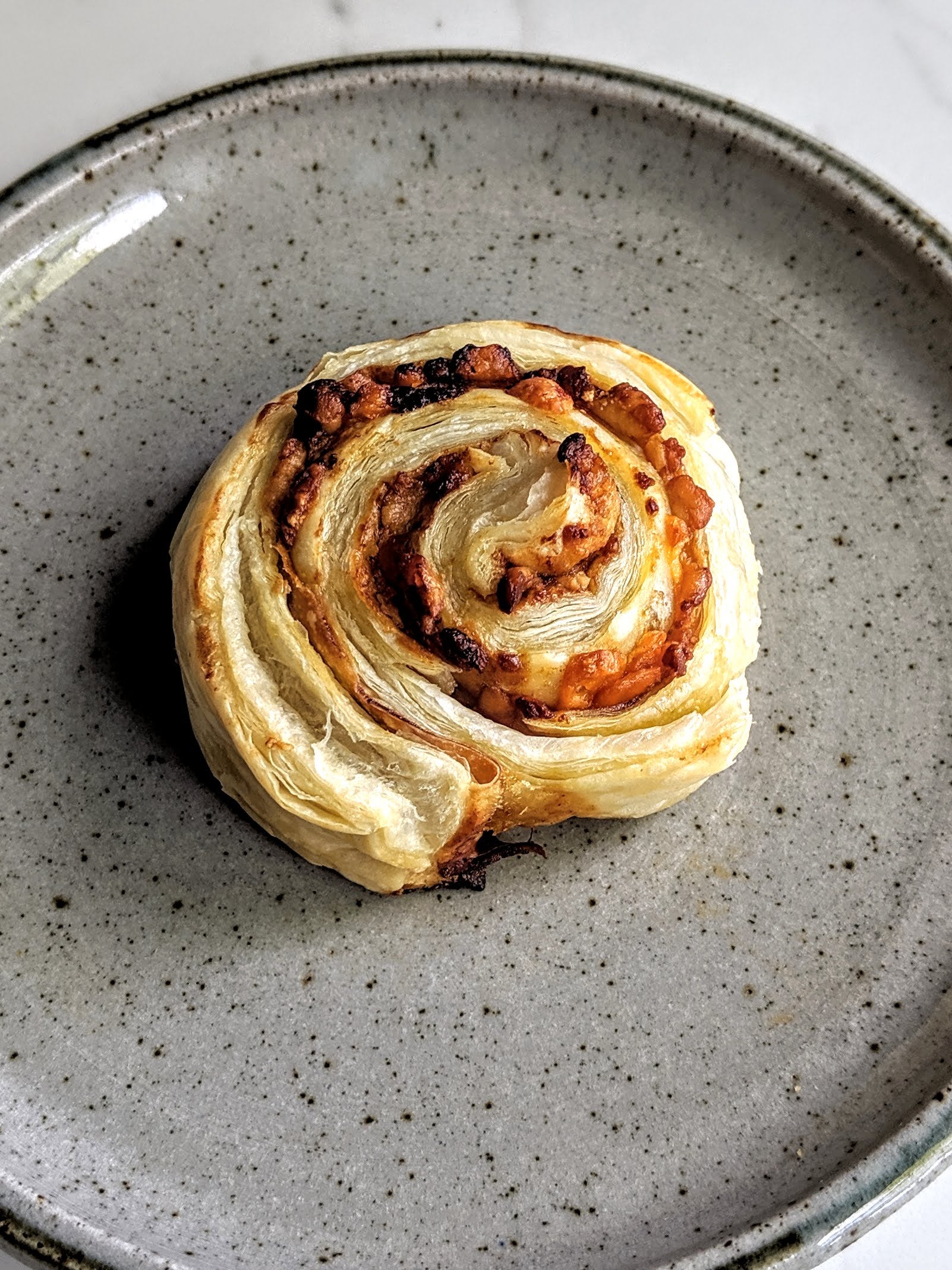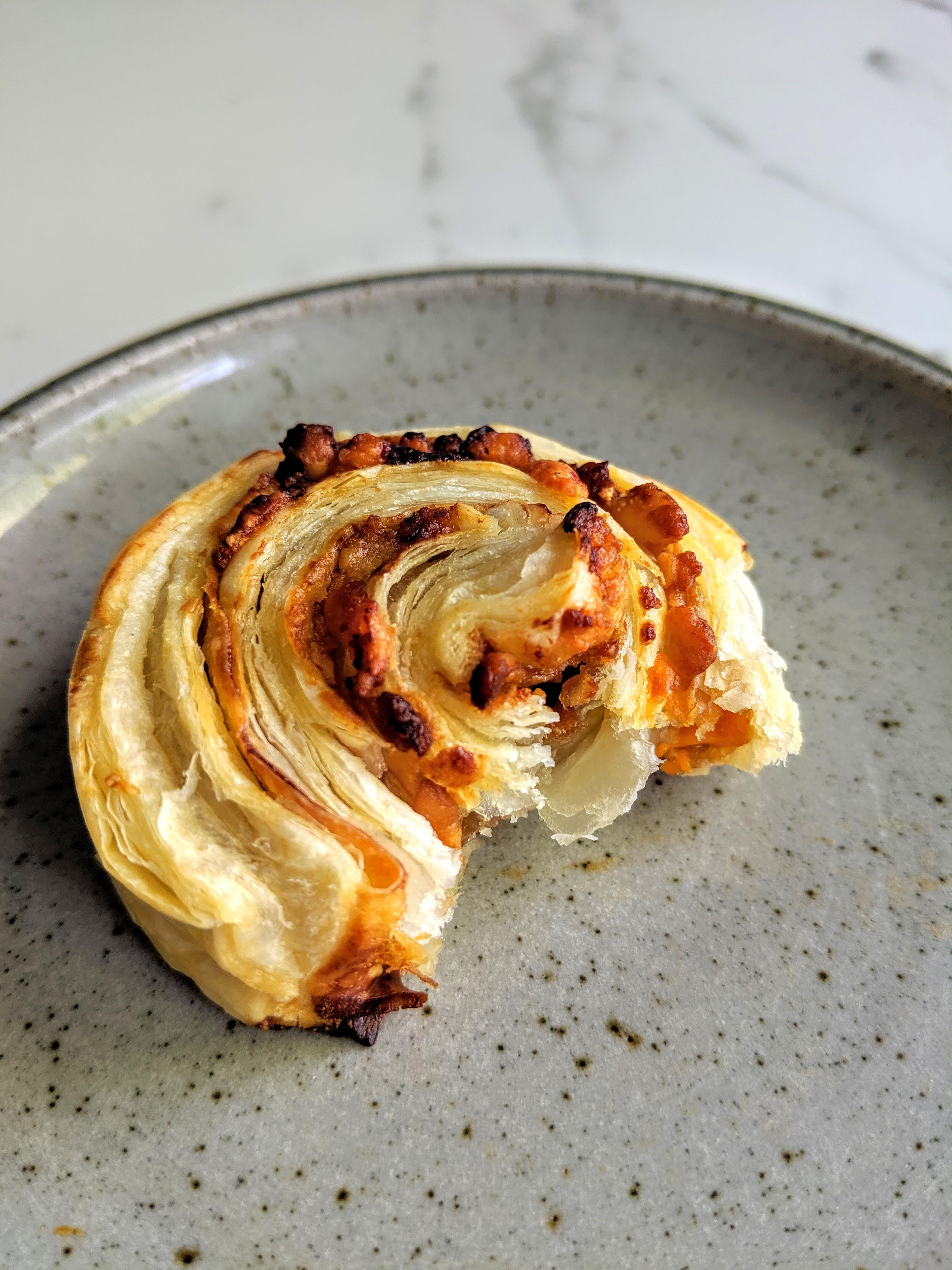 About the bake
Our team is a big fan of marmite. We love the extra salty flavour it brings to bakes. We've created some delicious cheese and marmite puff pastry swirls which are a doddle to make and a real crowd-pleaser. If you want to make your own puff pastry from scratch, just follow our puff pastry recipe here.
Method
Step 1:

Preheat your oven to 220°C (200°C for fan assisted ovens)/Gas Mark 7.


Step 2:

Grate 250g of cheddar (We used a strong cheddar because we love the flavour).


Step 3:

Spread 3 tbsp of marmite across the sheet of puff pastry using a knife, be careful as it's tricky to do!


Step 4:

Spread the grated cheese on top of the marmite ensuring an even coverage. (You can always grate more if you want them really cheesy).


Step 5:

It's time to roll your pastry. Start with one edge and tuck it under as you begin to roll. You'll end up with a large thing which looks like a swiss-roll. Using a sharp knife, slice into 2cm pieces.


Step 6:

Place your slices onto a non stick baking tray and wash the top with egg. Place in the oven and bake for 20 minutes or until golden on the top.

Ingredients
For the Swirls

1

 

Roll of puff pastry (shop bought)

250g

 

Strong cheddar

3 tbsp

 

Marmite
Nutritional Information
per 53g
220cal

 

Energy

16g

 

Fat

8.5g

 

of which Saturates

9.8g

 

Carbohydrates

0g

 

of which Sugars

9.7g

 

Protein

1.4g

 

Salt
Recipe Reviews
They are absolutely delicious, but if you have a fan oven and put them at the temp 200 don't keep them in for the full 20 mins, they burn easily, so to prevent this cook them for 10-12 mins :)
love these. As marmite unavailable at the moment, I use Bovril. Quick and easy and delicious
Warm the marmite in microwave - 10 -15 seconds on medium heat - much easier to spread!
Many thanks to the person who rolled theirs the wrong way- I've been doing that for 15 years, wondering why they weren't cooking through before burning the edges (my poor kids have learnt they come raw or burnt!). Today, I have cooked perfect whirls. I also used the advice to warm the marmite, and I used a pastry brush to apply it to the pastry which gave a thin but tasty layer instead of an overpowering blast of marmite. In my boys words they rock!!
Yes, melt the marmite before spreading, delicious
Ingredients
For the Swirls

1

 

Roll of puff pastry (shop bought)

250g

 

Strong cheddar

3 tbsp

 

Marmite
Nutritional Information
per 53g
220cal

 

Energy

16g

 

Fat

8.5g

 

of which Saturates

9.8g

 

Carbohydrates

0g

 

of which Sugars

9.7g

 

Protein

1.4g

 

Salt