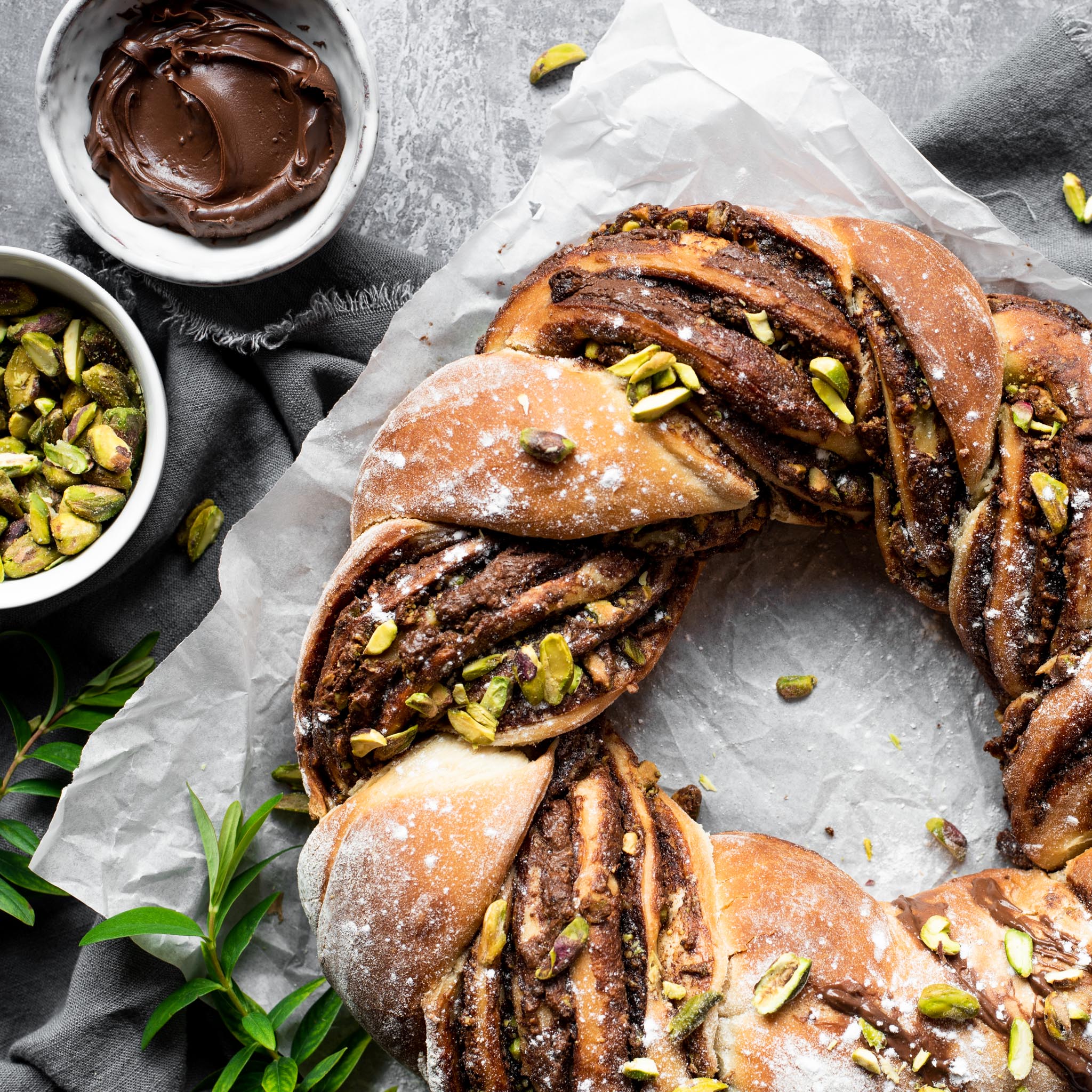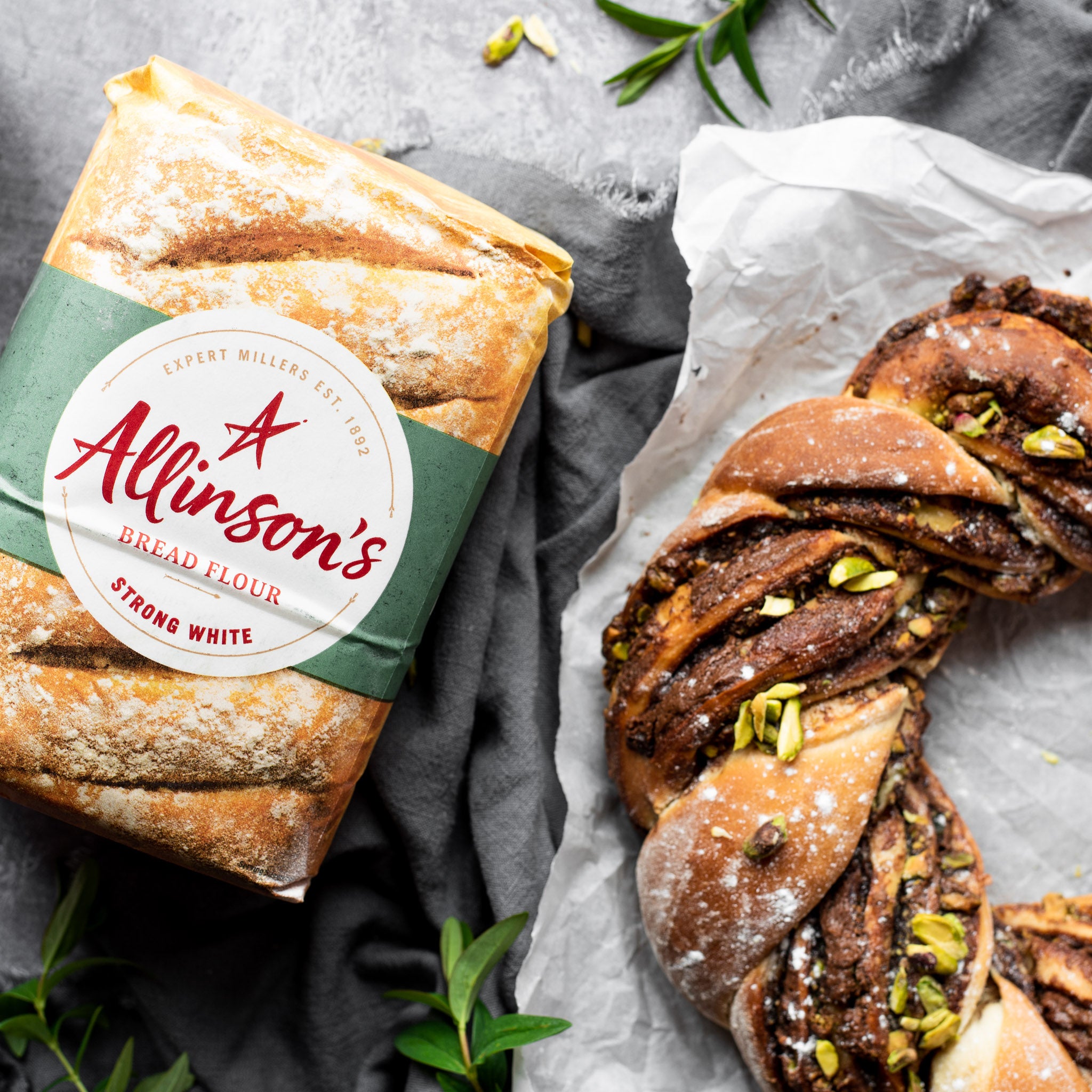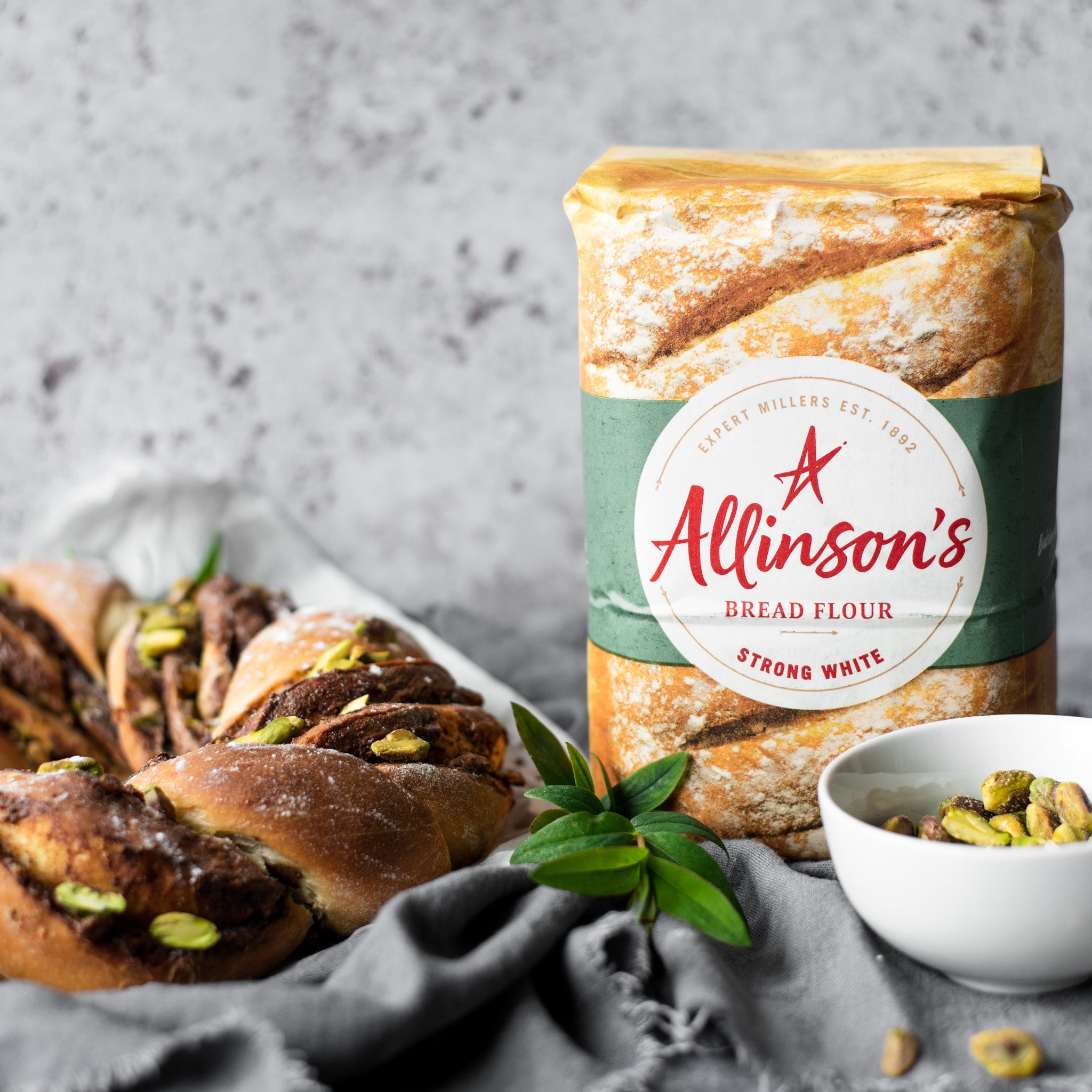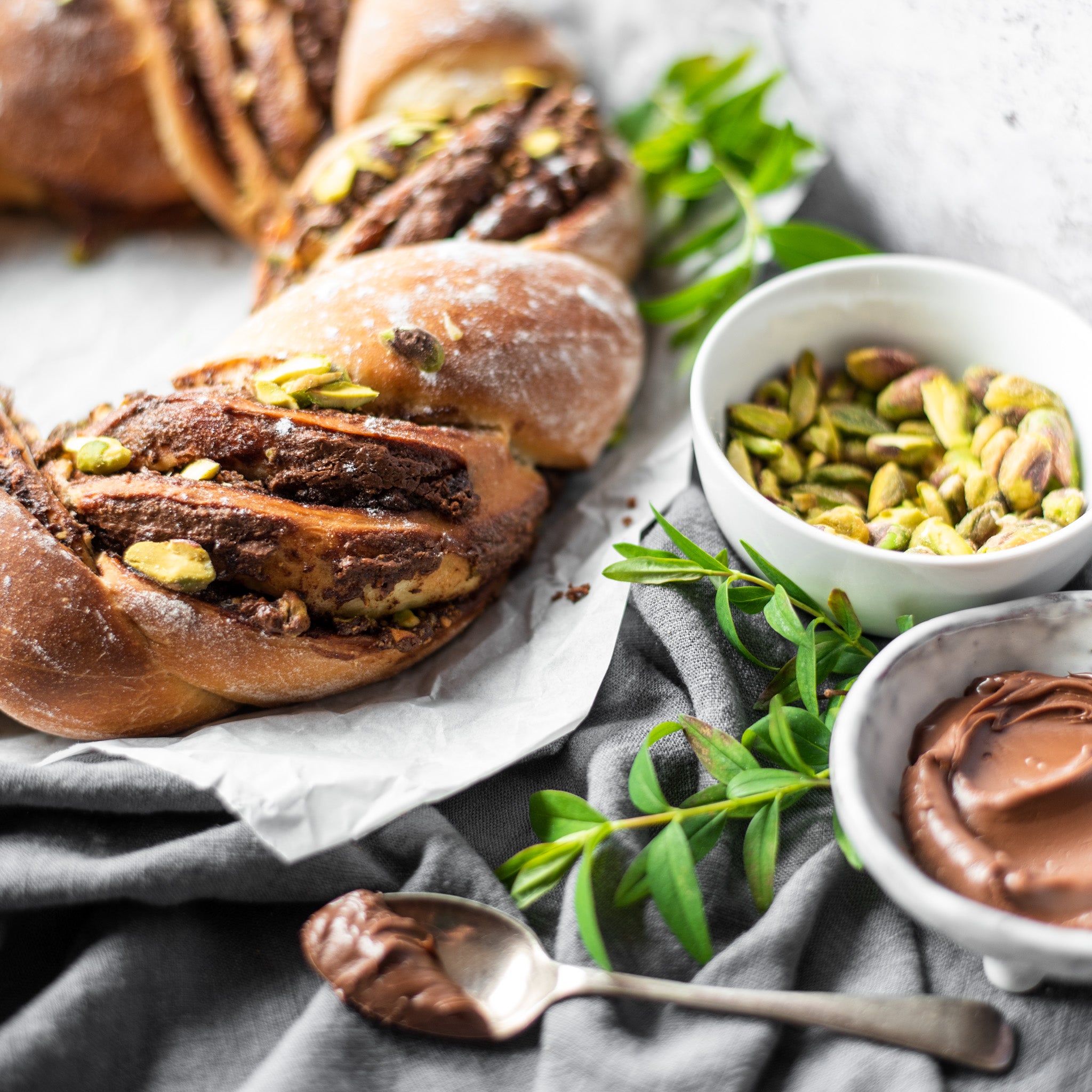 About the bake
What a showstopper. Leave your guests in ore at this stunning chocolate and pistachio bread wreath, filled to the brim with nutty, sweet chocolatey flavours and bursting with hazelnut spread. A feast for the eyes and stomach alike, this one is for special occasions, and surprsingly easy to master in a handful of steps.

Using Allinson's strong white bread flour, expect your dough to bake without losing its shape, and having the chewy yet delicate texture we all love about fresh bread.
Not a sweet tooth? We won't judge. Try our Wholemeal Wreath Recipe made with Allinson's wholemeal dough- slightly simpler to make and just as tasty and beautiful. Or if you're looking for the ultimate savoury centrepiece, our popular Pigs in Duvets will do the trick.
Method
Step 1:

MIX

Bring the milk to the boil, then remove from the heat and add the butter. Leave to cool until it reaches hand temperature. Mix the flour, yeast, sugar and salt in a big bowl. Mix the milk and the beaten egg into the dry ingredients with a wooden spoon.

Step 2:

KNEAD Tip onto a lightly flour dusted surface and knead for 10 minutes (or use the dough hook attachment on your mixer).


Step 3:

RISE

Lightly grease the mixing bowl with some oil. Put the dough back in, cover the bowl with a clean tea towel and leave to rise until doubled in size – up to 2 hours depending on how warm your kitchen is.

Step 4:

SHAPE

Knock back the dough by gently kneading just 5 times to get the air out. Roll into a 60 x 20cm rectangle – keep rolling until the dough stops bouncing back. Thinly spread over the chocolate spread and scatter over the pistachios. Roll up as tightly as you can from one of the long sides like a swiss roll. Use a sharp, floured knife to cut the roll in half down the length – but not quite through at one end so the two strips are still joined. Twist the strips together, then lift onto a floured baking sheet and bring the ends together to make a wreath – pinching the ends together to stick.

Step 5:

PROVE

Cover the dough again with a clean tea towel and leave to prove for just 20 minutes. Preheat your oven to 180°C (160°C fan, gas mark 4).

Step 6:

BAKE

Bake the wreath for 30-40 minutes until golden and crusty. Enjoy warm.
Ingredients
For the Dough

500g

 Allinson's Strong White Bread Flour

7g

 Allinson's Easy Bake Yeast

275ml

 

Whole milk

50g

 

Unsalted butter (cold, diced)

1

 

Medium free range eggs (beaten)

75g

 Billington's Unrefined Golden Caster Sugar

1 1/2 tsp

 

Salt

Plus

150g

 

Chocolate hazelnut spread

75g

 

Pistachio nuts (finely chopped)
Utensils
Saucepan

Wooden spoon

Tea towel

Rolling pin

Baking sheet
Recipe Reviews
A great recipe but I'm thinking of adding more chocolate spread when I make a second one next week. Freezes well and is delicious toasted.
Ingredients
For the Dough

500g

 Allinson's Strong White Bread Flour

7g

 Allinson's Easy Bake Yeast

275ml

 

Whole milk

50g

 

Unsalted butter (cold, diced)

1

 

Medium free range eggs (beaten)

75g

 Billington's Unrefined Golden Caster Sugar

1 1/2 tsp

 

Salt

Plus

150g

 

Chocolate hazelnut spread

75g

 

Pistachio nuts (finely chopped)
Utensils
Saucepan

Wooden spoon

Tea towel

Rolling pin

Baking sheet