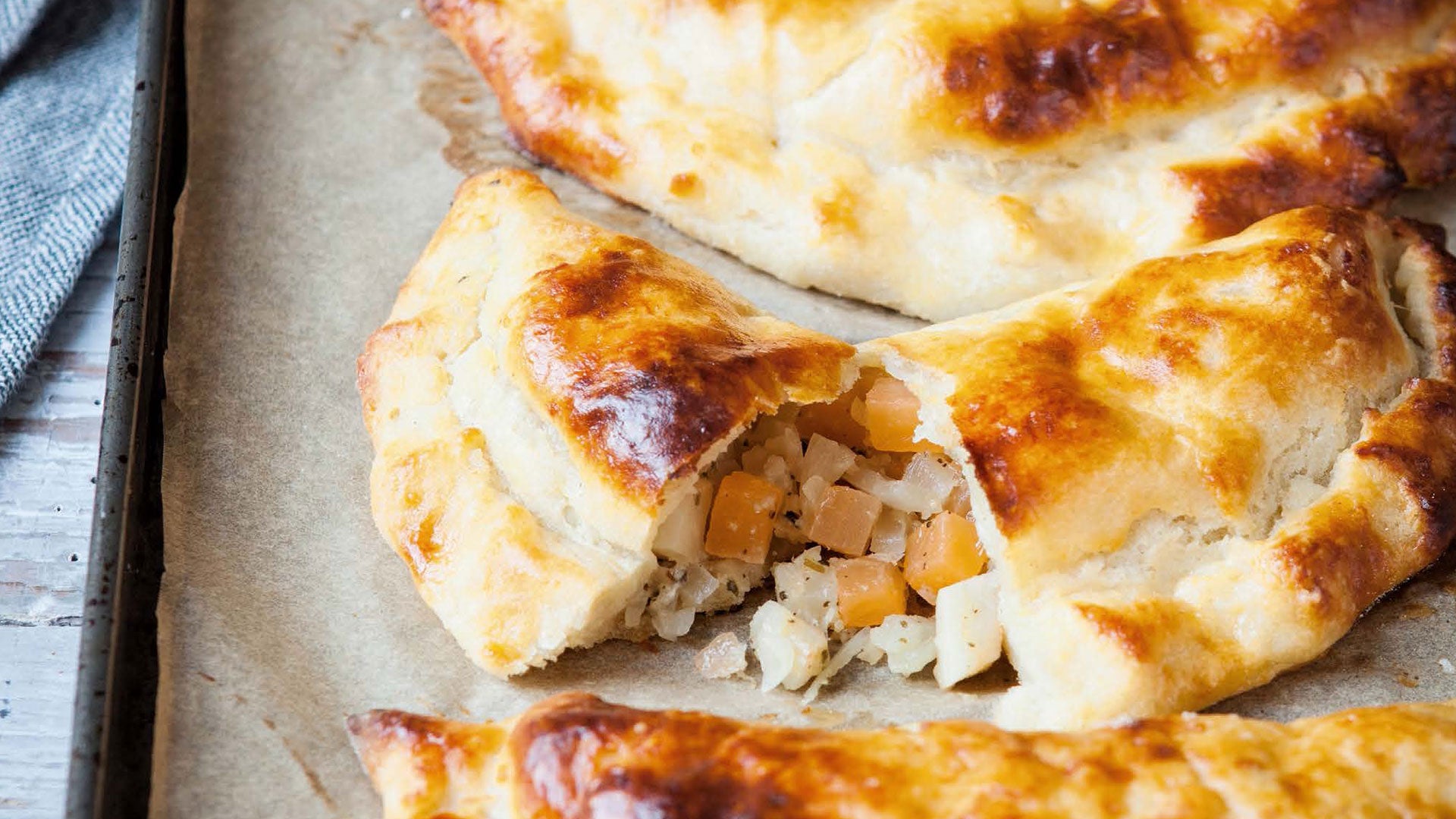 About the bake
This vegetarian pastry pie recipe is by the Hairy Bikers and is a taste sensation. Filled with fresh veggies and a nice kick from the black pepper and mustard, trust us when we say- you'll be making this time and time again. This recipe makes a great dish for a picnic, or to take to work for a good lunch (your colleagues will want you to share). Follow our potato pastry recipe to get started.
Method
Step 1:

Make the pastry and leave it to chill in the fridge for at least a couple of hours to firm up the dough. Preheat the oven to 200°C/Fan 180°C/Gas 6.


Step 2:

Bring a saucepan of water to the boil and add salt. Add the celeriac and swede and blanch for 2 minutes, then drain them and put them in a bowl. Leave them to cool completely, then add the onion, cheese, mushroom ketchup and sage. Season with salt and pepper and mix thoroughly.


Step 3:

Divide the dough into 8 pieces and roll each piece into a circle with a 12–13cm diameter – about the size of a saucer. Divide the filling into 8 portions. Take a circle of pastry and place a portion of filling in a line along the middle of the circle. Brush the exposed pastry with the beaten egg, then bring the 2 halves

together, and seal, crimping the edges Cornish-pasty style. Repeat to make all the pasties, then brush them with beaten egg and place them on a baking tray lined with baking paper.


Step 4:

Bake the pasties in the oven for about 45 minutes until the pastry is golden brown and crisp. Transfer the pasties to a cooling rack to cool down so the underside of the pastry doesn't go soggy. Nice hot or cold.

Ingredients
2 portions

 

Potato pastry

1

 

Egg (beaten, for sealing & glazing)

For the Filling

100g

 

Celeriac (finely chopped)

100g

 

Swede (finely chopped)

1

 

Small onion (finely chopped)

50g

 

Cheddar cheese (reduced fat, grated)

1 tsp

 

Mushroom ketchup

1/2 tsp

 

Dried sage

Pinch of

 

Sea salt

Pinch of

 

Black pepper (freshly ground)
We'd love a slice of advice.
Was it yum? Did the recipe work well? Did you customise the recipe?
Ingredients
2 portions

 

Potato pastry

1

 

Egg (beaten, for sealing & glazing)

For the Filling

100g

 

Celeriac (finely chopped)

100g

 

Swede (finely chopped)

1

 

Small onion (finely chopped)

50g

 

Cheddar cheese (reduced fat, grated)

1 tsp

 

Mushroom ketchup

1/2 tsp

 

Dried sage

Pinch of

 

Sea salt

Pinch of

 

Black pepper (freshly ground)