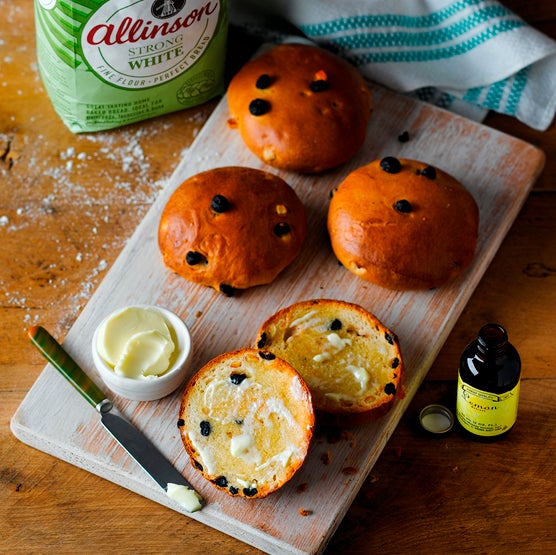 About the bake
Our delicious Yorkshire tea cakes have an added twist of blueberry and lemon. They go perfectly with a cup of tea and plenty of butter. We have a few tea cake recipes on the website, if your looking for a tea cake recipe which is slightly more traditional have a look at our simple Teacakes by Allinson's.
Method
Step 1:

Add the flour to a large bowl and place the salt to one side of a bowl and the yeast on the other. Add the sugar, butter, lemon extract and milk, and using clean hands bring it together to make a soft, easily kneadable dough, adding more milk or flour if needed.

Step 2:

Place the dough on a lightly floured surface and knead for 10 minutes (this can be done in a mixer with a dough hook on a medium speed for 4-5 minutes), until the dough is smooth and silky.

Step 3:

Place in a large lightly oiled bowl and cover with cling film and leave to rise to at least double in size, about 1-2 hours.

Step 4:

Tip the dough out onto a floured surface and knead through the zest, blueberries and mixed peel to evenly disperse them.

Step 5:

Divide the dough into 8 and shape each into a ball. Use a rolling pin to roll each bun to a 1cm thick bun.

Step 6:

Place on a lined baking sheets and cover the dough with a tea towel and leave to prove for another hour until doubled in size

Step 7:

Preheat the oven to 200C (fan 180C, gas mark 6).

Step 8:

Brush each with a little milk and bake in the oven for 20 minutes until risen and golden.

Step 9:

Place on a wire rack to cool. To serve, split in two, lightly toast and spread with butter or jam. Substitute the blueberries for dried cranberries or chopped dried cherries as an alternative.


Ingredients
450g

 Allinson's Strong White Bread Flour

0.5 tsp

 

Salt

1 tsp

 Allinson's easy bake yeast (heaped)

50g

 Billington's Unrefined Golden Caster Sugar

40g

 

Butter (unsalted) (softened)

1.5 tsp

 

Lemon extract

250ml

 

Milk (whole) (tepid)

1

 

Lemon zest

100g

 

Blueberries (dried)

50g

 

Mixed peel (chopped)

 

Milk (whole) (for glazing)
Utensils
Large mixing bowl

Mixer

Cling film

Rolling pin

Tea towel

Cooling rack
We'd love a slice of advice.
Was it yum? Did the recipe work well? Did you customise the recipe?
Ingredients
450g

 Allinson's Strong White Bread Flour

0.5 tsp

 

Salt

1 tsp

 Allinson's easy bake yeast (heaped)

50g

 Billington's Unrefined Golden Caster Sugar

40g

 

Butter (unsalted) (softened)

1.5 tsp

 

Lemon extract

250ml

 

Milk (whole) (tepid)

1

 

Lemon zest

100g

 

Blueberries (dried)

50g

 

Mixed peel (chopped)

 

Milk (whole) (for glazing)
Utensils
Large mixing bowl

Mixer

Cling film

Rolling pin

Tea towel

Cooling rack