Baking a 1st Birthday Cake
Cake
A whole year has a passed in the blink of an eye and my daughter is turning one. Many of the parents reading this, like me will have wondered how did that year go by so quickly? How are they beginning to look so grown up already? What am I going to do about their first birthday party??

Some parents are in the camp of "they are only one; let's keep their birthday low key". Some go the whole hog with bouncy castles and entertainers. Others are somewhere in the middle ground…and that was me.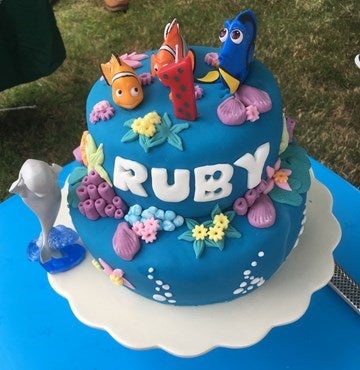 I know quite a few of my friends with young children had the inner debate about whether to bake their child's first birthday cake, or whether to pay for one to be made for them. Many of them are self-confessed novices in the kitchen and feared that if they tackled the daunting task of baking a cake it wouldn't match their expectations. I suppose the point I want to make in this article is that it doesn't have to be that 'daunting' challenge that it is perceived to be. There are many tips and tricks that you can use to make it everything that you hoped for (and the truth is if it isn't, your little one will be too young to remember, you can destroy any photo evidence of the cake and it will be a story that you will laugh about with your family for years to come!)

Being known as "Baking Mad" amongst my friends and family I felt an overwhelming pressure to produce a baking masterpiece for my little girl (all pressure I put on myself may I add!) To be quite truthful having been on almost a year-long maternity leave with very little time to get in the kitchen and bake, my confidence had gone a little. I pinned hundreds of magnificent ambitious birthday cakes on Pinterest, until I realised I needed to scale back and keep it simple.

My daughter is a huge fan of aquariums and brightly coloured fish, and we have watched Disney's Finding Nemo more times than I can count now, so I decided on a Nemo themed cake. Instead a slaving away on intricate fondant models of the characters (which I have been known to do previously) I opted for toy characters that I knew my daughter would enjoy playing with in years to come. I kept the cake flavour simple with a classic Victoria sponge filled and covered with jam and vanilla buttercream. I covered the cake with blue fondant icing and made little coral reef plants out of brightly coloured icing to place around the cake. A lot of these were made by using flower cutters, or simply rolling up balls of icing and using toothpicks to make patterns on them or holes in the top of them.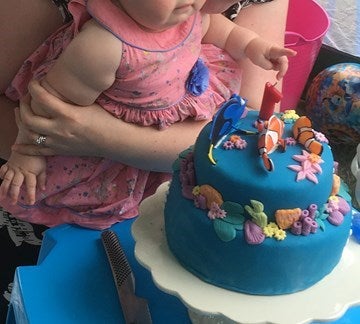 I did make my cake two tiers as I have a large family that were attending the birthday party and worried that I would run out of cake, but this could just be one tier if you are more comfortable with that. You would need dowels to be inserted into the bottom cake for support if you are baking two tiers.

To add a name to the cake, I would recommend drawing it out on greaseproof paper and cutting out the shapes of the letter, then with a knife cutting round them into fondant icing. All of the icing decorations can be attached to the cake by brushing the backs lightly with cooled boiled water so that they stick into place.

Obviously this style of cake was perfect for my daughter, however, I know that children all have different likes, perhaps your little one is mad about Unicorns, desperate to be a Superhero or Jake and the Neverland pirates, so would prefer a pirate cake? I hope that this article has helped inspire you to get your apron on and dismiss all talks of birthday cake disasters. If you do still want an extra helping hand, why not try out our Baking Mad Celebration Cake recipes for inspiration?

We would also love to see photos of your birthday cakes if you do give them a go. Feel free to share on Facebook or Instagram @BakingMad

Happy Baking x