How to Make Dalgona Coffee with Billington's and Paul A. Young
Prep
There is a new trend online and it is Dalgona Coffee. You might be wondering 'What is Dalgona Coffee?' or 'Where can I get my hands on a delicious Dalgona Coffee recipe?' Well we have got you covered...

Dalgona is a whipped coffee, served over iced milk. It has just a few simple steps to make an Instagram worthy iced coffee of which most Barista's would be proud.

Paul A. Young has taken it one step further and produced a decadent chocolate Dalgona recipe with an indulgent Maple and Vanilla twist that is definitely worth a try. So what are you waiting for?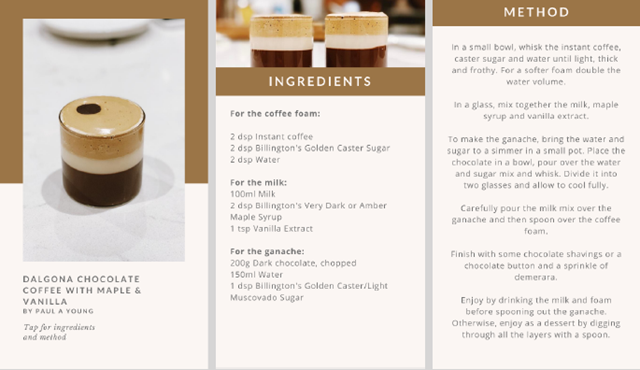 Ingredients

For the coffee foam:

2 tsp Instant Coffee

2 tsp Billington's Golden Caster Sugar

2 tsp Water


For the milk:

100ml Milk

2 tsp Billington's Very Dark or Amber Maple Syrup

1 tsp Nielsen-Massey Vanilla Extract


For the ganache:

200g Dark Chocolate, chopped

150ml Water

1 tsp Billington's Golden Caster or Light Muscovado Sugar


Method

In a small bowl, whisk the instant coffee, caster sugar and water until light, thick and frothy. For a softer foam double the water volume.

In a glass, mix together the milk, maple syrup and vanilla extract.

To make the ganache, bring the water and sugar to a simmer in a small pot. Place the chocolate in a bowl, pour over the water and sugar mix and whisk. Divide it into two glasses and allow to cool fully.

Carefully pour the milk mix over the ganache and then spoon over the coffee foam.

Finish with some chocolate shavings or a chocolate button and a sprinkle of demerara.

Enjoy by drinking the milk and foam before spooning out the ganache. Otherwise, enjoy as a dessert by digging through all the layers with a spoon.

For more inspiration why not follow us on Facebook @BakingMadUK and Instagram @bakingmad