Aquafaba, The Egg Free Alternative
Prep
When researching egg alternatives for a different article we stumbled across an ingredient that's so versatile and readily available – Introducing Aquafaba!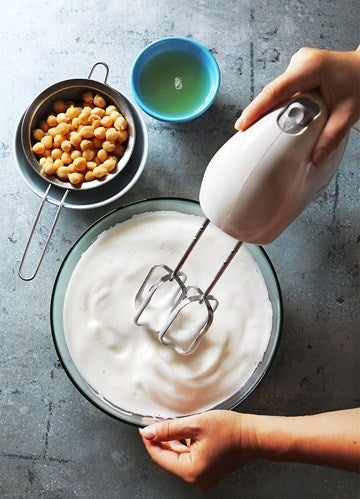 What is Aquafaba? Aquafaba may sound like an exotic ingredient but essentially, it's the brine you find in a can of cooked beans, usually chick peas. While it may seem like an easily-discarded by product, it's actually a powerful, versatile ingredient that can be used as an easy egg alternative. I know you're probably wondering how on earth this could possibly taste nice but once whipped with sugar it forms the same consistency of soft and fluffy whipped egg whites. Perfect for vegan baking and those of you with egg allergies.

Top Tip: Use a can of chick peas with less than 0.1% salt so as to not impact the flavour of the bake.

History

The use of Aquafaba as a cooking ingredient was pioneered in 2015 when American software engineer Goose Wohlt discovered that chick pea liquid by itself can act as a direct egg white replacer in both sweet and savoury recipes. The unique mix of starches, proteins, and other soluble plant solids which have migrated from the beans to the water during the cooking process gives aquafaba a wide spectrum of emulsifying, foaming, binding, gelatinizing and thickening properties. Making it the ideal egg replacement solution. Wohlt later invented the name "aquafaba" for his discovery, based on the Latin words for "water" and "bean".

Uses

Aquafaba is perhaps the most versatile vegan alternative cooking ingredient currently around with it's potential uses covering recipes for meringues, mayonnaise, ice-cream, butter, crepes, moose, cheese and so much more.

The first use of aquafaba, and perhaps the most natural due to it's egg white colour and consistency when whipped was to create meringues. It's so easy to make , with just 1 additional ingredient – sugar! You can give this a try yourself using this simple Vegan Egg Free Meringue recipe.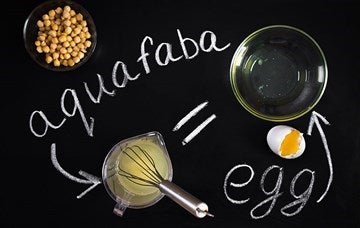 Due to the binding qualities of the brine you can easily veganise your favourite recipes as both egg whites and whole eggs can be swapped out successfully with aquafaba. Simply use the formula 3 tablespoons = 1 egg and 2 tablespoons = 1 egg white.

Top Tip: Left over aquafaba can be frozen for use at a later date. Freeze in ice cube trays for easy 'egg' size portions.