The Ultimate Guide to Stir Up Sunday
Seasonal
For us home bakers, Stir Up Sunday is possibly one of the best parts of the whole festive season. If like me you get groaned at for wanting to start wearing Christmas jumpers on November 6th and subtly adding Christmas songs to their shuffle playlists then it's the day you are officially allowed to start preparing for the impending Christmas celebrations as its traditionally the day to begin preparing your Christmas cake or pudding. Stir Up Sunday always falls on the last Sunday before advent.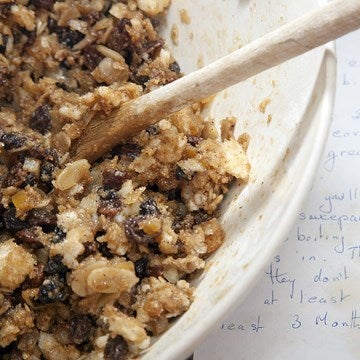 Stir Up Sunday is a great family tradition with everyone in the family having a chance to give the batter a mix and make a wish. Some households even place a coin (traditionally a sixpence) in the pudding which is thought to bring good luck, health and happiness in the upcoming year to the person who finds it in their slice.

We have fond memories at Baking Mad HQ of stirring the Christmas pudding mix as kids and making a special Christmas wish, whilst festive tunes were playing in the background – good quality family time. So, we have put together the ultimate guide to Stir Up Sunday for you all.

Step 1 – Find a yummy Christmas Pudding recipe on Baking Mad. CHECK!

Step 2 – Buy your ingredients. We personally believe that using the very best quality ingredients that you can afford will turn your Christmas pudding into a real showstopper.

Step 3 – Check that you have got all the correct baking equipment, such as non-stick baking parchment, tin foil, kitchen string, wooden spoon and of course the pudding basin! A 1.25lt basin is perfect for a standard recipe and all these bits can be bought from good homeware stores.

Step 4 – So now comes the time to begin making your pud

[Cue the cheesy Christmas music – 'All I want for Christmas is yoooooou……"]

Top Tip: It is ideal to soak your fruit overnight, however, don't worry if you forget or don't have the time a quick cheat tip is to place the fruit in a microwaveable bowl, pour over the liquid, cover and microwave for a few minutes to allow the fruit to absorb the liquid.

Traditionally bakers use rum or brandy to soak their fruit however you can use your favourite tipple or if you are looking for a child friendly version, replace the alcohol with fruit juice.

Follow the recipe and don't forget to gather everyone round to make a wish (sssh it's a secret, don't share your wish otherwise it won't come true!)

Once your pudding has been made store in a cool, dark place until the big day.

If you have time, why not make extra puds (or even mini puds) as these are great homemade gifts to impress your friends and family.

On The Big Day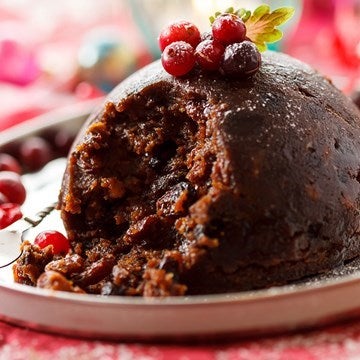 Steam your pudding for several hours (as per the recipe instructions) and serve with delicious brandy butter. We even have a homemade brandy butter recipe for you to try.

For an extra flare try flambéing your pud – once steamed turn out on to a dish with a rim to catch any excess alcohol. Pour 3-4 tablespoons of spirit (brandy, rum or whisky) into a long-handled ladle and heat over a gas hob until hot, carefully tilt theladle over the gas flame until it sets alight. Then gently pour over the pudding (be careful not to burn your hands) and carry to the table.

[Cue the applause]

Make sure that the flames are fully out before serving and enjoy!