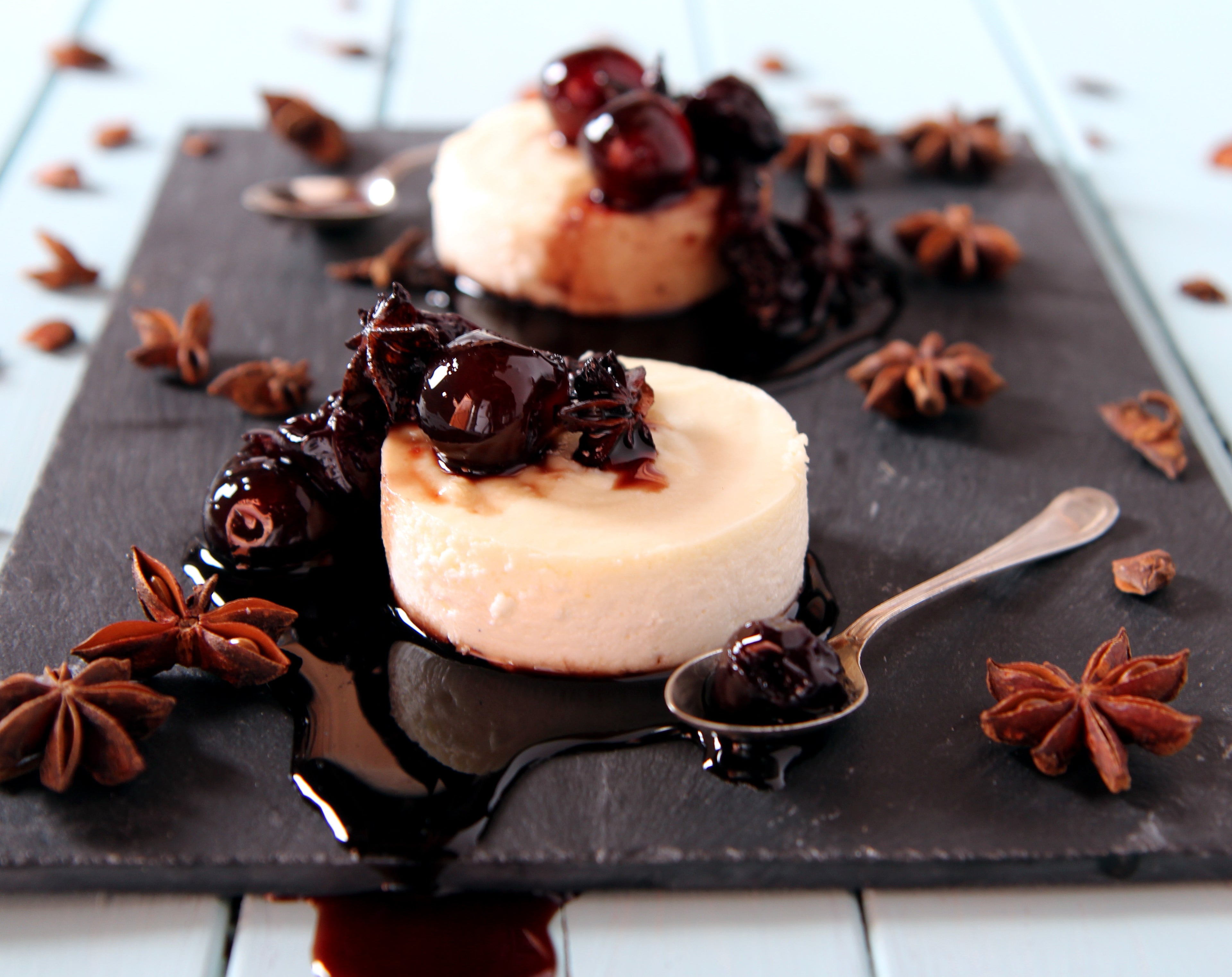 About the bake
Shelina Permalloo has created this delightfully sophisticated baked ricotta cake. The tasty combination of cherry and star anise in the compote is truly delicious and is perfect for any dinner party.
Method
Step 1:

Preheat the oven to 160°C (140°C fan, gas mark 3).

Step 2:



In a bowl, mix the ricotta until completely smooth and leave to one side.

Step 3:

In a mixer, whisk the egg whites and sugar to soft peaks, fold in the ricotta carefully until the mixture is completely combined and smooth with no lumps.

Step 4:

Divide the mixture equally among 6 buttered ramekins. (Should you want to turn out the ricotta cakes use a silicon muffin tray to ensure a smooth finish).

Step 5:

Next create a bain-marie by placing them into a roasting tray and carefully pour boiling water into the tray until it's halfway up the sides of the ramekins.

Step 6:

Place in the oven for 20 minutes, or until firm to the touch.

Step 7:

Remove the ramekins or silicon tray from the bain-marie and allow to cool.

Step 8:

To make the compote place all the ingredients into a pan and simmer for approximately 30 minutes. Until the syrup is lovely and glossy and the cherries are still whole. This can be stored in the fridge once it has cooled down.

Step 9:

To serve, poor the compote over the baked ricotta cake or turn the cooled ricotta cake out onto a plate and spoon over some of the lovely glossy compote. For an extra decoration place a whole star anise on top of each cake.
Ingredients
For the Cakes

2

 

Medium free range egg whites (whisked)

250g

 

Ricotta

50g

 Billington's Unrefined Golden Caster Sugar

For the Compote

400g

 

Cherries (pitted)

200g

 

Glacé cherries

3

 

Star anise (whole)

100ml

 

Water

150g

 Billington's Unrefined Dark Muscovado Sugar

100ml

 

Cherry brandy
Utensils
6x Ramekins or silicon muffin tray

Roasting tray

Saucepan
We'd love a slice of advice.
Was it yum? Did the recipe work well? Did you customise the recipe?
Ingredients
For the Cakes

2

 

Medium free range egg whites (whisked)

250g

 

Ricotta

50g

 Billington's Unrefined Golden Caster Sugar

For the Compote

400g

 

Cherries (pitted)

200g

 

Glacé cherries

3

 

Star anise (whole)

100ml

 

Water

150g

 Billington's Unrefined Dark Muscovado Sugar

100ml

 

Cherry brandy
Utensils
6x Ramekins or silicon muffin tray

Roasting tray

Saucepan