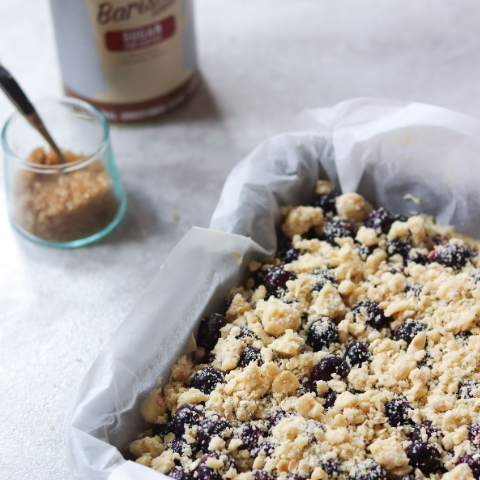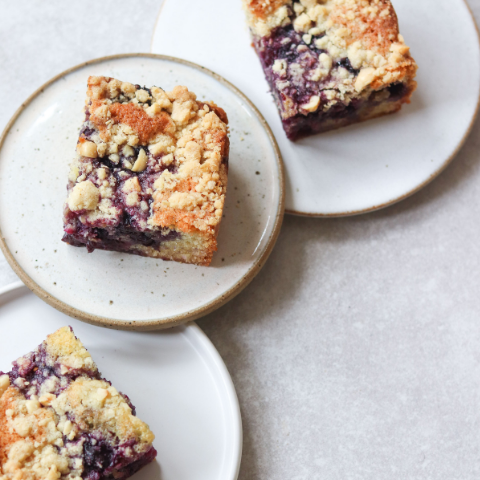 About the bake
This delicious crumble cake was created by the lovely Benjamina and is a delicious mixture of fruity blueberries and crunchy hazelnuts and goes so beautifully with a cup of coffee with friends - what's not to love?
Method
Step 1:

Preheat the oven to 190C/Gas 5. Grease and line a 20cm (8 inch) square loose bottomed tin.


Step 2:

To make the crumble topping, mix together the flour and sugar in a large bowl. Rub in the cold butter with your fingertips until you have a coarse, knobbly mixture. Stir in the chopped hazelnuts and place the crumble in the fridge.


Step 3:

For the blueberry filling, place all the ingredients into a medium bowl and toss briefly to combine. Set aside.


Step 4:

To make the sponge, sift the flour, baking powder and salt together into a bowl and set aside. Beat the butter and icing sugar together with an electric whisk or stand mixer for 3 – 5 minutes until pale and fluffy. Add in the eggs one at a time beating well after each addition. Stir in the dry ingredients and beat briefly until you have a smooth batter.


Step 5:

Pour the batter into the prepared tin and smooth the top with an offset spatula. Spoon the blueberry mixture evenly on top before sprinkling on the crumble topping.


Step 6:

Bake for 55-65 minutes until the cake is browned on top and a skewer inserted comes out clean. If the cake looks like it's getting too dark, cover the top with tin foil and continue to bake. Let the cake cool completely before serving.

Ingredients
For the Sponge

175g

 

Plain flour

1 tsp

 

Baking powder

Pinch

 

Salt

175g

 

Unsalted butter (softened)

200g

 Silver Spoon Icing Sugar

3

 

Medium free range eggs

For the Blueberry Filling

350g

 

Blueberries (fresh or frozen)

30g

 Billington's Unrefined Golden Caster Sugar

1.5 tsp

 

Cornflour

Squeeze of

 

Juice of one whole lemon

2 tsp

 Nielsen-Massey Vanilla Bean Paste

For the Crumble Topping

75g

 

Plain flour

50g

 Billington's Unrefined Golden Caster Sugar

50g

 

Unsalted butter (chilled)

2 tbsp

 

Chopped hazelnuts
Utensils
20cm (8 inch) square loose bottomed tin

Mixing bowl

Whisk

Sieve

Spatula
Recipe Reviews
This is a wonderful recipe and very easy. I used a cheesecake pan with a foil-covered bottom as well as spray baking oil since I did not have any other pan with a removable bottom. I would have liked the "cake" portion to be moister but may be a personal preference.
Brilliant recipe, highly recommend.
Has spurred me on to order a copy of Benjamina's book.
Ingredients
For the Sponge

175g

 

Plain flour

1 tsp

 

Baking powder

Pinch

 

Salt

175g

 

Unsalted butter (softened)

200g

 Silver Spoon Icing Sugar

3

 

Medium free range eggs

For the Blueberry Filling

350g

 

Blueberries (fresh or frozen)

30g

 Billington's Unrefined Golden Caster Sugar

1.5 tsp

 

Cornflour

Squeeze of

 

Juice of one whole lemon

2 tsp

 Nielsen-Massey Vanilla Bean Paste

For the Crumble Topping

75g

 

Plain flour

50g

 Billington's Unrefined Golden Caster Sugar

50g

 

Unsalted butter (chilled)

2 tbsp

 

Chopped hazelnuts
Utensils
20cm (8 inch) square loose bottomed tin

Mixing bowl

Whisk

Sieve

Spatula