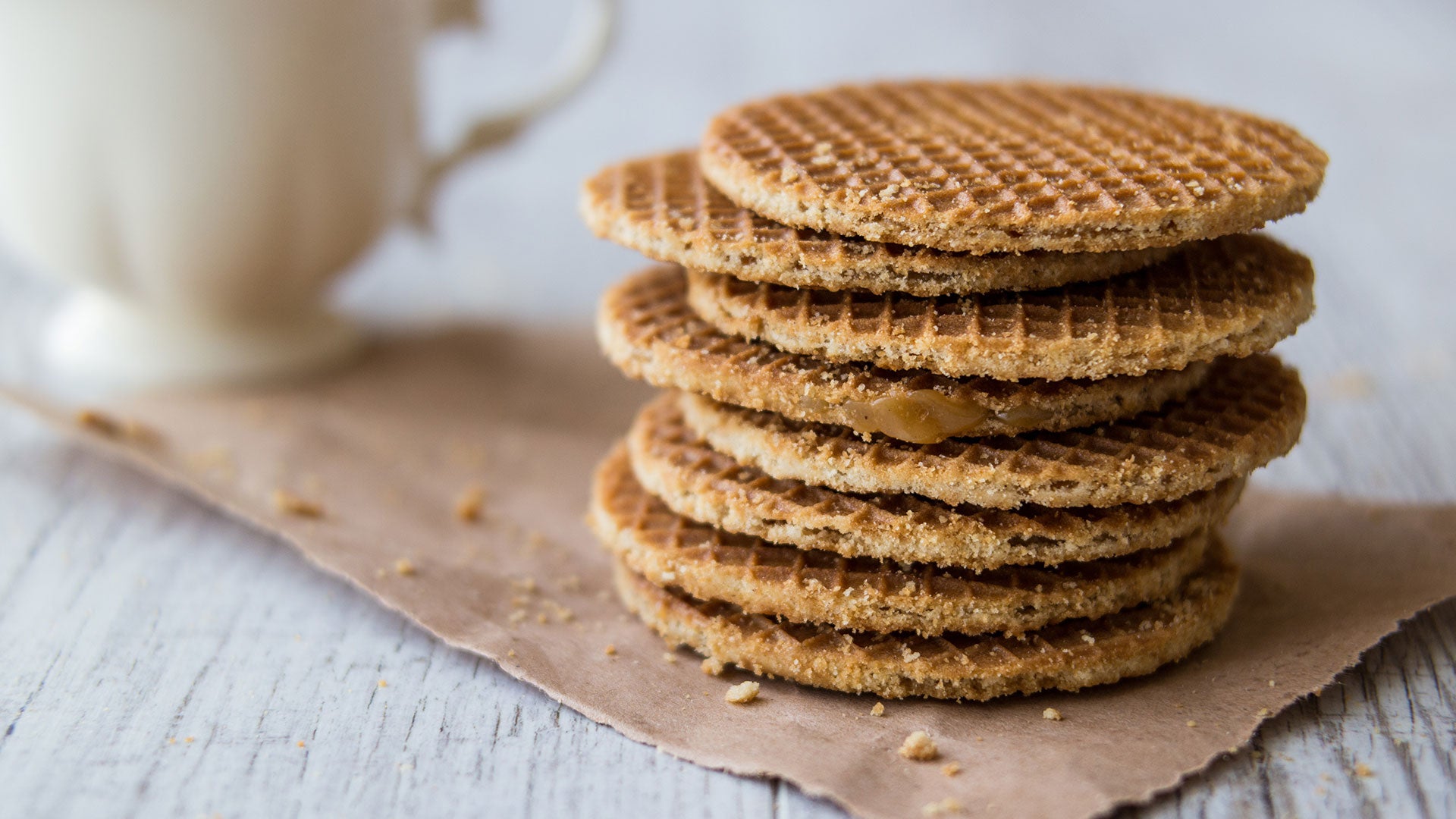 About the bake
Also know as Dutch Stroopwaffels, these Caramel Waffles are filled with sweet caramel gooeyness and are a firm coffee shop favourite. So why not whip up a batch and come Elvenses pour yourself a hot cuppa, relax and enjoy. Beware though, these are incredibly moreish so you may have to eat the whole batch.
Method
Step 1:

Mix together all of the waffle ingredients in a large bowl until the mixture begins to form into a thick dough. Once it reaches that point, remove from the bowl and knead for a few minutes until you achieve a smooth, stretchy dough. You can use a mixer with a dough hook as an alternative kneading method.


Step 2:

Place the dough in a bowl and cover with a damp tea towel and leave to prove for 45 minutes.


Step 3:

Whilst the dough is proving, you can make the caramel filling. Heat the treacle, dark muscovado sugar, butter and cinnamon in a saucepan over a medium heat until all of the sugar and butter has melted and blended together. Place the caramel filling to one side.


Step 4:

Preheat your pizelle or ice cream waffle cone iron. Divide the dough up into 10 pieces and roll each piece into a ball. Place the ball of dough into the centre of the waffle iron and close the lid. You will need to cook the dough until the steam stops escaping from the sides and the waffle becomes golden in colour.


Step 5:

Carefully remove the waffle from the iron using a palette knife, then tidy up the outer rim using a circular cookie cutter to cut out a neat circle.


Step 6:

Whilst the waffle remains hot carefully use a sharp knife to split the waffle in half (horizontally) You will need to move quickly as the waffle will harden as it cools and may break when slicing.


Step 7:

Spoon some of the caramel filling onto the inside of one of the waffle halves and spread out with a knife or the back of the spoon. Place the other waffle half on top to sandwich the caramel inside then leave them to one side to set.


Step 8:

If you do not have a special pizelle or thin waffle iron you could use a waffle ice cream cone iron as an alternative. A standard waffle iron will make waffles that are too thick and you won't achieve the results that you are expecting.

Ingredients
For the Waffles

60ml

 

Milk (lukewarm)

2

 Allinson's Easy Bake Yeast Sachet

520g

 Allinson's Plain White Flour

100g

 Billington's Unrefined Golden Caster Sugar

1 tsp

 

Cinnamon (ground)

1/4 tsp

 

Salt

250g

 

Unsalted butter (softened)

1

 

Eggs (free range) (large)

1 tsp

 Nielsen-Massey Vanilla Extract

For the Filling

350g

 

Treacle

200g

 Billington's dark muscovado

50g

 

Unsalted butter (softened)

1 tsp

 

Cinnamon (ground)
Utensils
Pizelle iron or waffle ice cream cone iron

12in circular cutter
Recipe Reviews
Um these were alright but wouldn't really recommend them.
Yuck! The recipe says "treacle", so I used treacle. The method is fine and produced good waffles but the filling is so rich and frankly disgusting. What I think they meant was golden syrup and I will try that next time.
Also be aware that the recipe makes 20 stroopwaffles, not 10. Also, this is not suitable for young children as I could not manage without burning my left hand (20 times...) and there is some use of a sharp knife involved. This lot are headed for the bin, but the method is sound.
Ingredients
For the Waffles

60ml

 

Milk (lukewarm)

2

 Allinson's Easy Bake Yeast Sachet

520g

 Allinson's Plain White Flour

100g

 Billington's Unrefined Golden Caster Sugar

1 tsp

 

Cinnamon (ground)

1/4 tsp

 

Salt

250g

 

Unsalted butter (softened)

1

 

Eggs (free range) (large)

1 tsp

 Nielsen-Massey Vanilla Extract

For the Filling

350g

 

Treacle

200g

 Billington's dark muscovado

50g

 

Unsalted butter (softened)

1 tsp

 

Cinnamon (ground)
Utensils
Pizelle iron or waffle ice cream cone iron

12in circular cutter