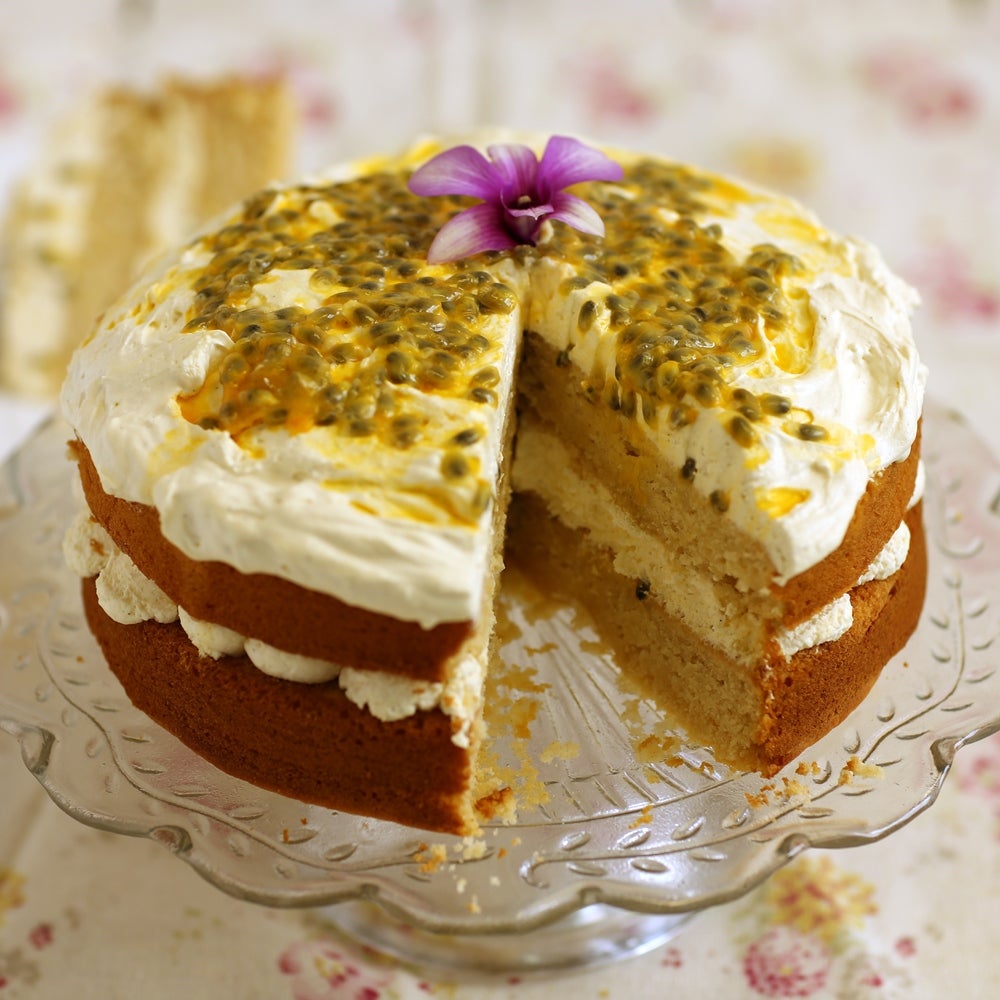 About the bake
This egg-free sponge cake is a wonderfully simple recipe that can be filled with jam and cream to make a classic Victoria sandwich or for a more exotic twist filled with luxurious passion fruit.
Method
Step 1:

Preheat the oven to 170°C (150°C fan, gas mark 3) Grease two 8in sandwich tin.

Step 2:

Whisk together the butter, golden caster sugar and golden syrup until light, fluffy and pale in colour.

Step 3:

In a bowl, mix together baking powder and flour, then gradually add the flour, milk and vanilla extract to the sugar/butter mix.

Step 4:

Blend together the ingredients until they are fully incorporated and the batter has reached a smooth consistency. If the mixture is too thick add a splash more milk to loosen.

Step 5:

Fill the two tins equally and bake for 20-25 minutes until golden brown and baked throughout. (The sponges may be thinner than a standard sponge containing egg).

Step 6:

Leave the cake to cool on a wire rack.

Step 7:

Prepare the filling by scooping out the flesh, seeds and juice of the passion fruit.

Step 8:

In a separate bowl, whip the double cream and vanilla bean paste until it reaches a soft peak.

Step 9:

Split the cream in half and gently fold in half of the passion fruit and spread generously on the bottom layer of the cake.

Step 10:

With the remaining cream decorate the top and drizzle over the remaining passion fruit pulp.
Ingredients
For the Sponge

140g

 

Butter (unsalted) (softened)

120g

 Billington's Unrefined Golden Caster Sugar

2 tbsp

 

Golden syrup

350g

 Allinson's Self Raising White Flour

2 tsp

 

Baking powder

300ml

 

Milk

2 tsp

 Nielsen-Massey Vanilla Extract

For the Filling

300ml

 

Double cream

1 tbsp

 Nielsen-Massey Vanilla Bean Paste

5

 

Passion fruit(s)
We'd love a slice of advice.
Was it yum? Did the recipe work well? Did you customise the recipe?
Ingredients
For the Sponge

140g

 

Butter (unsalted) (softened)

120g

 Billington's Unrefined Golden Caster Sugar

2 tbsp

 

Golden syrup

350g

 Allinson's Self Raising White Flour

2 tsp

 

Baking powder

300ml

 

Milk

2 tsp

 Nielsen-Massey Vanilla Extract

For the Filling

300ml

 

Double cream

1 tbsp

 Nielsen-Massey Vanilla Bean Paste

5

 

Passion fruit(s)