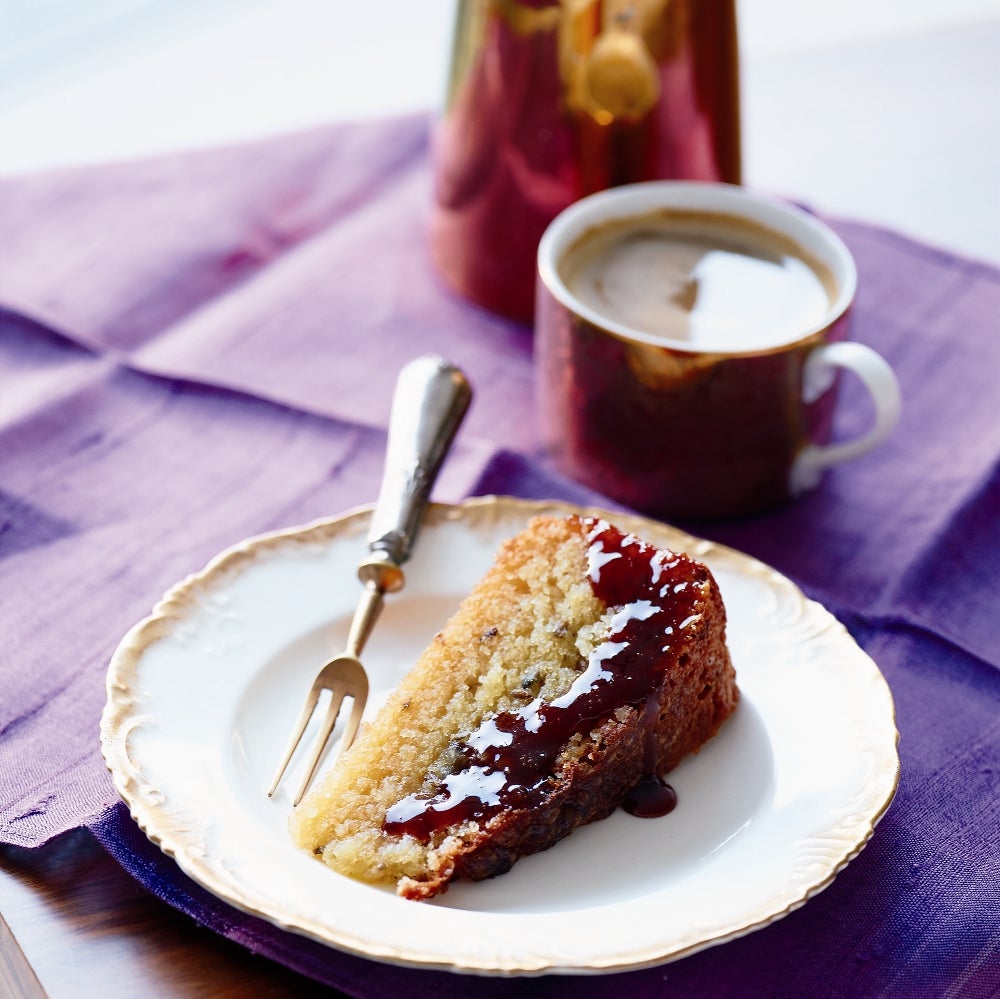 About the bake
This flour-free orange and lavender cake recipe is taken from Eric Lanlard's book Home Bake (page 39). The flavours marry together beautifully to make this delicious cake. If you prefer a cake with a slightly less dense texture, substitute 50% of the ground almonds for semolina.
Method
Step 1:

Preheat the oven to 180ºC (fan 160ºC, gas mark 4). Grease a 20cm (8in) cake tin with extra oil, then base-line with baking paper.

Step 2:

In a mixing bowl, combine the ground almonds, sugar and baking powder, mixing together well. Break in the eggs and add the oil, mixing gently together.

Step 3:

Using a fine grater, grate the zest from the lemon and oranges into the mixture then add the dried lavender and mix together.

Step 4:

Turn the cake mixture into the prepared tin, and bake in the preheated oven for an hour. Cover the top with a piece of foil after about 20 minutes.

Step 5:

Meanwhile, make the syrup. Squeeze the juice from the zested lemon and oranges into a small pan. Add the sugar and spices, and mix together well. Bring to the boil, then reduce the heat and simmer for 3 minutes.

Step 6:

Once the cake has been removed from the oven, pierce it several times with a skewer or small, sharp knife. Using a tablespoon, spoon the syrup over the cake, allowing it to soak in.
Ingredients
For the cake

400ml

 

Sunflower oil (plus extra for greasing)

350g

 

Almonds (ground)

300g

 Billington's Unrefined Golden Caster Sugar

3 tsp

 

Baking powder

8

 

Egg(s) (free range)

1

 

Lemon (zest only)

2

 

Orange(s) (zest only)

2 tsp

 

Lavender (dried)

For the syrup

2

 

Orange(s) (juice only)

100g

 Billington's Unrefined Golden Caster Sugar

3

 

Cloves

2 tsp

 

Cinnamon

1

 

Lemon (juice only)
Recipe Reviews
Delicious!
I made this recipe as individual cupcakes and reduced the baking time and they worked very well . I didn't use all the syrup ( next time I think I would reduce the sugar to make it sharper) and made a water icing with the leftover syrup to make a light glaze on each cake. Have to say I couldn't taste the lavender and probably wouldn't bother next time. I also substituted polenta for some of the almonds - a good move.
Ingredients
For the cake

400ml

 

Sunflower oil (plus extra for greasing)

350g

 

Almonds (ground)

300g

 Billington's Unrefined Golden Caster Sugar

3 tsp

 

Baking powder

8

 

Egg(s) (free range)

1

 

Lemon (zest only)

2

 

Orange(s) (zest only)

2 tsp

 

Lavender (dried)

For the syrup

2

 

Orange(s) (juice only)

100g

 Billington's Unrefined Golden Caster Sugar

3

 

Cloves

2 tsp

 

Cinnamon

1

 

Lemon (juice only)