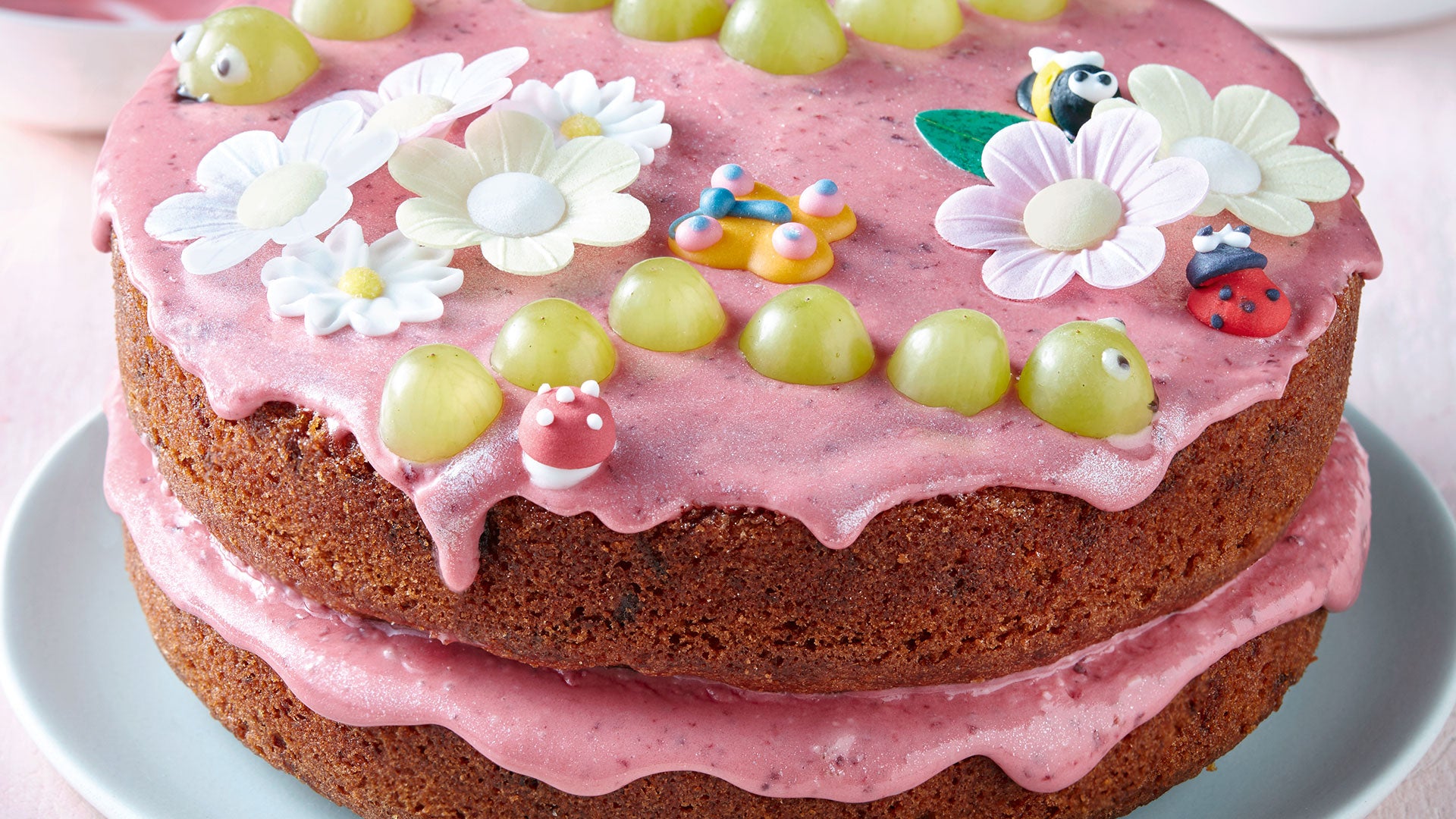 About the bake
This sponge cake is made with carrots and beetroot which adds a natural sweetness and moistness to the cake. Topped with a beetroot stained pink cream-cheese frosting, and decorated with edible flowers, a caterpillar made with green grapes and other tasty treats. Thank you to Holly Willoughby for the recipe, it's a great one to bake for a kids party because of the hidden vegetables. Ssssssh! We won't tell them.
Method
Step 1:

Preheat the oven to 180°C/350°F/Gas 4, then lightly grease the sides of each cake tin and line each base with a disc of baking paper.


Step 2:

Sift the flour, baking powder and mixed spice into a large bowl and add the sugar. Stir until combined and make a well in the centre.


Step 3:

Whisk together the eggs, sunflower oil and orange zest, then stir it into the flour mixture using a wooden spoon. Divide the mixture between two bowls and stir the grated carrot into one bowl and the grated beetroot into the other.


Step 4:

Pour the carrot-cake mixture into one of the prepared tins and the beetroot-cake mixture into the other. Bake in the oven for 30–40 minutes or until a skewer inserted into the centre of each cake comes out clean. Remove from the oven and allow to cool for 10 minutes before removing from the tins and transferring to a wire rack to cool down fully.


Step 5:

While the cakes are baking, make the icing. Using an electric whisk, beat together the butter and vanilla extract until smooth and creamy. Beat in the sugar until combined then fold in the cream cheese and the beetroot (if using), to colour it pink (or leave plain, if you prefer). Chill in the fridge to firm up.


Step 6:

To decorate the cake, place the beetroot cake on a serving plate or cake stand and spread over half of the frosting. Top with the carrot cake and spread the remaining frosting over the top.You can pop it in the fridge at this point (it will keep in the fridge for up to a day) or finish decorating, if serving within a few hours.


Step 7:

To make a grape caterpillar, cut the grapes in half and arrange in a curvy line on the top of the cake. Usinga tube of black writing icing, make two blobs for eyes. Decorate with edible flowers and/or other garden- themed decorations.

Ingredients
For the Cake

250g

 Self-raising white flour

1 tsp

 

Baking powder

1 tsp

 

Mixed spice

225g

 Billington's Unrefined Light Muscovado Sugar

4

 

Egg(s) (free range) (large)

200ml

 

Sunflower oil

1

 

Orange (zest of)

125g

 

Carrots (scrubbed, coarsely grated)

125g

 

Raw beetroot (scrubbed, coarsely grated)

For the Icing

100g

 

Unsalted butter (softened)

200g

 

Full fat cream cheese

1 tsp

 Nielsen-Massey Vanilla Extract

100g

 Billington's Unrefined Light Muscovado Sugar

40g

 

Raw beetroot (scrubbed, finely grated & excess liquid squeezed out)

For the Decoration

A bunch

 

Grapes (white)

1

 

Black writing icing (tube)

Multiple

 

Edible flower decorations
Recipe Reviews
this si a great b-day cake
Ingredients
For the Cake

250g

 Self-raising white flour

1 tsp

 

Baking powder

1 tsp

 

Mixed spice

225g

 Billington's Unrefined Light Muscovado Sugar

4

 

Egg(s) (free range) (large)

200ml

 

Sunflower oil

1

 

Orange (zest of)

125g

 

Carrots (scrubbed, coarsely grated)

125g

 

Raw beetroot (scrubbed, coarsely grated)

For the Icing

100g

 

Unsalted butter (softened)

200g

 

Full fat cream cheese

1 tsp

 Nielsen-Massey Vanilla Extract

100g

 Billington's Unrefined Light Muscovado Sugar

40g

 

Raw beetroot (scrubbed, finely grated & excess liquid squeezed out)

For the Decoration

A bunch

 

Grapes (white)

1

 

Black writing icing (tube)

Multiple

 

Edible flower decorations