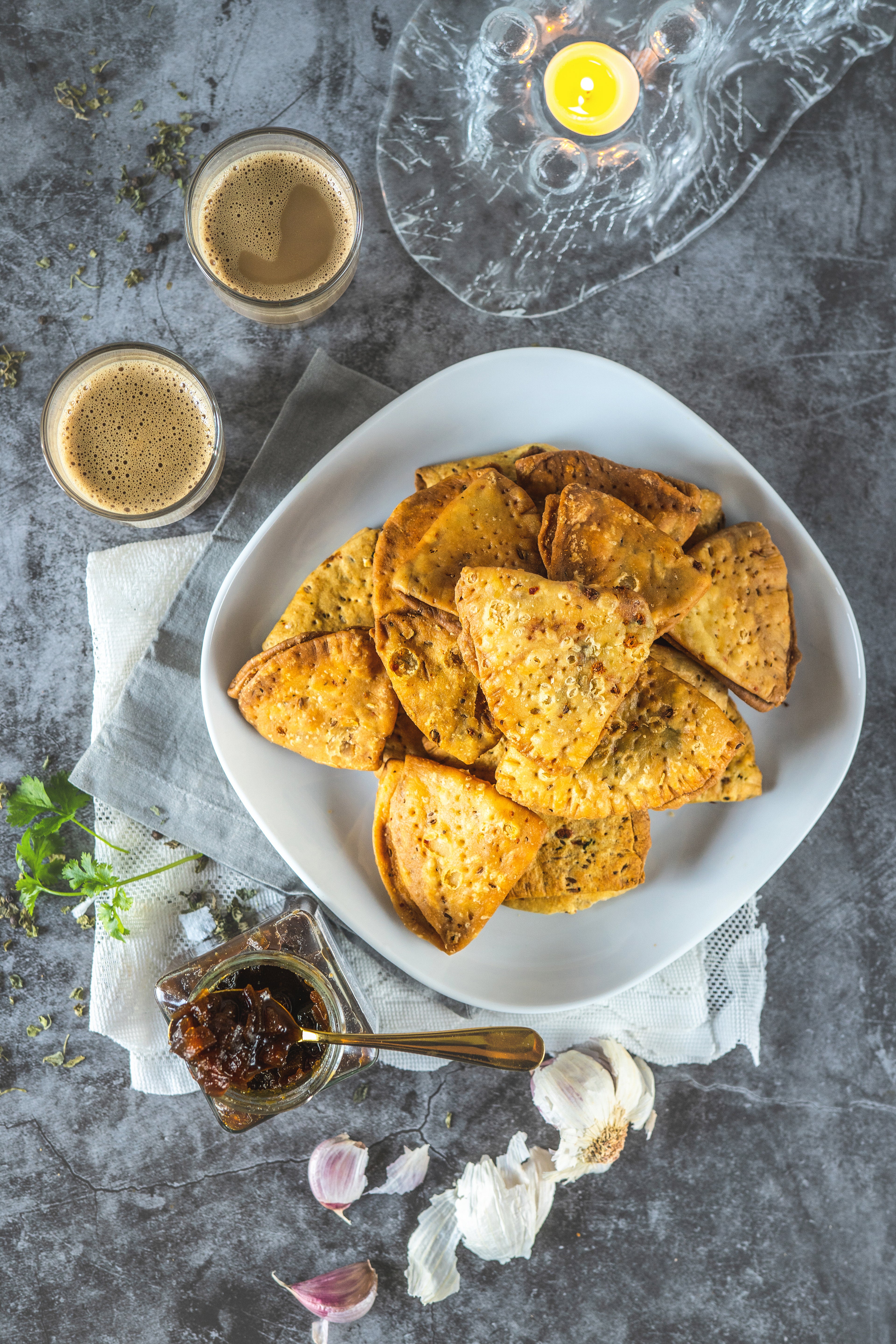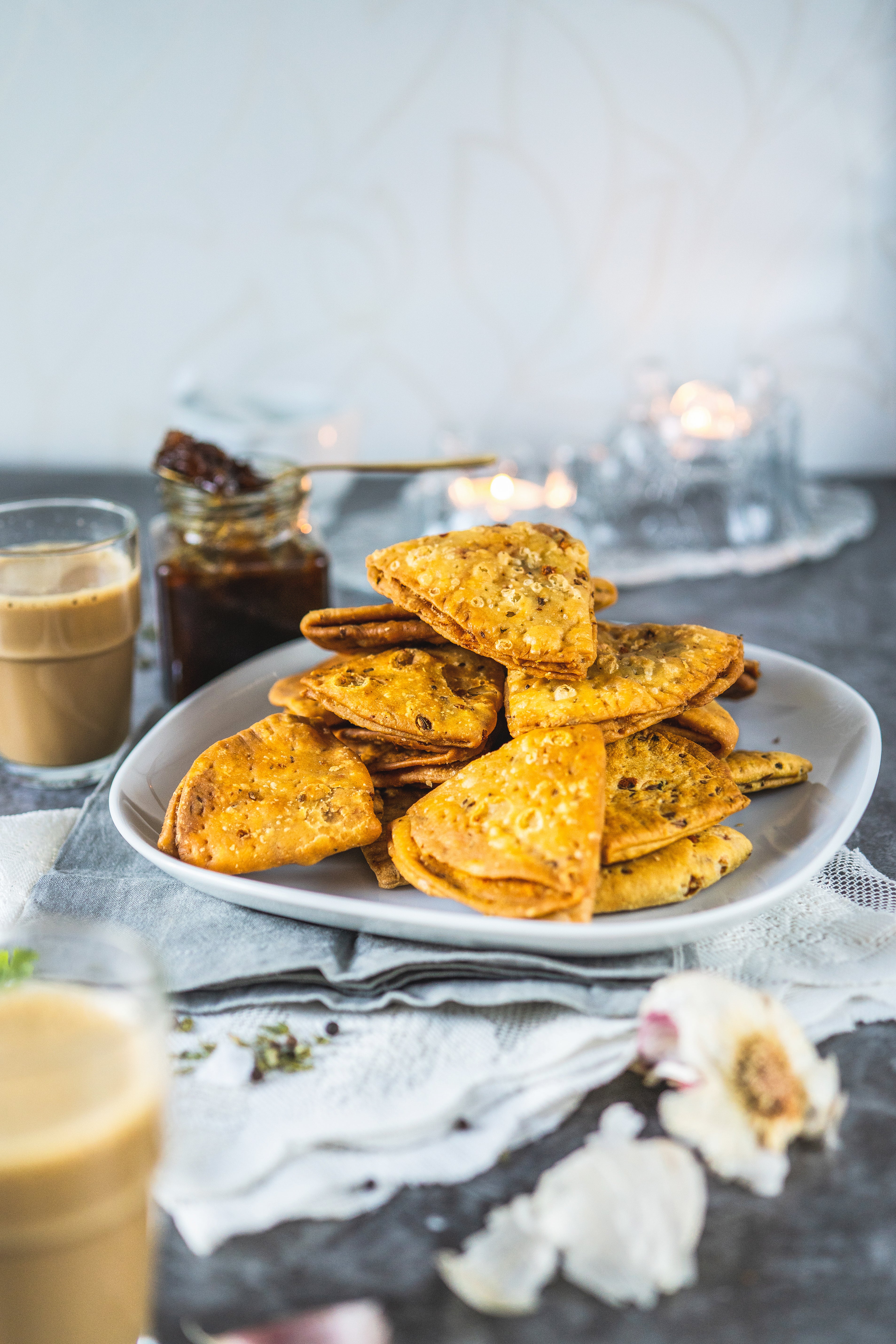 About the bake
This recipe is twist on the classic famous Indian dry snack Masala Mathri, also known as spicy fried crackers. These spicy deep-fried flaky crackers are makde with plain white flour, ghee, garlic, cheese and some fragrant spices.
Garlic and cheese filled variations of masala mathri will become an instant hit, but you won't be able to stop at just one! These make a great snack during festivals such as Diwali and Holi. Pair them with some hot tomato chutney, chai choffee and your festive brunch is all set.
Method
Step 1:

Start by making the garlic cheese masala mathri dough.

Add Allinson's Plain White Flour, 45 grams ghee/butter, cumin seeds, 2.2 grams carom seeds, 5.9 grams salt, and 1 gram chili flakes to a large mixing bowl.


Step 2:

Mix it well by rubbing the flour and ghee mixture between the palms until the ghee is well incorporated in all of the flour.


Extra Flavour

If you love garlic flavours, then you can also add some garlic powder to the dough.

Step 3:

Start by adding the water little by little and knead it into a stiff dough.


Step 4:

Cover the dough with a damp tissue and set aside for 30 minutes.


Step 5:

Next make the garlic spread.

In a mixing bowl, add 60 grams ghee/butter, 24 grams garlic paste, 28 grams coriander leaves, 28 grams dried fenugreek leaves, 1 gram chili flakes, and a pinch of salt.


Step 6:

Mix well until combined. Set it aside for 15 minutes.


Step 7:

Then go back to the rested garlic cheese masala mathri.

Once the dough has rested for 30 minutes, unwrap it. Knead it again for a few seconds.


Step 8:

Divide the dough into 4 logs, and cut each log into 6 equal-sized balls. You will get 24 balls.


Step 9:

Roll each ball into a 5-inch thin disc.


Step 10:

Apply 1/2 teaspoon of the garlic spread, and 1/2 teaspoon of cream cheese on each of the rolled discs.


Step 11:

Sprinkle with some dry four. Fold the rolled discs to make a semi-circle. Then fold them once again to make a triangle.


Step 12:

Seal the edges tightly by making dents using a fork. Slightly roll it again.


Step 13:

Prick the mathris 5-6 times from both sides with the tines of a fork. Keep them aside.


Step 14:

If you want to fry the garlic cheese masala mathri follow these steps. If you'd rather bake them, skip ahead to step 19.

Heat oil in a pan. Once the oil is hot, turn the heat to low.


Step 15:

Add 5-6 mathris to the pan and let them fry on the heat until they float on the surface.


Step 16:

Once floating, turn the heat to medium-low and fry mathris from both sides till they are golden brown.


Step 17:

Remove mathris with a slotted spoon and drain onto a kitchen towel to absorb any extra oil. Let them cool completely.


Step 18:

Serve with some tea and chutney. If you don't want to eat them all at once, once cooled, you can store these in an airtight container for up to 15 days.


Step 19:

If you want to bake the garlic cheese masala mathri instead, follow these steps:

Preheat the oven to 335°F/180°C. Line a baking pan with the parchment, and place the mathris on it.

Lightly brush both sides of mathris with some oil.


Step 20:

Bake in a 355°F/180°C preheated oven for 15-18 minutes until lightly browned.


Baking Time

Oven temperatures may vary, so keep an eye on your mathris while baking in the oven.

Step 21:

Remove the baked mathris from the oven, and let them cool completely on a wire rack before storing in an air-tight container.

Ingredients
For the Masala Mathri

270g

 Allinson's plain white flour

100g

 Ghee

24g

 

Garlic paste

5.9g

 

Salt

2g

 

Carom seeds

2g

 

Cumin seeds

28g

 Dried fenugreek leaves (kasuri methi)

28g

 

Coriander leaves

2.4g

 

Baking powder

44g

 

Cream cheese

For deep frying and brushing

 

Oil

2g

 

Chilli flakes, chopped
Utensils
2x mixing bowl

Rolling pin

Sauce pan
We'd love a slice of advice.
Was it yum? Did the recipe work well? Did you customise the recipe?
Ingredients
For the Masala Mathri

270g

 Allinson's plain white flour

100g

 Ghee

24g

 

Garlic paste

5.9g

 

Salt

2g

 

Carom seeds

2g

 

Cumin seeds

28g

 Dried fenugreek leaves (kasuri methi)

28g

 

Coriander leaves

2.4g

 

Baking powder

44g

 

Cream cheese

For deep frying and brushing

 

Oil

2g

 

Chilli flakes, chopped
Utensils
2x mixing bowl

Rolling pin

Sauce pan