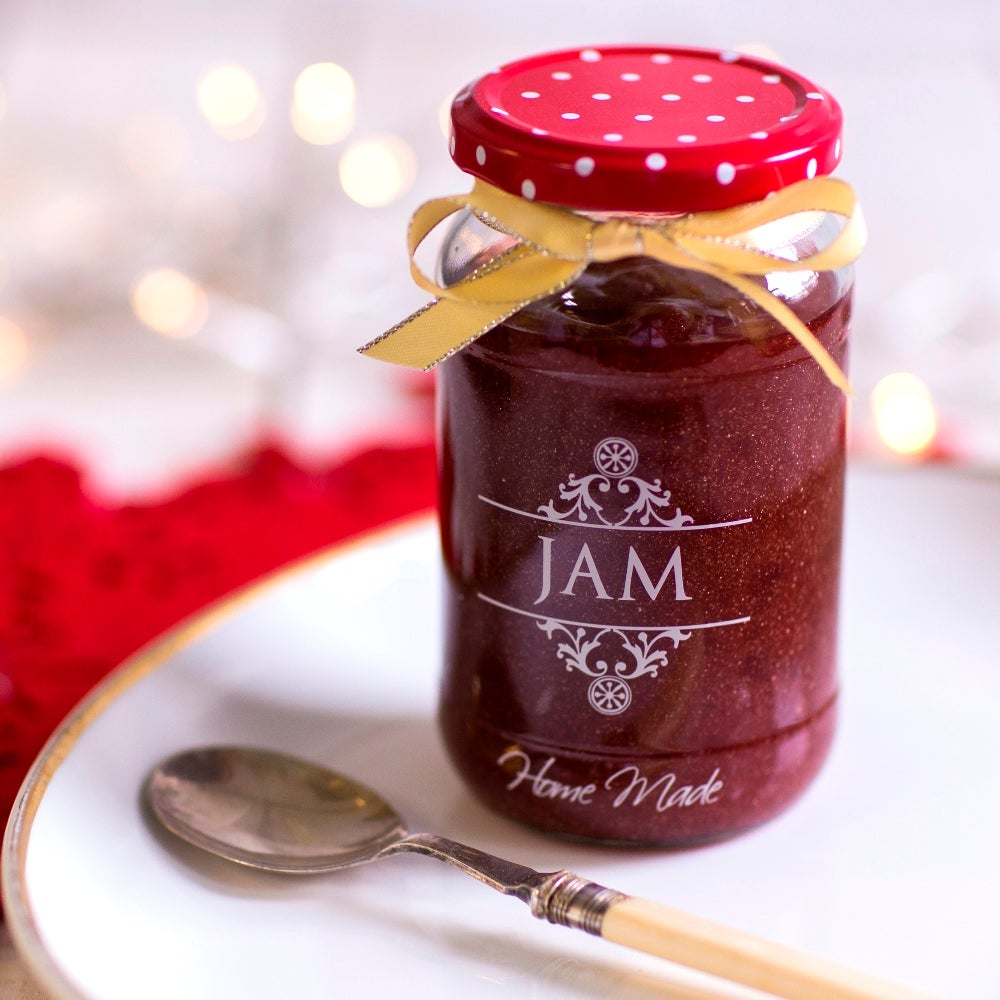 About the bake
Add a bit of sparkle to your Christmas this year with this simply gorgeous glitter strawberry jam with champagne. This jam would make an excellent gifting idea and will look beautiful on your Christmas morning toast!
Method
Step 1:

Crush the strawberries with a potato masher or in a liquidiser then pour into a large 4.5L heavy based saucepan.

Step 2:

Add the jam sugar and heat gently whilst stirring continuously until the sugar has completely dissolved. Do not boil.


Step 3:

Add a knob of butter and stir in, then add the champagne.

Step 4:

Increase the heat and keep stirring until the jam comes to a rolling boil that bubbles vigorously, rises in the pan and can't be stirred down. Boil for 4 minutes only.

Step 5:

Remove from the heat and stir in the glitter until you are happy, then working quickly pot the jam into warm, clean jars and cover.

Step 6:

For a gift, tie some festive ribbon around the top and add a gift tag.
Ingredients
For The Jam

800g

 

Strawberries (tops removed)

1kg

 Silver Spoon Jam Sugar

1 tbsp

 

Unsalted butter (knob)

200ml

 

Champagne (or sparkling wine)

1

 

Edible glitter (pot)
Utensils
Large 4.5l heavy based saucepan

Potato masher or liquidiser

Sterilised jars and lids
Recipe Reviews
Can I use frozen strawberries?
We prefer making our jam with fresh in season strawberries, although you could use defrosted strawberries when the fresh kind are hard to find
Easiest jam ever and the glitter makes it a bit special
So easy to make, look very pretty with the gold glitter, lovely Christmas gifts.
My first jam to try making for my hen do tea party. The method is so easy I thought I'd done it wrong. It was delicious and went down a storm. So much so that I made some special jars as a thank you to those who were a great support. Still get wee request from them to make some more. I get a jar back to refill. Love it
Really great recipe - everyone loves receiving a jar when I make it and we enjoy it with scones!
Ingredients
For The Jam

800g

 

Strawberries (tops removed)

1kg

 Silver Spoon Jam Sugar

1 tbsp

 

Unsalted butter (knob)

200ml

 

Champagne (or sparkling wine)

1

 

Edible glitter (pot)
Utensils
Large 4.5l heavy based saucepan

Potato masher or liquidiser

Sterilised jars and lids