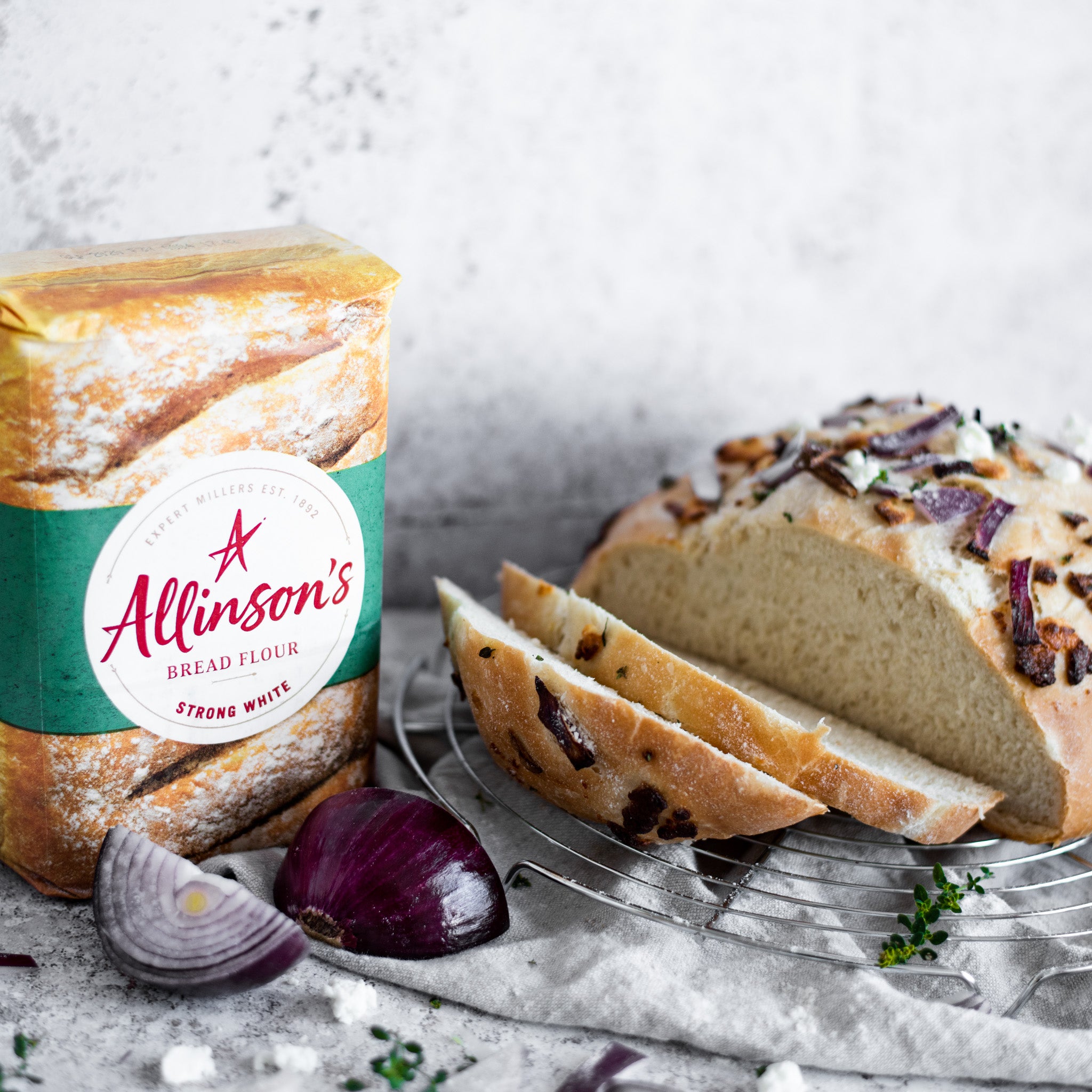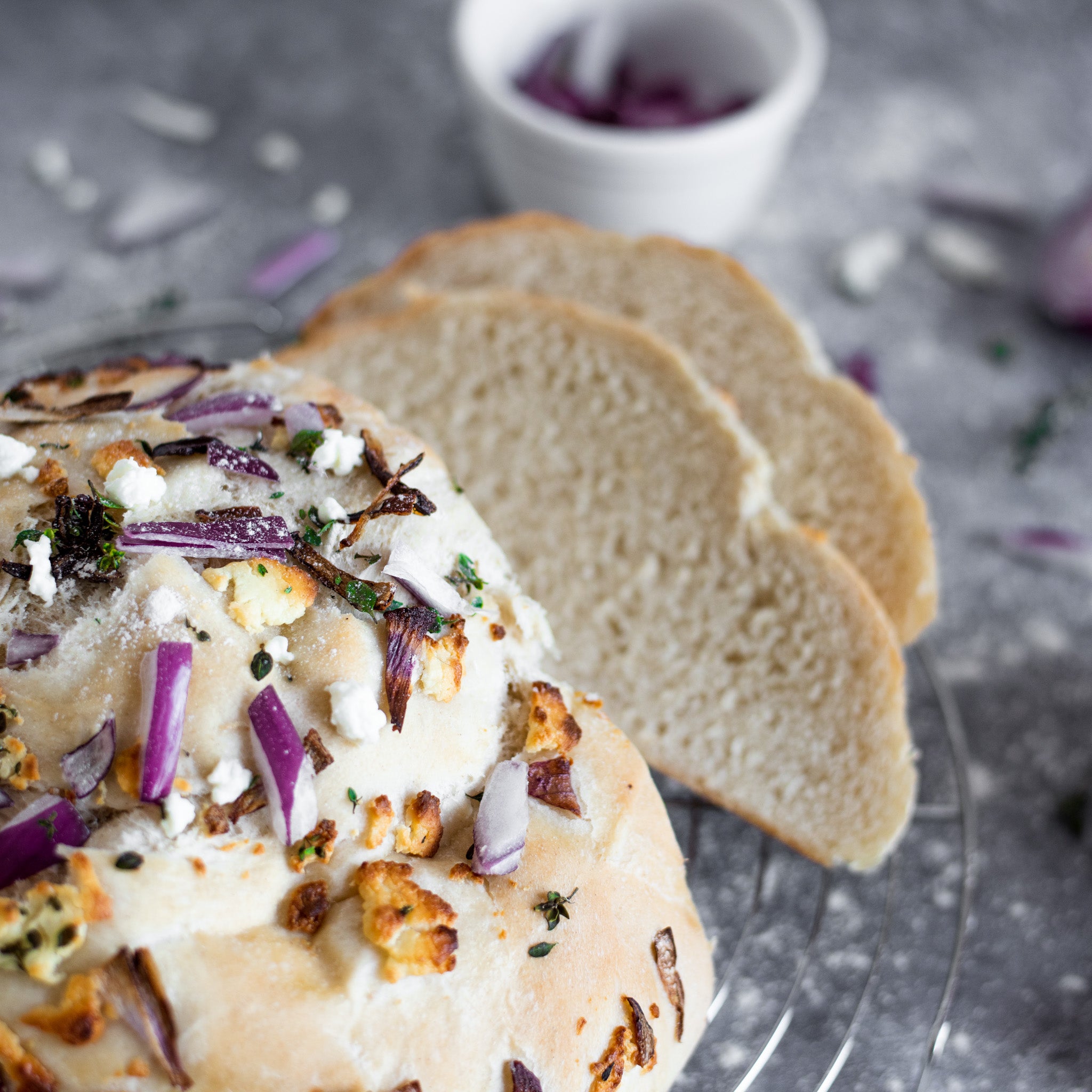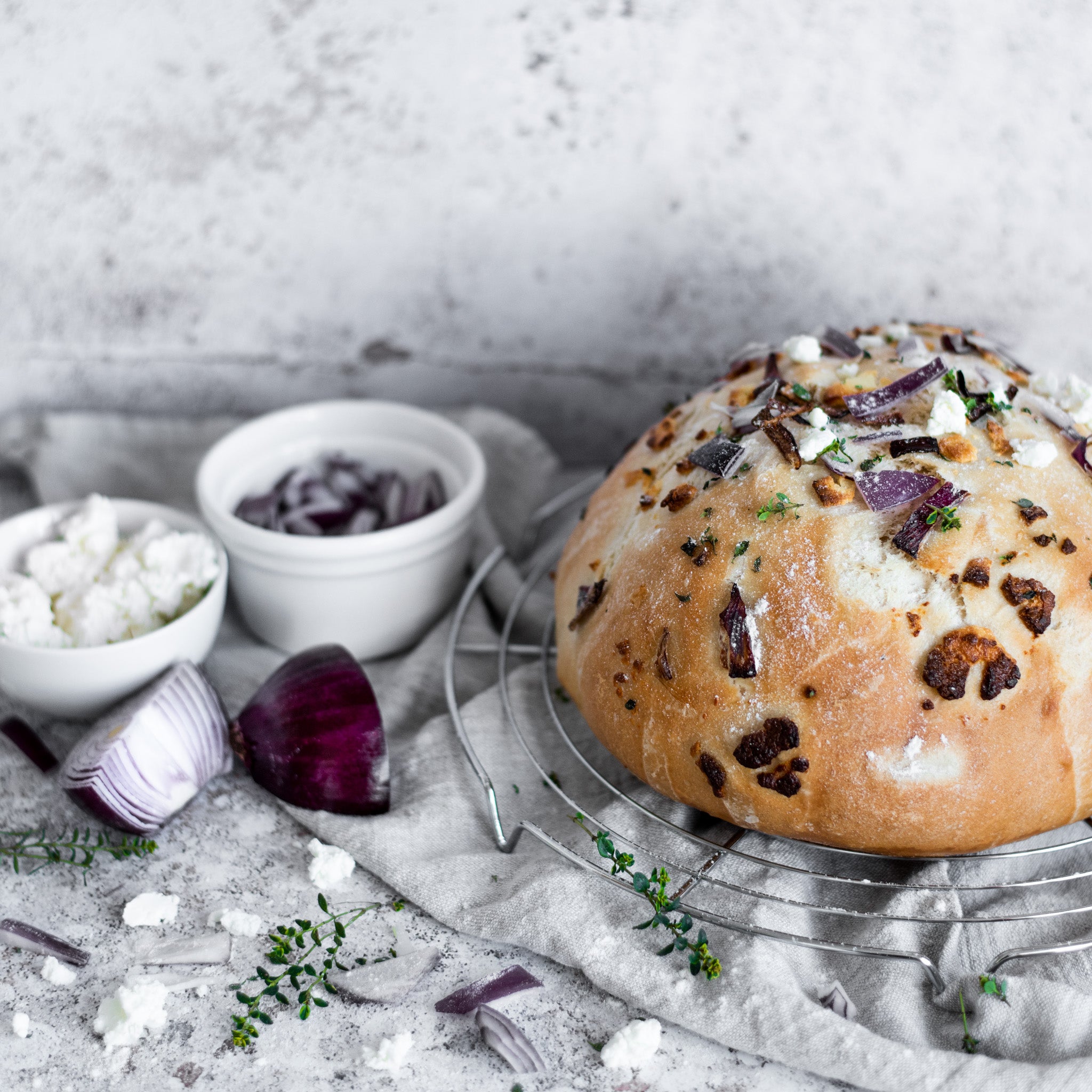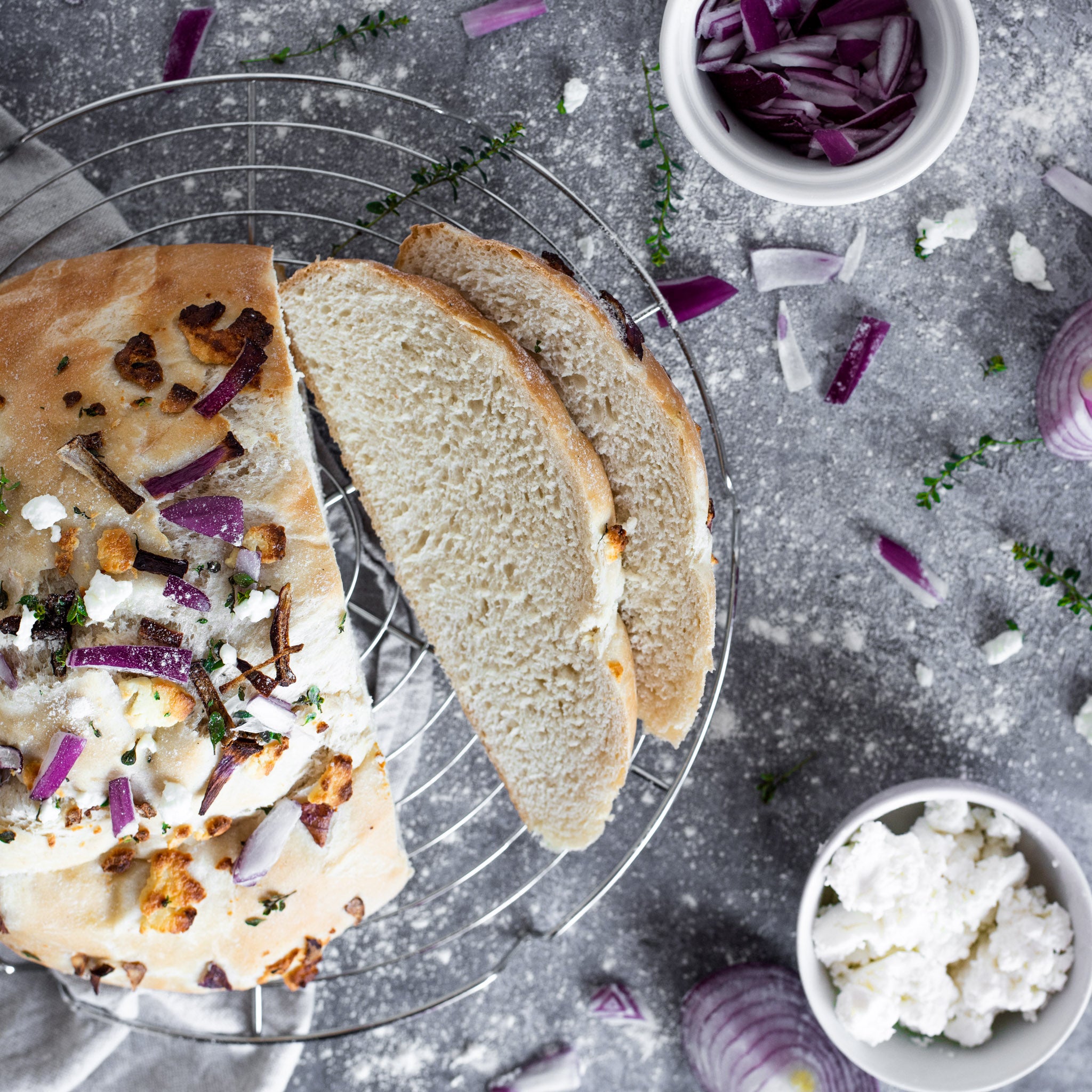 About the bake
Made with Allinson's white dough, our Goats Cheese and Caramelised Onion bread is packed with sophisticated flavours and ideal for bakers who have mastered this recipe and are looking to wow their family and friends.
We like to serve ours as a posh starter or sliced into squares to share when entertaining. Once you're a fan, consider trying this loaf's spicy cousin, Chilli Pepper and Feta Bread made with Allinson's wholemeal dough.
Method
Step 1:

MIX

Mix the flour, yeast, sugar and salt in a big bowl. Using your fingertips rub in the butter until only fine 'crumbs' are left. Mix in the water with a cutlery knife.

Step 2:

KNEAD Tip onto a lightly flour dusted surface and knead for 10 minutes (or use the dough hook attachment on your mixer).


Step 3:

RISE

Lightly grease the mixing bowl with some oil. Put the dough back in, cover the bowl with a clean tea towel and leave to rise until doubled in size.

Step 4:

SHAPE

Knock back the dough by gently kneading just 5 times to get the air out. Shape into a round on a flour dusted baking sheet. Scatter with the sliced onion, thyme and goat's cheese. Push into the dough a little bit to stick.

Step 5:

PROVE

Cover the dough again with a clean tea towel and leave to prove until doubled in size again. Preheat your oven to 200°C (fan 180°C, gas mark 6).

Step 6:

BAKE

Drizzle the toppings with the olive oil and bake for 30-35 minutes, until when you tap the base of the loaf it sounds hollow. Cool on a wire rack.


Ingredients
For the Dough

500g

 Allinson's Strong White Bread Flour

7g

 Allinson's Easy Bake Yeast

1 1/2 tsp

 Billington's Unrefined Golden Caster Sugar

1 1/2 tsp

 

Salt

1 tbsp

 

Butter (softened)

300ml

 

Warm water

For the Topping

1

 

Red onion (small, thinly sliced)

1 tbsp

 

Olive oil

2 tsp

 

Thyme (dried or a few sprigs)

7

 

Goats' cheese slices (with rind)
Utensils
Large mixing bowl

Clean tea towel
Recipe Reviews
Loved this recipe and would definitely make this bread again. The cheese and onion took the bread to another level. It can be eaten and enjoyed at any time.
I would advise the placement of the cheese to the top of the bread as when it rises the cheese may end up around the sides, which then melt and dribbles off the bread whilst baking.
I will try this recipe again but make individual bread rolls instead.
Ingredients
For the Dough

500g

 Allinson's Strong White Bread Flour

7g

 Allinson's Easy Bake Yeast

1 1/2 tsp

 Billington's Unrefined Golden Caster Sugar

1 1/2 tsp

 

Salt

1 tbsp

 

Butter (softened)

300ml

 

Warm water

For the Topping

1

 

Red onion (small, thinly sliced)

1 tbsp

 

Olive oil

2 tsp

 

Thyme (dried or a few sprigs)

7

 

Goats' cheese slices (with rind)
Utensils
Large mixing bowl

Clean tea towel