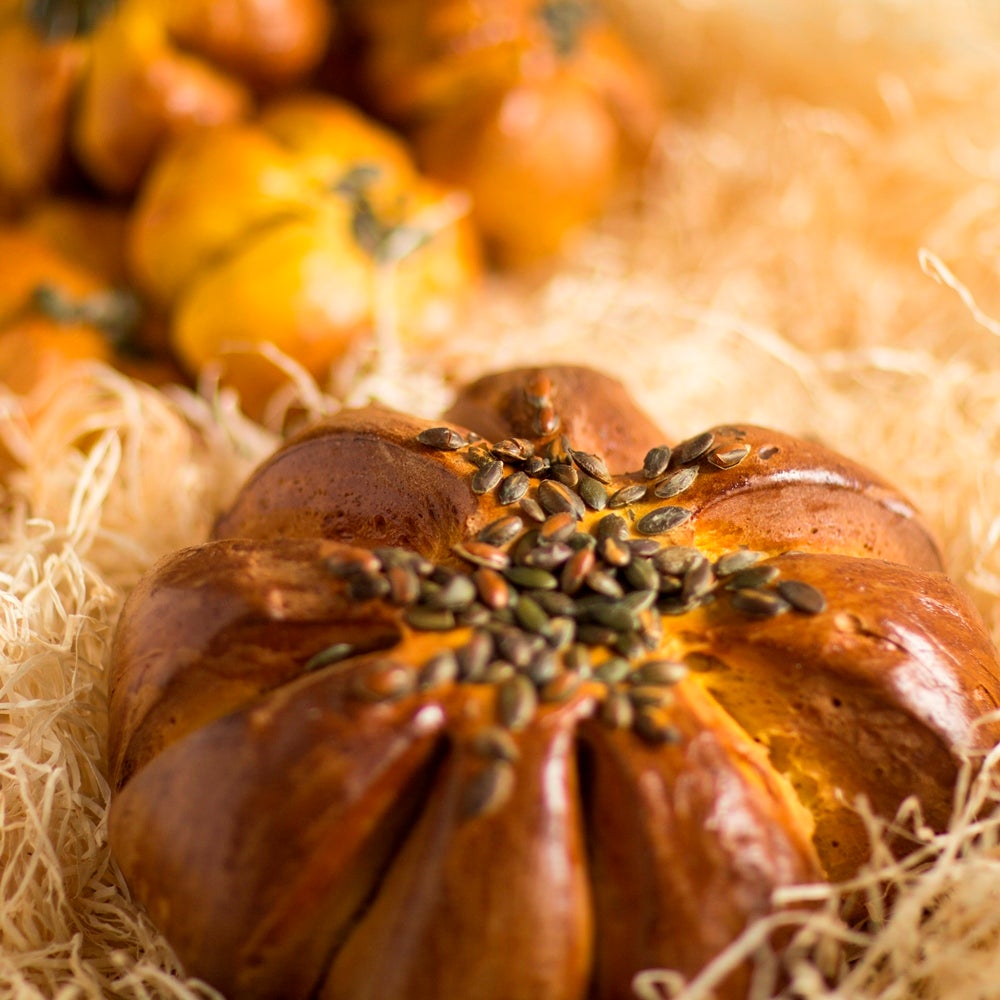 About the bake
This cute hand-baked spiced pumpkin loaf is the perfect centrepiece for any Halloween or Autumn dinner. The cinnamon and ginger add a gentle heat to this delicious loaf, perfect for those Autumnal days. Why not try making them into mini pumpkin rolls and enjoy with delicious soup, snuggled up inside on a cold winters day. First time making bread?
Method
Step 1:

Mix together all of the ingredients, gradually adding the liquid (you may not need to use it all) until it forms a soft dough.

Step 2:

Knead for 10 minutes, or 5 if you are using a mixer with a dough hook.


Step 3:

Leave to prove until doubled in size.

Step 4:

Once proved, punch out the air in the dough and shape into either 8 equal sized rolls or one giant circular loaf.


Step 5:

Place onto a lined baking tray and using a sharp knife slice 5-6 slits into the side of the dough.

Step 6:

Cover with lightly oiled cling film and leave to prove again until it's doubled in size.

Step 7:

Once proved, lightly brush with egg wash and sprinkle with pumpkin seeds.

Step 8:

Preheat the oven to 220°c (200°C fan, gas mark 7).

Step 9:

Bake the rolls for 15-20 minutes or the loaf for 25-30 minutes.

Step 10:

To check that the bread is baked throughout knock on the base, it should sound hollow.

Step 11:

Leave to cool on a wire rack before serving.
Ingredients
For the Dough

70ml

 

Milk (whole)

250ml

 

Warm water

2 tsp

 

Honey

2 tbsp

 

Unsalted butter (softened)

1 tsp

 

Ground ginger

230g

 

Pumpkin purée (canned)

1 1/4 tsp

 

Salt

1 tsp

 

Cinnamon

720g

 Allinson's very strong white bread flour

1

 Allinson's (7g easy bake yeast sachet

1

 

Medium free range egg(s)

For the Topping

1

 

Medium free range egg(s) (lightly beaten)

A handful

 

Pumpkin seeds
We'd love a slice of advice.
Was it yum? Did the recipe work well? Did you customise the recipe?
Ingredients
For the Dough

70ml

 

Milk (whole)

250ml

 

Warm water

2 tsp

 

Honey

2 tbsp

 

Unsalted butter (softened)

1 tsp

 

Ground ginger

230g

 

Pumpkin purée (canned)

1 1/4 tsp

 

Salt

1 tsp

 

Cinnamon

720g

 Allinson's very strong white bread flour

1

 Allinson's (7g easy bake yeast sachet

1

 

Medium free range egg(s)

For the Topping

1

 

Medium free range egg(s) (lightly beaten)

A handful

 

Pumpkin seeds