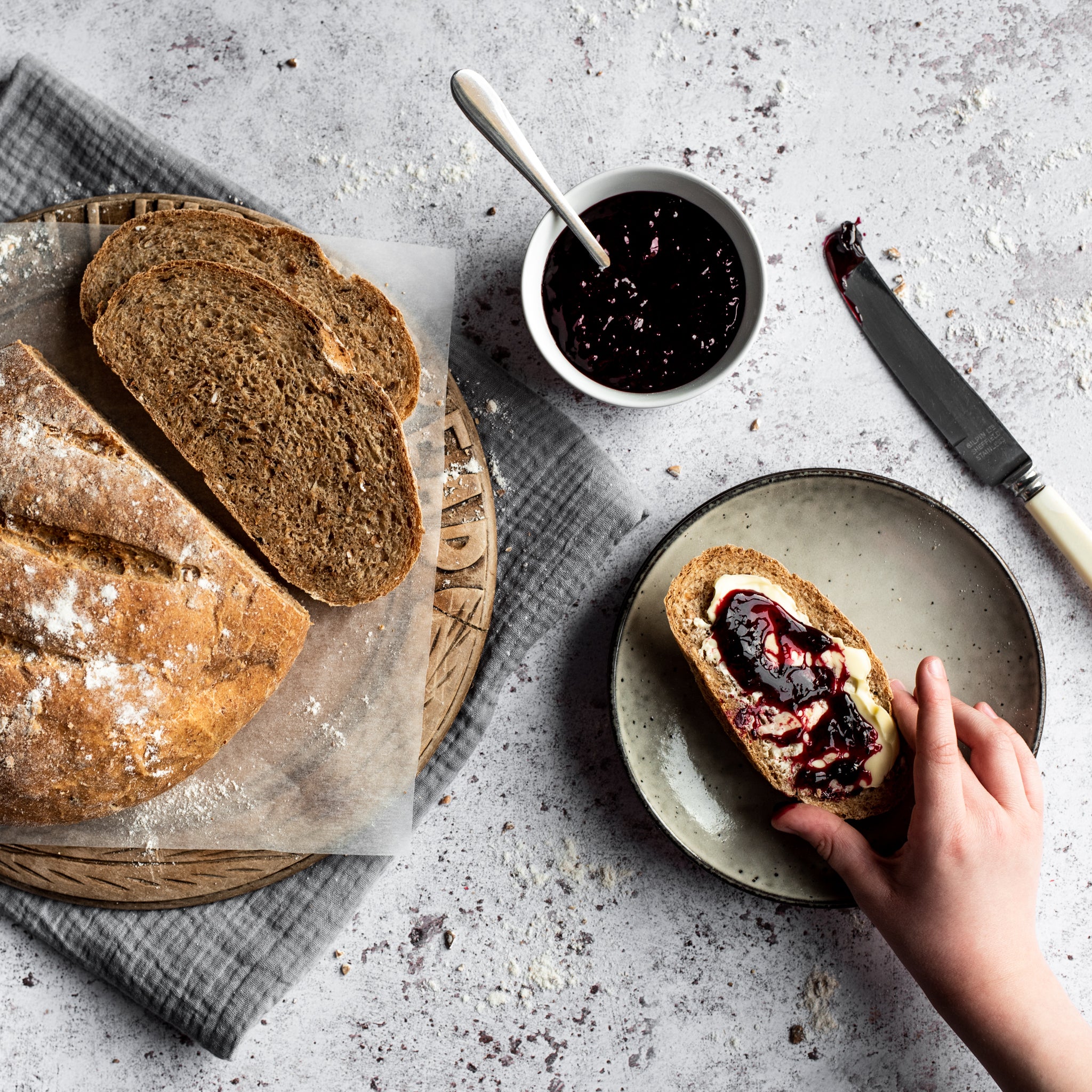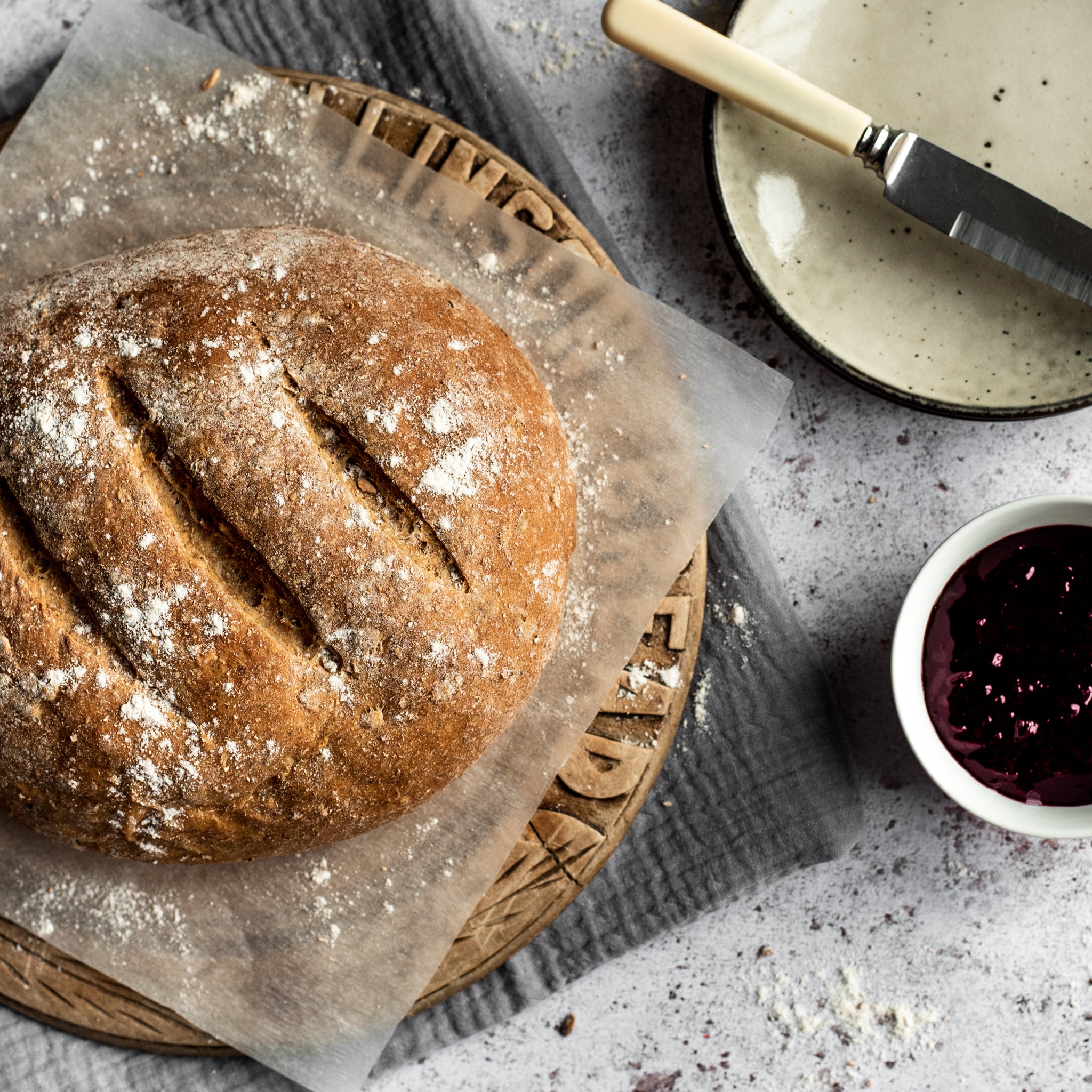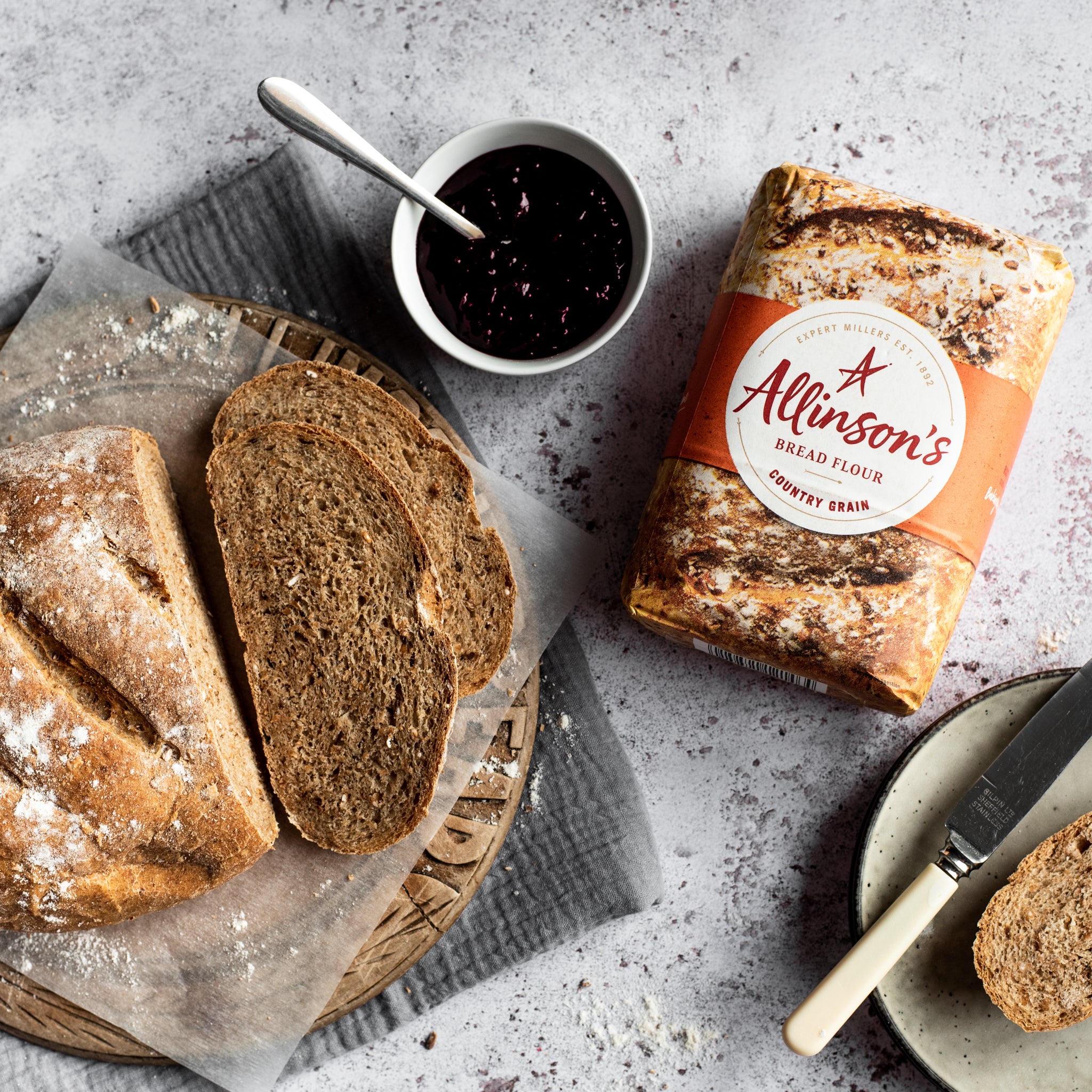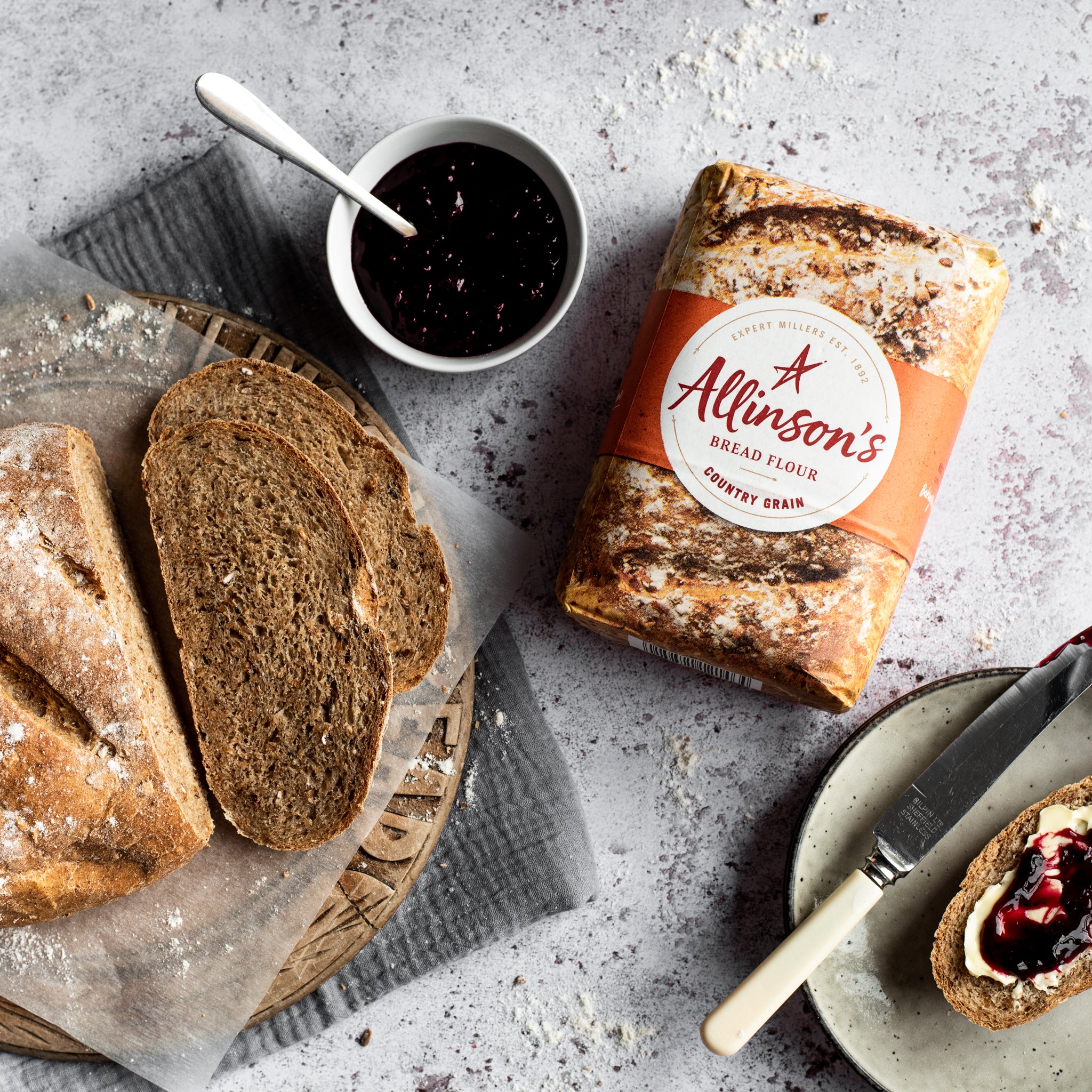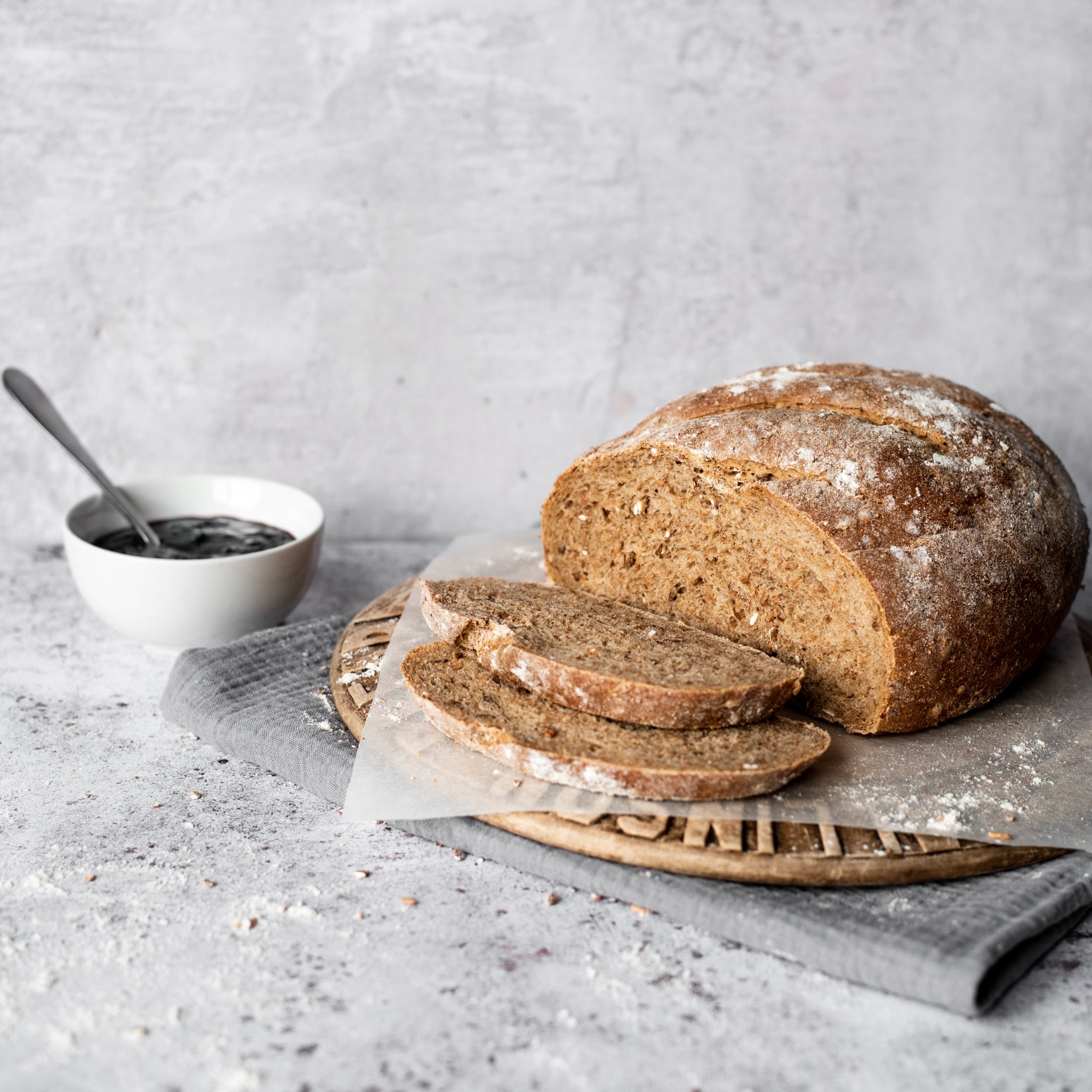 About the bake
This delicious country bread recipe tastes wonderful spread with your favourite topping and is also a great way to use up leftover bags of flour.
Follow our easy method to create the perfect country bread and the video on step two runs you through kneading by hand if you are new to it.
If you enjoyed this recipe, we think you'll love our chilli pepper and feta bread.
Method
Step 1:

Put the flour, salt and yeast into a bowl and mix to a dough with the honey, oil and water.

Step 2:

Turn the dough onto a floured surface and knead for 10 minutes.


Step 3:

Shape and put into an appropriate greased tin.

Step 4:

Leave to prove until double in size. Preheat the oven to 220°C (200°C fan, gas mark 7).

Step 5:

Bake in an oven and immediately turn the heat down to 200°C (180°C fan, gas mark 6).

Step 6:
Ingredients
150g

 Allinson's very strong wholemeal bread flour

150g

 Allinson's country grain bread flour

150g

 Allinson's very strong wholemeal bread flour

1 1/2 tsp

 

Salt

7g

 Allinson's Easy Bake Yeast

1 tbsp

 

Honey

3 tbsp

 

Sunflower oil

285ml

 

Warm water
Recipe Reviews
Used a mixer and came together after about 8 to 10 minutes but still slightly sticky. Decided to prove twice and got a good rise. Great tasting bread especially toasted. Would recommend.
I've made a lot of bread and wanted to do something slightly different. I followed the recipe exactly. This dough was very very wet and took a lot of handling to make it workable. It did rise ok but i had my doubts.
Came out well - I especially liked the video. Not sure what to do with the baking sheet and tea towel - neither is mentioned in the instructions!
Hello,
Thanks for your message, the baking sheet can be used if you want a 'free form' loaf rather than using a traditional tin. The tea towel would be used to cover the dough whilst it is proving so the bread does not form a 'skin'.
Hope this helps,
Happy Baking!
Followed the instructions to the T I think but my bread is really sticky. I used a food processor and mixed for around 5 minutes then let if rest for an hour or so and cooked for 30 minutes
Is there something I should have done differently ?
Hello,
We would recommend using a dough hook for approx. 8 minutes or to knead by hand for 10 minutes. We would not recommend using a food processor.
Hope this helps
Happy Baking!
Vegan and honey do not go together.
Thank you for contacting us, we will amended this recipe.
Happy Baking!
"Left over bags of sugar"?
Ingredients
150g

 Allinson's very strong wholemeal bread flour

150g

 Allinson's country grain bread flour

150g

 Allinson's very strong wholemeal bread flour

1 1/2 tsp

 

Salt

7g

 Allinson's Easy Bake Yeast

1 tbsp

 

Honey

3 tbsp

 

Sunflower oil

285ml

 

Warm water