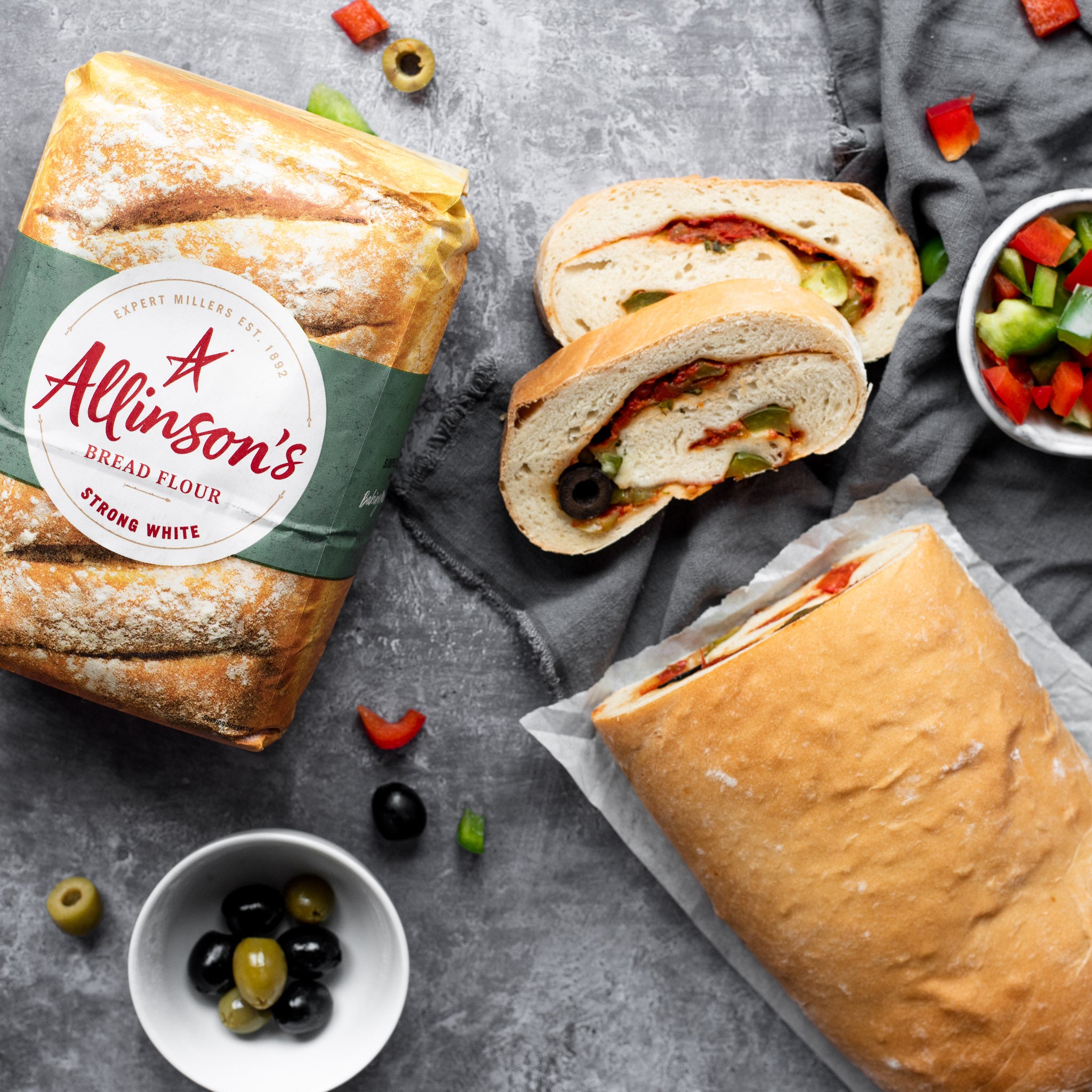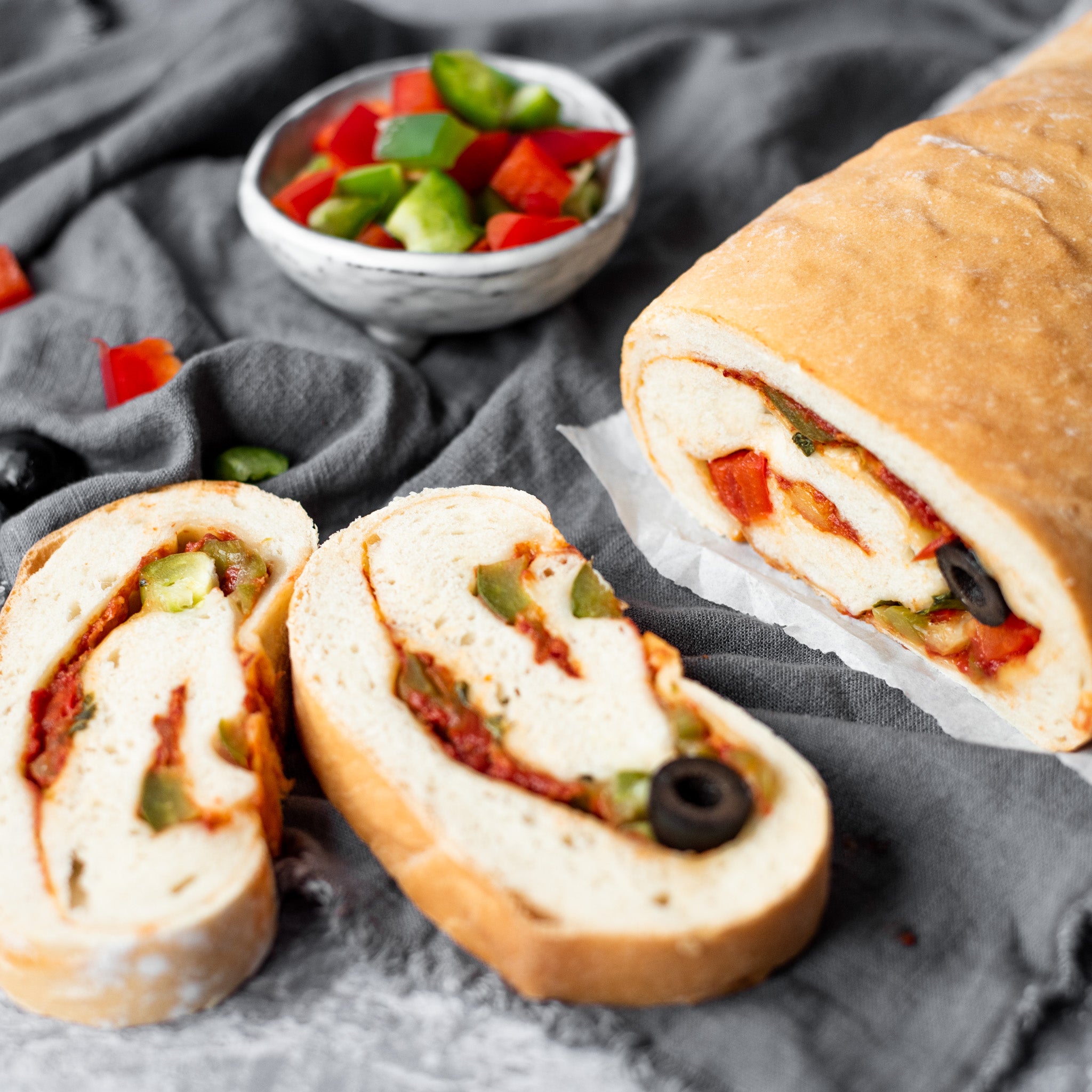 About the bake
A stromboli originates from Italy, it's a magical sandwich that you cut open to reveal your filling. What's not to love? We've filled our Stromboli with roasted Mediterranean vegetables and stringy mozzarella- a really yummy combo.
Best served warm fresh from the oven with a little side salad and drizzle of olive oil. New to bread making? Watch our video to find out how to knead your dough. We've got your back.
How long does it take for a Stromboli to rise?
For this recipe, you need to allow your stromboli to double in size. This can differ in time depending on where you leave your bread to prove but checking back after 30 minutes is a good place to start.
Hooked on Italian bread? Give our Herb focaccia a whirl - loved by our bakers and an all year round classic you'll go back to make time and time again. Our ciabatta recipe is also great for creating a homemade slice of italian bread to go with your winter warming soup, or make an out of this world sandwich.
Method
Step 1:

MIX

Mix the flour, yeast, sugar and salt in a big bowl. Mix the water and oil together, then stir in with a cutlery knife.

Step 2:

KNEAD Tip onto a lightly flour dusted surface and knead for 10 minutes (or use the dough hook attachment on your mixer).


Step 3:

RISE

Lightly grease the mixing bowl with some oil. Put the dough back in, cover the bowl with a clean tea towel and leave to rise until doubled in size.

Step 4:

SHAPE

Preheat your oven to 200°C (fan 180°C, gas mark 6).

Roll the dough on a flour dusted surface to a rectangle about 25cm x 40cm. Scatter over the basil, veg and mozzarella and season. Tuck the short sides in (to stop the filling escaping) and roll up from the long side like a swiss roll. Lift onto a baking tray, seam-side down.

Step 5:

BAKE

Bake for 30 minutes until puffed and golden. Cool slightly before slicing.
Ingredients
For the Dough

500g

 Allinson's Strong White Bread Flour

7g

 Allinson's Easy Bake Yeast

1 tsp

 Billington's Unrefined Golden Caster Sugar

2 tsp

 

Salt

300ml

 

Warm water

50ml

 

Olive oil

Additional Ingredients

A handful

 

Basil leaves

300g

 

Mediterranean vegetables (roasted peppers, sundried tomatoes and olives)

250g

 

Mozzarella balls (sliced)
Utensils
Large mixing bowl

Tea towel

Baking tray
We'd love a slice of advice.
Was it yum? Did the recipe work well? Did you customise the recipe?
Ingredients
For the Dough

500g

 Allinson's Strong White Bread Flour

7g

 Allinson's Easy Bake Yeast

1 tsp

 Billington's Unrefined Golden Caster Sugar

2 tsp

 

Salt

300ml

 

Warm water

50ml

 

Olive oil

Additional Ingredients

A handful

 

Basil leaves

300g

 

Mediterranean vegetables (roasted peppers, sundried tomatoes and olives)

250g

 

Mozzarella balls (sliced)
Utensils
Large mixing bowl

Tea towel

Baking tray