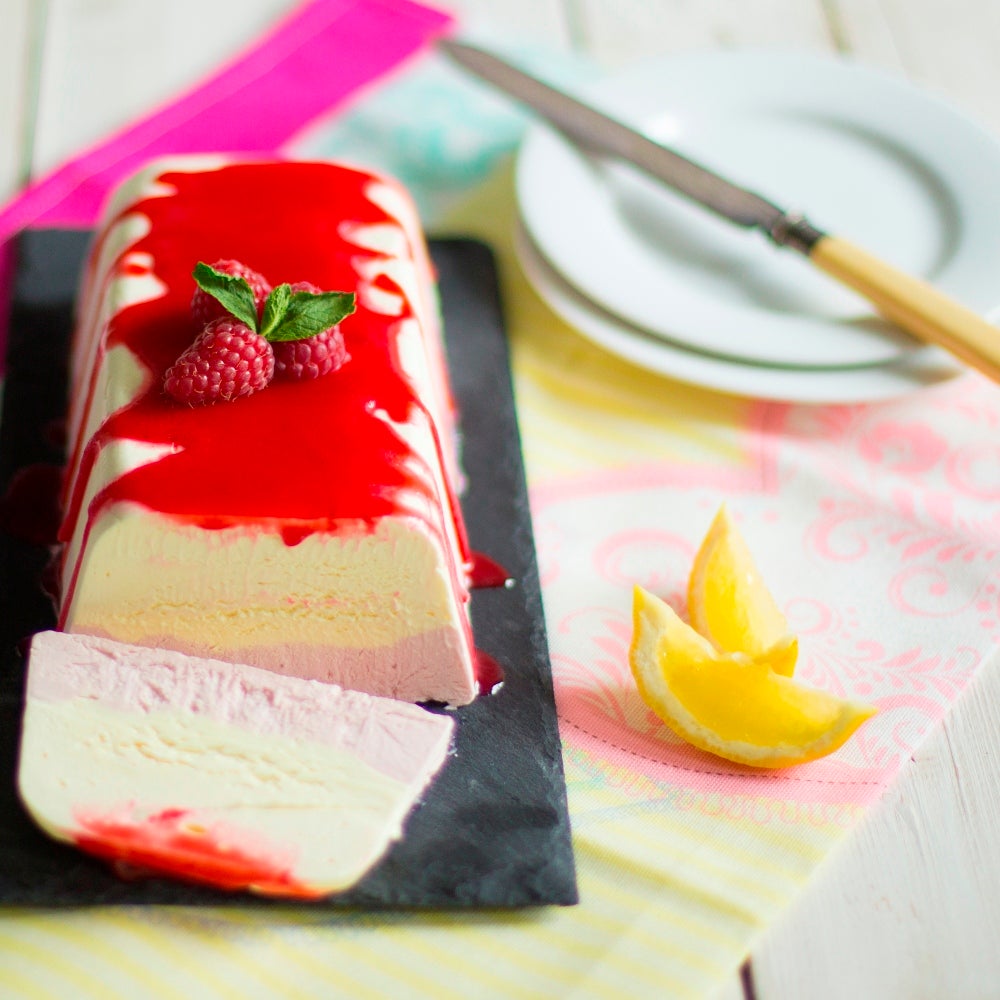 Lemon Curd & Raspberry Ice Cream Loaf
About the bake
This refreshingly zesty Lemon Curd and Raspberry Ice Cream Loaf is a great dessert to be served at summer BBQs or as a dinner party show stopper. For an added twist, why not insert wooden lollipops an inch apart before freezing and turn this into individual indulgent ice cream bars.
Method
Step 1:

Line a 2lb loaf tin with cling film, allowing an overhang to cover the top of the tin when wrapped.

Step 2:

To make the lemon curd ice cream, put all of the ingredients in a large bowl. Add a drop or two of yellow food colouring if you want to achieve a deep yellow colour.

Step 3:

Spoon into the loaf tin, filling it 2/3 full and put in the freezer to set until solid (approx. 4-5 hours).

Step 4:

To make the coulis, place the raspberries along with the icing sugar in a medium pan and heat slowly over a medium heat until the raspberries begin to soften.

Step 5:

Pass the raspberries through a sieve collecting the juice in a medium bowl and allow to cool.

Step 6:

To make the raspberry ice cream, separate the eggs and whisk the egg whites until stiff peaks form.

Step 7:

Continue to whisk, gradually adding the caster sugar until the mix becomes glossy.

Step 8:

In a separate bowl whisk the double cream to soft peaks, then gently fold the cream, egg yolks and raspberry coulis in with the egg whites until fully combined. Keep aside a small amount of coulis to decorate.

Step 9:

Pour the raspberry ice cream into the loaf tin on top of the frozen lemon curd ice cream.

Step 10:

Wrap the cling film over the ice cream and place back in the freezer.

Step 11:

Allow several hours for the ice cream to become solid (overnight if possible).

Step 12:

To serve, remove from the tin and unwrap. Place on a serving plate with the raspberry ice cream at the bottom.

Step 13:

Decorate with raspberries and drizzle with the remaining coulis.
Ingredients
For the raspberry coulis

250g

 

Raspberries (plus additional for decoration)

2 tbsp

 Silver Spoon Icing Sugar

For the raspberry ice cream

4

 

Egg(s) (free range)

100g

 Billington's Unrefined Golden Caster Sugar

300ml

 

Double cream

For the lemon curd ice cream

397g

 

Condensed milk

600ml

 

Double cream

3 tbsp

 

Lemon curd

3 tsp

 Nielsen-massey lemon extract

 

Yellow food colouring
Utensils
2lb loaf tin

Cling film

Mixing bowl

Saucepan

Sieve

Whisk
We'd love to know how it went?
Was it yum? Did the recipe work well? Did you change any ingredients? Add anything?
Ingredients
For the raspberry coulis

250g

 

Raspberries (plus additional for decoration)

2 tbsp

 Silver Spoon Icing Sugar

For the raspberry ice cream

4

 

Egg(s) (free range)

100g

 Billington's Unrefined Golden Caster Sugar

300ml

 

Double cream

For the lemon curd ice cream

397g

 

Condensed milk

600ml

 

Double cream

3 tbsp

 

Lemon curd

3 tsp

 Nielsen-massey lemon extract

 

Yellow food colouring
Utensils
2lb loaf tin

Cling film

Mixing bowl

Saucepan

Sieve

Whisk