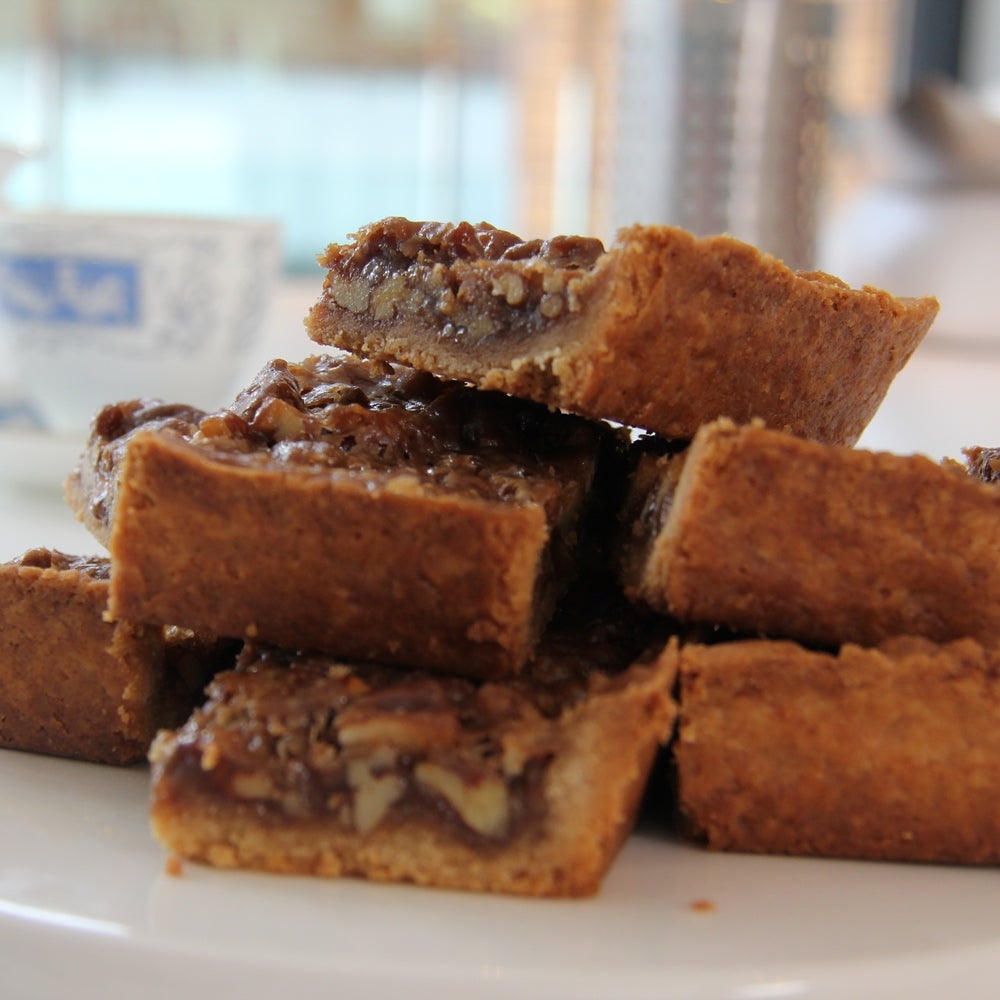 About the bake
A crisp, shortcrust pastry base filled with sticky pecans and maple syrup helps creates this beautifully scrumptious tart. These Maple Pecan Sticky Bars featured in series 2 of Baking Mad with Eric Lanlard on Channel 4.
Method
Step 1:

Preheat oven to 180°C (160°C fan, 350°F, gas mark 4). Butter a 23 x 23 x 5cm cake tin.

Step 2:

To start, make the shortcrust pastry base. In a large bowl mix together the butter and sugar with your hands, and finally add the egg yolks and mix. Add the flour and beat until a soft dough is formed. Gather the dough together and press it into the bottom of the tin and 2cm up the sides. Bake for about 18-20 minutes, or until golden. Remove from the oven, but leave the oven on whilst you make the filling.

Step 3:

To make the filling, in a medium saucepan combine all the ingrediants except the nuts and vanilla extract. Bring to the boil, stirring until the butter melts and the mixture is smooth. Boil for 30 seconds. Remove from the heat, then mix the nuts and vanilla extract

Step 4:

Pour the hot filling over the crust and bake in the oven for about 15 minutes until the filling is bubbling in the centre.

Step 5:

Allow to completely cool in the tin where the filling will become firm, then chill in the refrigerator for at least 1 hour and up to 2 hours.

Step 6:

When chilled, cut into bars with a large sharp knife.
Ingredients
For the pastry

100g

 

Butter (unsalted) (softened)

75g

 Billington's Unrefined Golden Caster Sugar

1

 

Egg yolk(s) (free range)

175g

 Plain white flour

For the filling

175g

 

Pecan nuts (toasted, roughly chopped)

100ml

 

Maple syrup

200g

 Billington's Unrefined Light Muscovado Sugar

1 tbsp

 

Double cream

150g

 

Butter (unsalted)

1 tsp

 Nielsen-Massey Vanilla Extract
Utensils
23 x 23 x 5cm cake tin

Mixing bowl

Saucepan
Ingredients
For the pastry

100g

 

Butter (unsalted) (softened)

75g

 Billington's Unrefined Golden Caster Sugar

1

 

Egg yolk(s) (free range)

175g

 Plain white flour

For the filling

175g

 

Pecan nuts (toasted, roughly chopped)

100ml

 

Maple syrup

200g

 Billington's Unrefined Light Muscovado Sugar

1 tbsp

 

Double cream

150g

 

Butter (unsalted)

1 tsp

 Nielsen-Massey Vanilla Extract
Utensils
23 x 23 x 5cm cake tin

Mixing bowl

Saucepan