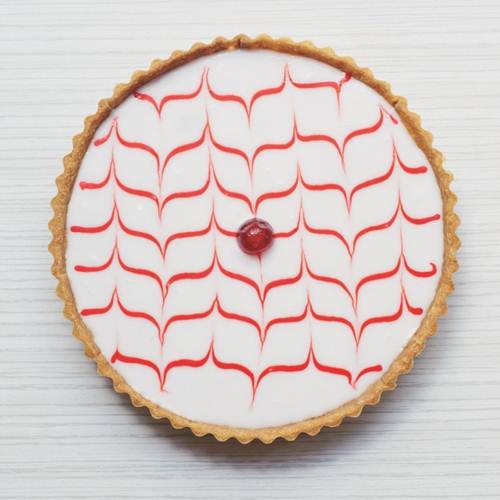 About our Bakewell tart recipe
Bakewell tarts are a staple part of British heritage and for very good reason...it's blooming delicious. Now being on the large size this tart is meant for sharing but we wouldn't blame you if you don't want to part with it. That being said we can guarantee that this tart is sure to put a smile of everyone's face.
It's a real 'make your tummy happy' tart. What's not to love? Buttery crisp shortcrust pastry base, squidgy almondy frangipan middle, and soft runny icing with delicate feathering and the finishing touch is literally "the cherry on top".
You can ring the changes with different jams or conserves in the filling, try sweet strawberry, cherry or apricot for a change.
If you're looking for the traybake version, give our bakewell tart traybake a try!
Method
Step 1:

This recipe requires a 23cm tart tin with a loose bottom; approximately 35mm deep.

Step 2:

To make the pastry, place all the dry ingredients in the bowl of your food processor and give them a quick pulse. Add the butter and pulse until the mixture resembles breadcrumbs.

Step 3:

Tip the mixture into a large mixing bowl and add the egg and water. Bring together with your hands and then gently knead the mixture a couple of times to make a smooth pastry. Wrap in cling film and place in the fridge until required.

Step 4:

Pre-heat the oven to 180°C (160°C fan/320°F/gas 4) and prepare a loose bottom 23cm tart tin by greasing and dusting with flour.

Step 5:

Dust your surface with flour and begin to roll your pastry out. It is helpful to roll onto a cold surface.

Step 6:

Roll the pastry onto your rolling pin and carefully drape over the tin, easing the pastry into position and trimming of any excess from around the edges. Lightly prick the surface of the pastry with a fork and cover loosely with a sheet of baking paper. Fill the centre with baking beans and blind bake for 15 minutes.

Step 7:

Once the pastry case has been removed from the oven, spread the raspberry jam evenly over the base – don't go right to the edge, but leave about 1cm jam-free all the way around.

Step 8:

To make the frangipane, cream together the butter and sugar until pale and fluffy; this takes about 5 minutes in a kitchen mixer fitted with a paddle, or a little longer with a hand mixer. Fold in the remaining ingredients and place the mixture in a disposable piping bag. Cut the end off the bag to make a hole about 12mm wide and pipe the mixture evenly into the pastry case over the jam layer. Smooth out gently using a palette knife or spatula.

Step 9:

Place the tart tin on a baking sheet and bake for 25–30 minutes until the filling is golden. Test with a skewer inserted into the centre: it should come out clean and the frangipane should be firm to the touch.

Step 10:

Place on a wire rack and leave to cool completely before removing the tart from the tin. To make the topping, put the icing sugar in a mixing bowl with the almond extract. Stir while adding a little water until you have a thick, smooth fondant.

Step 11:

Place 2 tablespoons of the fondant in a small bowl and colour it bright red. Place in a disposable piping bag fitted with a 2mm plain round nozzle.

Step 12:

Pour the white fondant mixture into the tart tin until level with the top. Pipe parallel lines of red fondant on the tart and then drag a toothpick across the lines to create a feathered effect. Place a red glacé cherry in the centre.
Ingredients
For the pastry

215g

 Allinson's Plain White Flour

30g

 Silver Spoon Icing sugar

120g

 

Butter (unsalted) (cut into 1cm cubes)

2

 

Egg yolk(s) (free range) (medium)

2 tbsp

 

Water (cold)

For the frangipane filling

75g

 

Butter (unsalted)

75g

 Billington's Unrefined Golden Caster Sugar

75g

 

Almonds (ground)

1 tbsp

 Allinson's Plain White Flour

1 tsp

 

Almond extract

1

 

Lemon zest (finely grated, unwaxed)

1

 

Egg(s) (free range) (medium, beaten)

For the topping

200g

 Silver Spoon Icing sugar

1 tsp

 

Almond extract

 

Red food colouring (gel)

1

 

Glacé cherries

2 tbsp

 

Raspberry jam
Recipe Reviews
You will need double the amount of filling. It says two tablespoons of raspberry jam are needed in the topping but it doesn't say how to use them on the recipe
I expected this to rise but it was ver flat, I am just wondering why plain flour was used.
I followed the recipe to a tee and it mostly went well. The only thing bad is that I'd like it to state a specific thickness of the pastry while rolling it out. I rolled mine out at about 3mm and still got a soggy bottom
Not enough filling mixture
followed this recipe but found there was not enough Frangipane filling for this size of pastry case!
There wasn't enough Frangipane. After making this, I found that other Uk recipes used at least double the amount of ingredients. Disappointing.
Ingredients
For the pastry

215g

 Allinson's Plain White Flour

30g

 Silver Spoon Icing sugar

120g

 

Butter (unsalted) (cut into 1cm cubes)

2

 

Egg yolk(s) (free range) (medium)

2 tbsp

 

Water (cold)

For the frangipane filling

75g

 

Butter (unsalted)

75g

 Billington's Unrefined Golden Caster Sugar

75g

 

Almonds (ground)

1 tbsp

 Allinson's Plain White Flour

1 tsp

 

Almond extract

1

 

Lemon zest (finely grated, unwaxed)

1

 

Egg(s) (free range) (medium, beaten)

For the topping

200g

 Silver Spoon Icing sugar

1 tsp

 

Almond extract

 

Red food colouring (gel)

1

 

Glacé cherries

2 tbsp

 

Raspberry jam