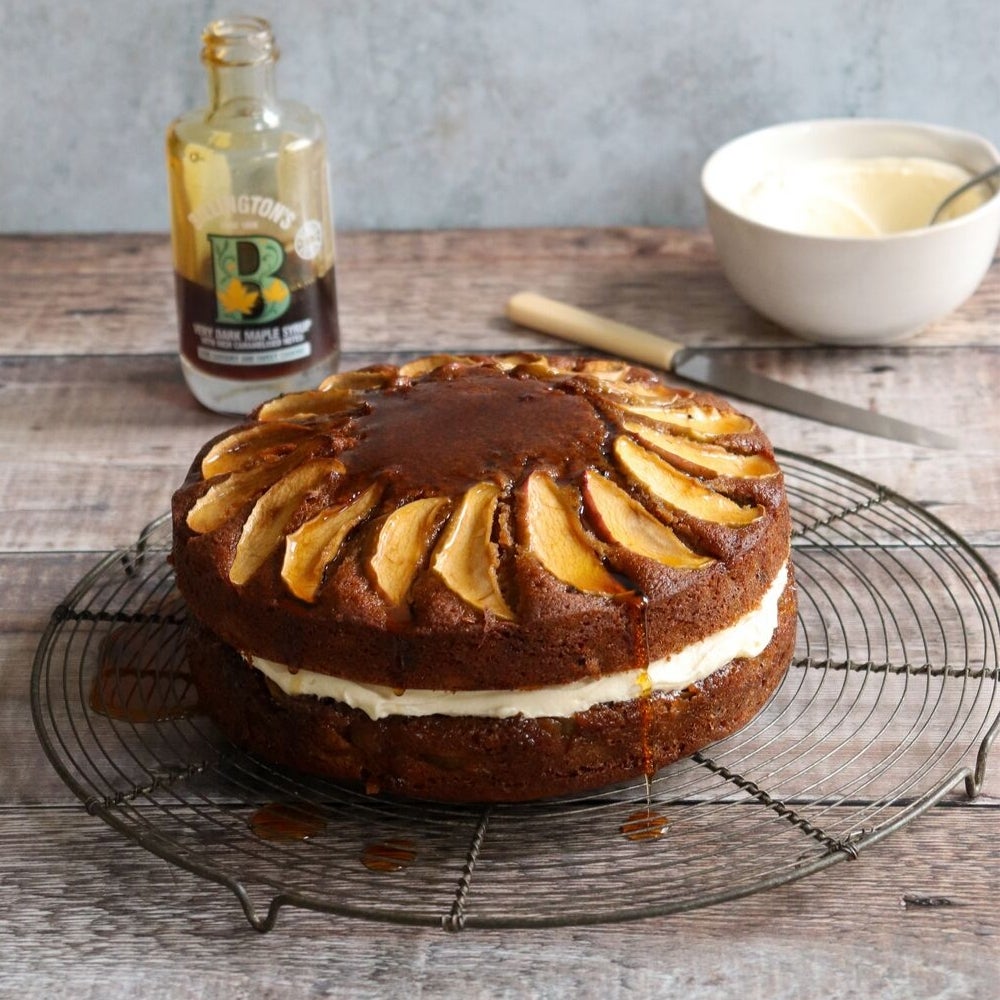 About the bake
Love the combination of sticky toffee and apple? Well it just got even better! The talented Martha Collison had whipped up this indulgent recipe and it's an ideal treat for an Autumn evening!
Method
Step 1:

Preheat the oven to 160oC and grease and line 3x 18cm tins with baking parchment. To make the sponge, heat the butter, sugar and maple syrup together in a large saucepan, stirring until the butter is melted and the sugar has dissolved.


Step 2:

Pour and whisk the milk into the saucepan with the hot mixture, allow to cool to room temperature and then beat in the eggs until well combined. Sift the flour and bicarbonate of soda together into the saucepan and whisk together until smooth. Fold through the chopped dates.


Step 3:

Slice the apples into thin wedges. Pour the mixture into the tins and arrange the slices of apple in a circular pattern on top. Bake in the preheated oven for 30-35 minutes, or until firm and a skewer inserted comes out clean. Leave to cool briefly in the tins before transferring to a wire to cool completely.


Step 4:

Whilst the cakes are baking, make the buttercream. Put the butter into a large bowl or the bowl of a stand mixer and beat briefly to soften. Add the icing sugar in a few batches, making sure all the sugar is well incorporated into the mix before adding more. Beat for 5-10 minutes until really light and fluffy, then add the salt and the syrup and beat for a few more minutes.


Step 5:

Once the cake has completely cooled, sandwich the cake with the buttercream and drizzle maple syrup over the top, using a pastry brush to properly glaze the fruit.

Ingredients
For the Sticky Toffee Sponge

175g

 

Butter

200g

 Billington's dark muscovado sugar

150g

 

Maple syrup

150ml

 

Milk

2

 

Medium free range eggs

250g

 

Plain flour

1 tsp

 

Bicarbonate of soda

150g

 

Chopped dates

2

 

Apples (cored)

For the Buttercream

125g

 

Unsalted butter (softened)

250g

 Billington's golden icing sugar

100ml

 Billington's very dark maple syrup

0.5 tsp

 

Sea salt

For the Glaze

To glaze

 Billington's very dark maple syrup
Utensils
2 x 18cm cake tins

Baking parchment

Large saucepan

Large bowl

Pastry brush
Recipe Reviews
I served this with some sticky toffee sauce and ice cream. Yummy!
Great recipe! Loved how it was different from a normal sandwich cake, thoroughly enjoyed by all! (I used 2 20cm sandwich tins at 160 degrees fan for 35 minutes and worked perfectly)
Ingredients
For the Sticky Toffee Sponge

175g

 

Butter

200g

 Billington's dark muscovado sugar

150g

 

Maple syrup

150ml

 

Milk

2

 

Medium free range eggs

250g

 

Plain flour

1 tsp

 

Bicarbonate of soda

150g

 

Chopped dates

2

 

Apples (cored)

For the Buttercream

125g

 

Unsalted butter (softened)

250g

 Billington's golden icing sugar

100ml

 Billington's very dark maple syrup

0.5 tsp

 

Sea salt

For the Glaze

To glaze

 Billington's very dark maple syrup
Utensils
2 x 18cm cake tins

Baking parchment

Large saucepan

Large bowl

Pastry brush