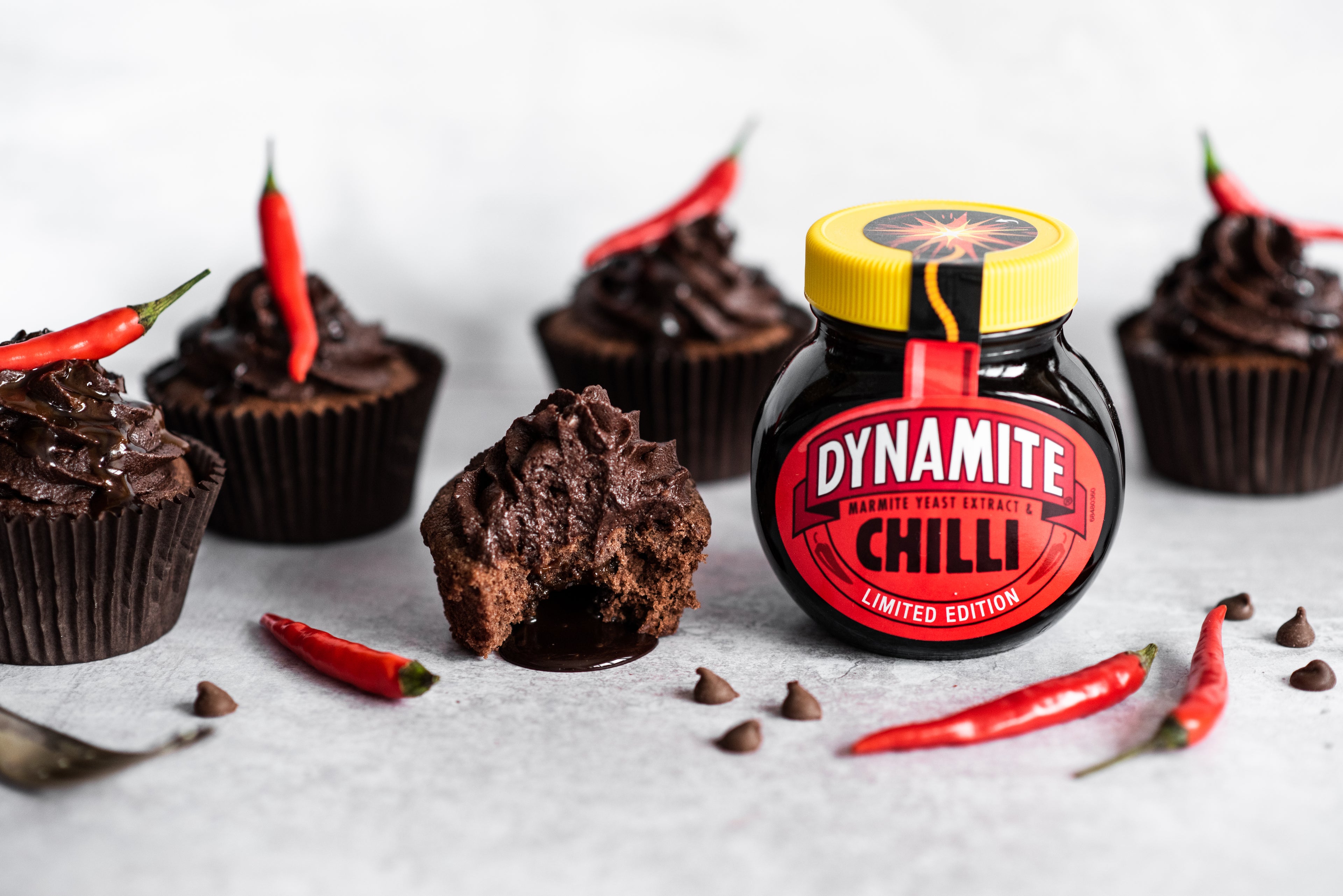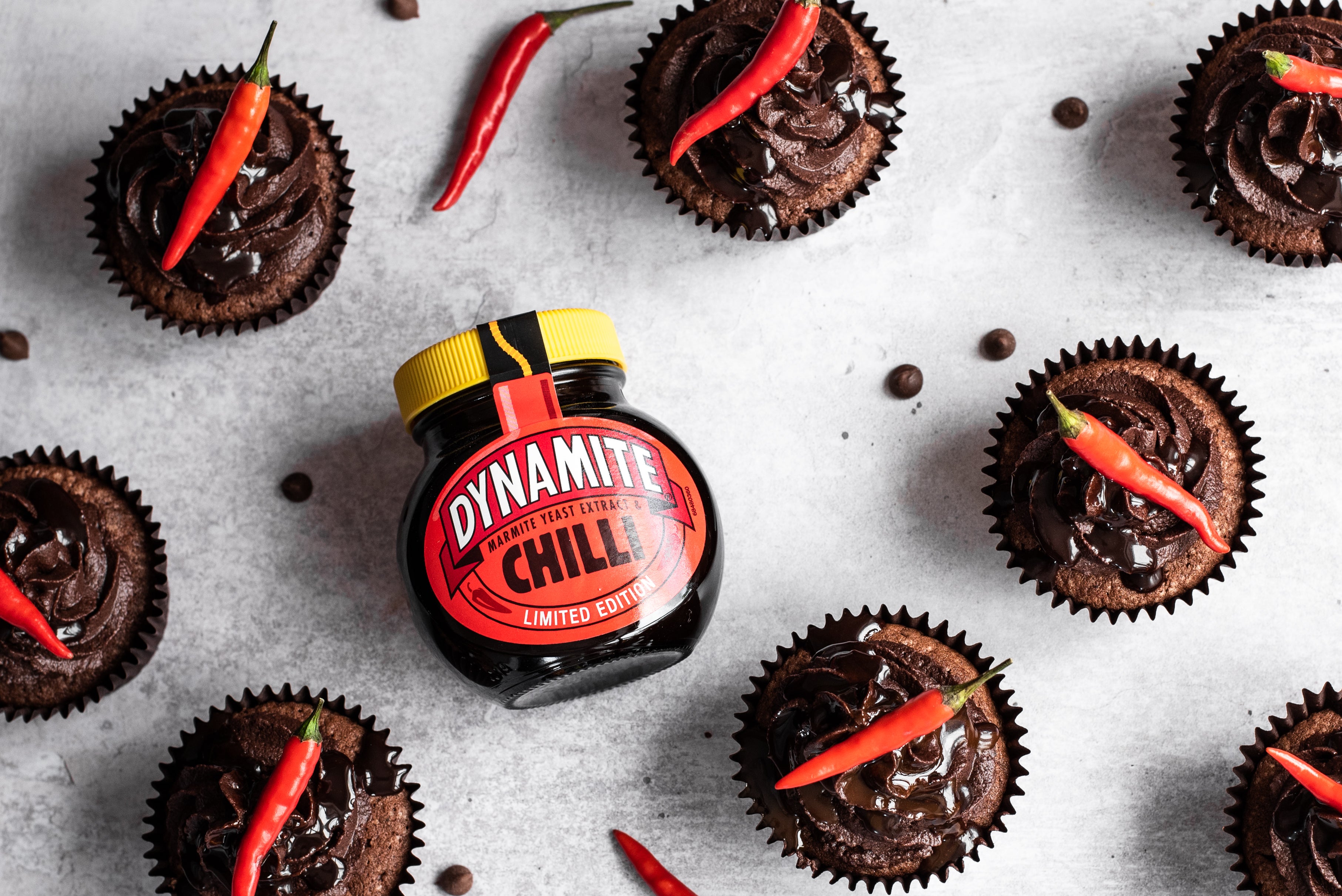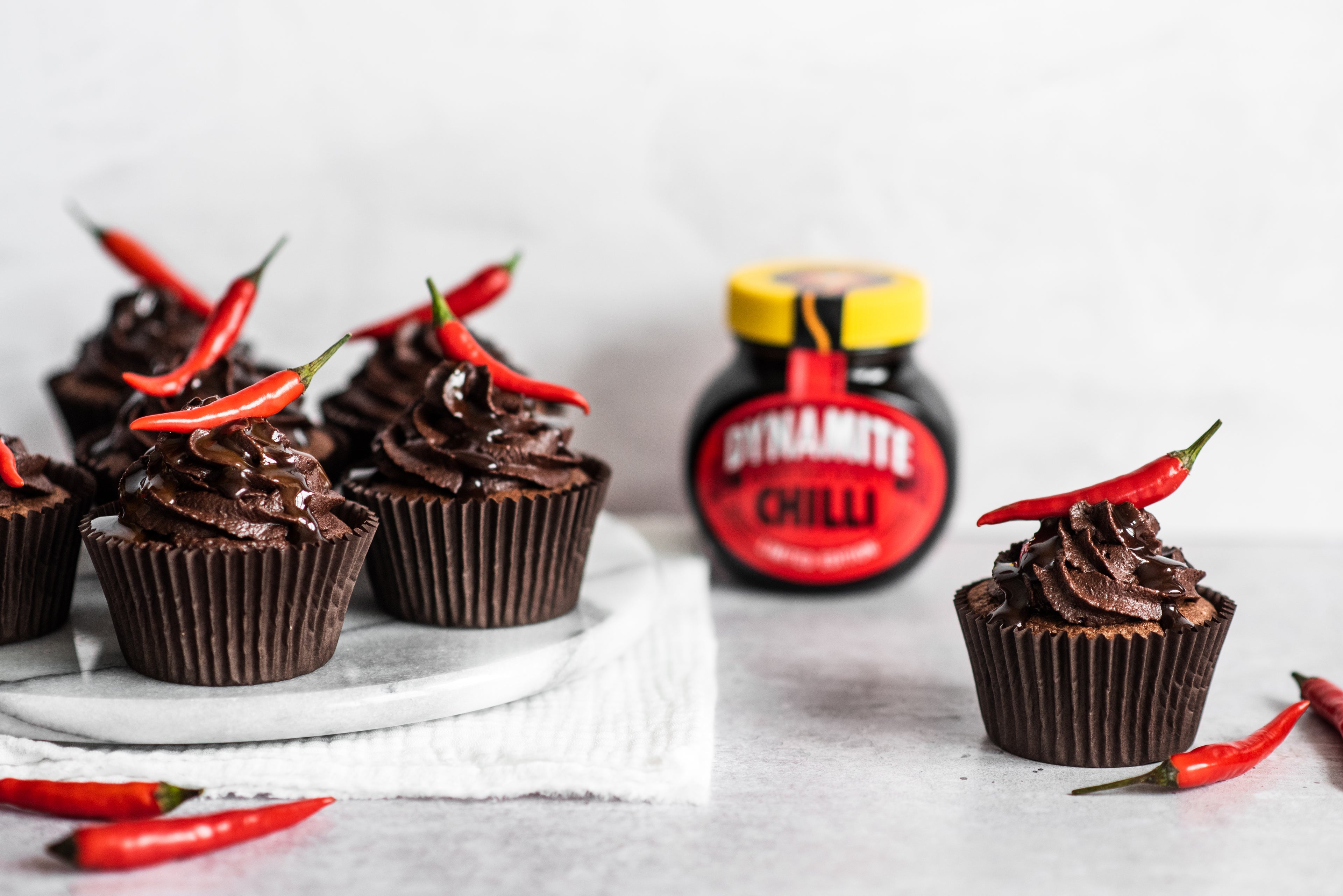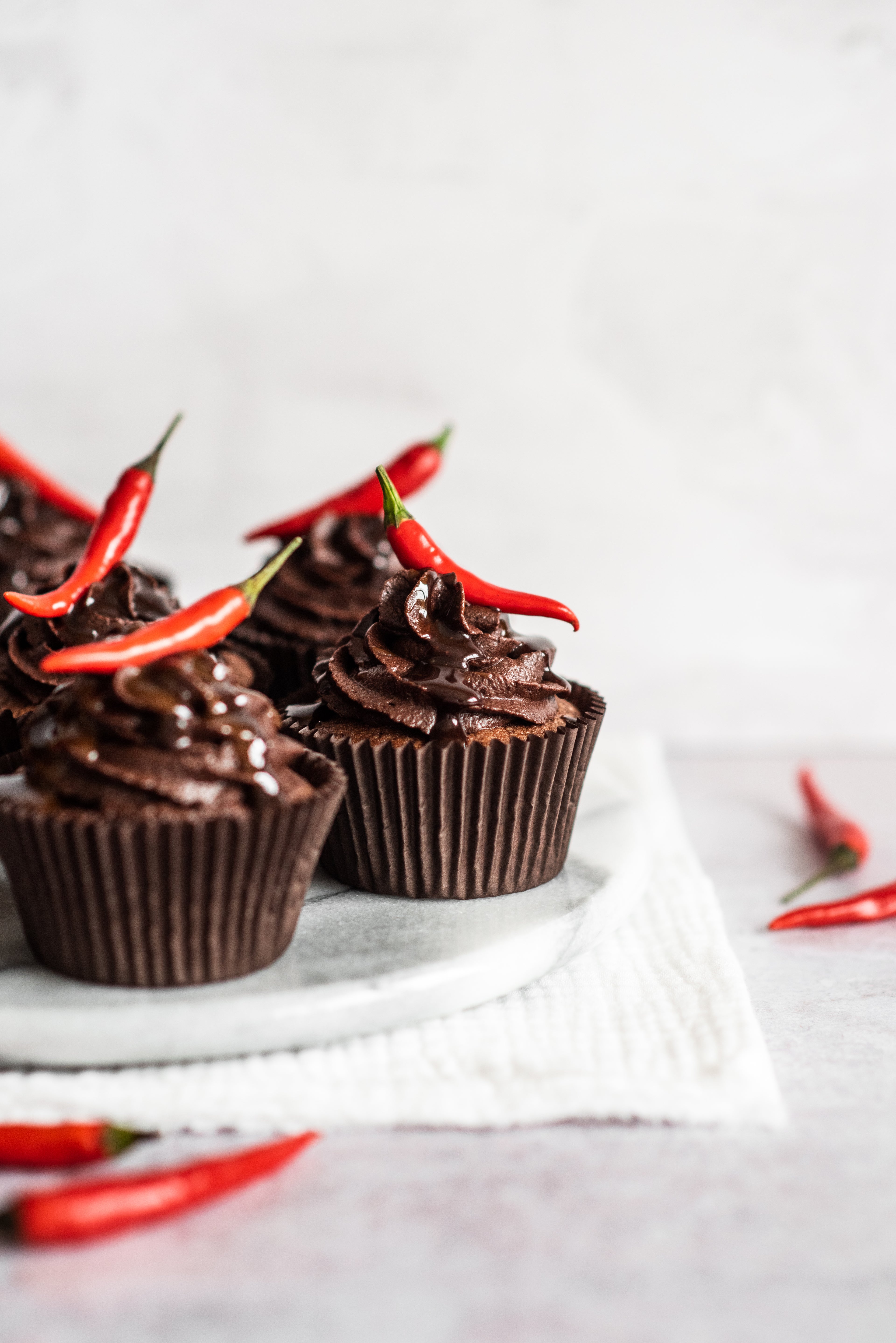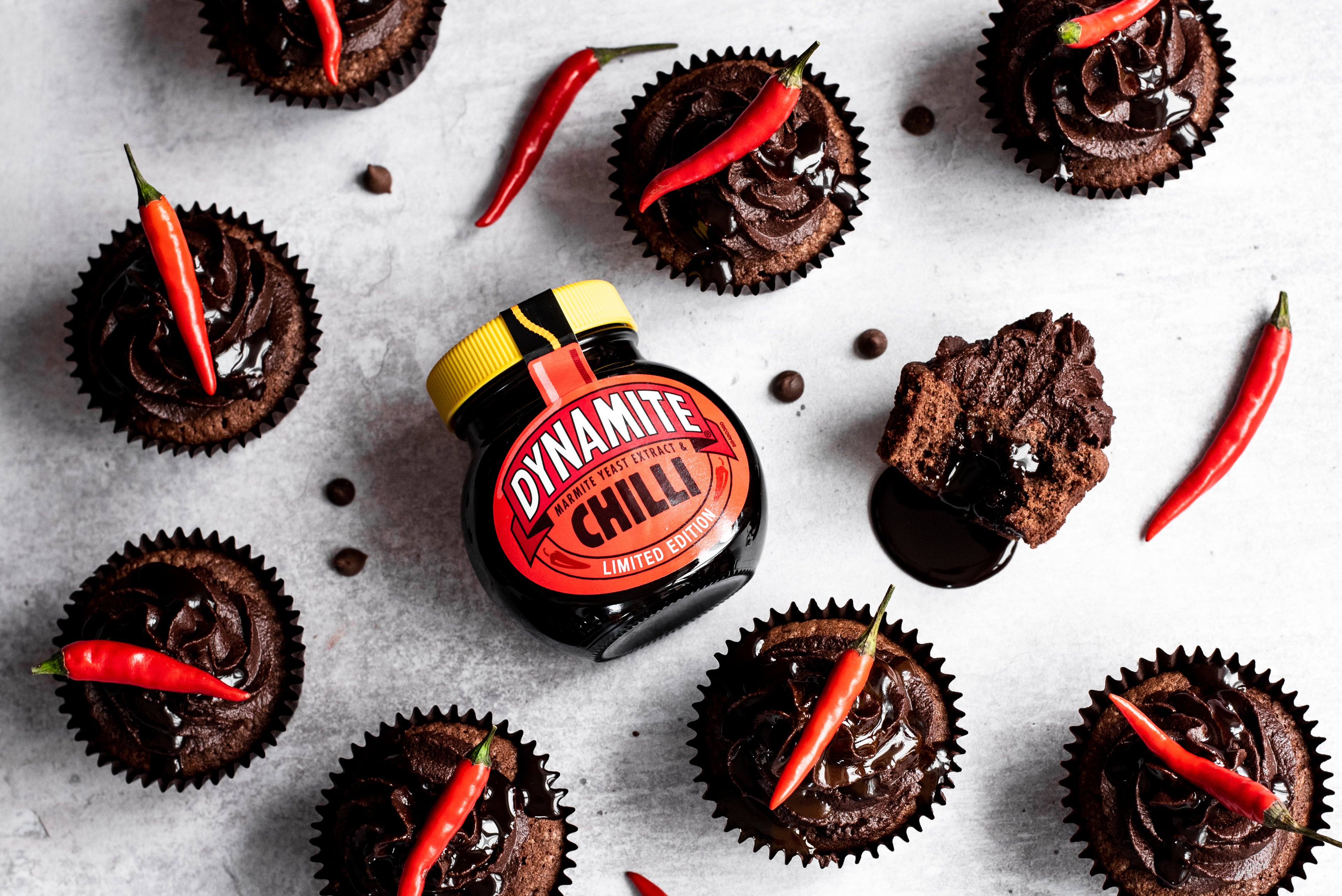 About the bake
Calling all Marmite lovers, we've got an explosive treat for you. These cupcakes are filled with an oozing dynamite chilli centre perfectly complemented by a rich & creamy chocolate buttercream, topped with an actual chilli for added heat. So whether you love it or hate it, you're going to want to bake it.
Method
Step 1:

Preheat the oven to 180 degrees C (160 degrees fan) and line a muffin tray with large cupcake or muffin cases.

Step 2:

Place the butter and golden caster sugar into a large bowl and cream together at a high speed until light and fluffy.

Step 3:

Add the eggs, vanilla extract and a tablespoon of the flour into the bowl and whisk again.

Step 4:

Add the remaining flour, cocoa powder, and milk to the bowl and gently whisk until fully combined.

Step 5:

Evenly distribute the cupcake mix into each cupcake or muffin case, until two-thirds full, and bake in the preheated oven for around 20 minutes or until an inserted skewer comes out clean.

Step 6:

Once baked remove from the oven and allow to cool fully on a wire rack.

Step 7:

Begin making the frosting by whisking together the butter, cocoa powder, and icing sugar for 5 minutes at high speed until the colour lightens and the texture becomes silky.

Step 8:

Once the cupcakes have cooled, gently cut out a small hole in the middle of each (an apple corer can help with this).

Step 9:

Slice the bottom half off of the removed piece of cupcake and discard (you'll need to use the top half to plug in the Marmite)

Step 10:

Fill each cupcake with a teaspoon of Dynamite Marmite and replace the plug.

Step 11:

Frost each cupcake with the buttercream (either by piping or using an offset spatula) and liberally drizzle over more Dynamite Marmite.

Step 12:

Add a small chilli to each of the cupcakes to finish.
Ingredients
For the cupcakes

200g

 Billington's Unrefined Golden Caster Sugar

200g

 

Butter (softened)

1 tsp

 Nielsen-Massey Vanilla Extract

3

 

Eggs

70g

 Allinson's Self Raising Flour

30g

 

Cocoa powder

4 tbsp

 

Milk

1

 

Jar of Dynamite Chilli Marmite

For the buttercream

150g

 

Butter (softened)

150g

 Silver Spoon Icing Sugar

30g

 

Cocoa powder
Utensils
Cupcake case

Piping bag

12 hole cupcake tray
Recipe Reviews
Made this for my bestie who is the biggest marmite fan and he loved them. Cheers Baking Mad, I got major friend brownie points (especially as I hate marmite).
Ingredients
For the cupcakes

200g

 Billington's Unrefined Golden Caster Sugar

200g

 

Butter (softened)

1 tsp

 Nielsen-Massey Vanilla Extract

3

 

Eggs

70g

 Allinson's Self Raising Flour

30g

 

Cocoa powder

4 tbsp

 

Milk

1

 

Jar of Dynamite Chilli Marmite

For the buttercream

150g

 

Butter (softened)

150g

 Silver Spoon Icing Sugar

30g

 

Cocoa powder
Utensils
Cupcake case

Piping bag

12 hole cupcake tray