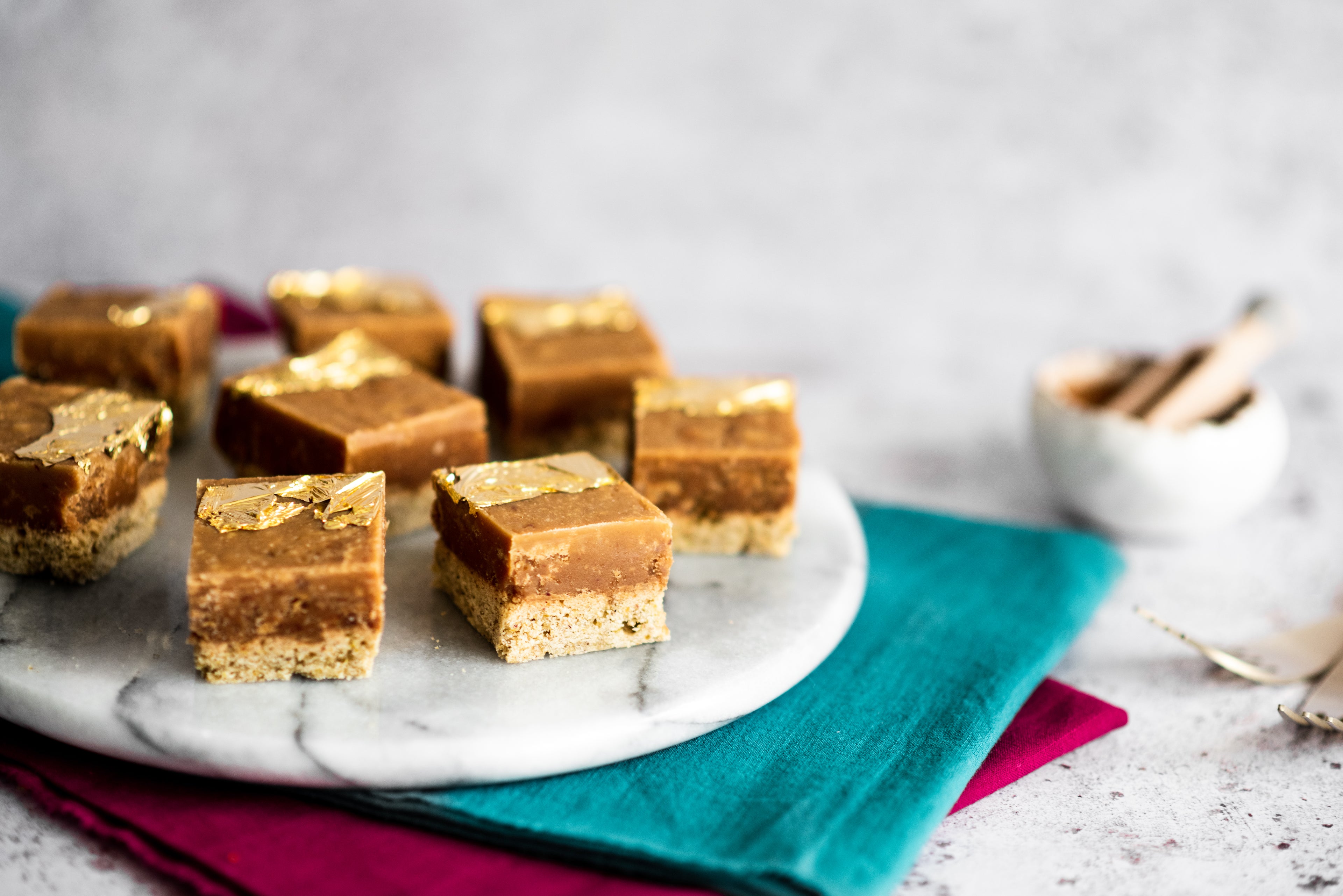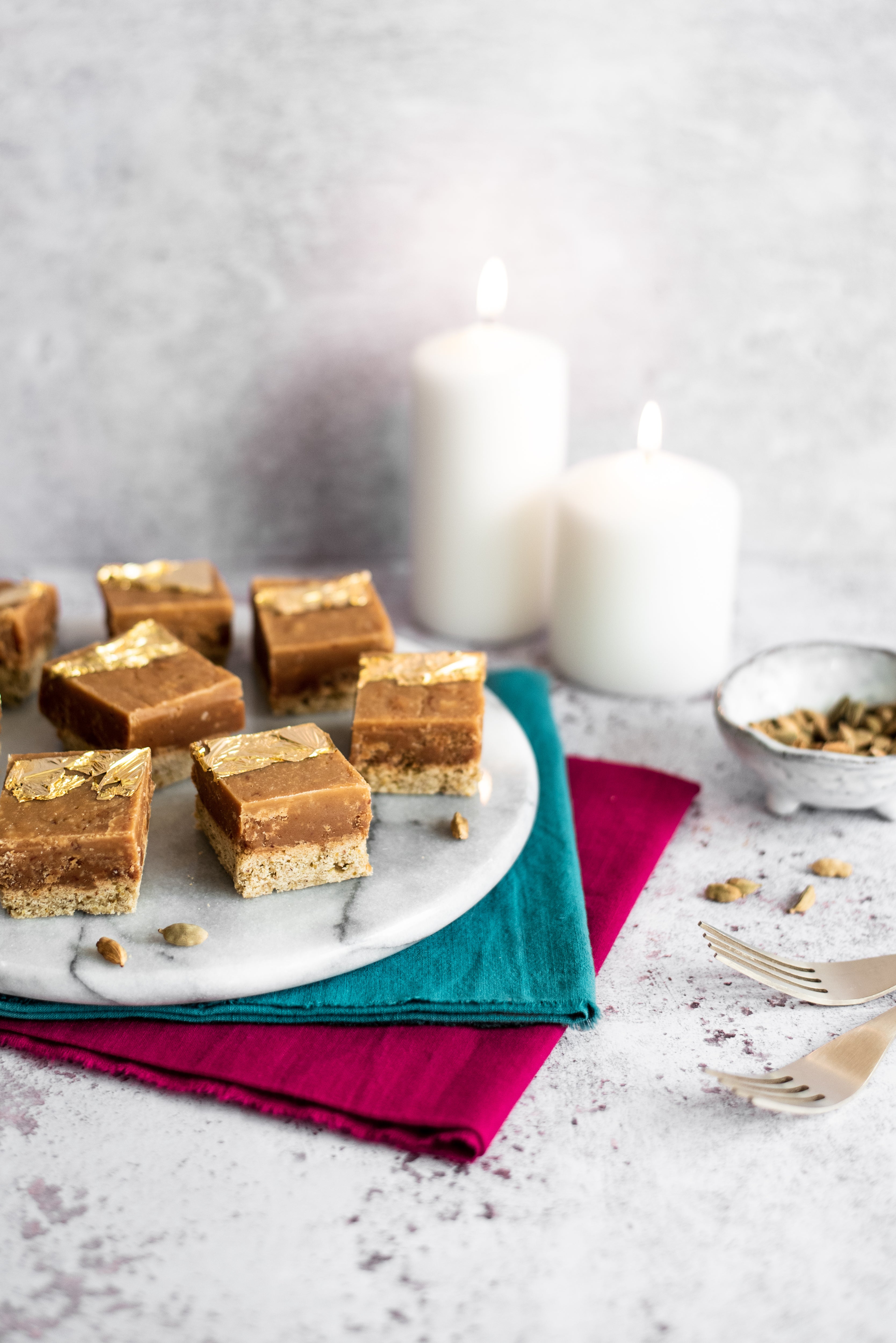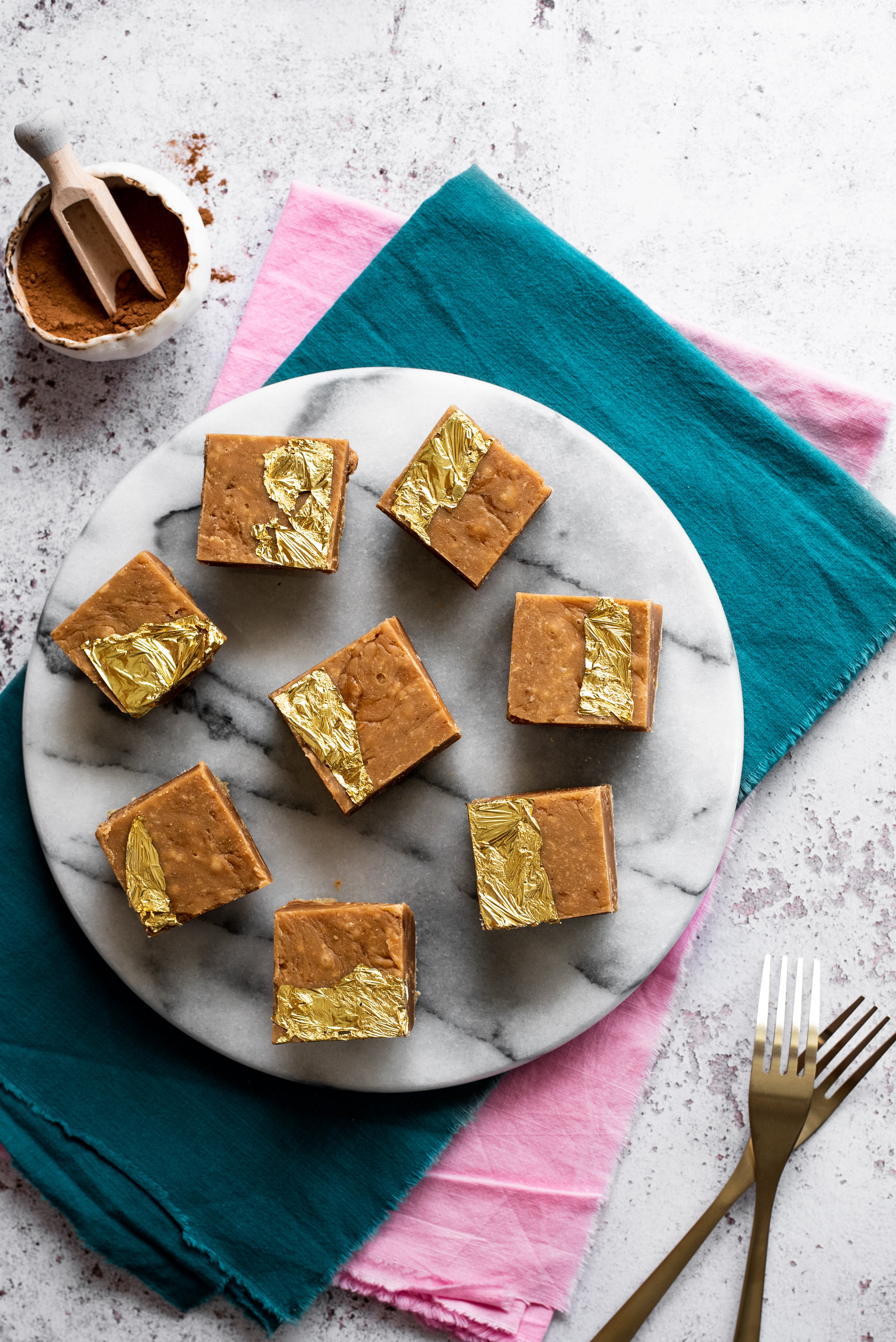 About the bake
Usually prepared for a festive occasion such as Diwali, Mysore Pak is a traditional Indian sweet. Antony Amourdoux has created a twist on this traditional Indian classic adding a pistachio and cardamom shortbread base with the topping texture feeling deliciously dense and buttery fudge-like in consistency that just melts in the mouth.
YUM Antony says "Neighbours would shower us with boxes of this beautiful treat. I miss it so I made my own home-made version of it a crisp Pistachio with a Malt MysorePak. Go on be brave and give it a TRY"
Method
Step 1:

For the Pistachio Shortbread.

Pre-heat the oven on to 175° c fan and prepare two large biscuit trays with baking parchment


Step 2:

Mix together all the dry ingredients in a large mixing bowl -Flour, Corn Flour, Baking Powder, Icing Sugar and Pistachios


Step 3:

Into a mixer carefully tip the dry ingredients and the orange zest, cut the cold butter into small knobs to help with the mixing. Mix until all the ingredients are incorporated, and the mixture looks like breadcrumbs


Step 4:

Add the milk with a tablespoon at a time to make a firm dough, wrap in a cling film and rest the dough in the fridge~10 mins roll the dough out and cut them in the desired shapes


Step 5:

Line and grease a 9inch square tin, roll the shortbread dough to approx the same size as the base of the tin and gently cover the base of the lined tin with the dough. Bake for 15- 18 minutes


Step 6:

For the Mysore Pak

In a heavy based non-stick saucepan roast on low flame. Roast until the besan turns aromatic without burning


Step 7:

Sieve the roasted besan making sure there are no lumps and add in the Ovaltine/malt powder


Step 8:

Add 200g of ghee and whisk make sure there are no lumps. Keep aside


Step 9:

In a large saucepan mix the sugar and water, stir and dissolve sugar on medium heat. Boil for 2 mins or until sugar syrup attains one string consistency


Step 10:

Add in besan mixture stirring continuously, stir until the mixture is well absorbed with besan mixture


Step 11:

Add the rest of the ghee in batches (~4 batches) and mix until the ghee is completely absorbed.


Step 12:

Repeat adding ghee and mix until the mixture starts to separate from the pan and turns frothy (takes. 10 mins)


Step 13:

Transfer the cooked mixture on to the baked shortbread, level up and leave this to completely cool in the tray and cut little diamond shapes. Decorate as your inner artist leads you, I kept it authentic with the edible gold leaf.

Ingredients
For the Shortbread

135g

 Allinson's plain white flour

135g

 

Corn flour

1 tbsp

 

Ground cardamom

135g

 

Unsalted butter (softened)

75g

 

Coarsely ground pistachio

1 tsp

 

Baking powder

90g

 Silver Spoon Icing Sugar

115ml

 

Whole milk

For the Malt Mysore Pak

180g

 

Besan/gram flour

100g

 

Ovaltine/malt powder

400g

 Ghee

400g

 Unrefined golden caster sugar (we use billington's)

100ml

 

Water
Utensils
2x Baking trays

Mixing bowl

Food mixer

Rolling pin

Square baking tin 9in

Non stick pan
Recipe Reviews
These are addictive! The pistachios flavor is a nice touch!
Loved this, a friend made these recently and I definitely had more than my fair share! Will be trying this recipe out, looks pretty easy to follow, wish me luck and will report back!
Love love love. Almost wish I had never come across cause just want more!
Loved Mysore when I got to visit, so these were great to make as a little reminder
Ingredients
For the Shortbread

135g

 Allinson's plain white flour

135g

 

Corn flour

1 tbsp

 

Ground cardamom

135g

 

Unsalted butter (softened)

75g

 

Coarsely ground pistachio

1 tsp

 

Baking powder

90g

 Silver Spoon Icing Sugar

115ml

 

Whole milk

For the Malt Mysore Pak

180g

 

Besan/gram flour

100g

 

Ovaltine/malt powder

400g

 Ghee

400g

 Unrefined golden caster sugar (we use billington's)

100ml

 

Water
Utensils
2x Baking trays

Mixing bowl

Food mixer

Rolling pin

Square baking tin 9in

Non stick pan