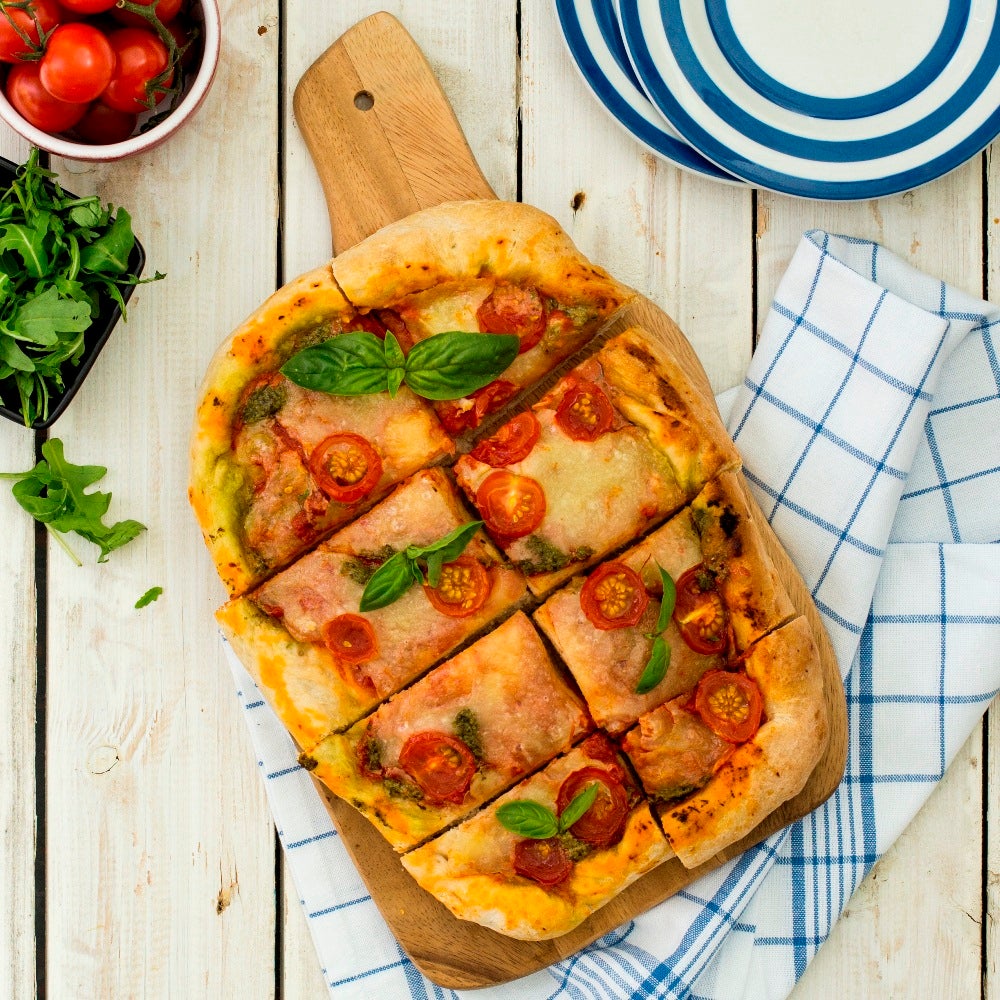 About our mozzarella basil pizza
Whether you've mastered the skills to knead the perfect pizza base or it's your first time making homemade pizza, you're going to love our Mozzeralla, Tomato and Basil Pizza. Arguably less is more, and this classic italian flavour combination is always a household winner (dare we say even for the fussy eaters!).
Fluffy dough, smothered in a rich tomato base, gooey mozzerlla and dollops of nutty pesto, our simply pizza is easy to recreate in your own kitchen, and is the perfect family activity to keep the kids busy.
Allinson's flour is a staple in our cupboards, and is the reason our bakers love our pizza recipes. In knead of more inspiration? Give our Garlic Pizza bread a whirl for a yummy side to your fakeaway pizza night. Or if you love your pizza's deep-pan, we have a scrumptious Deep Pan Pizza recipe just waiting to be baked.
Method
Step 1:

Put the flour and yeast and salt in a large bowl and mix together. Make a well in the centre of the mix.

Step 2:

Stir the sugar into the warm water then add to the well in the centre of the dry mix.

Step 3:

Work for the outer edge and mix all the dry ingredients into the water. When the mix has come together turn out on to a lightly floured surface and knead for about 10 minutes. At this stage the dough should be soft and spring back when lightly touched.

Step 4:

Flour the dough and cover with cling film and leave to rest for about 15 minutes. If not baking immediately leave the dough wrapped in lightly oiled cling film and place in the fridge until you are ready to shape and bake.

Step 5:

Divide the dough into 2 or 4 pieces depending on how many pizza bases you want to make. Taking one piece at a time, roll out very thinly on a lightly floured surface. Drizzle the baking tray with olive oil then place the pizza dough on top.

Step 6:

Meanwhile spread the tomato sauce over the pizza bases. Slice the tomatoes and arrange on top. Tear the mozzarella into pieces and sprinkle over the pizza, then dollop with pesto. Leave the dough to rise n a warm place for about 15 mins.

Step 7:

Preheat the oven to 200°C (fan 180°C, gas mark 6). Bake the pizzas for 12-18 minutes each depending on thickness, until golden and risen. Cover with foil if over browning, to ensure the base is cooked. Sprinkle with basil leaves just before serving
Ingredients
For the dough

500g

 Allinson's Strong white bread flour

0.5 tsp

 

Salt

7g

 

Easy bake yeast

2 tsp

 Billington's Unrefined Golden Caster Sugar

325ml

 

Warm water

For the topping

6 tbsp

 

Tomato pasta sauce

6

 

Tomato(es) (small)

400g

 

Mozzarella

10 tsp

 

Green pesto

 

Basil leaves
We'd love a slice of advice.
Was it yum? Did the recipe work well? Did you customise the recipe?
Ingredients
For the dough

500g

 Allinson's Strong white bread flour

0.5 tsp

 

Salt

7g

 

Easy bake yeast

2 tsp

 Billington's Unrefined Golden Caster Sugar

325ml

 

Warm water

For the topping

6 tbsp

 

Tomato pasta sauce

6

 

Tomato(es) (small)

400g

 

Mozzarella

10 tsp

 

Green pesto

 

Basil leaves