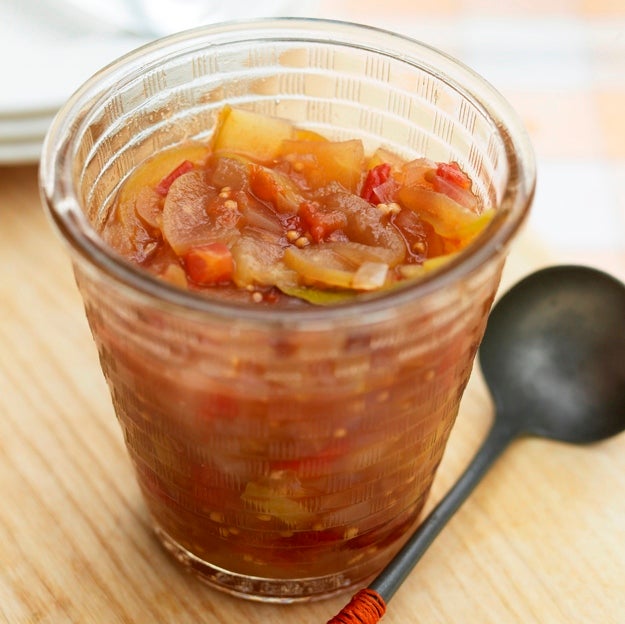 About the bake
This tasty quick cook apple chutney is the perfect accompaniment to the staple lunch of bread and cheese. This one needs no long cooking, is quick to prepare, and will keep refrigerated for up to 2 months. Make the chutney in small jars so that the rest of the batch can be kept unopened and unspoiled in the back of the fridge.
Method
Step 1:

Put all of the ingredients in a large pan and mix all together well.

Step 2:

Set over medium heat and simmer for 15 minutes, or until the apple has softened. Check the seasoning.

Step 3:

Allow to cool in the pan. Spoon into prepared jars. Label with the date and store in a refrigerator for up to 2 months.
Ingredients
300g

 

Apple(s) (such as braeburn, cored and finely sliced)

100g

 

Onion(s) (finely chopped)

2

 

Tomato(es) (chopped)

75ml

 

Cider vinegar

25ml

 

Balsamic vinegar

100g

 Billington's unrefined golden granulated sugar

1 tbsp

 

Yellow mustard seeds

1 pinch

 

Cayenne pepper

1 tsp

 

Salt
Utensils
Saucepan

Empty jars with lids
Recipe Reviews
Very simple and quick chutney. Very impressed by the taste, went well with cheese. I was going to peel the apples, but went with the recipe and only thinly sliced them after cutting them into quarters to core them. The apples from my old tree in the garden don't breakdown to mush during cooking so I used a potato masher towards the end of cooking to get a smoother chutney.
I was looking for a quick chutney recipe on New Year's Eve when I found this recipe. I used malt vinegar instead of cider vinegar because I didn't have it on hand. It was still very tasty. I don't see myself buying chutney anymore.
So easy to cook, so moorish with sausage rolls and cheese.
Didn't have mustard seeds so used whole grain mustard. Went down a storm at friends bonfire party.
Ingredients
300g

 

Apple(s) (such as braeburn, cored and finely sliced)

100g

 

Onion(s) (finely chopped)

2

 

Tomato(es) (chopped)

75ml

 

Cider vinegar

25ml

 

Balsamic vinegar

100g

 Billington's unrefined golden granulated sugar

1 tbsp

 

Yellow mustard seeds

1 pinch

 

Cayenne pepper

1 tsp

 

Salt
Utensils
Saucepan

Empty jars with lids