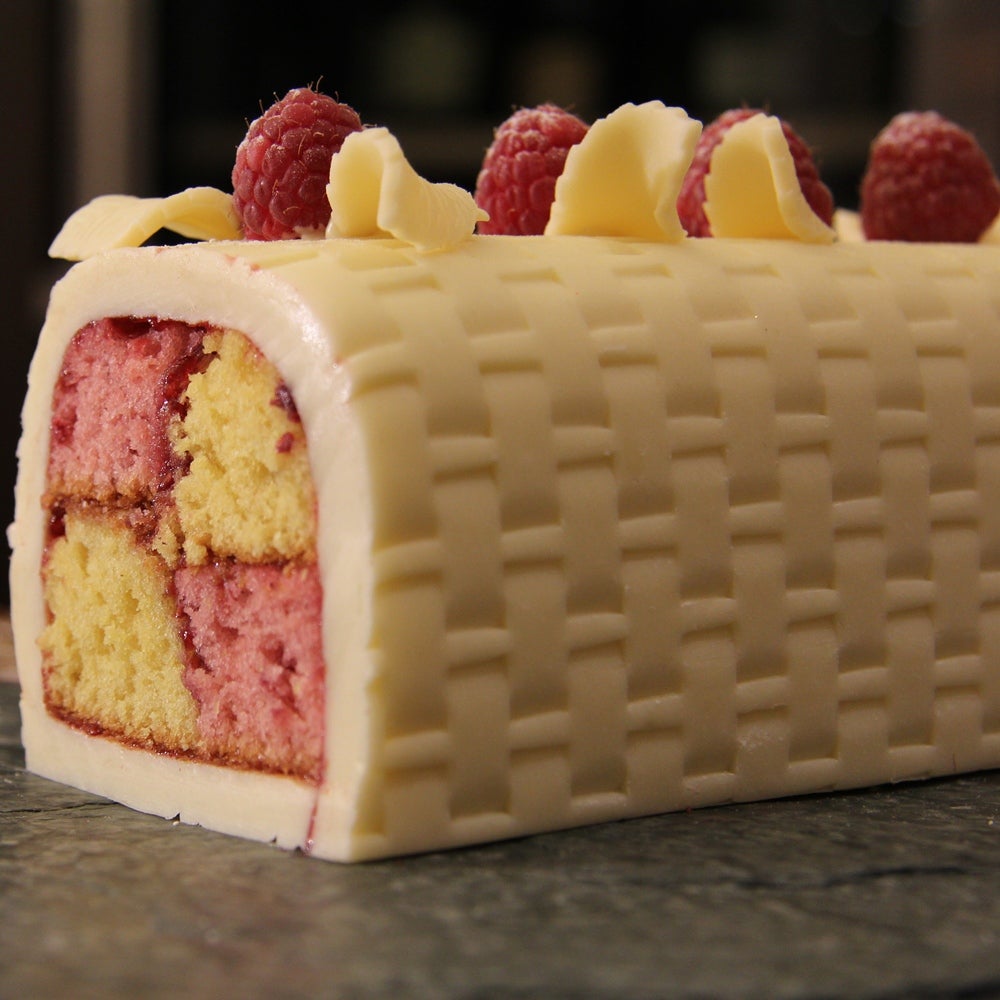 About the bake
An interesting flavour combination and fabulous twist on a traditional battenberg. This cake would make a lovely show stopper at an afternoon tea or dinner party and featured on series 2 of Baking Mad with Eric Lanlard on Channel 4.
Method
Step 1:

Pre heat the oven to 180°C (160°C fan, 350°F, gas mark 4). Butter and line 2 x 20cm square tins.

Step 2:

Beat all the ingredients together until it becomes smooth and spoon half of the mixture into one bowl and the other half in to another.

Step 3:

Mix into one of the batters the lemon extract and the lemon bits then add the food colouring to get a nice bright yellow colour.

Step 4:

Mix into your other bowl the dried raspberries, liquor and colouring to make a nice pink colour.

Step 5:

Spoon the mixtures into the two prepared tins and bake for 25 - 30 minutes until a skewer comes out clean. Leave to cool.

Step 6:

Trim the sponges into four slices, each the same width as the sponge height.

Step 7:

Roll the white modelling chocolate using a textured rolling pin.

Step 8:

Brush with the jam, lay a pink and yellow slice side by side, brushing some jam in between them.

Step 9:

Repeat this process, alternating the colours.

Step 10:

Carefully wrap the stacked sponge up tightly, leaving the joint underneath.
Ingredients
For the sponge

350g

 

Butter (unsalted) (soft)

350g

 Billington's Unrefined Golden Caster Sugar

280g

 Self-raising white flour

100g

 

Almonds (ground)

1 tsp

 

Baking powder

6

 

Egg(s) (free range)

2 tsp

 Vanilla bean paste

2 tbsp

 

Raspberries (freeze dried pieces)

2 tbsp

 

Confit lemons (cubes)

2 tsp

 

Raspberry liqueur

2 tsp

 

Lemon extract

 

Pink food colouring (a few drops)

 

Yellow food colouring (a few drops)

For the coating

150g

 

Raspberry jam

500g

 

White chocolate (modelling chocolate)

For the decoration

 

Raspberries (fresh)

 

Icing sugar (to dust)
Utensils
2 x 20cm square cake tins

Mixing bowl

Rolling pin

Pastry brush
We'd love a slice of advice.
Was it yum? Did the recipe work well? Did you customise the recipe?
Ingredients
For the sponge

350g

 

Butter (unsalted) (soft)

350g

 Billington's Unrefined Golden Caster Sugar

280g

 Self-raising white flour

100g

 

Almonds (ground)

1 tsp

 

Baking powder

6

 

Egg(s) (free range)

2 tsp

 Vanilla bean paste

2 tbsp

 

Raspberries (freeze dried pieces)

2 tbsp

 

Confit lemons (cubes)

2 tsp

 

Raspberry liqueur

2 tsp

 

Lemon extract

 

Pink food colouring (a few drops)

 

Yellow food colouring (a few drops)

For the coating

150g

 

Raspberry jam

500g

 

White chocolate (modelling chocolate)

For the decoration

 

Raspberries (fresh)

 

Icing sugar (to dust)
Utensils
2 x 20cm square cake tins

Mixing bowl

Rolling pin

Pastry brush