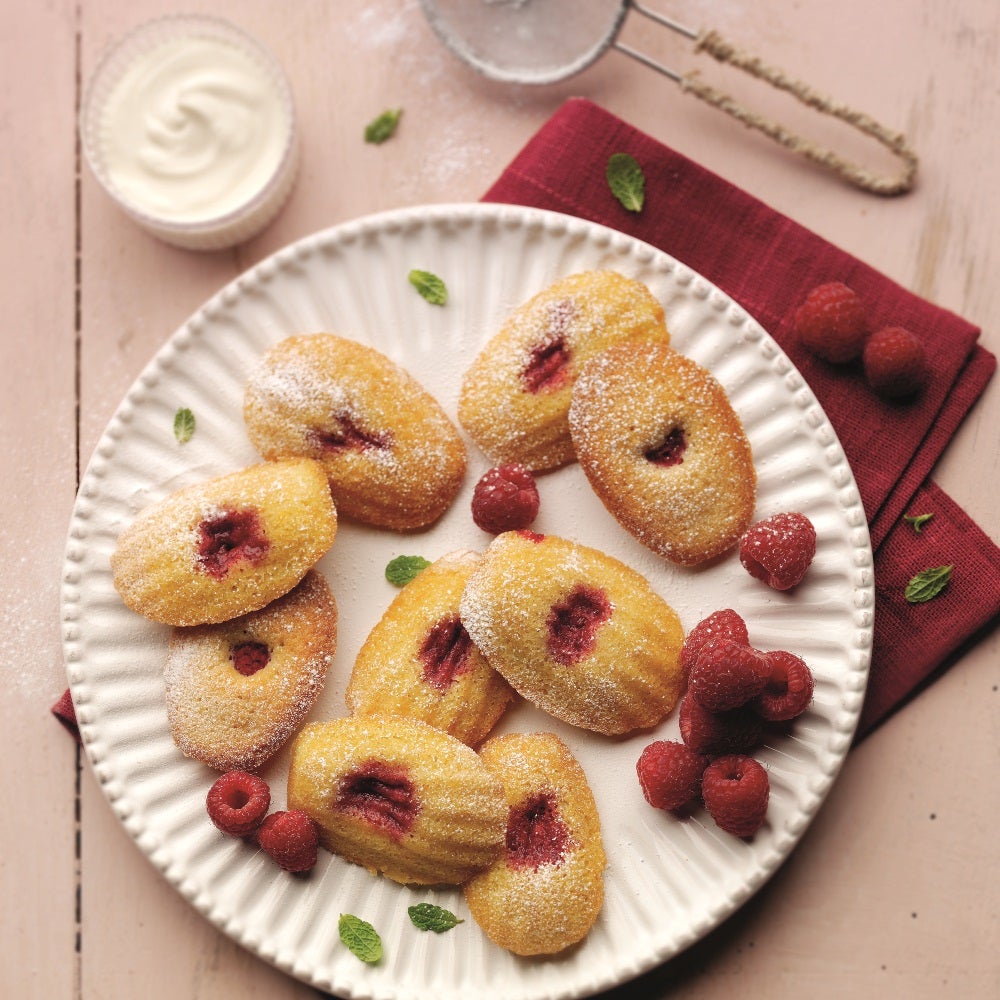 About the bake
These beautiful raspberry and rose water madeleines are lovely little light biscuits, perfect for afternoon tea. Serve with a rose water cream for an extra indulgence.
Method
Step 1:

Preheat the oven to 180°C (fan 160°C, gas mark 4). Lightly grease and dust with flour a 1 x 12 shell madeleine tin.

Step 2:

Using either an electric mixer or mixing bowl and whisk, cream the butter, sugar, rose water and orange zest together for a few minutes until pale and fluffy.

Step 3:

Reduce the whisk speed and add the egg and milk.

Step 4:

Once combined, fold in the flour until well mixed. When you are ready to bake, place a heaped tablespoon of batter into each madeleine shell and press a raspberry into the centre of each one.

Step 5:

Cook in the oven for 12-15 minutes, or until they are a pale golden brown and springy to the touch. Leave the madeleines to cool in the tin for 5 minutes, then transfer them to a wire rack.

Step 6:

Meanwhile, make the rose water cream. Whisk the double cream, icing sugar, orange zest and rose water until slightly thickened and store in the fridge until needed.

Step 7:

Once the madeleines are cool, dust with icing sugar. Serve with a few fresh mint leaves and the rose water cream on the side.

Ingredients
For the Madeleines

50g

 

Unsalted butter (softened)

50g

 Billington's Unrefined Golden Caster Sugar

1/2 tsp

 Nielsen-massey rose water

1

 

Orange (zest of)

1

 

Large free range eggs (lightly beaten)

50g

 

Self raising white flour

1 tbsp

 

Whole milk

12

 

Raspberries

For the Rose Water Cream

400ml

 

Double cream

1 tsp

 Nielsen-massey rose water

1

 

Orange (zest of)

1 tsp

 Silver Spoon Icing Sugar

For the Decoration

To dust

 Silver Spoon Icing Sugar

A handful

 

Small mint leaves
Utensils
1 x 12 shell madeleine tin

Mixing bowl

Whisk

Wire cooling rack
We'd love a slice of advice.
Was it yum? Did the recipe work well? Did you customise the recipe?
Ingredients
For the Madeleines

50g

 

Unsalted butter (softened)

50g

 Billington's Unrefined Golden Caster Sugar

1/2 tsp

 Nielsen-massey rose water

1

 

Orange (zest of)

1

 

Large free range eggs (lightly beaten)

50g

 

Self raising white flour

1 tbsp

 

Whole milk

12

 

Raspberries

For the Rose Water Cream

400ml

 

Double cream

1 tsp

 Nielsen-massey rose water

1

 

Orange (zest of)

1 tsp

 Silver Spoon Icing Sugar

For the Decoration

To dust

 Silver Spoon Icing Sugar

A handful

 

Small mint leaves
Utensils
1 x 12 shell madeleine tin

Mixing bowl

Whisk

Wire cooling rack