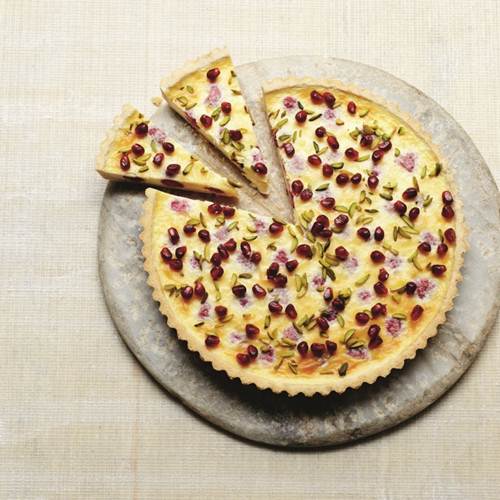 About the bake
This delicious recipe is taken from Great British Bake Off 2014 Finalist, Luis Troyano's recipe book; 'Bake it Great', published by Pavilion. "I first made this tart for a family Sunday dinner and it was an immediate hit. Hidden in the mascarpone and white chocolate filling are fresh raspberries for a hint of tartness. The tart is topped with chopped pistachios and fresh pomegranate seeds, but feel free to add fresh raspberries and some grated white chocolate too." Recipe photography by Clare Winfield
Method
Step 1:

For this recipe you will require a 26cm tart tin with a loose bottom; mine is 30mm deep and a baking sheet; mine is aluminium and measures 38 x 32cm.

Step 2:

To make the pastry: Place all the dry ingredients in the bowl of your food processor and give them a quick pulse. Add the butter and pulse until the mixture resembles breadcrumbs.

Step 3:

Tip the mixture into a large mixing bowl and add the egg and water. Bring together with your hands and then gently knead the mixture a couple of times to make a smooth pastry. Wrap in cling film and place in the fridge until required.

Step 4:

Preheat the oven to 180°C (160°C fan, 320°F, gas 4).

Step 5:

Put the white chocolate in a heatproof bowl with the double cream and place over a saucepan of simmering water. Make sure the water doesn't touch the bottom of the bowl. Stir until the chocolate has melted.

Step 6:

Leave to cool for a couple of minutes, then add the mascarpone, vanilla and eggs, and whisk very lightly until combined. Try not to get air into the mixture.

Step 7:

Pour two-thirds of the mixture into the pastry case and then add the raspberries, distributing them evenly. Add the rest of the mixture until you get to within 3mm of the top. Make sure the raspberries are submerged.

Step 8:

Place the tart tin on a baking sheet and bake for 25–30 minutes until the filling feels firm in the centre and you start to see a little cracking around the edges.

Step 9:

Place on a wire rack and leave to cool completely before removing the tart from the tin.

Step 10:

Using a wooden spoon, hit the back of the halved pomegranate over a bowl to knock the seeds out. Sprinkle the pistachios and pomegranate seeds over the tart.


Ingredients
For the pastry

215g

 Allinson's Plain White Flour

30g

 Silver Spoon Icing sugar

120g

 

Butter (unsalted) (cut into 1cm cubes)

2

 

Egg yolk(s) (free range) (medium)

2 tbsp

 

Water (cold)

For the filling

100g

 

White chocolate (coarsley chopped)

200ml

 

Double cream

300g

 

Mascarpone cheese

1.5 tsp

 Vanilla bean paste

3

 

Egg(s) (free range) (medium)

250g

 

Raspberries (fresh)

0.5

 

Pomegranate (fresh)

100g

 

Pistachio nuts (chopped)
Recipe Reviews
The recipe for the pastry is too wet....one egg and one spoon of water will do....What happened to the blind bake?
Needed the advice to blind bake and should have done it for longer but lovely flavour combination and perfectly sweet but not too sweet!
I par-baked my shell but the recipe doesn't tell you whether or not to.
I feel that's an important tidbit to add in.
Other than that, the tart was a hit. Not too sweet. Very tasty. I topped mine with fresh raspberries, pistachios and white chocolate curls.
Ingredients
For the pastry

215g

 Allinson's Plain White Flour

30g

 Silver Spoon Icing sugar

120g

 

Butter (unsalted) (cut into 1cm cubes)

2

 

Egg yolk(s) (free range) (medium)

2 tbsp

 

Water (cold)

For the filling

100g

 

White chocolate (coarsley chopped)

200ml

 

Double cream

300g

 

Mascarpone cheese

1.5 tsp

 Vanilla bean paste

3

 

Egg(s) (free range) (medium)

250g

 

Raspberries (fresh)

0.5

 

Pomegranate (fresh)

100g

 

Pistachio nuts (chopped)