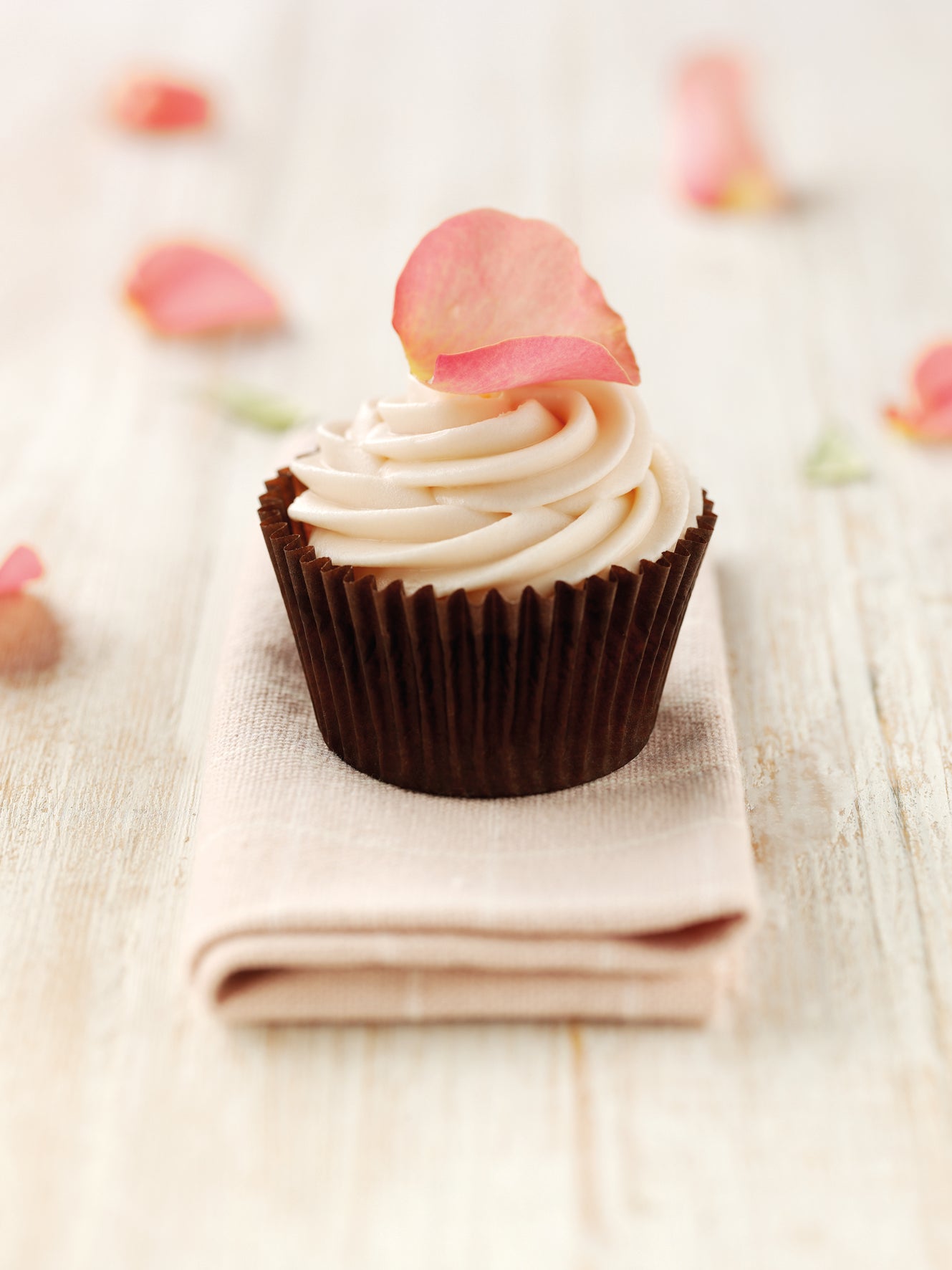 About the bake
This delicate cupcake consists of a fragrant rose water syrup, that will awaken your taste buds and is perfect for special occasions.

When you've mastered our rose water cupcakes, try out our rose & lychee cake recipe.
Method
Step 1:

Preheat the oven to 180°C (160°C fan, gas mark 4). Using either an electric mixer or mixing bowl and whisk, beat the butter and golden caster sugar together until pale and fluffy.


Step 2:

Gradually add the eggs to the mixture with a spoonful of flour after each egg to prevent the mix from curdling.

Step 3:

To make the syrup, place the golden caster sugar in a pan with the water. Simmer for a few minutes until dissolved, then take off the heat and set aside to cool. Once cool stir in 1 tsp of rose water.

Step 4:

Add the remaining flour to the butter and sugar mixture. Using either a piping bag or ice-cream scoop, divide the batter between the cupcake cases and place in the oven for 20 minutes, or until lightly golden and firm to the touch. Leave the cakes to cool a little on a wire rack then add some sugar syrup to the top of each one.


Step 5:

Once completely cooled, remove from the tins. To ice, put the cream cheese, butter, rose water and golden icing sugar in a mixing bowl and slowly mix together until light and fluffy. If using, add a few drops of pink colouring until you reach the desired shade. Place in a piping bag and ice accordingly.

Ingredients
For the Cupcakes

200g

 

Unsalted butter (softened)

200g

 Billington's Unrefined Golden Caster Sugar

1 tsp

 Nielsen-massey rose water

4

 

Medium free range eggs (lightly beaten)

200g

 

Self raising white flour

For the Rose Water

50g

 Billington's Unrefined Golden Caster Sugar

4 tbsp

 

Water

1 tsp

 Nielsen-massey rose water

For the Buttercream

200g

 

Cream cheese

100g

 

Unsalted butter (softened)

600g

 Silver Spoon Icing Sugar

1 tsp

 Nielsen-massey rose water

2 drops

 

Pink food colouring gel
Utensils
2x 12 hole cupcake tin

24 cupcake cases

Electric mixer

Piping bag

Star piping nozzle
Recipe Reviews
Amazing cupcakes, my go to recipe. Very easy to change flavours
Ingredients
For the Cupcakes

200g

 

Unsalted butter (softened)

200g

 Billington's Unrefined Golden Caster Sugar

1 tsp

 Nielsen-massey rose water

4

 

Medium free range eggs (lightly beaten)

200g

 

Self raising white flour

For the Rose Water

50g

 Billington's Unrefined Golden Caster Sugar

4 tbsp

 

Water

1 tsp

 Nielsen-massey rose water

For the Buttercream

200g

 

Cream cheese

100g

 

Unsalted butter (softened)

600g

 Silver Spoon Icing Sugar

1 tsp

 Nielsen-massey rose water

2 drops

 

Pink food colouring gel
Utensils
2x 12 hole cupcake tin

24 cupcake cases

Electric mixer

Piping bag

Star piping nozzle