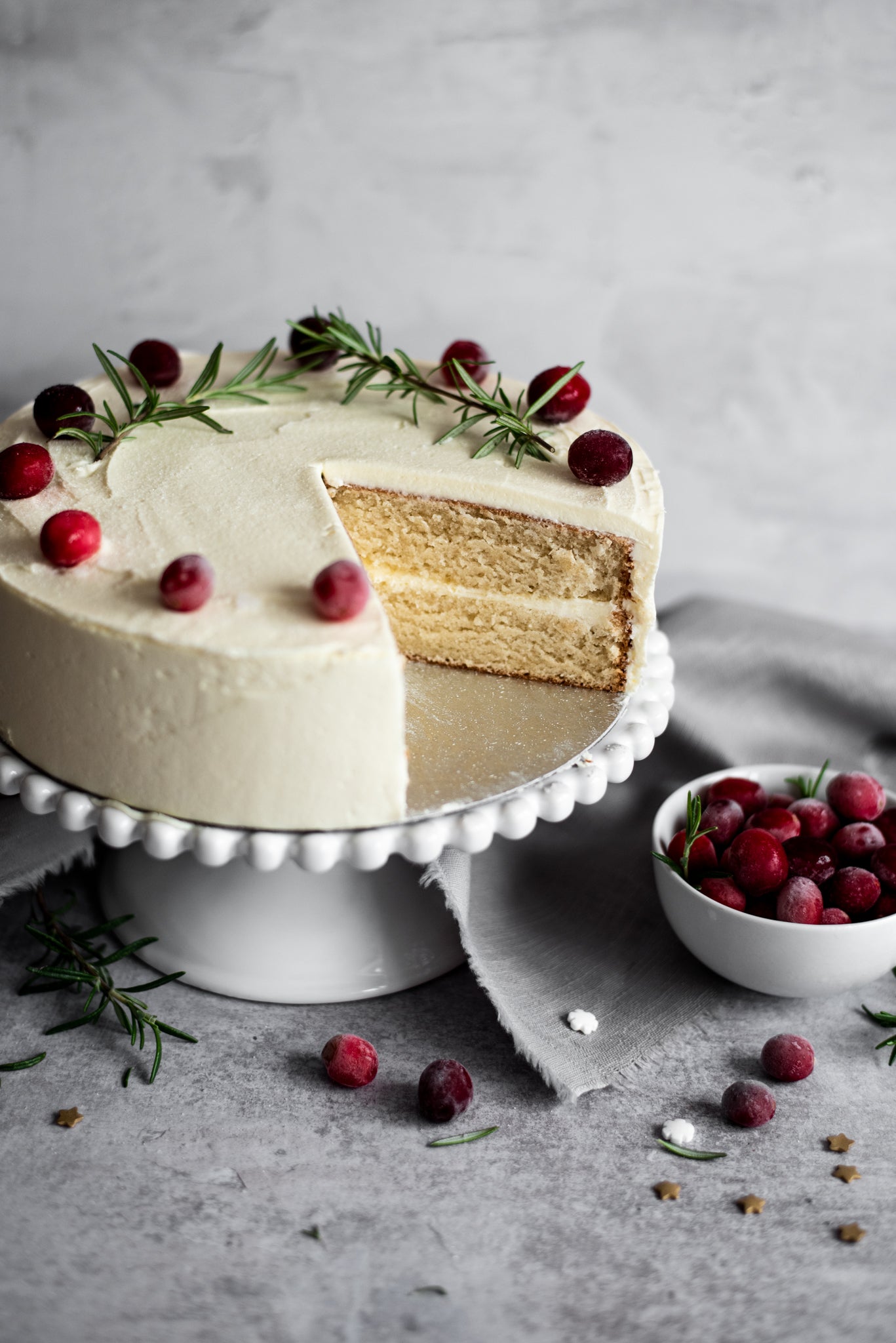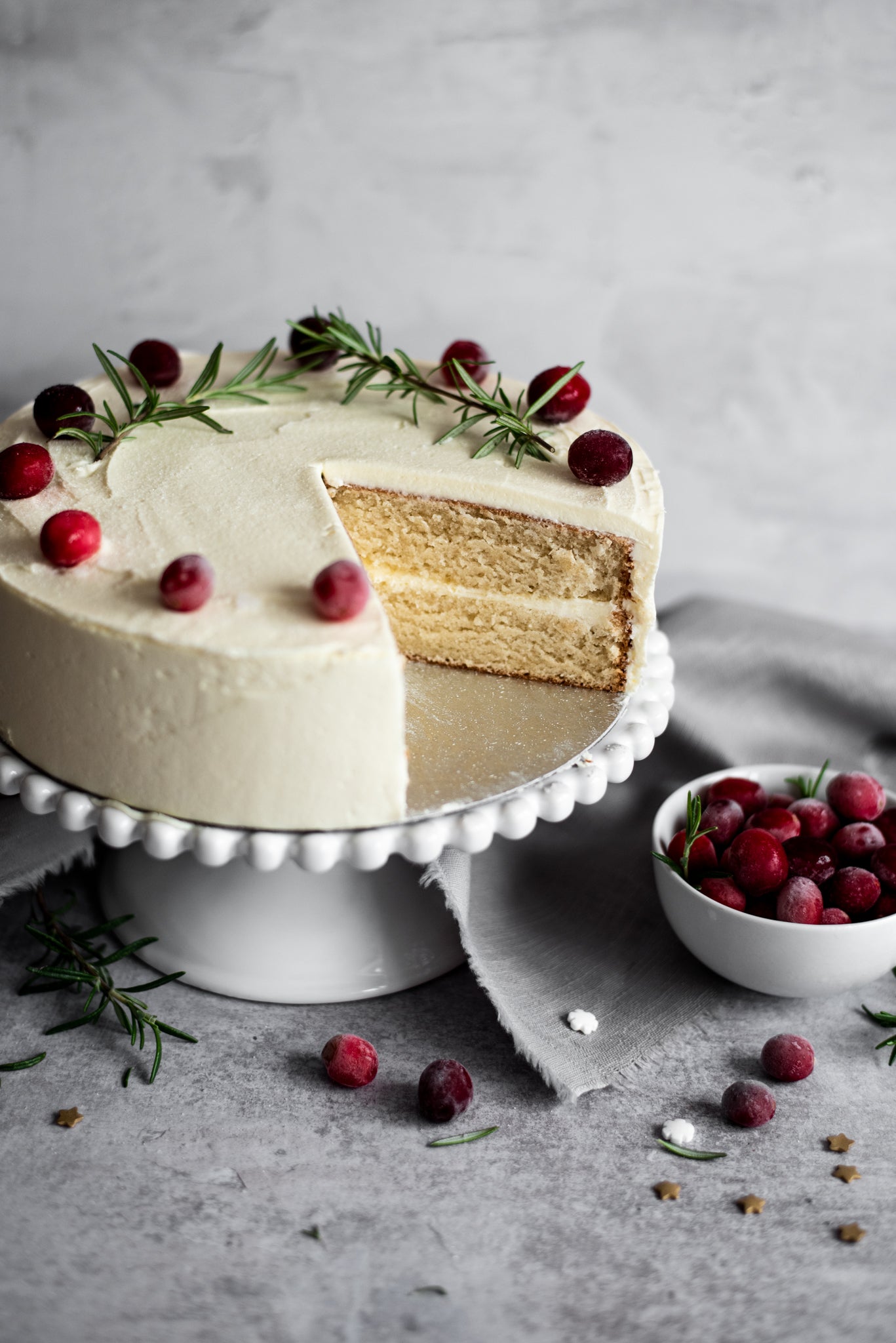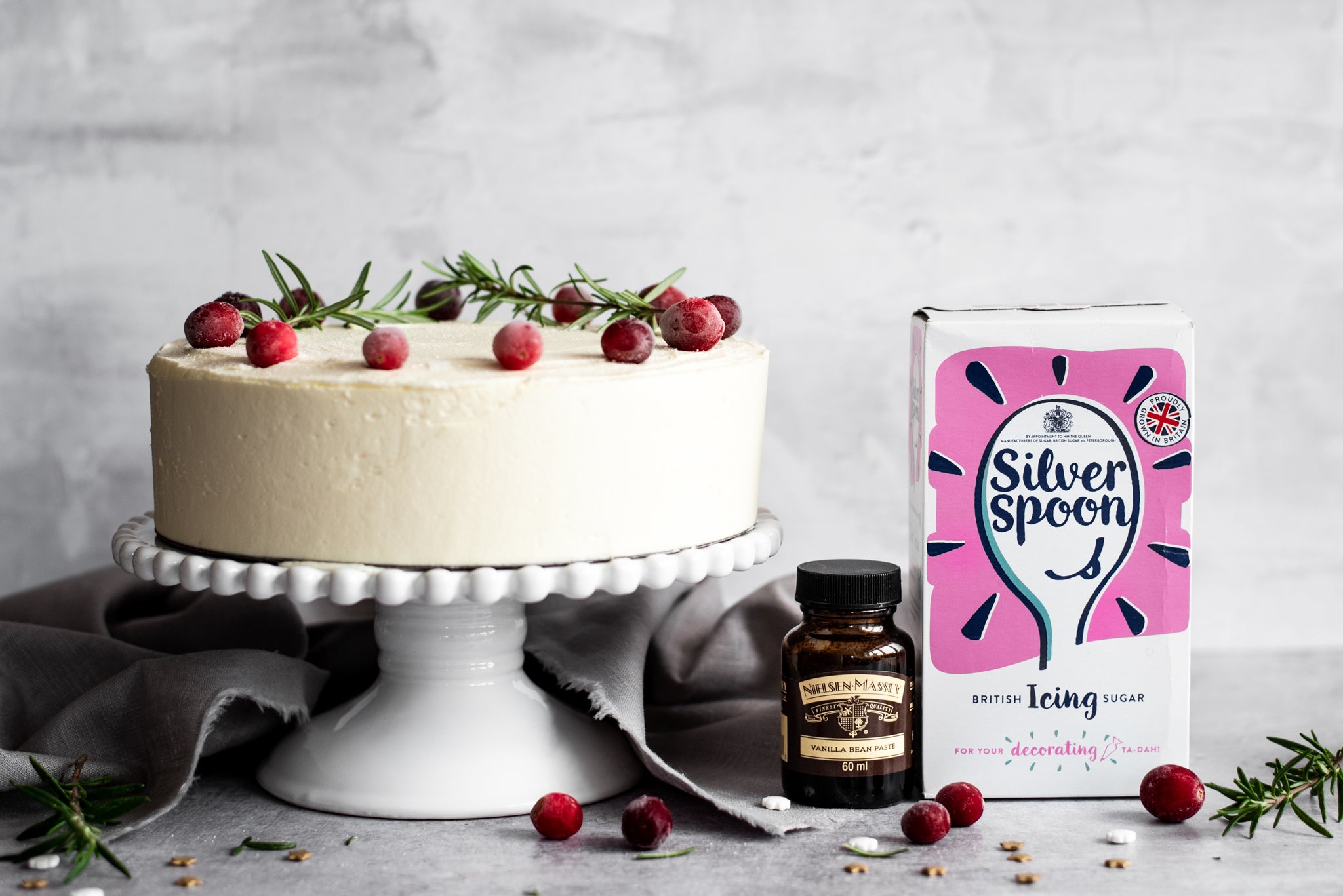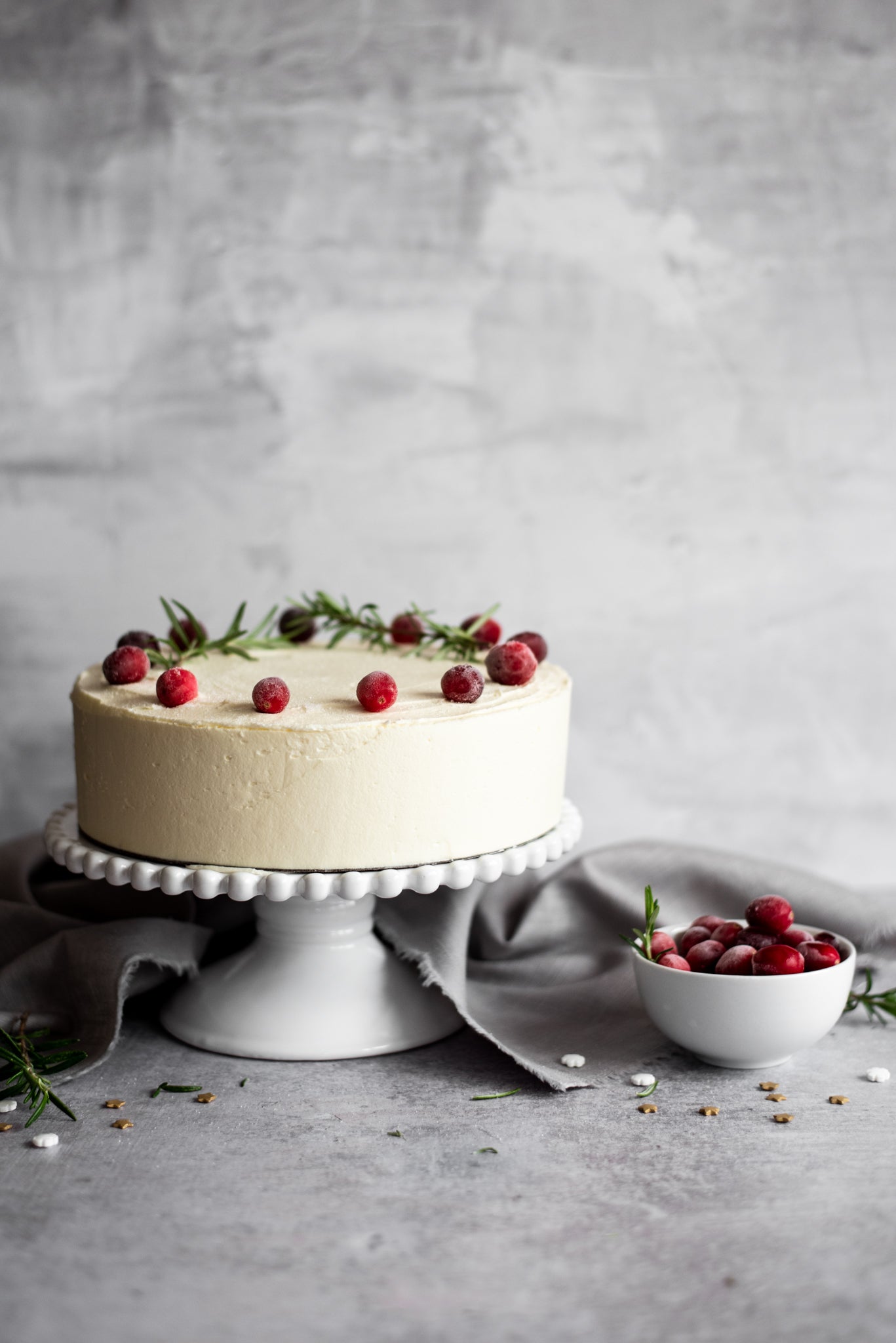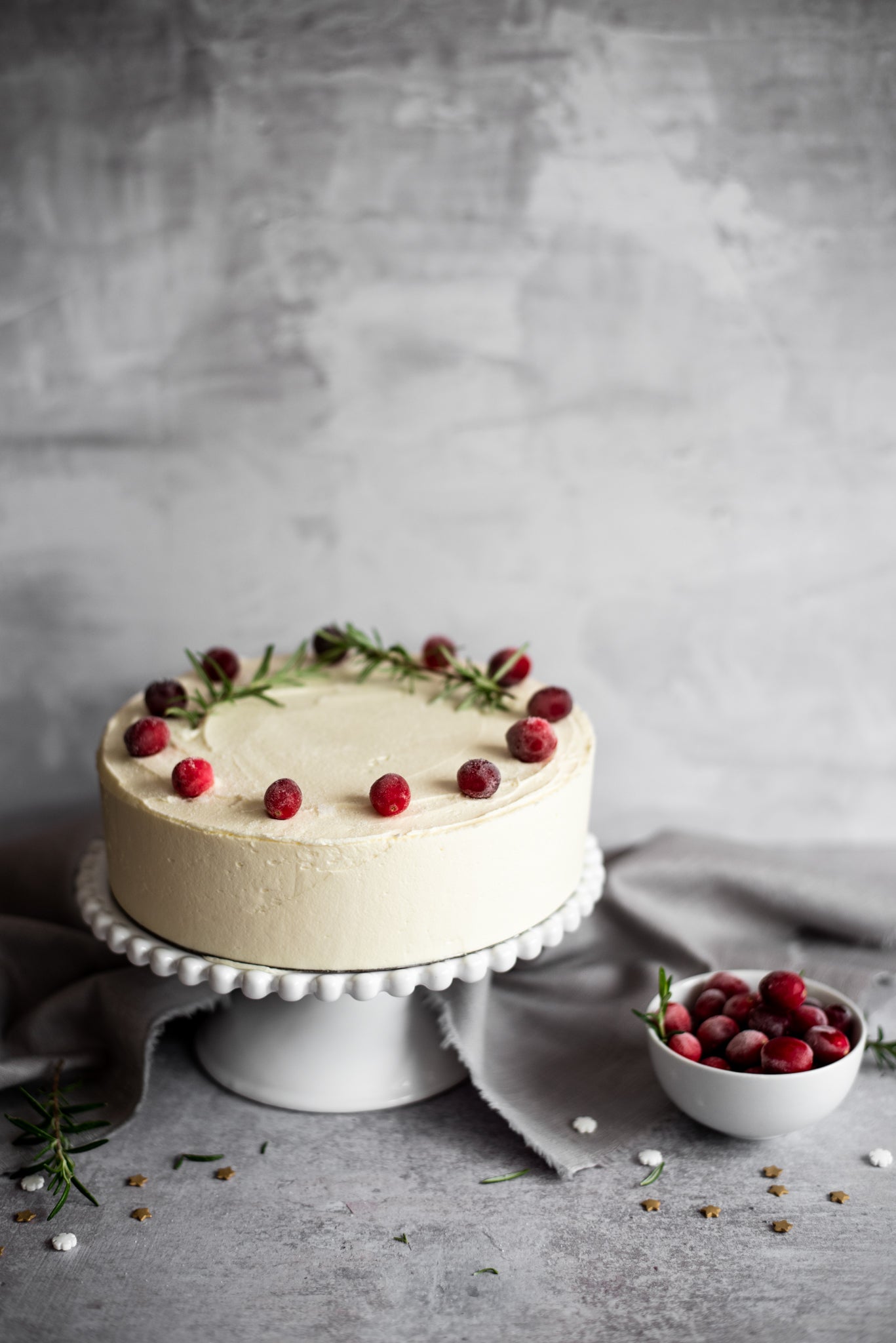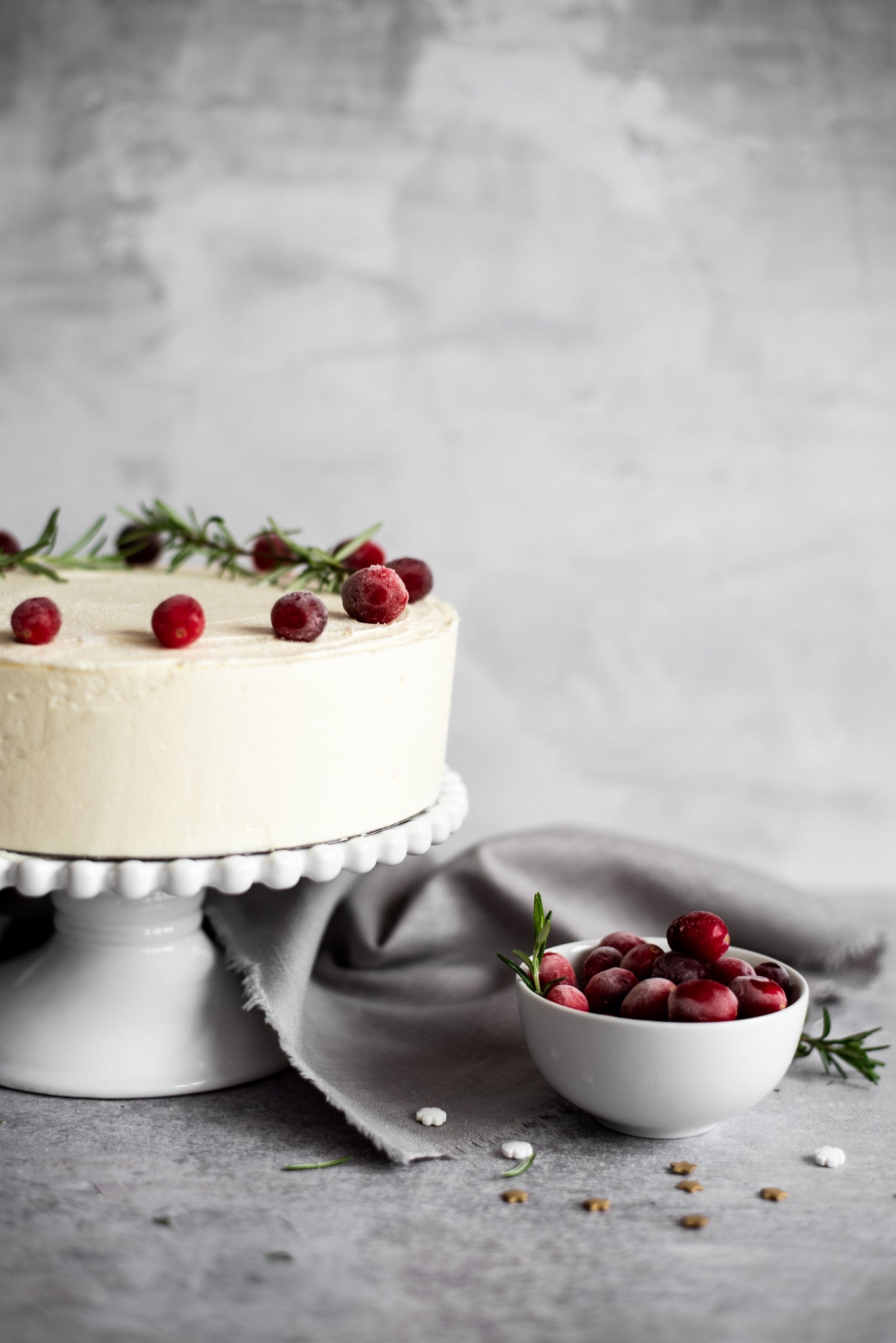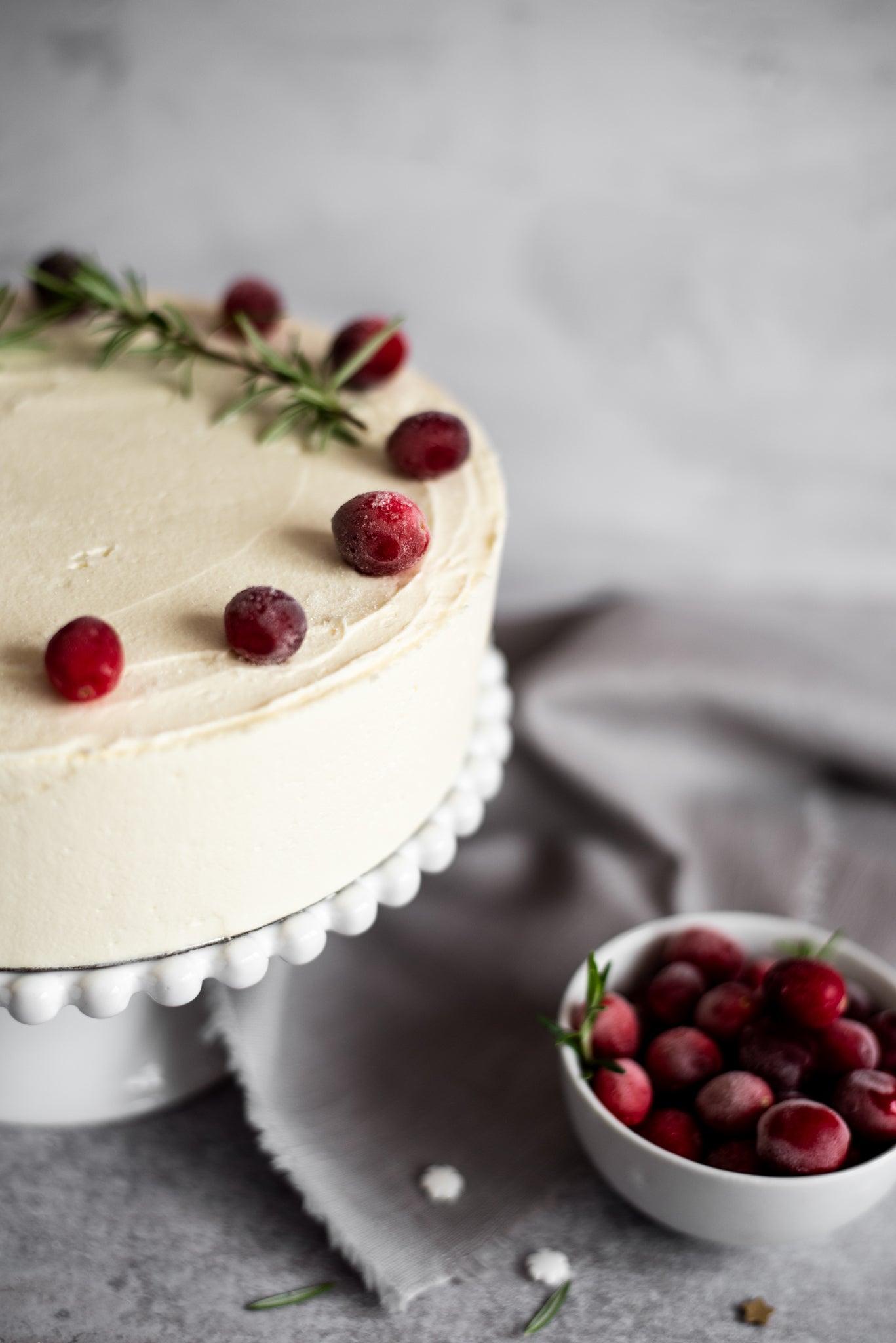 About the bake
We all love Christmas, but does everyone love Christmas cake? This alternative Christmas cake uses egg whites only to create a lighter colour and textured cake. Decorate with frosted cranberries or white fluffy marshmallows for a festive feel. The perfect solution for the family members who don't like a rich fruit cake.
Method
Step 1:

Pre-heat the oven to 180°C (fan 160°C, gas mark 4). Lightly grease and line two 20cm/8inch sponge tins.

Step 2:

Sift the flour, cornflour and baking powder before setting aside. Cream together the butter and sugar before mixing in the flour mixture. Add the milk gradually to form a smooth batter. Fold in the vanilla bean paste.

Step 3:

Put the egg whites into a dry, clean bowl before whisking until they form stiff
peaks. Gently fold in the whisked egg whites into the batter, taking care to
retain as much air as possible.

Step 4:

Divide the mixture between the tins and bake for 30 mins or until a cake skewer comes out clean. If the top of the cakes is starting to colour too much but the cake is not fully cooked try covering lightly with foil for a few minutes at the end of the cook time.

Step 5:

To make the buttercream beat the butter in a large bowl until soft. Add half the icing sugar and beat until smooth. Add the remaining icing sugar and the milk if necessary to loosen. Beat in the vanilla extract.


Step 6:

To make the frosted cranberries drop the cranberries in the egg white to coat
before rolling in the caster sugar until covered. Leave to dry on a lined
baking tray for around two hours at room temperature.

Step 7:

To assemble sandwich the cakes together with a layer of buttercream before using the rest to cover the top and sides of the cake. Decorate with frosted
cranberries or white fluffy marshmallows. For a glistening snow effect you can lightly spray the cake with edible pearl lustre for an all over shimmer.
Ingredients
For The Cake

280g

 Allinson's Plain White Flour

20g

 

Cornflour

1 tbsp

 

Baking powder

350g

 Silver Spoon Caster Sugar

120g

 

Unsalted butter (softened)

240ml

 

Milk (whole)

1 tsp

 Nielsen-Massey Vanilla Bean Paste

6

 

Free range large eggs

For The Decoration

250g

 

Unsalted butter (softened)

500g

 Silver Spoon Icing Sugar

2 tbsp

 

Milk (whole)

1 tsp

 Nielsen-Massey Vanilla Extract

1 tbsp

 

Pasteurised liquid egg white

200g

 

Cranberries

100g

 Silver Spoon White Caster Sugar
Utensils
2x Cake tins 8in

Spatula

Whisk
Recipe Reviews
I have used this recipe many times and it never fails to please
Ingredients
For The Cake

280g

 Allinson's Plain White Flour

20g

 

Cornflour

1 tbsp

 

Baking powder

350g

 Silver Spoon Caster Sugar

120g

 

Unsalted butter (softened)

240ml

 

Milk (whole)

1 tsp

 Nielsen-Massey Vanilla Bean Paste

6

 

Free range large eggs

For The Decoration

250g

 

Unsalted butter (softened)

500g

 Silver Spoon Icing Sugar

2 tbsp

 

Milk (whole)

1 tsp

 Nielsen-Massey Vanilla Extract

1 tbsp

 

Pasteurised liquid egg white

200g

 

Cranberries

100g

 Silver Spoon White Caster Sugar
Utensils
2x Cake tins 8in

Spatula

Whisk