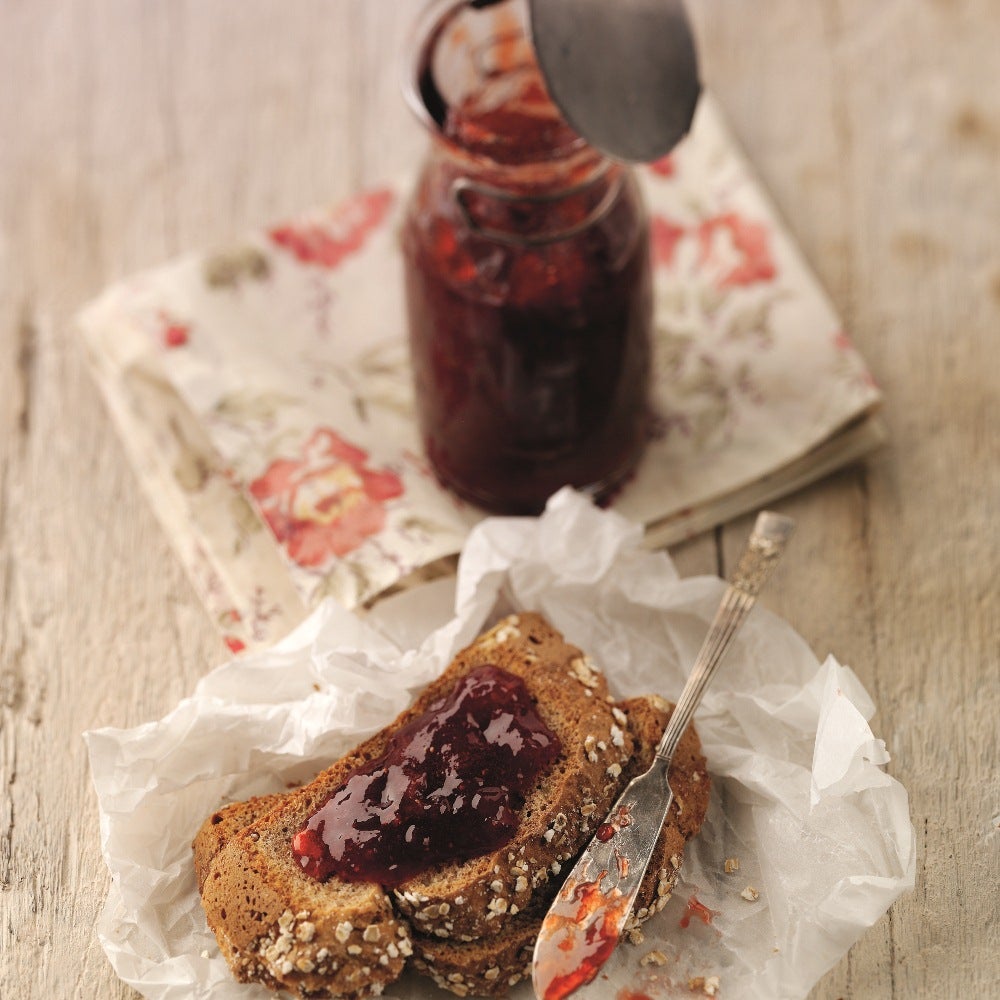 About the bake
This home-made Strawberry & Rose Water Jam is straightforward to make and tastes delicious with a hint of rose. It makes a delicious change to the classic strawberry jam.
Method
Step 1:

Place the strawberries in a bowl and pour over the lemon juice. Set to one side for about 1 hour.


Top Tip

If you are washing the strawberries do this before you prepare them and make sure they are really dry. Any extra water will affect the pectin in the strawberries and may affect the set of the jam.

Step 2:

Step 3:

Place the strawberries in a large preserving pan with the sugar, cook on a low heat until the sugar has dissolved, stirring occasionally. This should take about 10-15 minutes.

Step 4:

Increase the heat to bring the jam to a rapid, rolling boil. Boil for 4 minutes to reach setting point. Stir occasionally to make sure the jam hasn't stuck to the base of the pan.

Step 5:

Remove from the heat and stir in the rose water. Taste (carefully!) and add more if desired. Leave to cool for about 10 minutes, and using a teaspoon carefully scrape off any scum that has formed.

Step 6:

Carefully pour the jam into the sterilised jars, top with a waxed disc and place the lid loosely on top. Leave to cool for 10 minutes, then tighten the lids.

Step 7:
Ingredients
For The Jam

800g

 

Strawberries (hulled and quartered)

1

 

Lemon (juice only)

800g

 Silver Spoon Jam Sugar

1.5 tsp

 Nielsen-massey rose water
Utensils
Large preserving pan

Sterilised jars and lids
We'd love a slice of advice.
Was it yum? Did the recipe work well? Did you customise the recipe?
Ingredients
For The Jam

800g

 

Strawberries (hulled and quartered)

1

 

Lemon (juice only)

800g

 Silver Spoon Jam Sugar

1.5 tsp

 Nielsen-massey rose water
Utensils
Large preserving pan

Sterilised jars and lids