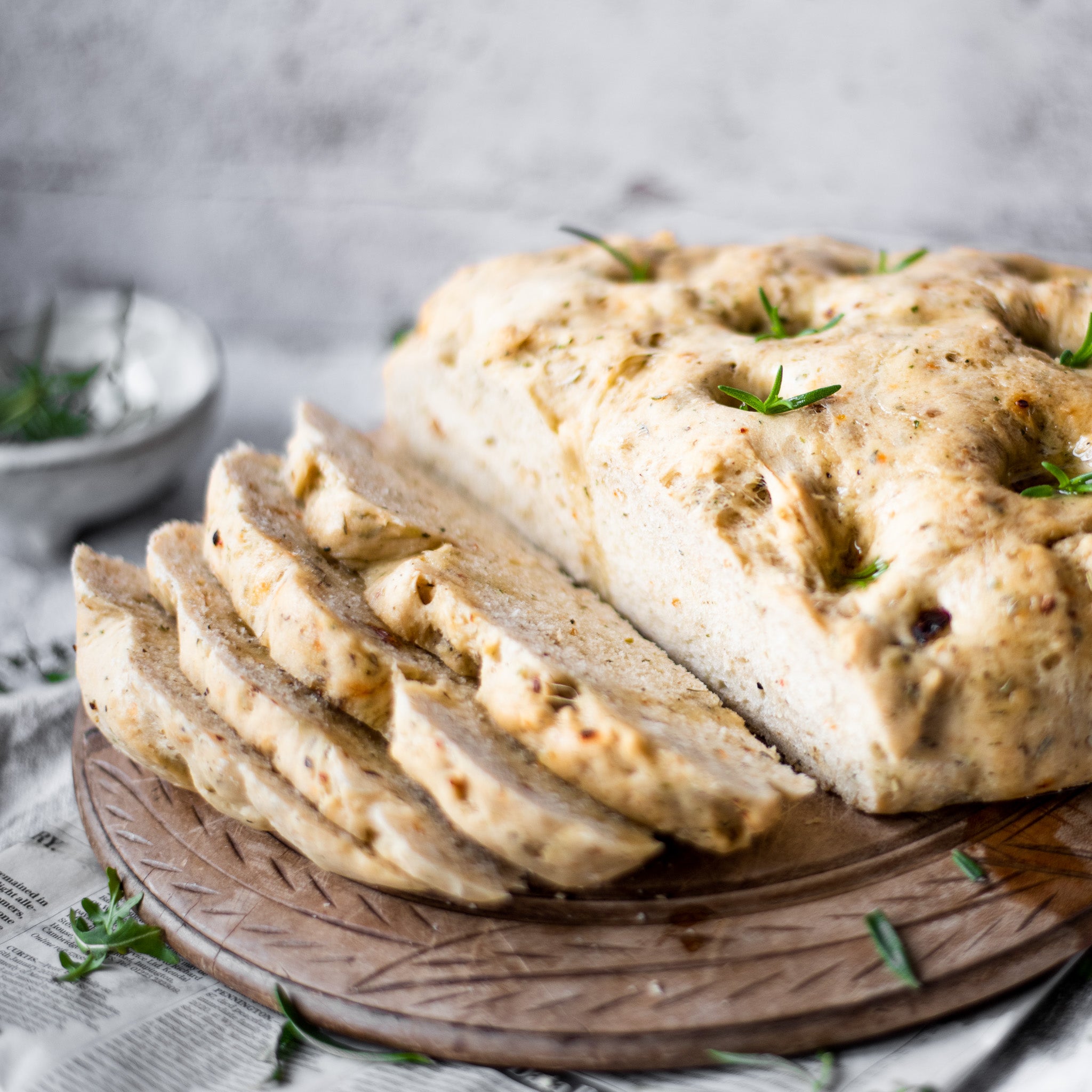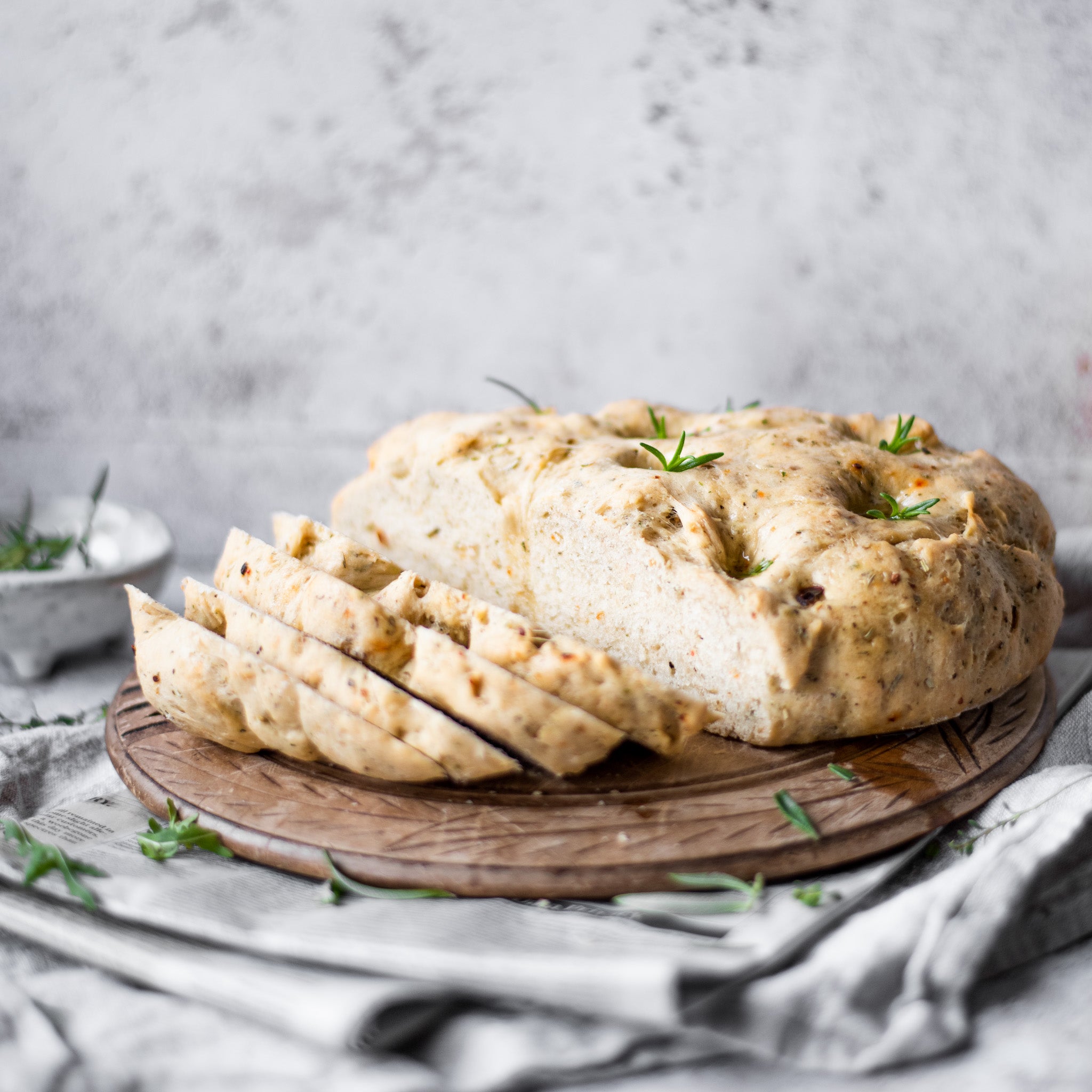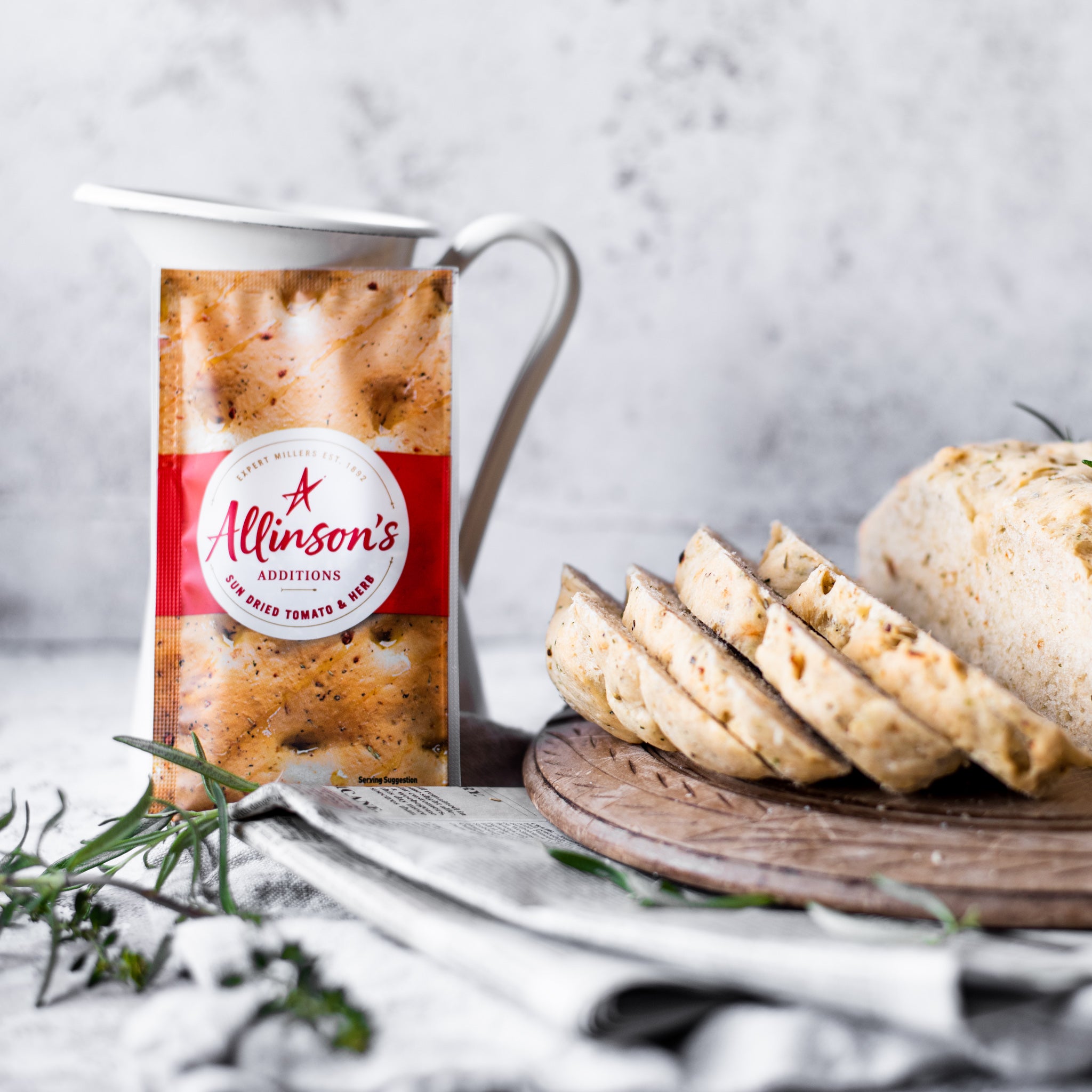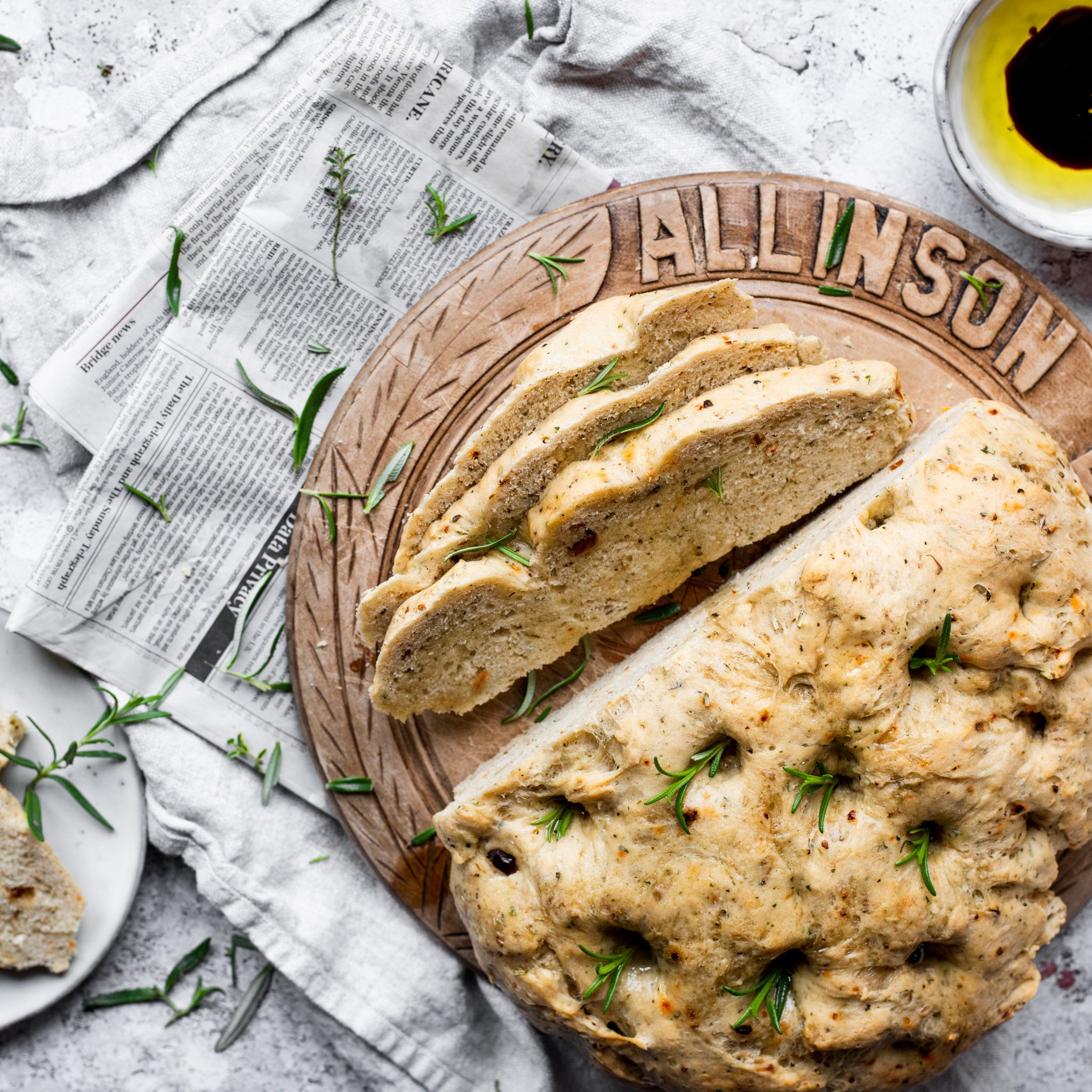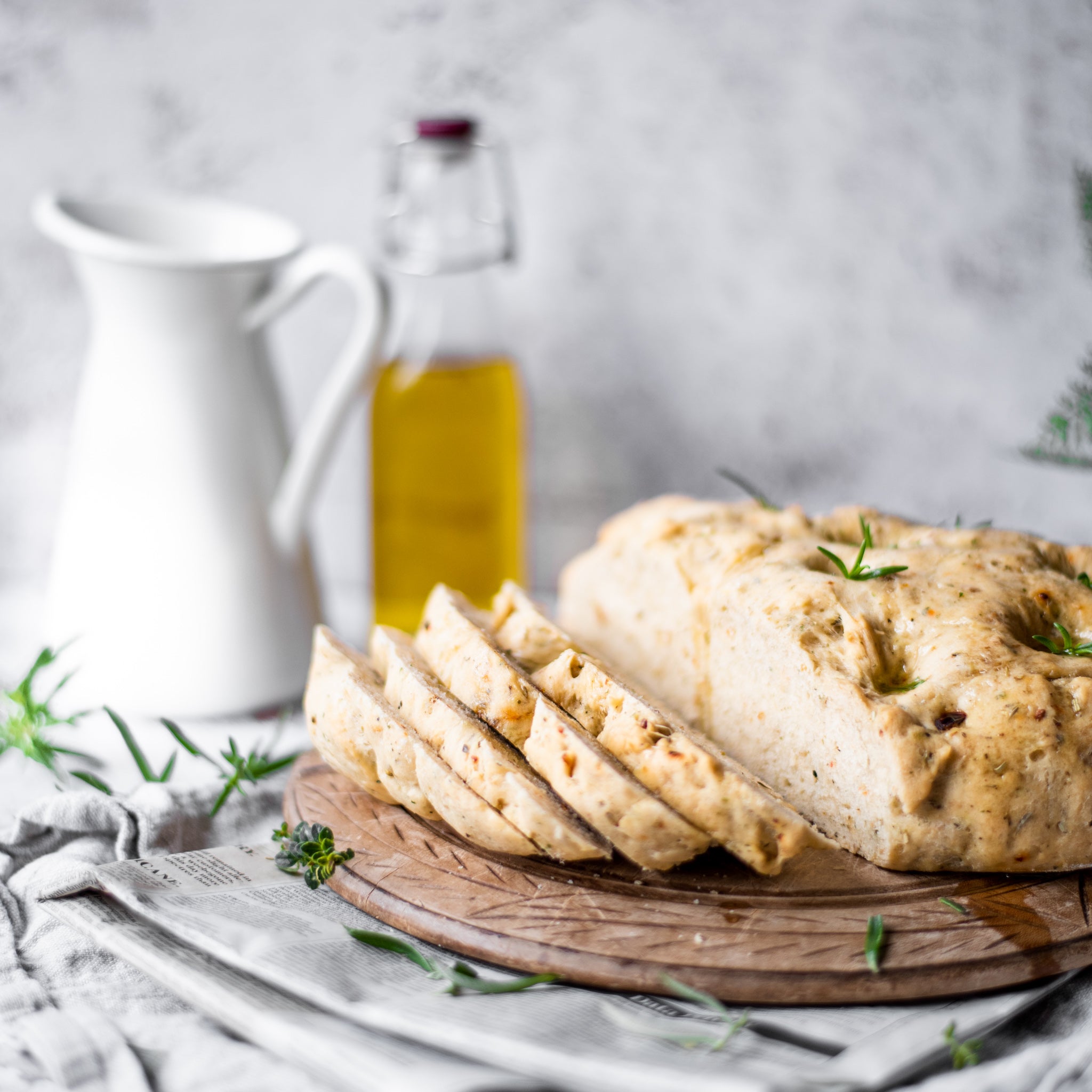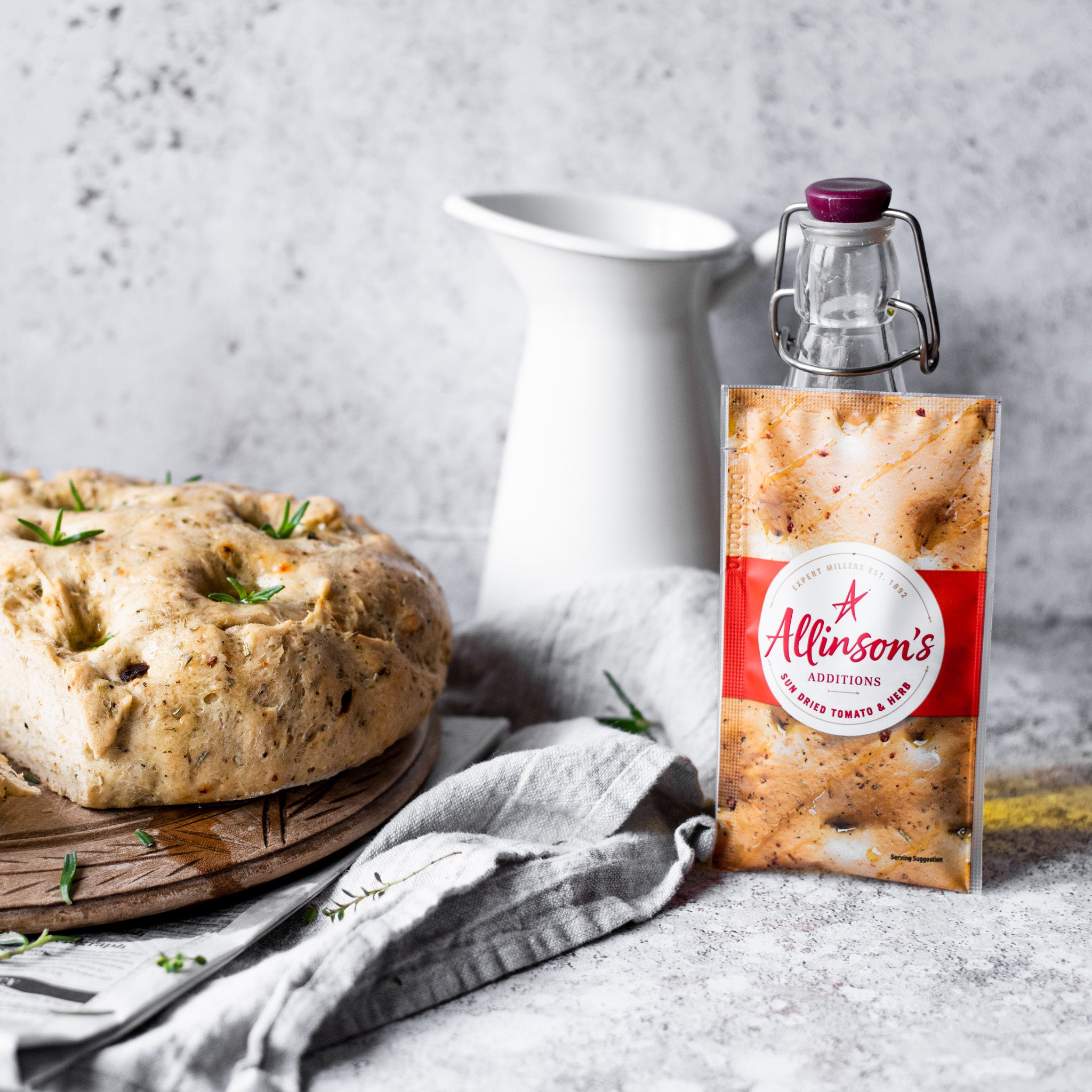 About the bake
This sun dired tomato and herb focaccia is an Italian style bake. We've used Allinson's new addition 'Sun Dried Tomato & Herb' sachet in our bake which is available to buy in your supermarket next to the yeast and flour. Treat your family to this wholesome delicious bread.
Method
Step 1:

Place the flour and salt in a large bowl. Add the yeast and Sun Dried Tomato & Herb addition and mix gently.


Step 2:

Add the olive oil and enough water to form a soft but not sticky dough. The more water that can be added the lighter the bread will be.


Step 3:

Knead the dough for 10 minutes either by machine with a dough hook or on a lightly floured work surface.


Step 4:

Shape the dough into an oval and place on a floured baking tray. Flatten the dough out using rolling pin to about 12" x 8", cover dough with oiled cling film and allow to sit somewhere warm for an 1 hour or until it has almost doubled in size.


Step 5:

Preheat the oven to 200°C, fan 180°C, gas mark 6.


Step 6:

After the dough has doubled in size, use a floured index finger press holes in the dough at regular intervals, pressing right down to the bottom. Place in the oven and bake for about 25-30 minutes or until bread is well risen and golden brown in colour, and hollow when tapped underneath.


Step 7:

Remove from oven, drizzle with remaining olive oil and leave to cool on the baking tray.

Ingredients
For the Bread

500g

 Allinson's Strong White Bread Flour

1 tsp

 

Salt

7g

 Allinson's easy bake yeast or time saver yeast

1

 

Allinson's sun dried tomato & herb addition

80ml

 

Olive oil (plus extra for drizzling)

300ml

 

Warm water
Recipe Reviews
I have made this bread on a regular basis I have added olives tomatoes herbs and it's great as for the year make it with warm water sugar and whisk then add to flour salt oil and need leave for a hour then cook in a hot oven for 35 mins drizzle with olive oil sea salt it's great
I doubled the water and added capers and dill instead of sundries tomatoes and the bread turned out lovely and airy as faccacia should
mine was too dense. Read somewhere that you should not use strong bread flour
I agree with the others 150ml isn't enough water but other than that all other measurements seem to be accurate. Makes a beautiful bread. Made one on Saturday which was a success and was eaten in a day, I am now making another one 3 days later as the family have requested I make this again.
Hello,
Thank you for contacting us, we will be reviewing the water ml in this recipe as it does seem too low. We will update the recipe ASAP.
Happy Baking!
I added a little more water than the recipe said, but as per the method which encouraged adding more. It turned out brilliantly. Delicious and really simple.
I bake focaccia quite often and I'm very puzzled by this recipe, 150ml of water? Like one of your other reviewers I think it needs twice as much (in fact, I would normally use 330 to 340ml), everything else seems ok. Even better to add a few chopped black olives or even finely chopped (and pre-cooked) onion.
Ingredients
For the Bread

500g

 Allinson's Strong White Bread Flour

1 tsp

 

Salt

7g

 Allinson's easy bake yeast or time saver yeast

1

 

Allinson's sun dried tomato & herb addition

80ml

 

Olive oil (plus extra for drizzling)

300ml

 

Warm water