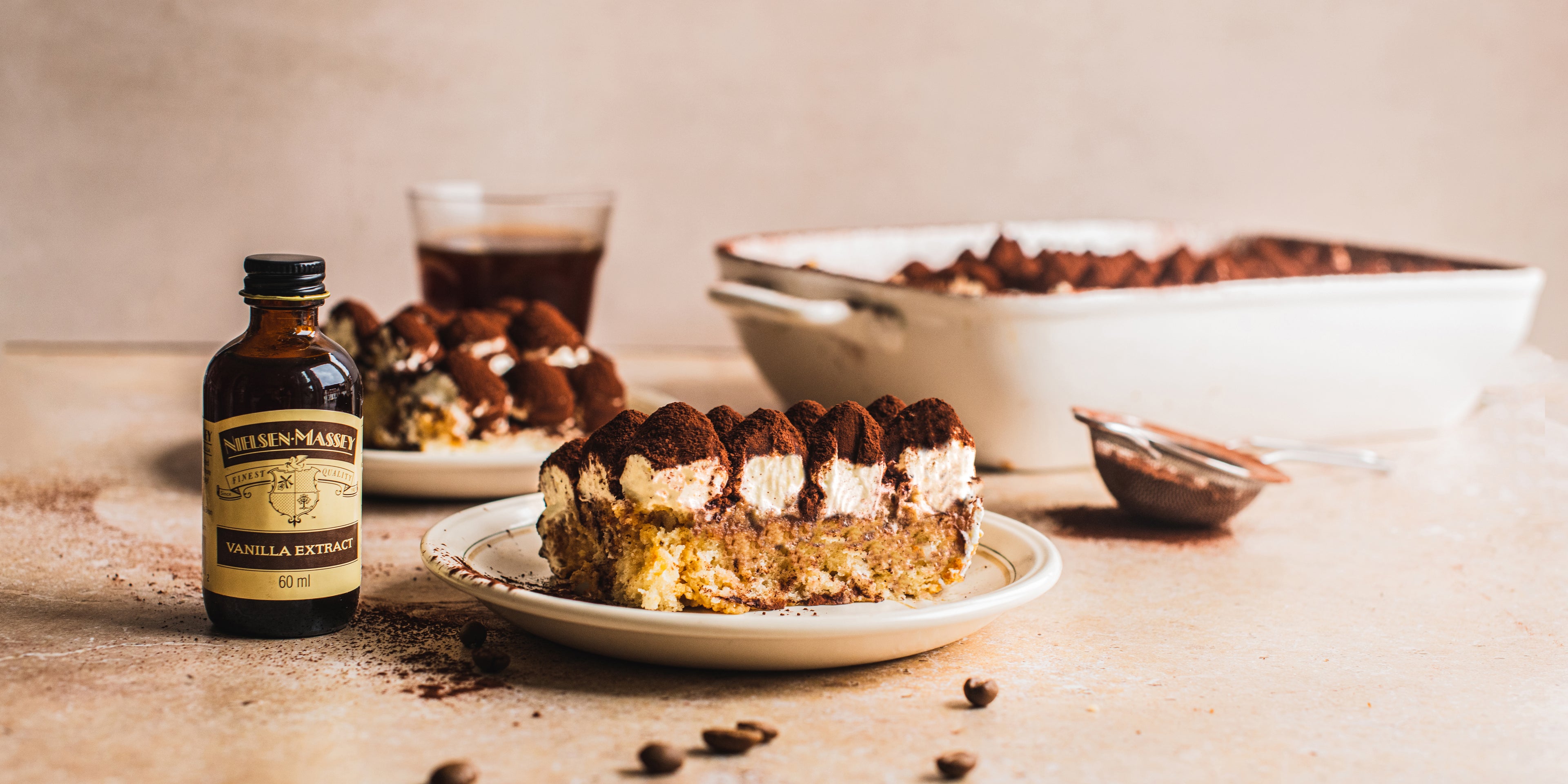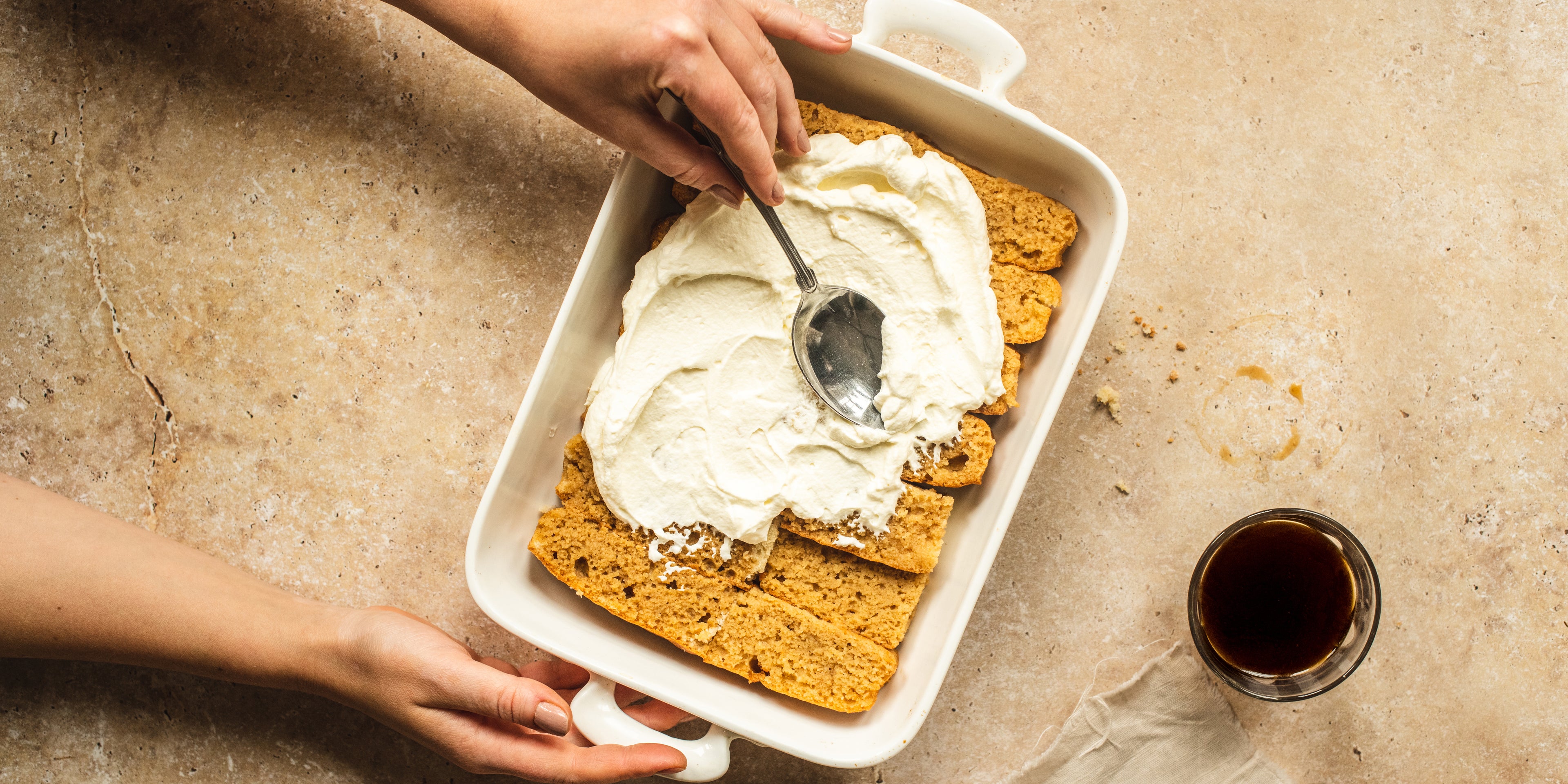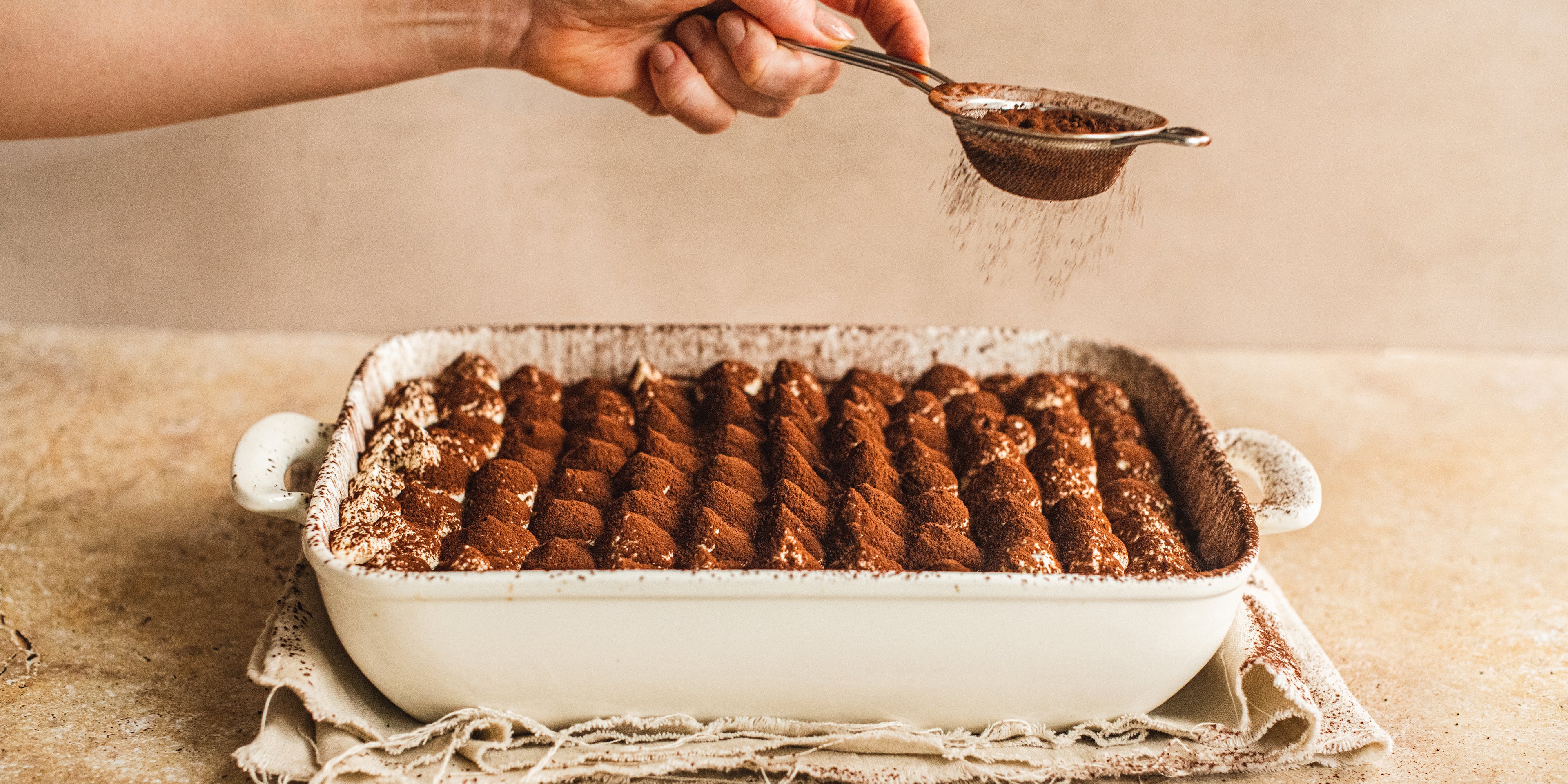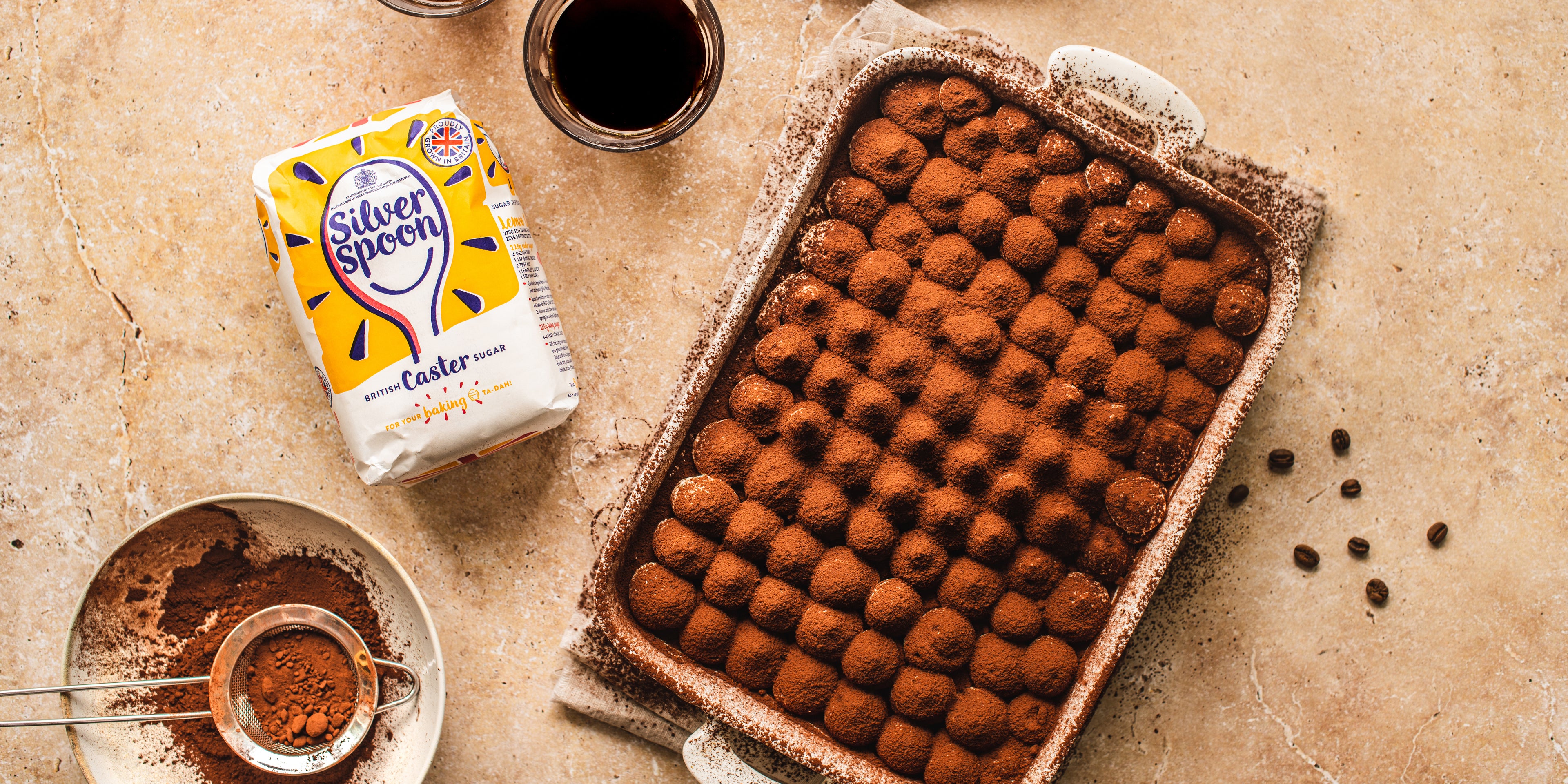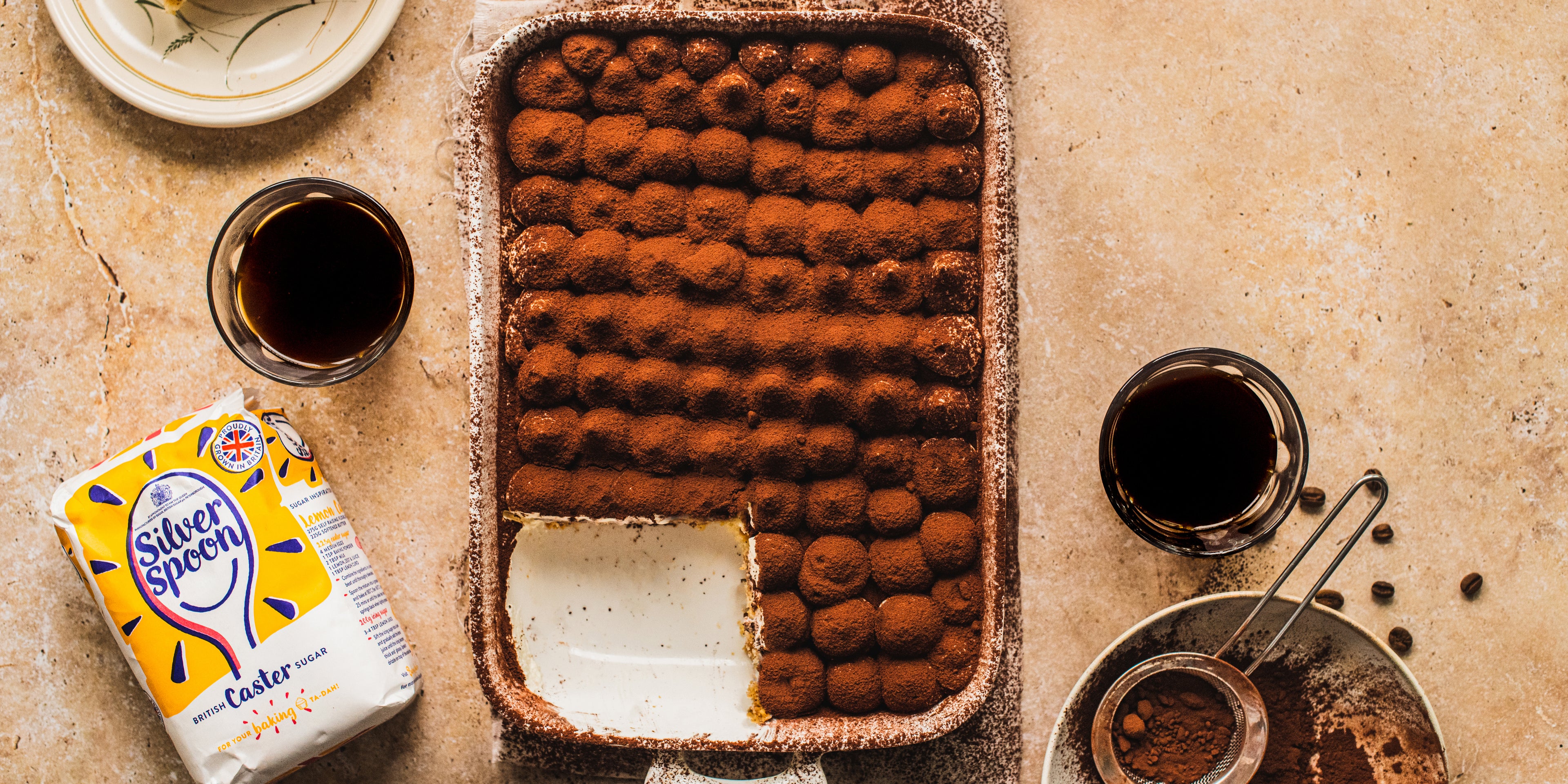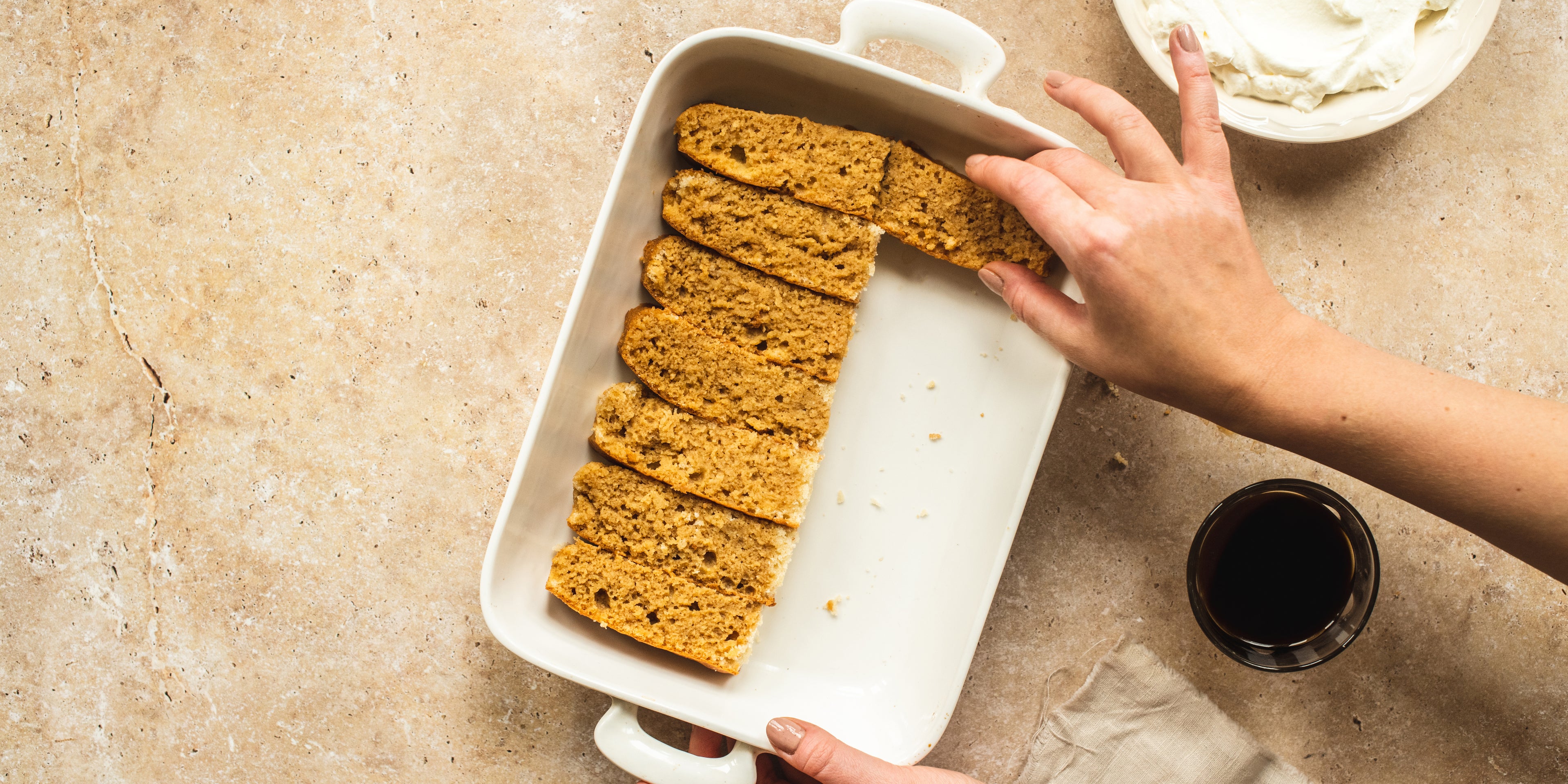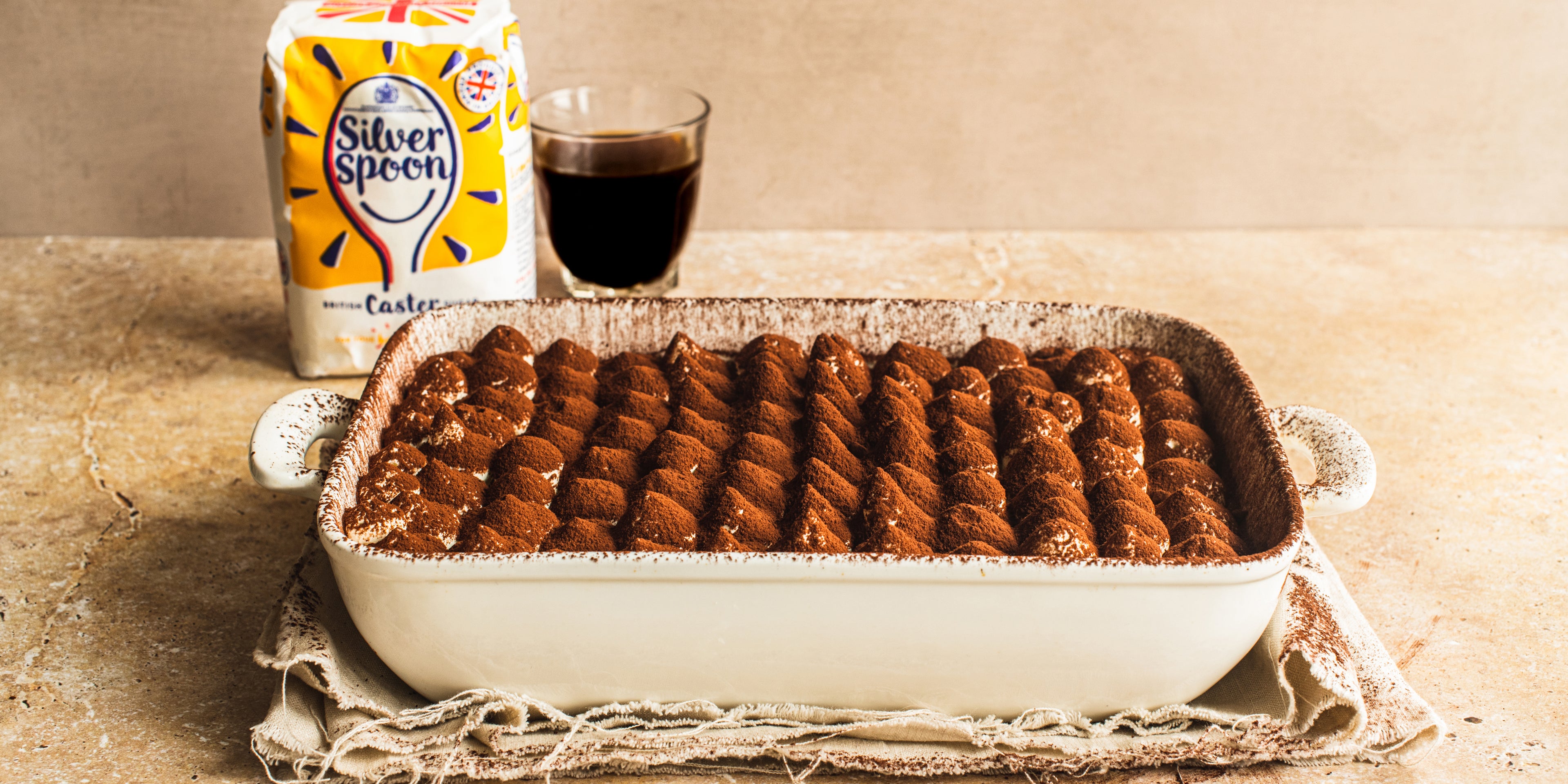 About the Tiramisu
This traditional Italian Tiramisu recipe is sure to bring the flavours of fresh Italian desserts to your home. Made with plant-based ingredients this simple vegan tiramisu is creamy and indulgent with a little punch of coffee and marsala to have everyone lining up for second helpings. This deliciously moreish dessert stays fresh in the fridge for up to 2 days (if it's even around that long!).
To make individual servings use straight glasses and a round cutter to add discs of sponge and layer as described in the below method steps. This will make 6-8 subject to glass size.
If you're a sweet toothed vegan struggling to find plant-based alternatives, our delicious vegan range of baking inspiration is sure to provide you with the answer to your sugar cravings. Let our Vegan Chocolate and Raspberry Tart steal your heart, or create something that tastes a million dollars with our Vegan Millionaires Shortbread.
Method
Step 1:

Preheat the oven to 180 fan.

Step 2:

Grease and line a 20x 30cm baking tray and weigh out all the ingredients

Step 3:

Cream the butter, sugar and vanilla extract in stand mixer or by hand until it is pale, creamy and fluffy

Step 4:

Beat the yoghurt into the mixture (don't worry if it looks a little curdled this is normal)

Step 5:

In a clean bowl, use a whisk to beat the Aquafaba (an electric whisk is useful for this) for a few minutes.

The length of time that this takes can vary depending on the type of Aquafaba. (It's hard to over beat this unlike egg white so keep going) until it is white, fluffy and stiff.

Step 6:

Add the caster sugar, in increments of 3 beating between each addition until well incorporated and the mixture is stiff and glossy. Set the bowl to one side.

Step 7:

Whisk the flour and baking powder into the butter mix until you have a smooth batter, you can loosen the consistency with the plant milk.

Step 8:

Using a large metal spoon, fold in 1/3rd of the whisked Aquafaba into the batter until evenly combined, then gently fold in the remaining Aquafaba until you have a smooth, fluffy batter.

Step 9:

Spoon into the tin and smooth the top with the back of a spoon or palette knife and bake on the middle shelf of the oven for 35-40 mins until golden, risen and a skewer comes out cleanly when inserted in the middle. Cool in the tins for 15 mins then remove to a wire rack and set aside to cool fully.

Step 10:

Prepare the coffee mixture by mixing the marsala and coffee in a shallow dish (large enough for you to dunk your sponge fingers in)

Step 11:

Cut up the sponge by slicing in half across the widest part, then cutting into about 10-12 fingers for each piece

Step 12:

Whip the plant cream, icing sugar and vanilla extract together until it hold its shape

Step 13:

Dunk the sponge fingers briefly into the coffee mix to soak well and line your serving dish with one layer of sponge. (You can break them and bend them to fit)

Step 14:

Top with half of the cream

Step 15:

Repeat with another layer and pop in the fridge to chill for at least 4 hours or overnight

Step 16:

When ready to serve, dust with cocoa powder over the top and spoon into bowls or dish.
Ingredients
For the sponge

75ml

 

Chickpea water (aquafaba)

320g

 Silver Spoon Caster Sugar

200g

 

Plant based yoghurt

2 tsp

 Nielsen-Massey Vanilla Extract

200g

 

Vegan butter

400g

 Allinson's Self Raising Flour

2 tsp

 

Baking Powder

60ml

 

Plant-based milk

For the coffee mixture

200ml

 

Very strong espresso coffee

75ml

 

Marsala

For the cream mixture

300g

 

Plant based cream (we used Elmlea)

25g

 Silver Spoon Icing Sugar

2 tsp

 Nielsen-Massey Vanilla Extract

1 tbsp

 

Cocoa powder (for dusting)
Utensils
20 x 30cm baking tray, greased and lined

Deep glass trifle dish (roughly 8/9" diameter)

Bowls

Shallow bowl

Stand mixer (not essential)

Electric whisk (optional)

Conical strainer

Large metal spoon
We'd love a slice of advice.
Was it yum? Did the recipe work well? Did you customise the recipe?
Ingredients
For the sponge

75ml

 

Chickpea water (aquafaba)

320g

 Silver Spoon Caster Sugar

200g

 

Plant based yoghurt

2 tsp

 Nielsen-Massey Vanilla Extract

200g

 

Vegan butter

400g

 Allinson's Self Raising Flour

2 tsp

 

Baking Powder

60ml

 

Plant-based milk

For the coffee mixture

200ml

 

Very strong espresso coffee

75ml

 

Marsala

For the cream mixture

300g

 

Plant based cream (we used Elmlea)

25g

 Silver Spoon Icing Sugar

2 tsp

 Nielsen-Massey Vanilla Extract

1 tbsp

 

Cocoa powder (for dusting)
Utensils
20 x 30cm baking tray, greased and lined

Deep glass trifle dish (roughly 8/9" diameter)

Bowls

Shallow bowl

Stand mixer (not essential)

Electric whisk (optional)

Conical strainer

Large metal spoon