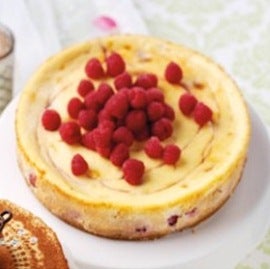 About the bake
This White Chocolate Cheesecake is made as any traditional cheesecake would be with the addition of white chocolate and a raspberry coulis. It also contains that all important buttery biscuit base. It is the dreamiest of combinations – white chocolate and raspberry cheesecake, deliciously indulgent.
Method
Step 1:

For the coulis: Place half the raspberries in a microwaveable bowl and cook for 1 minute. The raspberries should not be soft and releasing juice. Crush them with a fork and then pass the liquid through a fine sieve to remove the seeds.

Step 2:

Place the raspberry juice, sugar and lemon juice into a small saucepan and bring to the boil, stirring until the sugar has dissolved.

Step 3:

Reduce to a simmer and cook for 10 minutes until syrupy. Remove from the heat and stir in the raspberry liquor if using. Allow to cool and thicken before using.

Step 4:

Place the digestives in a food processor and process into crumbs. Melt the butter over a low heat and mix in the biscuit crumbs and chocolate drops. Lightly grease a 25cm loose-bottomed cake tin and press the crumbs into the base. Leave to chill.

Step 5:

Preheat the oven to 150°C (fan 130°C, gas mark 2).

Step 6:

Beat the cream cheese in a bowl until soft and smooth. Add the eggs one by one with the vanilla extract. Fold in the crème fraîche.

Step 7:

Melt the white chocolate in a bowl set over a pan of gently simmering water. Remove from the water and beat until a little cooler. Add to the cream cheese mix and fold in gently. If the chocolate becomes a little lumpy do not worry.

Step 8:

Sprinkle the remaining raspberries over the chilled base of the cheesecake.

Step 9:

Pour the chocolate and cream cheese mixture into the tin and bang down on a firm surface to remove any air bubbles. Drizzle the raspberry coulis onto the cheesecake mix and swirl using the tip of a knife to give a marble effect.

Step 10:

Bake for 45 minutes-1 hour or until the centre is just firm.

Step 11:

Allow to rest for several hours to firm up. When ready to serve use a warm palate knife to release the cheesecake form the tin, before turning out the cake and serve topped with fresh raspberries.
Ingredients
For the raspberry coulis

300g

 

Raspberries (fresh, plus extra for decoration)

1 tbsp

 

Lemon juice

100g

 Silver Spoon Caster Sugar

0.5 tsp

 

Raspberry liqueur

For the base

100g

 

Butter (unsalted)

50g

 

Dark chocolate chips

For the filling

450g

 

Cream cheese (soft)

4

 

Egg(s) (free range) (large)

1 tsp

 Nielsen-Massey Vanilla Extract

225g

 

Crème fraîche

225g

 

White chocolate
Utensils
Microwavable bowl

Fork

Sieve

Saucepan

Food processor

25cm loose bottomed cake tin

Mixing bowl

Palette knife
Ingredients
For the raspberry coulis

300g

 

Raspberries (fresh, plus extra for decoration)

1 tbsp

 

Lemon juice

100g

 Silver Spoon Caster Sugar

0.5 tsp

 

Raspberry liqueur

For the base

100g

 

Butter (unsalted)

50g

 

Dark chocolate chips

For the filling

450g

 

Cream cheese (soft)

4

 

Egg(s) (free range) (large)

1 tsp

 Nielsen-Massey Vanilla Extract

225g

 

Crème fraîche

225g

 

White chocolate
Utensils
Microwavable bowl

Fork

Sieve

Saucepan

Food processor

25cm loose bottomed cake tin

Mixing bowl

Palette knife