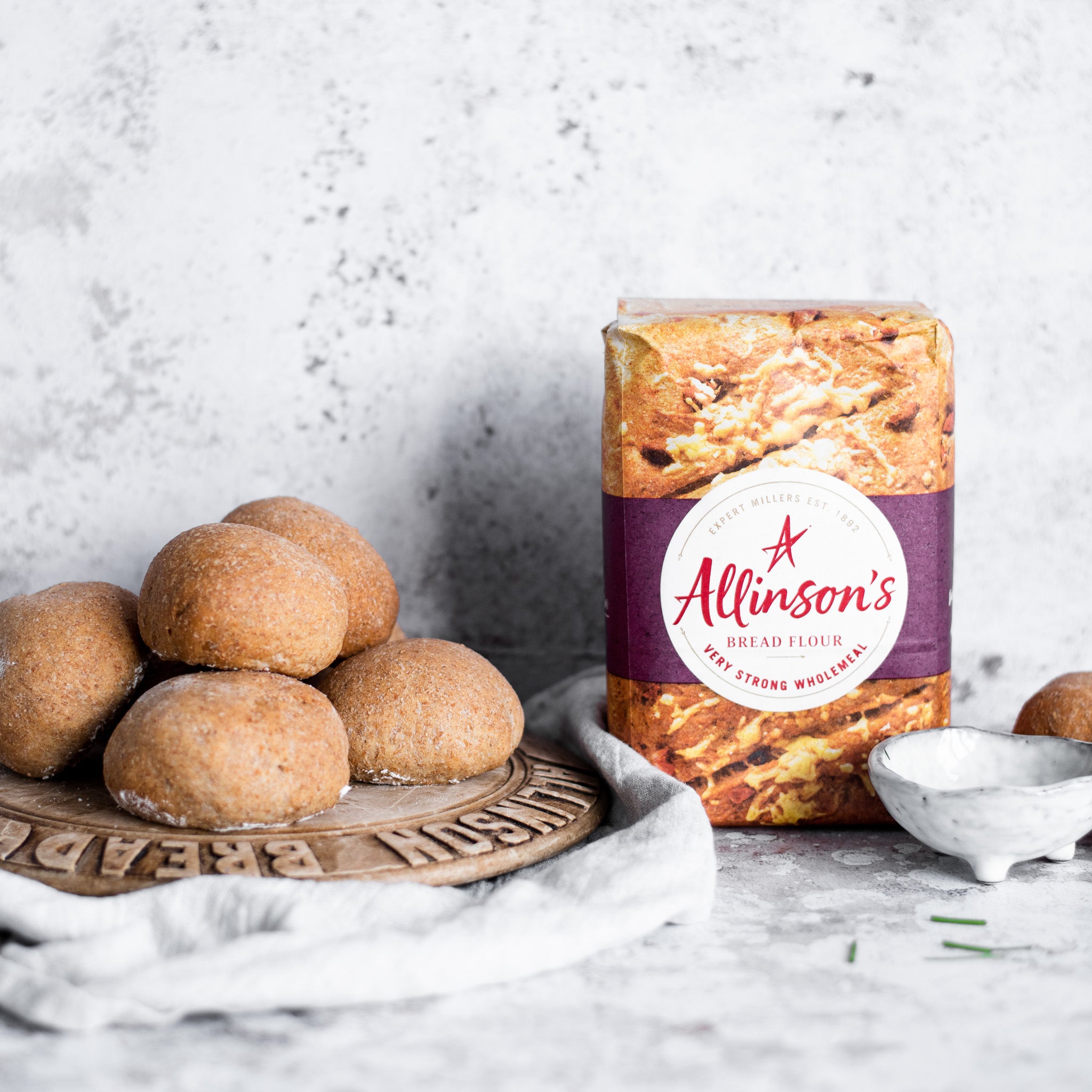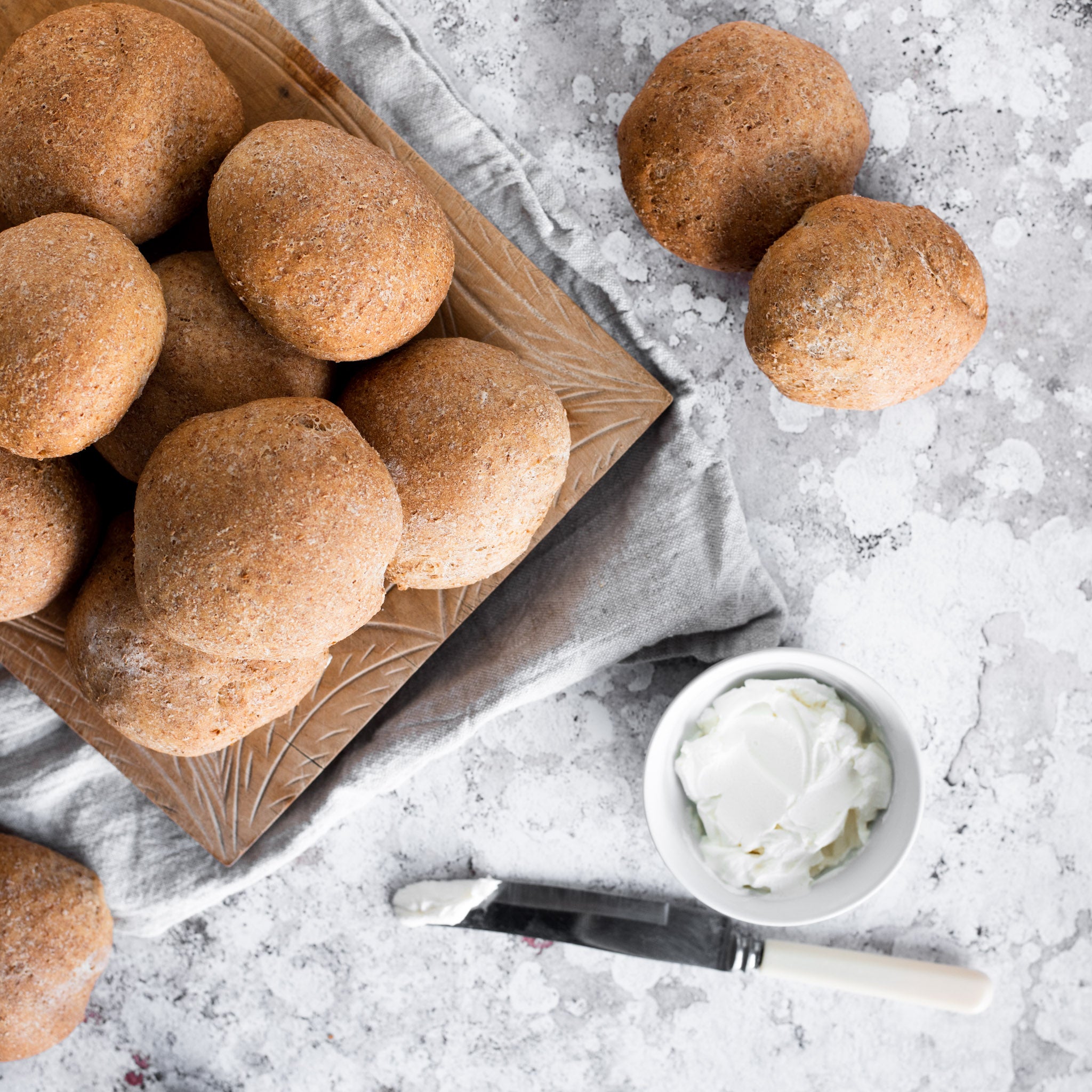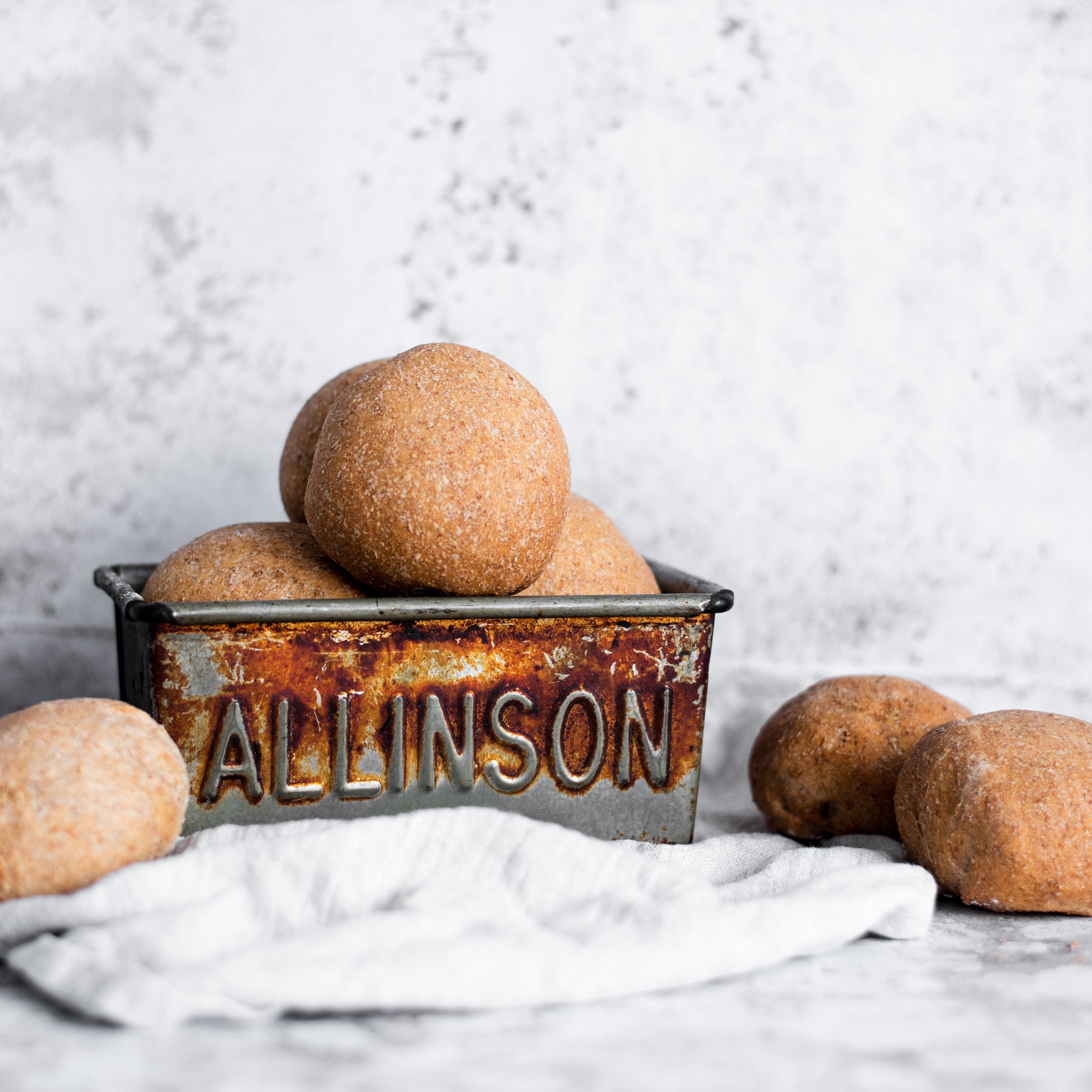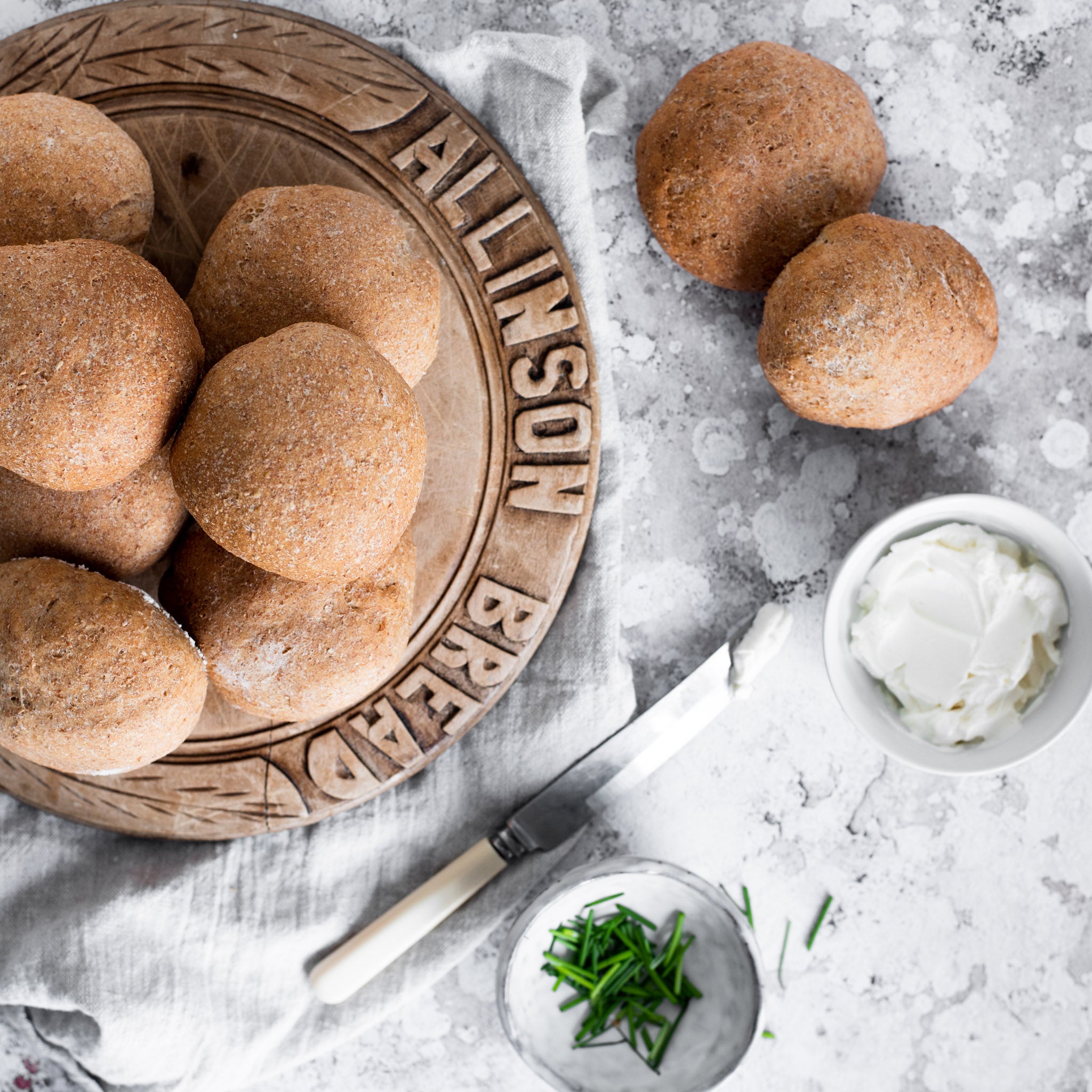 How to make wholemeal bread rolls
New to baking? Give our wholemeal bread rolls recipe a go. They're a delicious and healthier alternative to our white rolls. Perfect for dipping in soup, using as dinner rolls, or popped in a packed lunch.
Tips for making the best bread rolls:
How long do bread rolls last and can they be frozen?
Our wholemeal rolls will last for a few days in an airtight container, and they can be frozen for up to 3 months.
How do you stop bread rolls getting hard?
Hard crusts or buns usually mean you are baking on too low heat and for too long, or the dough was not kneaded enough to begin with. Wholemeal flour absorbs more water, therefore requires more kneading.
If you enjoyed making our wholemeal bread rolls, try our classic wholemeal bread recipe.
Method
Step 1:

MIX

Mix the flours, yeast and salt in a big bowl. Mix together the melted butter, sugar and water, then mix in with a cutlery knife.

Step 2:

KNEAD Tip onto a lightly flour dusted surface and knead for 10 minutes (or use the dough hook attachment on your mixer).


Step 3:

RISE

Lightly grease the mixing bowl with some oil. Put the dough back in, cover the bowl with a clean tea towel and leave to rise until doubled in size.

Step 4:

SHAPE

Knock back the dough by gently kneading just 5 times to get the air out. Cut the dough into 12 even pieces (use a weighing scales if you like). Roll each piece into a ball and sit on two flour-dusted baking sheets – they'll need room between them for growing.

Step 5:

PROVE

Cover the rolls with a clean tea towel and leave to prove until doubled in size. Preheat your oven to 220°C (fan 200°C, gas mark 7).

Step 6:

BAKE

Bake the rolls for 20 minutes or until golden. If you tap the base of a roll it should sound hollow. Cool on a wire rack.
Ingredients
For the Dough

400g

 Allinson's very strong wholemeal bread flour

100g

 Allinson's Strong White Bread Flour

7g

 Allinson's Easy Bake Yeast

1.5 tsp

 

Salt

50g

 

Melted butter

1 tbsp

 Billington's light muscovado sugar

300ml

 

Warm water
Recipe Reviews
I've done this recipe a few times now and each time it has worked perfectly well! Better than anything you can buy in the shop. Excellent rise, texture and taste with an irresistible chewy crust. It freezes perfectly well too. If you follow the recipe step by step then nothing can go wrong.
first time trying this recipe and worked really well - even for novice baker. Thank you.
These turn out great every time.
Made bread dough to this recipe today and the rolls and mini loaves I made from it are fantastic. Ridiculously light and oh so tasty. Used a mixer with a dough hook - started with the ingredients as listed but added a bit more warm water as the machine did its work. Perfect crust outside and soft as a feather inside. Will make these again and again.)
Very straightforward recipe and easy to follow. Made one batch that was quickly gobbled up by the family and am now baking on a regular basis. Rolls were soft with a very good rise and texture. Put some in the freezer and warmed them through before serving - as good as fresh. Also used the recipe to make some bigger burger buns - brilliant.
Absolutely the first time making bread, very rustic nothing at all like super market rubbish. I'm hooked 54 male
Ingredients
For the Dough

400g

 Allinson's very strong wholemeal bread flour

100g

 Allinson's Strong White Bread Flour

7g

 Allinson's Easy Bake Yeast

1.5 tsp

 

Salt

50g

 

Melted butter

1 tbsp

 Billington's light muscovado sugar

300ml

 

Warm water